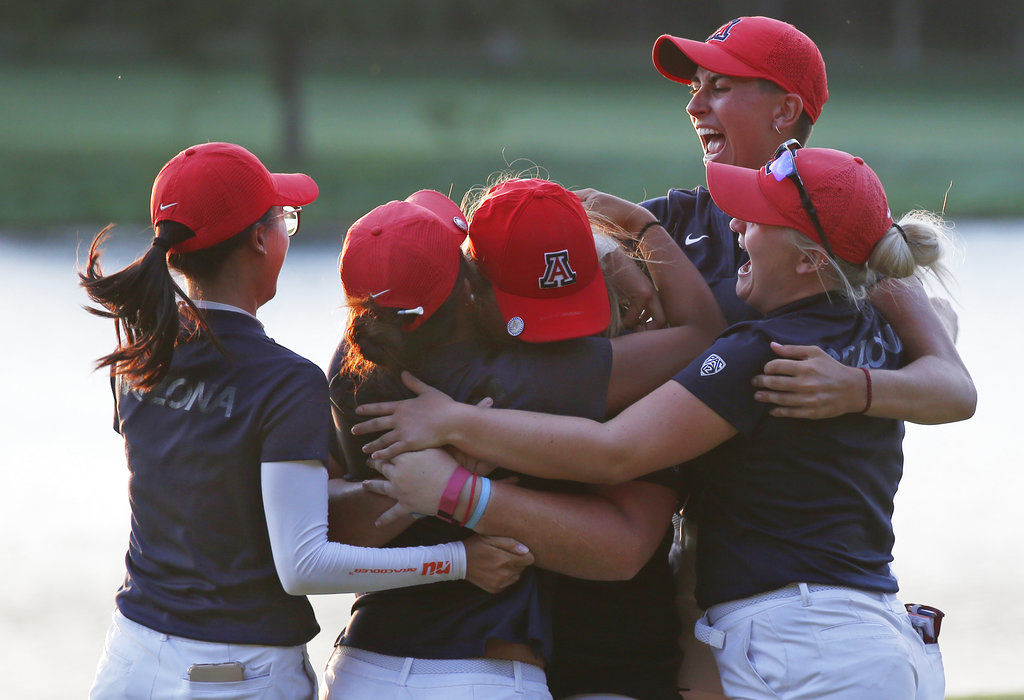 It wasn't long after Laura Ianello coached Arizona to the 2015 Pac-12 women's golf championship that UA athletic director Greg Byrne feared she would walk into his office and say "we've got to have a talk."
He wasn't sure — and she wasn't sure — Ianello would continue coaching college golf, or coaching anything.
"I had my two baby girls 15 months apart," Ianello was saying late Thursday afternoon, standing 10 yards from the 2018 NCAA championship trophy. "I wasn't going to put my kids in day care and let someone else raise them."
It's not that Arizona threw enough money at Ianello to convince her to stay. She was paid $85,000 a year ago. How good is that at the highest level of women's college golf? Alabama coach Mic Potter, whose No. 1-ranked Crimson Tide lost to Arizona in the NCAA finals Wednesday, was paid $210,00 this season.
And it's not that Ianello was or is desperate for money. Her husband, Jeff Ianello, is the executive vice president of SeatGeek, a sports and entertainment ticketing firm, and a former executive for the NBA's central business and marketing operations.
"He's a rock star in his own right," Ianello said. "He has been so supportive. I've been away from Natalie and Joanna for eight days, and I missed them so much. Jeff has helped to make this all worth it. I hugged him so hard when he showed up in Oklahoma Wednesday."
So Ianello worked two jobs — a mom and a golf coach — and made it work.
Late Monday night, after Arizona stunned the college golfing world — forcing its way into the eight-team finals via Bianca Pagdanganan's unearthly eagle putt — Ianello tapped into a Wi-Fi connection and watched a tears-producing video of Nat, 4, and JoJo, 3, staying up late in Tucson.
Her adorable little girls were standing beneath a big-screen TV in the Ianello's living room, watching their mommy be interviewed by Golf Channel.
Joanna reached up to touch the screen and said "Mom!"
At that moment, I judged it to be a ESPN "SportsCenter" highlight worthy of the year's No. 1 ranking.
"The thing about Laura is, she's always been a terrific person first, and then comes golf," said former UA men's and women's golf coach Rick LaRose, who recruited Ianello to Tucson 20 years ago. "She played on the LPGA Tour. Now she has coached the national championship team. You want her on your side because she does things the right way."
After the UA pep band played "Bear Down, Arizona" to welcome the national champions to the school's Hall of Champions on Thursday, Ianello bent over, nestled JoJo in her arms and carried her upstairs to a formal celebration.
"I've shed a lot of tears this week," said Ianello, who then shed some more as she described her team's journey. "When I woke up this morning I was like, 'Did this really happen?' "
Ianello became the UA's women's golf coach almost by default. She was a 30-year-old assistant, a couple of years removed from working in the pro shop of a high-end Scottsdale golf resort. Her one season on the LPGA Tour was humbling; she missed 10 consecutive cuts and earned $19,000.
If anyone could relate to the pressure that her UA golf team faced while upsetting Alabama, UCLA and Stanford in an extraordinary 32-hour period, Ianello could. At the LPGA Tour qualifying school in 2003, Ianello survived an eight-person playoff for the Tour's final berth.
After that, what golf challenge can be as daunting?
Eight years ago, as one of the youngest head coaches of any sport in UA history, Ianello was sharp enough to hire a winning assistant coach, Derek Radley, who is a superior recruiter and surely a future head coach somewhere.
The way Ianello and Radley worked together, assembling the '18 national championship team, is almost storybook stuff.
The competition for Pagdanganan, a transfer from Gonzaga, was insane: USC, Georgia, South Carolina, Texas. She didn't even visit Arizona before agreeing to play in Tucson.
"Bianca knew our history," Radley remembers. "She wanted to play in a bigger program, a place where your day-to-day competition could help make you a better player. That's what she saw here."
Sandra Nordaas, who is from Oslo, Norway, won the British Junior championship in 2015. Ianello was smart enough to send Radley to Scotland to watch Nordaas play. A year later, Ianello and Radley flew to Texas to watch Nordaas in a world-class junior event. Nordaas visited powerhouse Oklahoma State, and then chose Arizona.
On Wednesday, Nordaas beat an Alabama golfer ranked No. 6 in the world.
Then Ianello and Radley out-recruited everybody for Taiwan's Yu-Sang Hou, who beat the nation's No. 1-ranked player in Wednesday's championship match.
"It's amazing to track how it all came together," Radley said.
This union, Ianello and Radley, has produced year after year of excellence at Arizona. You wouldn't get much of an argument if you said it was the school's most successful sports program.
Their paths are so different; you could never have seen it coming.
Ianello grew up in Charleston, Illinois, and Radley in Mentor, Ohio. He went on to be an all-star player at Division III Ferris State, and an LPGA caddy for former Salpointe Catholic standout Sara Brown.
Late Thursday afternoon, Ianello's daughters and Radley's young son played together, running and jumping about the room as their parents enjoyed the moment, never straying too far from the national championship trophy.
"This is a day you never forget," Ianello said. She stopped, bent over and picked up JoJo.
Contact sports columnist Greg Hansen at ghansen@tucson.com or 573-4362. On Twitter: @ghansen711