To play in the NBA Finals, you don't have to be famous. You don't have to be identifiable by anyone other than your coach and maybe the spotter working for the ABC broadcast crew. You don't have to have your name hanging next to Steve Kerr and Luke Walton in McKale Center's Ring of Honor.
You've just got to be tough, trustworthy and good enough to play in-your-face defense and box out on the boards when it is absolutely necessary to box out on the boards.
When the going got tough for the Miami Heat in the last three games of the Eastern Conference finals, Miami coach Erik Spoelstra limited his basic rotation to eight players. The eighth man was Solomon Hill, who to that point had not played a single minute in the Heat's previous 12 playoff games.
That's the career snapshot of Solomon Hill's basketball career. He'll be ready when you need him. Old reliable.
Here's a different way to look at Hill, part of Arizona's Class of 2012:
On Dec. 29, 2009, Hill was playing his 12th college basketball game. Arizona was a shade above bad, 6-5 overall, and then turned another shade of pale by losing 99-69 to BYU at McKale Center — the school's worst-ever loss at McKale.
Hill scored 13 points. BYU's Jimmer Fredette scored 49, the most any man has ever scored on that hallowed court. If anyone had told you on Dec. 29, 2009 that Solomon Hill would have a better career than Jimmer Fredette, you'd have recommended he find a designated driver for the trip home.
Hill has started 172 NBA games. Fredette: seven.
Hill has scored 2,128 NBA points. Fredette: 1,438.
Hill has been paid $52.9 million. Fredette: $8.8 million.
In the public mind, the NBA is about lottery picks from the one-and-done brigade, and to be clear, the series between Miami and the Los Angeles Lakers has a few of those: Anthony Davis, Bam Adebayo and Tyler Herro, all of Kentucky, which set the template for the one-and-done movement.
And, of course, the NBA Finals feature two superstars who skipped college altogether: LeBron James and Dwight Howard.
But there are only five former McDonald's All-Americans in the NBA Finals: James, Howard, Davis, Adebayo and Georgia's Kentavious Caldwell-Pope of the Lakers. You get more McDonald's All-Americans in a typical Duke-North Carolina game.
The rest of those who will suit up for the 2020 NBA Finals are a lot more like Solomon Hill.
For example, Hill's Miami teammate, Andre Iguodala, couldn't crack the starting lineup in his freshman season at Arizona, 2002-03.
If you study the makeup of those who have been in Miami's eight-man rotation the last few games, it reinforces the idea that you don't have to be a one-and-done stud to make it in the NBA.
Miami starter Duncan Robinson began his college career at Division III Williams College before transferring to Michigan. He was not an All-Big Ten player. He was not drafted.
The Heat's go-go scorer, Jimmy Butler, who was homeless in part of his teenage years, began his college career at Tyler Junior College in Texas before transferring to Marquette and playing three more college seasons.
Miami's starting power forward, Jae Crowder, began at South Georgia Technical College before transferring to Howard JC and ultimately to Marquette.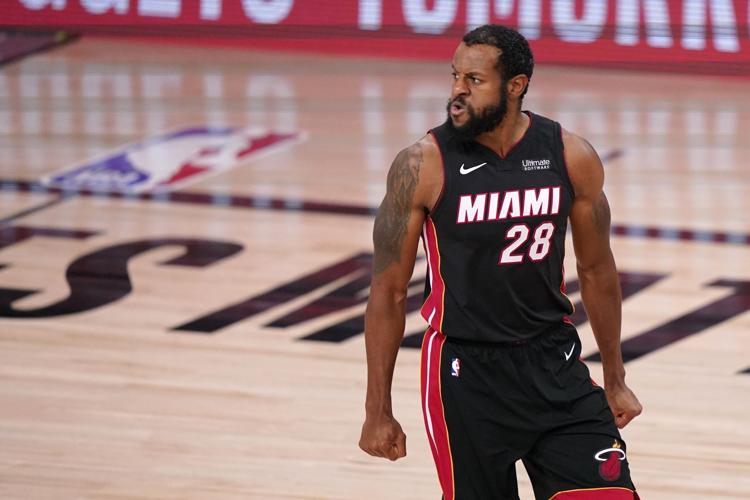 Similarly, the Lakers, who have always been viewed as more Hollywood than working-class, aren't all about LeBron James.
Among their eight-man rotation, shooting guard Alex Caruso went undrafted after a modest career at Texas Tech. Three-point shooter extraordinaire Danny Green played high school football for two years — he was a top quarterback prospect — before signing to play basketball at North Carolina. Green didn't start his first two seasons at UNC and wasn't drafted until deep into the second round, No. 46 overall.
And even the Lakers' lone Pac-12 player, forward Kyle Kuzma, struggled in college. Kuzma didn't start his freshman season at Utah, 2015, averaging just eight points per game.
Earlier this week, it was disclosed that the NBA's final stage of pre-draft evaluations won't include Oregon State forward Tres Tinkle. That's a shame because I thought Tinkle was the epitome of a college basketball success story in his years at Gill Coliseum. He reminded me a lot of the college version of Solomon Hill, in that he was not overly athletic, not a physical demon nor given the attention of, say, Oregon's it's-all-about me point guard Payton Pritchard, or the Arizona one-and-done crew of Nico Mannion, Josh Green and Zeke Nnaji.
But as Solomon Hill has proved — he is a distant 20th on Arizona's career scoring list — it's not about the points and it's not about being as famous as Jimmer Fredette or Nico Mannion.
It's about maintaining a positive attitude, getting the most out of your ability and being ready when there's a job to be done — even if it's only for five minutes, as was required of Hill in the Heat' title-clinching victory over Boston.
The money here says Tres Tinkle will play in the NBA someday, too.
Contact sports columnist Greg Hansen at 520-573-4362 or ghansen@tucson.com. On Twitter: @ghansen711