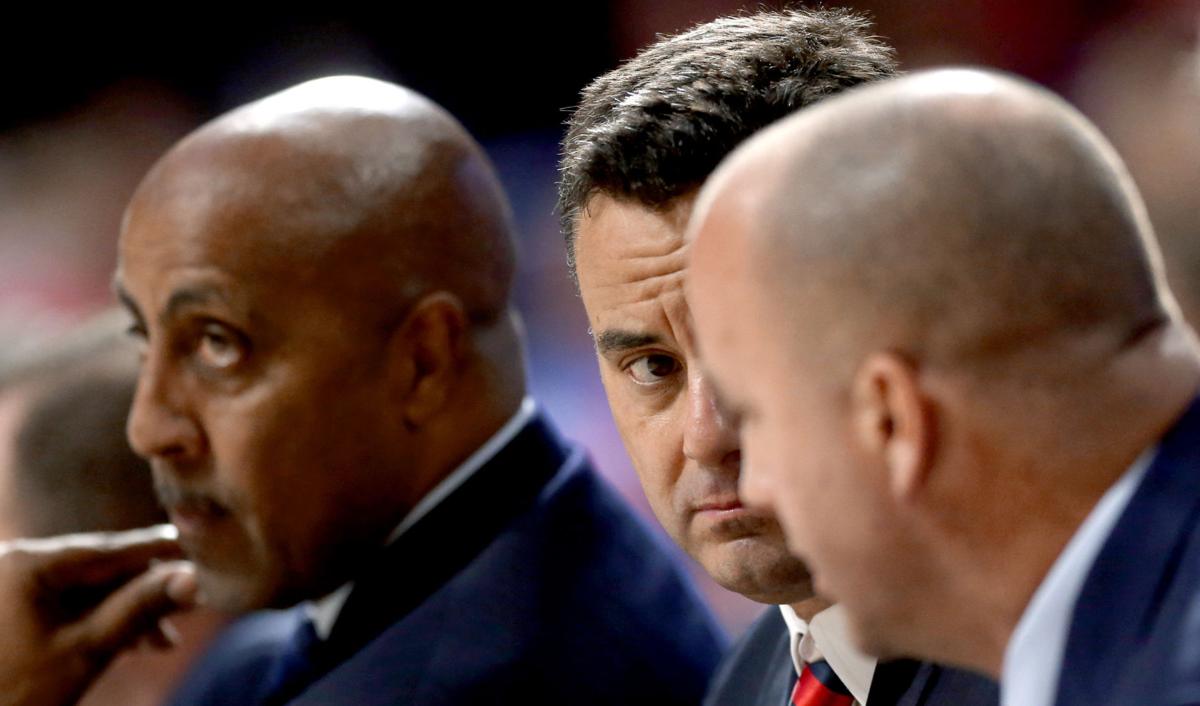 My top 10 in Tucson sports for Nov. 7:
1. Rich Rodriguez wasn't happy – who would be? – after arriving in Tucson after 3 a.m. Sunday morning, returning from Los Angeles. It's a disruptive issue for all Pac-12 football coaches that could be compared to Sean Miller interviewing for the Maryland job six years ago. Miller was unhappy that Arizona's return flights from trips to Washington and Oregon consumed most of a Sunday. Do you think it could trigger RichRod to take a look at a possible coaching opening at Arkansas, or anywhere, next month? The Razorbacks this season have started two games at 11 a.m., and others in the afternoon at 1:30, 2:30, two games at 3, and others at 6:15 and 6:30. RichRod knows the Pac-12's late games aren't going to change.
2. Chico State deployed a zone defense against Arizona late in the first half Sunday, and it was interesting to watch how Lorenzo Romar became more involved in the UA's timeout sessions. The zone has often been kryptonite to the UA offense. Romar, who probably deployed more zone defense at Washington in a week than Miller has played in a decade, would hunch over Miller's left shoulder and periodically add input. I've almost never seen that from Miller's previous assistant coaches. Romar wasn't demonstrative, but he was clearly involved.
3. First-year UA athletic director Dave Heeke has seen worse than Arizona's 8:15 p.m. kickoff Saturday against Oregon State. His old school, Central Michigan, plays an 8 p.m. game Wednesday at CMU's Kelly/Shorts Stadium for ESPNU. Temperature at kickoff is forecast at 38 degrees. The Chippewas are scheduled to play at Kent State next Tuesday. Yes, Tuesday, for ESPNU. Kickoff time has not been announced. Brutal. Average home attendance at CMU this year is 16,359 in a facility that seats 30,255.
4. Khalil Tate carried 26 times against USC on Saturday, which is believed to be a Pac-12 record for quarterbacks. Arizona's Ronald Veal carried 23 times against Bowling Green in 1987, and Washington freshman Jake Locker also carried 23 times, in a 2007 game against Arizona. You wonder: Is this safe? Veal was hobbled in '87 by hamstring and ankle issues after averaging 17 carries per game. Locker injured his neck two weeks after his 2007 Arizona game and for the rest of his UW career was limited by rib and thumb injuries. Locker, a future first-round NFL draft pick, averaged 14 carries as a Husky freshman — UW went 0-12 — and a year later played just four games. It might be hard to believe, but Tate has averaged just 13.5 carries in his five games, yet still has rushed for 1,158 yards. As long as he's healthy, he is The Franchise. But 26 carries in a game? It's a risk.
5. Deandre Ayton has made 13 of 14 foul shots in two games. That's a bit beyond promising. He is going to get fouled a lot. In Arizona's Sweet 16 flameout last year against Xavier, the Wildcats attempted just 11 free throws. Ayton isn't just a dunking machine.
6. If Sabino and Pusch Ridge win their Class 3A quarterfinal games this week, they would be scheduled to play the semifinals next Saturday at Gilbert's Campo Verde High School. That's a crowd-killer for sure. The AIA this year hired Amphitheater School District athletic director Joe Paddock as the No. 2 man in its organization. Given an AIA voice in Tucson — finally — it would fall on Paddock to make sure a Sabino-Pusch Ridge semifinal be played somewhere in Tucson.
7. Arizona's men's golf program will stage its annual reunion/fundraiser Friday at the Randolph Golf Complex, and among the ex-Wildcat golfers on town will be John Ashworth. Yes, that John Ashworth, who co-founded one of the industry's leading golf apparel firms in 1987, outfitting, among others, Fred Couples and Ernie Els. Not bad for a transfer from Palomar Junior College who earned his UA degree in agronomy in 1982.
8. UA freshman guard Alex Barcello has already been compared to two of the top point guards in Pac-12 history: His shot mechanics and release are eerily reminiscent of Steve Kerr's delivery. Plus, Barcello's style and approach to the game reminds me of three-time Stanford all-Pac-10 guard Chris Hernandez. Not bad.
9. Expect Arizona State to be one of the Pac-12's most-improved teams; the Sun Devils should arrive at McKale Center on Dec. 30 with just two losses — to Xavier and Kansas. Last week in an exhibition game against San Diego, Sun Devil senior shooting guard Shannon Evans scored 50 points. He can play for anybody.
10. Arizona's young and struggling football defense has given up 600 or more yards to NAU (603), Washington State (646) and USC (642) and yet won two of those and had a realistic chance to win all three. Wouldn't you think that's unprecedented? Not even close. In RichRod's first UA season, 2012, the Wildcats gave up 600-plus yards to almost half of the schedule, to Oklahoma State, Oregon State, Stanford, USC, UCLA and Nevada. College football is a far different game than was played even 10 years ago.
Contact sports columnist Greg Hansen at 520-573-4362 or ghansen@tucson.com. On Twitter: @ghansen711