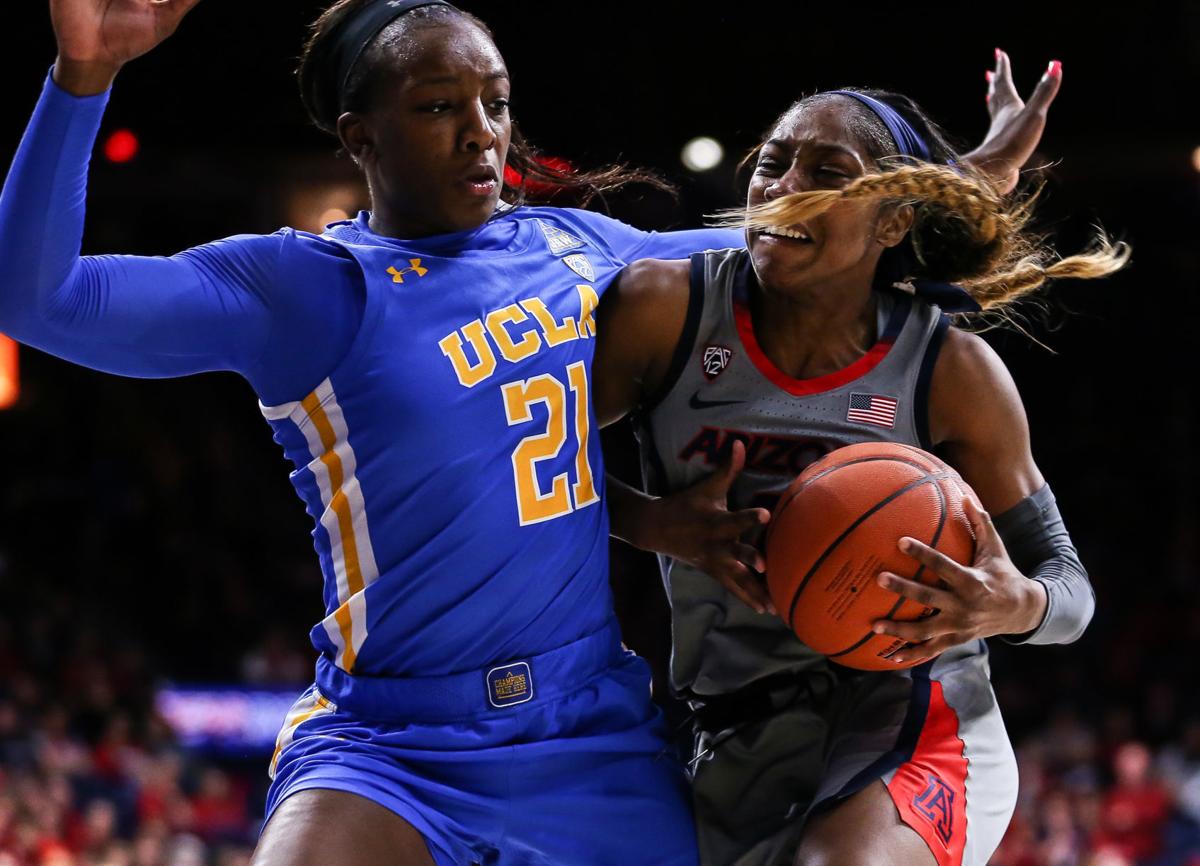 Aari McDonald is the most physical basketball player I've seen at Arizona. Ever. More willing to take a hit than Eugene Edgerson. More likely to bust through a double team than Jason Gardner, the king of screens.
McDonald, who is maybe 5 feet 6 inches on a good day, leads the Pac-12 in scoring and floor burns. That's not just in women's basketball, but men's, too.
When the Wildcats chopped down No. 8 UCLA two weeks ago, McDonald drove through a forest of Bruin defenders, bouncing from one player to another, and scored on a layup over what looked to be three sets of extended arms. She crashed to the floor.
McDonald immediately bounced to her feet and flexed her biceps.
Tough? That word is inadequate for Aari McDonald.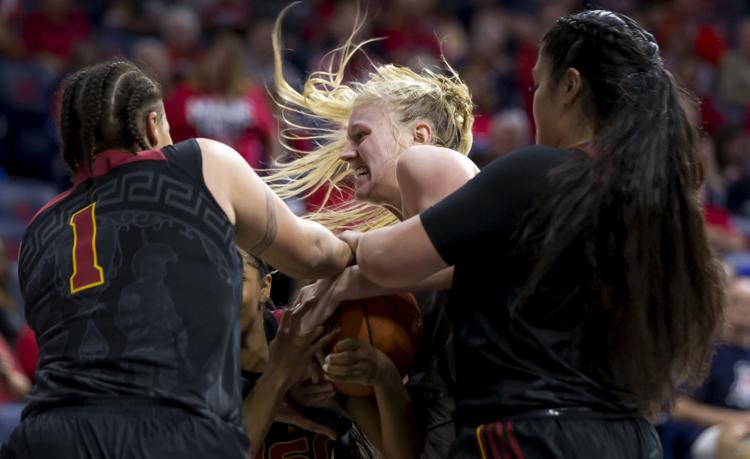 Arizona isn't the most skilled team, nor the deepest, in the loaded Pac-12. On Sunday, when the Wildcats beat No. 9 Oregon State at Gill Coliseum — a program that has been to the Final Four and gone 165-36 over the last 5½ seasons — Arizona had one chance to win.
It had to be physically as well as mentally tough. It had to follow McDonald's lead, and no one stepped up more than UA senior Dominique McBryde, who blocked four shots and, as the TV analysts like to say, "owned the paint."
After one particularly body-shaking play, McBryde flexed her biceps, a la McDonald. McBryde was such a force that OSU coach Scott Rueck was seen chirping at her.
"I try to make up for my lack of size with physicality, and a lot of people don't necessarily like that," McBryde said on coach Adia Barnes' radio program Monday night. McBryde said she isn't willing to "get punked."
Guess who didn't like it? Rueck.
"It's been extremely physical, which is a concern," he told reporters after the overtime loss.
"It goes against everything we have been taught, trained to do. I'm trying to protect my players from getting bad calls."
This isn't the first time Rueck has raised a ruckus. He was reprimanded by the Pac-12 a year ago for complaining after a tough loss to Stanford.
Bad calls? Two of the referees in Sunday's game at Gill Coliseum were the elite of the elite in women's basketball. Tiffany Byrd and Cheryl Flores both officiated the WNBA finals last season.
They are the Pac-12 women's equivalent of the league's Final Four men's referees John Higgins and Tony Padilla.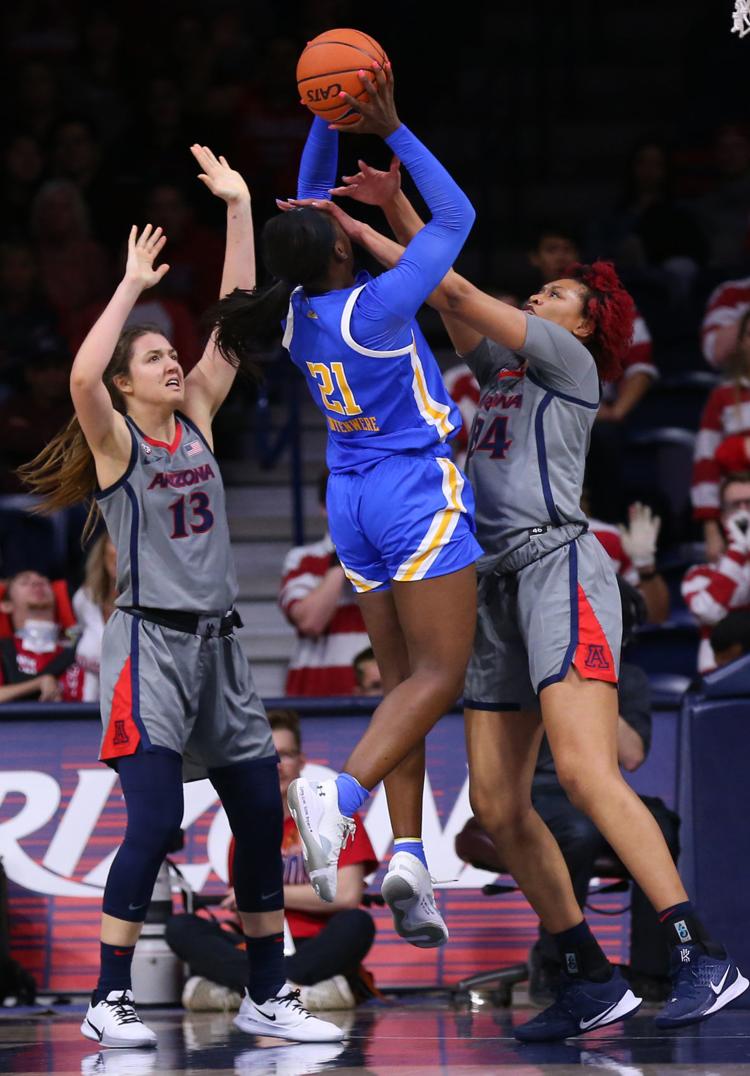 If it's an attempt to intimidate Barnes and her players, a move to get the league to diminish the style of McDonald, McBryde and the undersized Wildcats, it probably won't work.
Pac-12 coaches were chummy and friendly with Barnes as she labored to build Arizona from last place in 2016 and 2017. But now that she has established her will, demonstrating that the Wildcats will be tough as well as talented, those relationships are becoming strained.
Two days before Arizona won at Gill Coliseum, Rueck was also vocal about Arizona State's style of play.
The Sun Devils had won four straight over the Beavers, and if you've ever watched Charli Turner Thorne's Sun Devils play, you know that (1) they play a platoon system, keeping every player fresh and (2) they run between the tackles.
"The story of those four (losses)," said Rueck, "is that they were the most physical team. They play football, that's what they do. It's an absolute bloodbath when you play them. You either rise to it and play tougher and harder than them.
"We've got to be the ones who dish it out."
Rueck's plea worked. The Beavers beat the Sun Devils on a last-second shot. To the credit of referees Kyle Bacon, who worked the 2016 women's Final Four, and Micol Price, who worked the 2019 WNBA playoffs, only 18 free throws were attempted in a very physical game.
If ASU women's basketball is football, Arizona's is rugby. It's no different than what UCLA coach Mick Cronin did in Tucson on Saturday, limiting the UA men's team to a 47-year-low shooting percentage at McKale Center.
Cronin's team was deliberate and physical. To his credit, Arizona's Sean Miller didn't whine about the officiating or pace of play.
And it's not like Rueck's Beavers have been getting bounced around by the referees. The Beavers have averaged just 12.8 fouls per game. That's the fewest in the Pac-12, for men's and women's games, by more than three fouls a game.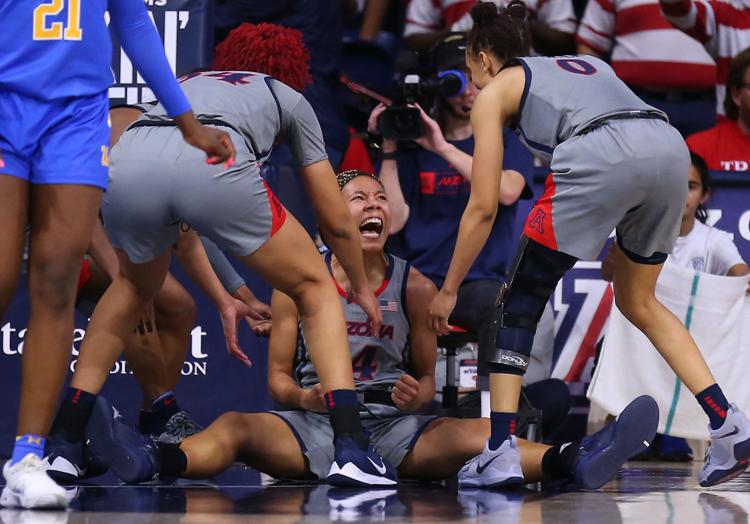 When the Beavers beat Arizona 63-61 at McKale Center a month ago, OSU standout Mikayla Pivec scored the winning basket with 1.4 seconds remaining. Her winning shot was replayed over and over again on the Pac-12 Network and let's just say it fit the definition of traveling.
Barnes declined to make a public comment about the game-losing play. On her radio show Monday, Barnes said, "it's part of basketball; you get good calls and bad calls."
A lot of Pac-12 coaches haven't been able to bite their tongue. In the last month, two men's coaches — Utah's Larry Krystkowiak and WSU's Kyle Smith — were reprimanded by Commissioner Larry Scott for being critical of officiating. I suspect Rueck will be next.
Who's getting cheated here? Not Oregon State.
In the last four Arizona-OSU games, the Beavers and Wildcats have shot exactly the same number of free throws. Both teams are an identical 38-for-49.
It wasn't officially announced by the Pac-12, but Adia Barnes' team "arrived" over the weekend at Gill Coliseum. For the first time, an elite-level coach complained about their style.
For the first time in more than a decade, the Wildcats, a longtime pushover, are pushing back.
Contact sports columnist Greg Hansen at 520-573-4362 or ghansen@tucson.com. On Twitter: @ghansen711
Be the first to know
Get local news delivered to your inbox!