Editor's note: This story is part of the Arizona Daily Star's 2018 college football preview.
Most college football teams have a war cry similar to Oregon's old "Win the Day" motto created by Chip Kelly.
Purdue has "Focus Fight Finish." Minnesota had "Brick by Brick." Rich Rodriguez littered Arizona's football facility with "Hard Edge" and "Pull the Rope" logos.
First-year Arizona coach Kevin Sumlin doesn't need any of that. His identification is a simple one: "Right Place, Right Time."
He is the Great Inheritor.
In his first year at Houston, 2008, Sumlin inherited sophomore quarterback Case Keenum, who went on to throw for 19,217 yards. How good is that? Arizona's career leader, Nick Foles, threw for 10,011 yards.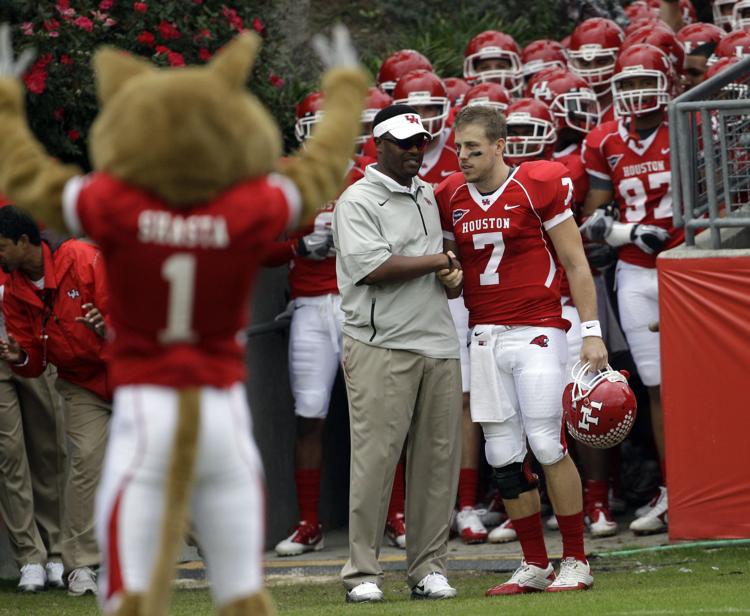 When Sumlin moved to Texas A&M in 2012, he inherited redshirt freshman Johnny Manziel. He won the Heisman Trophy that season.
And, of course, when Sumlin was hired at Arizona he was greeted by Khalil Tate, a potential franchise QB Arizona has sought since 1899.
Right Place, Right Time III.
I can summon to mind just one modern era Pac-12 coach who inherited QBs with such blessed regularity:
Leaving Wyoming in 1987, Dennis Erickson was given Timm Rosenbach at Washington State. Rosenbach went on to finish seventh in the Heisman voting and led the nation in passing efficiency. Thanks to Rosenbach, Erickson went to mighty Miami where he inherited future Heisman Trophy winner Gino Torretta. From there Erickson went to Oregon State, where he was gifted with QB Jonathan Smith, who would lead the Beavers to their best season in history, 11-1, in which he was MVP of a Fiesta Bowl victory over Notre Dame.
Erickson's QB inheritances were so bountiful that he became the head coach of the Seattle Seahawks and San Francisco 49ers and was paid tens of millions of dollars.
Make no mistake, the time is now at Arizona.
Win now or forever hold your expectations in tow.
This is Act III for Sumlin, and he knows how it goes. He fully took advantage of Keenum by going 36-17 at Houston, earning a promotion to Texas A&M, where he found Manziel on his roster, an unintended gift from fired Aggies coach Mike Sherman.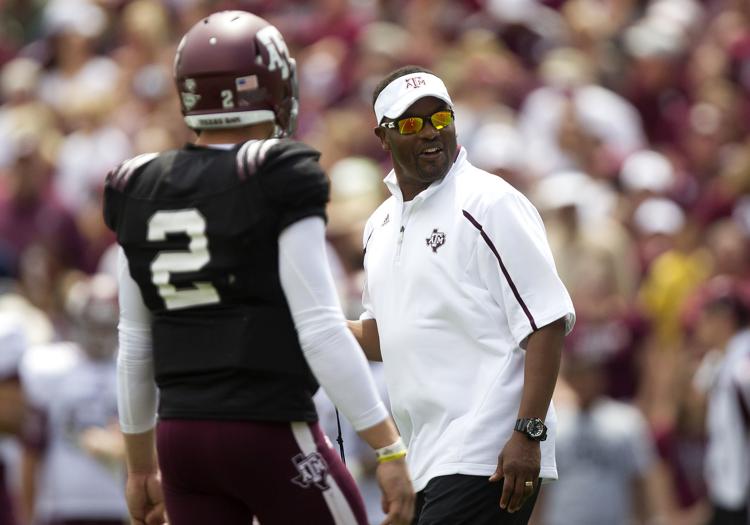 After Manziel's 11-2 freshman season, expectations at A&M became so ridiculously high that the Aggies paid Sumlin a lump sum of $10 million to go away, even though he didn't have a losing season and went a cumulative 51-26.
Do that in Tucson and they build a statue for you next to Button Salmon.
This isn't College Station, Texas (thank God), where 100,276 Aggie fans attended last year's home opener against Nicholls State and believed Sumlin's team would prevail in the wickedly difficult SEC West against Alabama, Auburn and LSU.
Arizona averaged a bit over 42,000 fans at last year's home games, and would be delighted if Sumlin and Tate attracted so much interest that more than 50,000 fans show up to watch USC, Oregon, BYU and ASU.
One thing has changed. Beating the Sun Devils will not by itself satisfy UA fans this season. Expectations are at the highest level since 2010, and maybe since 1999.
Maybe that's not such a good thing. In 2010, behind Foles, Arizona opened 7-1 and climbed to as high as No. 9 in the polls. The Wildcats lost their last five games in succession.
It was just as bad in '99. Arizona opened No. 4 nationally and finished 6-6.
Those high expectations ultimately led to the removal of coaches Dick Tomey and Mike Stoops. The difference is that both Tomey and Stoops had toiled years to create higher standards for Arizona football.
Sumlin hasn't been around long enough to get his picture on the side of a bus.
There can be no doubt that Sumlin knows what to do with a prospect like Tate. At Texas A&M, he did not play scared; he allowed Manziel to run the ball 201 times during his Heisman season, and 144 a year later. Tate, who some feel runs too much, exposing him to injury, ran the ball 153 times last year.
The most intriguing aspect of Arizona's 2018 season will be Tate's development. Can he hit the deep ball with consistent accuracy? Will he develop into an NFL draft pick? But, mostly, can he stay healthy enough to start every week?
Sumlin isn't the first Arizona football coach to inherit a difference-making QB. In 1973, Jim Young found sophomore Bruce Hill on the depth chart. Hill's three Arizona teams went 26-7.
The two most successful coaches in UA history, Larry Smith and Dick Tomey, both were forced to use true freshman QBs — Tom Tunnicliffe in 1980 and Ronald Veal in 1987 — and barely survived those break-in seasons. They won a combined nine games.
For Kevin Sumlin, the man in the right place at the right time, nine victories sounds about right.