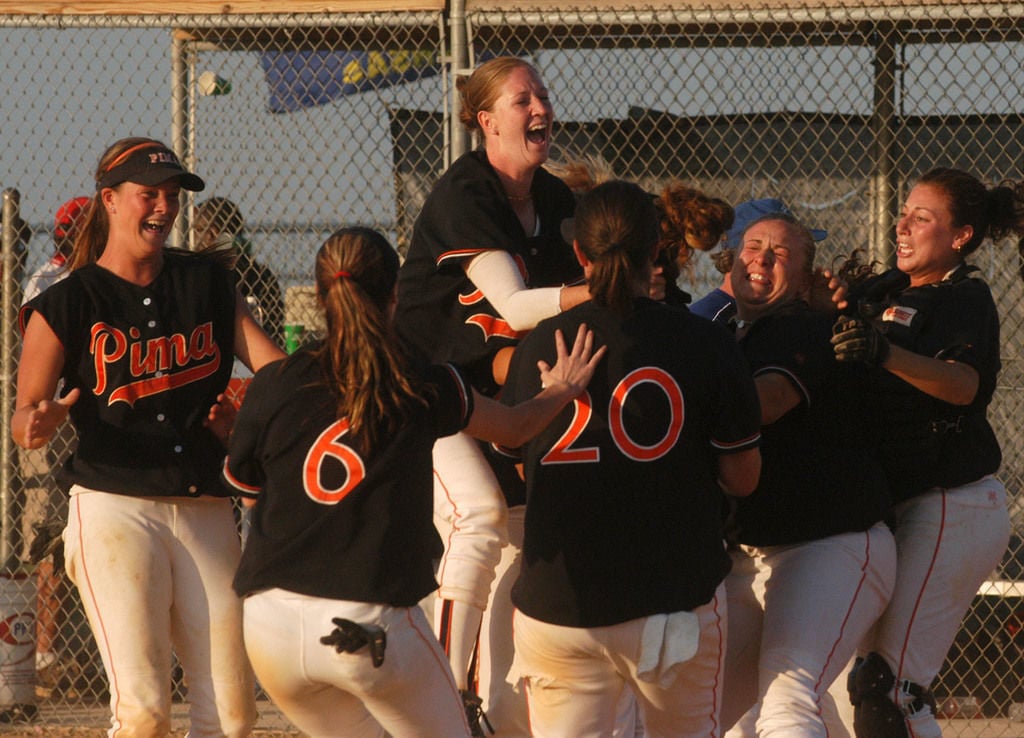 Editor's note: Over five weeks, Star columnist Greg Hansen is profiling 10 times that Tucson teams beat No. 1. Today: Pima College's NJCAA national championship run in 2004.
As far as can be determined, Stacy Iveson is the only person on the planet to successfully execute the Triple Crown of softball coaching.
Stage 1: Iveson coached Salpointe Catholic High School to the 1993 state championship.
Stage 2: She was Arizona's pitching coach during NCAA championships of 1996, 1997 and 2001.
Stage 3: She coached Pima College to NJCAA national titles in 2004 and 2006.
If you know of someone who has matched Iveson's Triple Crown, please contact Google or Wikipedia.
In addition, Iveson coached Yavapai College to NJCAA national titles in 2009 and 2011, but she is not fully content with the eight championship rings on display at her home.
"It's pretty cool," says Iveson, the UA's director of softball recruiting/operations, "but I'm planning to get another one when we resume play in 2021."
Not even Iveson is sure how many times her softball teams beat a No. 1-ranked club over the years. But few softball coaches have ever celebrated a victory over No. 1 to get a chance to be No. 1 the way Iveson and Pima College did on a steamy hot day, May 22, 2004, in suburban Orlando, Florida.
Pushed into the losers bracket of the NJCAA finals a day earlier, Pima needed to win four games over 10 hours to become national champions.
9 a.m.: Defeated No. 7 Indian Hills College of Iowa 8-0.
11:30 a.m.: Defeated No. 1 Indian River State College of Florida 7-0.
2:30 p.m.: Defeated No. 3 Gulf Coast College of Florida 12-0.
4:30 p.m.: Defeated No. 3 Gulf Coast College of Florida 1-0.
When you outscore four elite opponents by a collective 28-0 in one day, there's no quibbling. You are No. 1.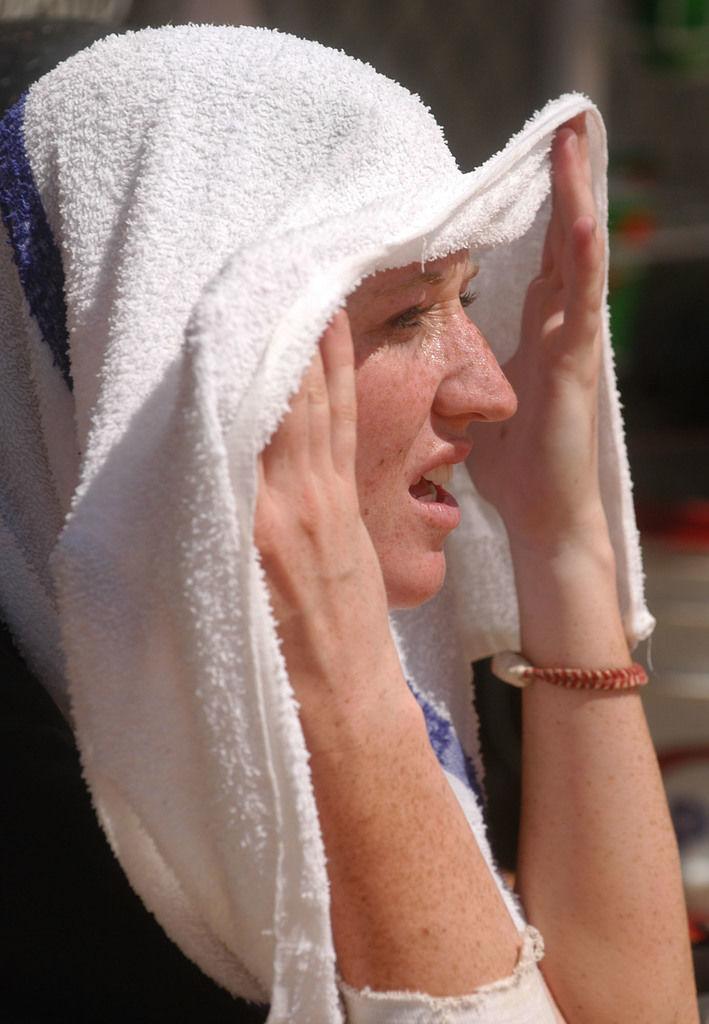 "It seems like it was yesterday," says Kendra Palmer Forgacs, Pima's starting right fielder who stole 42 bases that season. "It was one of the most memorable experiences of my life. It was the last softball game I ever played. Not many athletes can hang it up on a victory like that."
The '04 Aztecs were no one's idea of a Cinderella. They won 35 consecutive games during the season, finished 71-8, and stormed through the ACCAC — probably the nation's top JC softball conference — with a 37-3 conference record.
Seven of the nine starters were from Tucson high schools: Forgacs, outfielder Jackie Martinez and .413-hitting shortstop Rebecca Lebsack were from Salpointe; pitcher Veronica Ralston, who went 28-1 and didn't allow a run in the final two games, was from Catalina Foothills; first baseman Ashley Monceaux, a first-team All-American who had a team-high 79 RBIs, was from Flowing Wells; and third baseman Lisa Parks, who hit 22 home runs, was from Sahuaro.
Pitcher Nicki Johnson, also from Sahuaro, shut out No. 1 Indian River College in the second of Pima's four victories that day; Johnson was 57-7 in her two seasons with the Aztecs.
Pima beat Gulf Coast College in extra innings 1-0 to win the title. A single by Santa Rita High School grad Angela Guerra scored Monceaux for the game's only run.
"It was a Kirk Gibson-type of moment," Iveson remembers. "Angela had hurt her leg and couldn't do much more than limp to first base. I was praying that the right fielder wouldn't throw her out at first. We had so many heroes."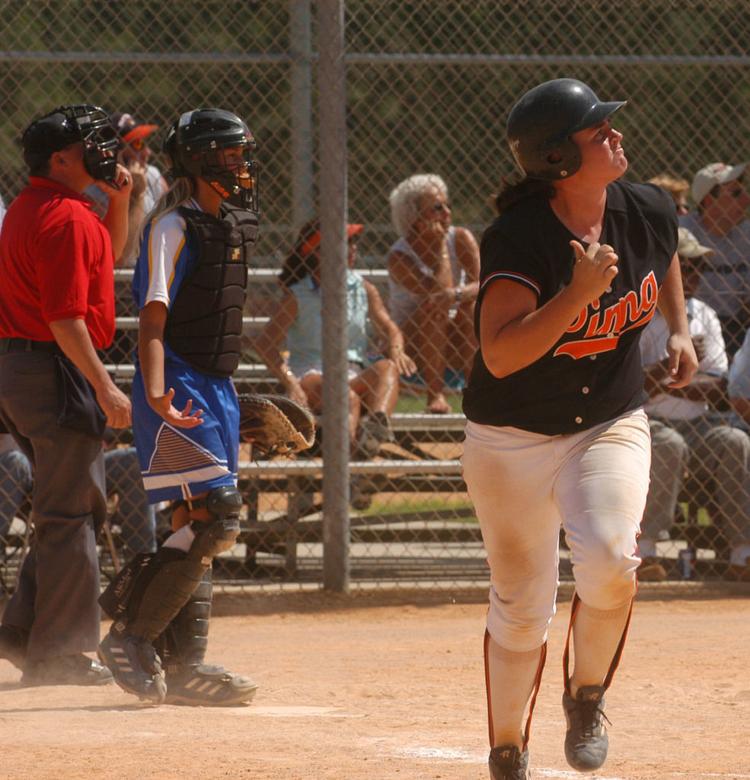 Temperatures at the softball complex in Clermont, Florida, that day reached the mid-90s. The humidity wouldn't quit.
Lebsack, the All-ACCAC shortstop, had to be treated for heat-related issues before the showdown with No. 1 Indian River. The only shade at the softball complex provided by the roof over the dugouts. Lebsack played anyway.
"It was just the longest day," says Iveson. "But nobody gave in to the heat or to the opponents. I still remember Lisa Parks' home run over the water tower in left-center field. You couldn't hit the ball farther than she did, and it won a game for us."
To help celebrate the victory, the PCC players and coaches took a celebratory ride on a Lake County, Florida, fire truck. By then it was almost sunset.
"I'll always remember the feeling of getting that last out," says Forgacs. "It was extra innings; we were exhausted beyond exhaustion. What makes me so proud is that we were just a bunch of local girls coming together who overcame every possible obstacle.
"As I walked off the field, the sensation of knowing I'd played my last game hit me like a ton of bricks. We were national champions. How do you beat that?"
Postscript: On the trip from Tucson to Orlando, Iveson handed out white T-shirts to all players and coaches with "Pima College, 2004 Regional Champions" on the front. Forgacs, who is the principal of Desert Willow Elementary School in Vail, wore the shirt last month while speaking to the students at the school. "I'll forever be grateful to Coach Iveson for her leadership in softball and life in general," she says. "I'm so proud to have been part of that team."
Where are they now? Parks, who went on to become a starter on Minnesota's 2007 softball team, became the head coach at Yavapai College, succeeding Iveson in 2013. Parks now lives in Minnesota and is married with two children.
Monceaux, who became an All-Big 12 first baseman at Baylor, coached at Evansville before returning to Tucson to coach high school softball. She has two children. Johnson moved on to Memphis after Pima before returning to the Aztecs as an assistant. She is now Pima's pitching coach.
Ralston, who was probably the nation's top pitcher in 2004, became a starter at Marshall University. She now works at Raytheon in Tucson and is married with two children.
Contact sports columnist Greg Hansen at 520-573-4362 or ghansen@tucson.com.
On Twitter: @ghansen711
Be the first to know
Get local news delivered to your inbox!