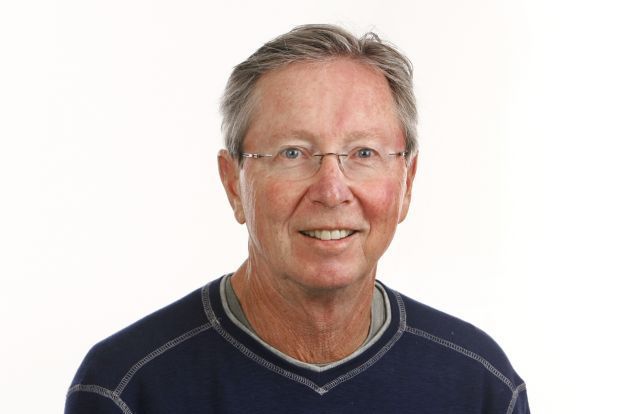 Few things in Tucson high school sports have changed more than the concept of a career basketball coach. The George Genungs, Dick McConnells and Roland LaVetters — men who coached so long and with such excellence that Tucson schools named gymnasiums in their honor — have been replaced by a generation of more show-and-go coaches.
Exceptions? Sure. Rincon/University's Rich Utter is in his 33rd season. Sahuaro's Steve Botkin has won more than 550 games. Amphi's Ben Hurley is in his 15h season.
I bring this to your attention because the once-proud boys basketball program at Pueblo High School — the school at which Charlie Cook, Fat Lever, Randall Moore, Hakim Rasul and Michael Perez became all-state performers — has resurfaced as a title contender after going through five coaches since 27-year head coach Barry O'Rourke died in 2006.
Last May, Pueblo principal Frank Rosthenhausler hired Harry Whitaker Jr., to be the Warriors head coach. The timing couldn't have been worse. COVID-19 issues prevented Whitaker from assembling a summer-league team, coordinating strength and conditioning sessions or do much more than introduce himself in phone calls.
Pueblo didn't play its first game until Jan. 26; the Warriors had been on-court together for a brief 10 days. To his credit, Whitaker did anything but take a wait-til-next-year approach.
The Warriors are 9-1 and fully qualified for the state Class 4A playoffs. Whitaker is an apt model of a new generation of high school basketball coaches who are expected to show up, introduce themselves and shine.
Whitaker, who moved to Tucson from North Carolina 13 years ago to work at Davis Monthan Air Force Base, has a full-time day job that doesn't include teaching history or gym classes at Pueblo, which was the model for high school coaches when LaVetter coached Pueblo to back-to-back state championships in 1977 and 1978.
Whitaker works the 3 a.m. to 11 a.m. shift five days a week at XPO Logistics, a large cargo and freight warehouse near the Kino Sports Complex.
"I take a nap and then go to school," he says. But that's not half of it.
"He's a grinder," says Rosthenhausler, the principal. "He works his tail off."
Whitaker was discovered by former Pueblo athletic director Brandon Sanders, who is now a part of Jedd Fisch's football staff at Arizona. After careful review of Whitaker's experience as a youth-league coach in Tucson, Sanders hired him to be Pueblo's freshman coach two years ago.
"Because we weren't even allowed in the gym until mid-January, I think a lot of teams counted us out," says Whitaker. "But I believe we're for real. We are letting people know Pueblo is back."
A lot of the Pueblo-is-back approach can be traced to Whitaker's family tree. His nephew, Amari Carraway, had become a rising star at Fresno's Washington Union High School last year. When it looked as though California may not allow high school basketball this year, Carraway and his mother moved to Tucson.
Carraway is the state's 4A leading scorer at 24.9 per game. Although he's often the shortest player on the court, he's fearless. He has joined 6-foot 10-inch junior Zach Morgan, who averages a double-double, 11 points and 12 rebounds, and junior Marcus Coleman, averaging nine points, as the core of a program that should be a 4A contender through Carraway's senior season, 2022-23.
"It's just nice to get back to those days when Pueblo was a basketball winner," says Rosthenhauser.
"Harry has skills with X's and O's and a lot more. He works with parents, he is a fund-raiser and he understands the CEO aspect of being a head coach. He has made sure all the kids in all the programs have matching uniforms, with North Carolina-type blue uniforms.
"He has a lot of pride in Pueblo. It's something we needed."
The AIA, which operates the state high school association, hasn't been kind to the Pueblo. It placed Pueblo in the 4A Kino division with historically successful schools Salpointe Catholic, Sahuaro and Canyon del Oro. The 4A Gila division includes Walden Grove, Sahuarita, Amphi and Rio Rico, which might've fit Pueblo better.
"I was pretty upset," says Rosthenhauser. "We didn't get put in a bracket with schools more like us, from low-come areas. We don't have the overall services of a Salpointe or a CDO, the weight rooms and such things. I appealed the AIA's decision but was turned down twice. In the end we said, 'OK, we're tough, we'll have to overcome it.' ''
So far Pueblo has met the challenge.
"The kids just want to play," says Whitaker. "COVID set us all back. It made us all hungry. We've had games canceled and had our scheduled shortened but we've made the best of it."
Pueblo's return to prominence hasn't gone unnoticed.
Over the weekend, the school's most famous player, former NBA All-Star Lafayette "Fat" Lever, Class of '78, whose name is on Pueblo's basketball facility, contacted Rosthenhausler said he wanted to do something to help.
Lever is shipping school-color hoodies to the Warriors' boys and girls basketball teams. Now one of the best teams in Tucson prep basketball will be one of the most well-dressed, too.
Contact sports columnist Greg Hansen at 520-573-4362 or ghansen@tucson.com. On Twitter: @ghansen711