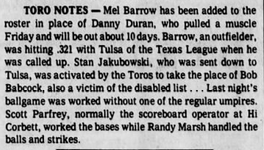 Long before "Bull Durham'" became the quintessential movie about minor-league baseball, Kathy Parfrey put her twin sons, Brad and Doug, into a double-stroller and pushed them up a ramp and into a section with Tucson Toros baseball wives at Hi Corbett Field.
The Toros of the late 1970s were a Triple-A franchise with a Single-A aura.
"It had a nice neighborhood feel," Parfrey remembers. "Everybody knew everybody."
The Toros of '79 were perfectly average. They finished 74-74. The club's young general manager, Jack Donovan, now a member of the Pima County Sports Hall of Fame, was a lot like the Crash Davis character in "Bull Durham," a career minor-leaguer from Staten Island, New York.
Donovan had been a No. 1 draft pick of the Los Angeles Angels in 1971, a pitcher with "stuff" whose career took a "Bull Durham"-type course. Donovan played for six teams in five years, including the Shreveport Captains, the Waterbury Dodgers and the Quad Cities Angels.
By 1976, Donovan was out of baseball. In October 1977, he was hired as the Toros general manager.
On what he remembers as his first week of the job, Donovan picked up the office telephone and said "Tucson Toros, how may I help you?"
A woman's voice with a slight New York City accent said "Jack, you may not remember me, but we went to high school together in Staten Island. I was a cheerleader at St. Peter's High School."
In the small-world department, Kathy Parfrey and Jack Donovan had wound up 2,400 miles away, living in Tucson. Donovan soon hired Kathy's husband, Scott, to operate the Hi Corbett Field scoreboard 74 nights a year.
It turned into a lifelong friendship, one that produced an unforgettable story 41 years ago during the Toros' 10-0 loss to the Ogden Dodgers on June 23, 1979.
Both Parfrey and Donovan are baseball guys to the core, native New Yorkers who can talk fluently about Yankee outfielder Reggie Jackson's three-home run game at the 1977 World Series, and about that Saturday night at Hi Corbett Field in '79 when Parfrey unexpectedly became a professional umpire.
"We still laugh about it all the time," says Donovan, retired and living in Tucson. "I doubt anything like it has ever happened in organized baseball."
Shortly before the Toros game against Ogden that night, Donovan got a call telling him that one of the two umpires for that night's game had been injured in a car wreck on the way to Tucson. There was no on-call umpire available. PCL umpire Randy Marsh, who would later work in the big leagues for 28 years, was the only ump to show up at Hi Corbett Field.
Donovan knew that Parfrey had a long background in umpiring. Could he work with Marsh and be the base umpire that night?
"Bring your blues," he said. "You're calling the game."
Parfrey had umpired thousands of games at almost every level in the New York area. Baseball. Softball. Junior college. Rec leagues. He had been tutored by ex-MLB umpire Tom Gorman.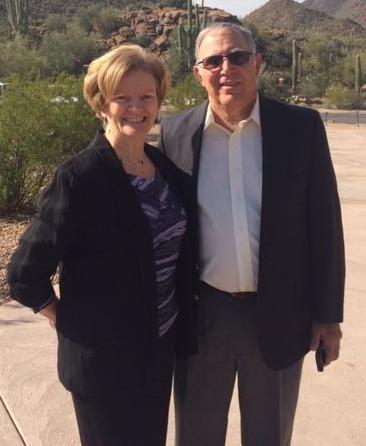 "On Sundays, I would ump eight games a day. It was brutal," he remembers. "There were fights. There were guys betting on the games. I'd get $35 a game. Compared to that, umpiring a minor-league game was a piece of cake."
Now retired after a Tucson career in the fitness business and as a homeowners association executive, Parfrey probably had the chops to be a big-league umpire. But because MLB had an unwritten rule that umps must look the part — notably, they had to be at least 6 feet tall — Parfrey didn't pass the eye test. He's about 5-9 and wears glasses.
So Parfrey wound up working the scoreboard at Hi Corbett Field for Donovan, which was not a job for just anybody,
"That scoreboard system was almost prehistoric," says Donovan. "It wasn't flexible. You couldn't change or adjust anything. Once Scott put a run on the board, it was almost impossible to erase. The guys in the press box would get on him for being slow to update the totals. But he'd just take it and grin; he knew what he was doing."
Predictably, the night Parfrey wasn't working the scoreboard — the night he had his one and only professional umpiring opportunity — it all went wrong.
Midway through the Toros-Ogden game, with runners on second and third, an Ogden batter hit a vicious line shot directly at Toros pitcher Steven Bianchi. He immediately threw to third baseman Marty Scott, trying to double the runner off third base.
The ball went over Scott's head. Both runners scored. Parfrey's replacement quickly entered both runs on the electronic scoreboard.
But Parfrey's instincts kicked in. He saw that the runner on second base had not tagged up after Bianchi caught the line shot. When a Toros infielder retrieved the ball and touched second, the eagle-eyed Parfrey ruled a double play.
"He just rang him up," says Donovan. "The next thing you know, (Ogden manager) Jose Pagan comes barging out of the dugout, screaming at Scott. To his credit, Scott wasn't intimidated. He held up his hands and told Jose to calm down."
But in the press box, there was a problem. Two extra runs were on the board. The fill-in scoreboard operator couldn't figure out how to remove them.
Donovan grabbed the PA microphone. "Scott! Umpire Scott! Please come to the press box and fix the scoreboard."
Marsh looked incredulous. "You've got to be kidding me," he mouthed to Donovan. The game was halted for about 15 minutes as Parfrey made the needed corrections.
The next day, Parfrey returned to the press box, taking his place next to Donovan, several sportswriters and PA announcer Bill Roemer. They gave Parfrey the silent treatment, the man they had long accused — jokingly — of being tardy in punching up changes on the scoreboard.
Finally, former Tucson Citizen sports columnist Regis McAuley, a stoic personality, stood up and walked to Parfrey's seat.
"Scott, you did a great job. I also saw that the guy failed to tag up," he said. The others in the press box applauded.
For the next 40 years, the Parfreys became part of the fabric of the Tucson community. Kathy became a schoolteacher — calculus — at Mountain View High School and taught, among others, future UA All-American and Olympic swimming medalist Lacey Nymeyer.
"Scott loved every minute of working that scoreboard," she says now. "It's such a fond memory. We loved being part of the Toros."
The day after Parfrey's debut as a PCL umpire, the Tucson Citizen's headline said: "Toros Losing With AA Players."
There was no mention of a rookie umpire making the winning call — and the best play — of the night.
Contact sports columnist Greg Hansen at 520-573-4362 or ghansen@tucson.com.
On Twitter: @ghansen711
Be the first to know
Get local news delivered to your inbox!