Dave Heeke spends much of his summer getaway time at Lost Lake, his family's century-old cabin near Michigan's Upper Peninsula. "No TV there," he says. "No heat, no A/C. You've got to take a dirt road to get there."
When the Arizona athletic director returns to Tucson for football season he finds his own version of Lost Lake. Arizona Stadium is the Pac-12's remaining football relic, an aging facility that turns 90 next month.
All that it lacks is a dirt road.
Unlike its 1920 contemporaries such as the Rose Bowl, the Los Angeles Coliseum and the once-antiquated football stadiums at Stanford and Cal, Arizona Stadium is about $150 million shy of its final welcome-to-the-21st century makeover.
"Under the west stands there is still evidence of tie-up stations for horses and carriages from 90 years ago," Heeke says now. "The bottom 30 rows of the west side remain the original structure."
For emphasis, Heeke rubs his palms across the 90-year-old cement work that leads to the visiting team's locker room.
"We want to be builders; we need to catch up," he says.
Before Saturday's home-opening victory over NAU, Heeke spent $3 million to remake the Skybox Club on the third level of the press box structure built in 1989. The final payment of that 30-year mortgage will be made this year.
It is, let's say, what you would expect to see at Alabama or Texas.
Capacity for the Skybox Club is 440. Heeke refers to those 440 people as "stakeholders." All of the buzz words connected to today's big-time college football — especially "fan enhancement" — apply.
There are eight TV screens for those stakeholders as they look onto the Arizona Stadium field. Food and beverage service rivals that of a five-star restaurant. It's spacey, yet those 440 fans never lose connection to the game.
"The key for us, the key for everyone in this business, is for the fans not to get disconnected, not to get detached while they go to the restroom or go to get something to eat," says Heeke.
The next move for Heeke is inevitable, an all-in commitment that his predecessors dreaded for the last 40 years.
To connect about 20,000 fans in the ancient west-side bleachers, to enhance their game day experience, the 90-year-old structure must fall.
To his credit, Heeke is taking on that project with ambition and vision, not dread.
Arizona is in the final stages of design for a $120 million to $150 million reconstruction. It's going to take an NCAA record of patience to see the project to its finish.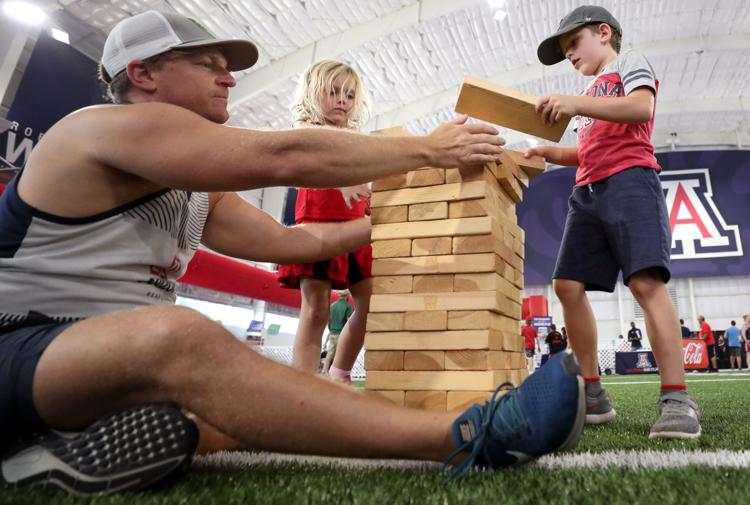 For two seasons, probably 2021 and 2022, Arizona Stadium will not have seats on the west side, reducing capacity to about 30,000. There will be no attempt to play games in, ugh, Phoenix.
"We will not vacate the stadium," said Heeke. "We're going to be challenged with seating for a couple of years. It's a significant project, no doubt about it."
Arizona State spent three years and about $300 million reconstructing Sun Devil Stadium, playing games in a dust bowl with carpentry tools as a backdrop. USC spent 2018 in a partially dismantled Coliseum while a $250 million makeover was in process. Cal spent one year playing away from campus, in a San Francisco baseball stadium while almost $400 million was spent on Memorial Stadium.
Now it's Arizona's turn, if somewhat tardy, to match its competitor's neighborhoods.
The west-side project will be Stage III of the massive remake of Arizona's football plant. It spent $75 million to redo the north end zone in 2012-13. A year ago, Heeke commissioned $25 million to enhance Zona Zoo facilities, and another $16 million to construct the Davis Sports Center, a multipurpose indoor facility far superior to those at, say, ASU and Oregon State.
When the west-side project is done about 2022 or so, Arizona will have spent roughly $300 million to play football. Where does that money come from? A big percentage comes from the Pac-12 media rights deals with ESPN and Fox. Donors will chip in. The rest will go to debt service.
The original Arizona Stadium cost $160,000 in 1929, or the equivalent of about $4 million today. Oh, how times have changed.
On Oct. 12, 1929, when Arizona beat Cal Tech in the inaugural game at Arizona Stadium, school officials had to put fences around the bleacher-less east side and end zones, and cover them with canvas so that outsiders could not watch the games for free.
"This stadium has amazing historical components, and as a traditionalist, I want to preserve the history here as much as realistic," said Heeke. "We're not just going to knock everything down."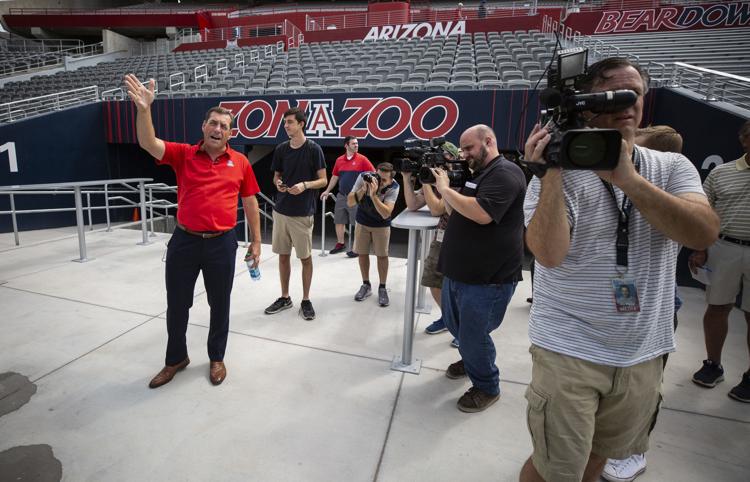 When Arizona Stadium is totally rebuilt, Heeke expects capacity to be close to 50,000. It's now roughly 55,500. The UA sold about 39,000 tickets leading to the NAU game, down maybe 3,000 in season tickets from a year ago.
Heeke believes that if he builds it, the fans will fill those 50,000 enhanced seats at a ballpark teeming with beer and wine sales, new and more spacious restrooms, more comfortable seating and a greater variety of food at the concessions stands.
Heeke's vision includes more comfort amenities such as modern restrooms, far different than the ancient trough-type urinals now in some west-side men's restrooms.
"I'd like to see it more like an experience at a PGA golf event than at a county fair," he said, smiling.
But the ultimate goal isn't to drink a few beers and eat more food. It's to win more football games.
"Our goal is to be consistently successful and compete for conference championships; there's no reason for that not to be done in Tucson," said Heeke. "This isn't a quick fix, but the foundation of it is coming together now."
A victory over Texas Tech and 50,000 fans in the stadium on Saturday would be a first step toward that goal.