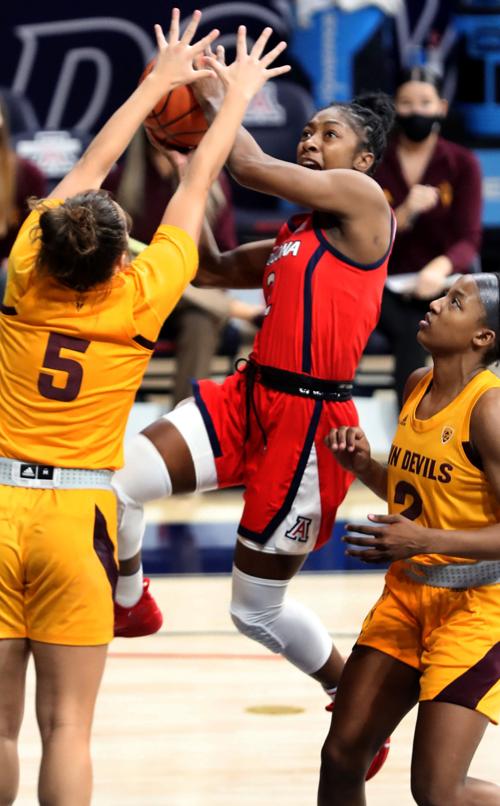 Beating Arizona State in women's basketball has been so difficult that you don't need to say that Charli Turner Thorne's team was on a 20-2 circus ride against Arizona when Adia Barnes was hired.
You don't need to add that the Sun Devils had an earlier 11-0 streak against the Wildcats.
All that's necessary is to list Arizona's point totals in its last 15 games against ASU:
The Sun Devils play defense. They play slow. They play tough. They play smart. Over the last 20 years, Turner Thorne's program is second only to mighty Stanford in Pac-12 women's hoops.
They went to 14 NCAA Tournaments, reached three Sweet 16s and two Elite 8s. They owned Arizona since the departure of UA coach Joan Bonvicini 15 years ago.
If you can't score more than an average of 51 points a game against anyone — as Arizona has struggled to do against Thorne the last 15 games — how do you make any progress? Such was the situation Barnes inherited when hired in the spring of 2016.
All of that has changed in the last two seasons. Arizona has now won four of five against ASU, and in Thursday's 65-37 victory at McKale Center the shift in power was never more apparent than early in the third quarter.
Arizona All-American point guard Aari McDonald swished a 3-pointer with 7:31 remaining. She swished another 3-pointer with 7:19 remaining.
ASU called timeout. Arizona led 46-23. McDonald alone had scored 20 points.
This was a long-time coming for Arizona, which played Thursday's game with the highest ranking, No. 6, in its history. The only regret was that fans weren't permitted into McKale Center. I'm thinking it would've been a sellout, 14,500 strong, which, combined with food and beverage income, might've meant about $300,000 to the UA bank account.
Rather than banking a lot of money, the Wildcats banked a lot of belief and respect.
The road ahead is daunting. In the next month, they must play No. 1 Stanford and at No. 8 Oregon and make a troublesome pre-Christmas trip to Utah and Colorado. But if Barnes' team has proved anything by beating ASU, USC and No. 9 UCLA in the last week, it's that McDonald and her club have a bring-it-on mindset.
"We want to have defense be our identity," senior guard Sam Thomas said Thursday.
What Barnes has done is strongly reminiscent of what Lute Olson did 35 years ago, ending a long period of torment at the hands of the Sun Devils, winning 16 of his first 17 games against whatever ASU put on the floor.
ASU has never been ranked higher than No. 8 when it played Arizona. Barnes has topped that at the beginning of her fifth season. In Olson's fifth season, 1987-88, Arizona rose to No. 1 in the nation.
Is history repeating itself?
For the first time in forever, Arizona has more resources than ASU in women's basketball. Thorne's path to success came by wearing you out: She substitutes in platoons, four and five players at a time, using 10 players, confusing you, getting you tired, believing that depth and conditioning make a difference.
On Thursday, for example, Thorne made 19 substitutions in the first quarter alone. But this time it didn't work. Barnes' bench on Thursday included Shaina Pellington, a member of the Canadian National Team, and Lauren Ware, a freshman center from North Dakota who might be the most highly-ranked recruit in UA women's basketball history.
"We're selfless," said Barnes. "We celebrate each other."
Arizona's bench goes nine deep in quality. It not only breaks you down, it creates a daily competition in practice that tends to keep you sharp and hungry.
The UA limited ASU to 26 percent shooting and forced 23 turnovers. As much attention as McDonald gets for her pace and her scoring, she is a defense-first player and it has caught on.
The Sun Devils can attest to that. Thursday's 28-point margin was the most lopsided UA victory over the Sun Devils since 1998.
One of Barnes' many items on the to-do list in the spring of 2016 was to reverse the Sun Devils' dominance.
"It was a big priority," she said Thursday. "We swept them last year and I felt we could sweep them this year." When Barnes played at Arizona, the Wildcats went 8-0 against the Sun Devils.
"We're back, we're here," said Barnes, which wasn't so much a boast as it is a fact.