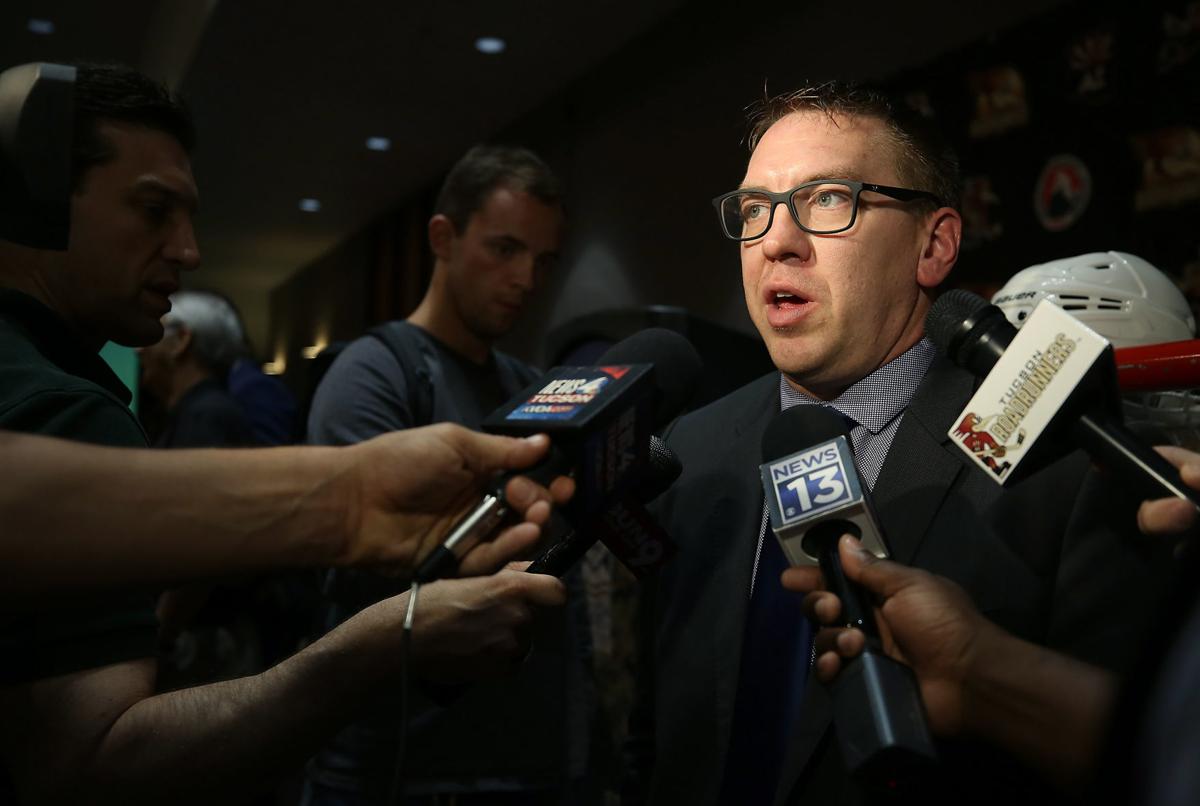 Jay Varady has roots in so many places that you can't quite narrow it down and say he's a Fighting Saint or a Silvertip or a Dutchman or a Musketeer or even a Ducs d'Anger, whatever that may be.
Right now, he's a Roadrunner, the Tucson hockey franchise's third head coach in four seasons, which means he's part-Coyote, too. His wife is a Washington Husky and his daughter is an ASU Sun Devil.
"My house, my car, my wife and my dog are all in Everett, Washington," he says, adding to the confusion. Varady is from St. Louis, but his parents live in Las Cruces, New Mexico.
If Varady was asked to tell the truth, the whole truth and nothing but the truth, the DNA of his life in hockey might reveal a logo of the Stanley Cup champion St. Louis Blues.
His close childhood friend, Bob Gassoff Jr., is the son of the late Blues legend Bob Gassoff.
"Bob was the stickboy for the Blues and I was the stickboy for the opposing NHL teams," says Varady, who has lived at very full hockey life for man who just turned 42. "Growing up watching the Blues was bigger than life to me."
Life in professional hockey isn't any different than life in professional baseball. To get to the big leagues, you must first pass the elementary tests in the USHL, WHL, NAHL, OHL, the ECAC and, as Varady did, France's Ligue Magnus.
Now he's a final step from the big leagues, coaching the Roadrunners in the American Hockey League, which, if you ask a hockey guy, is the single most difficult "minor league" in all of pro sports, an 83-year-old confederation of hockey-crazed franchises that includes the Manitoba Moose, Toronto Marlies and the Chicago Wolves.
It is Varady's job both to develop and produce NHL-worthy prospects for the Arizona Coyotes and to make sure the Tucson Roadrunners continue to trade punch for punch with the AHL's established franchises like the Rockford IceHogs, Texas Stars and Iowa Wild.
In their first three seasons, the Roadrunners have gone 111-83-18-4. That's remarkable. The Roadrunners have averaged 4,134 fans per game at Tucson Arena and team president Bob Hoffman believes that total will soon climb to 5,000 and beyond.
"We're finding new fans," Hoffman says. "When they come to a game, they like it. Last year, we were No. 2 in the AHL for new season-ticket holders."
Hoffman is hopeful that Friday's home opener against the San Antonio Rampage will draw in excess of 6,000 fans, and that the club can duplicate that in Saturday's Game 2.
Over three seasons, the product on the ice has been beyond expectations, which in turn has grown expectations. The Roadrunners won the AHL's Western Conference regular-season title in 2018, and missed the playoffs by the smallest margin possible last season.
"One point, one goal," says Hoffman. "It was a punch to the gut."
When Coyotes assistant general manager Steve Sullivan moved to replace 2017-18 coach Mike Van Ryn — he is now an assistant coach with the Stanley Cup champion Blues — he did more than study the AHL landscape or tap into the good ol' boy network.
Sullivan handpicked Varady from the Kingston Frontenacs of the Ontario Hockey League and somehow, on short notice, Varady coached the Roadrunners to a 34-26-5-3 season despite, as Hoffman says, "so much player turnover, coming and going, that is was difficult to get any consistency."
The 2019-20 Roadrunners have more than a dozen familiar names: Mike Bunting, Adin Hill, Lane Pederson, Dysin Mayo, Nick Merkley, and on and on.
This Roadrunners club has the look of a strong playoff contender, perhaps more so than Van Ryn's 42-20-5-1 conference champions.
After rising through the hockey ranks since he left NCAA power Union College of Schenectady, New York, 20 years ago — the Dutchmen have produced 11 NHL players the last 40 years — Varady has succeeded at every level.
Somehow he makes it work, even though his wife, Joy, a nurse practitioner at the Providence Comprehensive Breast Center in Everett, Washington, maintains her practice near Seattle.
"I chose to be a coach; this is what I do," says Varady. "We're always traveling anyway, and Joy visits about once a month, so it works."
The Roadrunners spend about 75 hotel nights a season traveling in the AHL, with 18 road trips from Chicago to San Diego and parts in between. Free time? What's that? The Roadrunners are exclusively on the road between Feb. 2-20, and they are so busy they squeeze in a game on New Year's Eve at Tucson Arena.
Over the next six months, the Roadrunners will play 68 games. If they can win 40 of them, they'll be in the Big Dance in April, vying for the treasured Calder Cup.
"Last year stung," says Varady. "It's my job to fix it."
Contact sports columnist Greg Hansen at 520-573-4362 or ghansen@tucson.com.
On Twitter: @ghansen711.