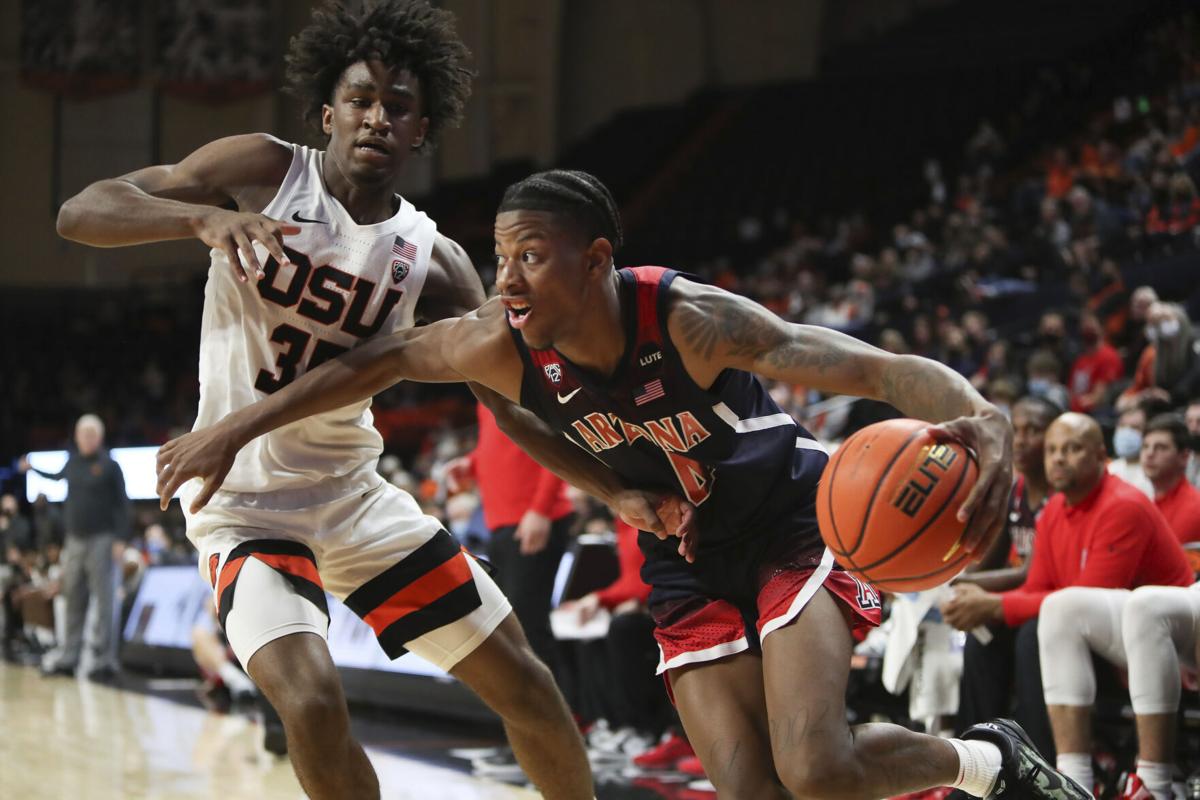 The truth, the whole truth, half-truths, shades of the truth and other items admissible as sports news:
ITEM I: At some point in Oregon State coach Wayne Tinkle's pre-game speech Sunday, he surely told the Beavers: "We're not going to get into a race with Arizona.''
Tinkle is a slow-and-go coach; in his seven years at OSU, the Beavers have yielded an average of between 59 and 71 points per game. He wanted a game that could be won with 70 points, maybe 65.
But Tommy Lloyd is a let's-do-it-to-them-before-they-do-it-to-us coach. Over 40 minutes, I think Tinkle got as much of a workout as his defense did. If you watched closely on the TV screen, almost every time Arizona got possession, Tinkle began jogging up court, frantically waving his team to "get back.'' It must've been the same as 40 minutes on the StairMaster.
Arizona finished with 74 possessions. How fast is that? When Tinkle's Beavers beat Arizona at Gill Coliseum, 2015, stunning Sean Miller's Elite Eight team, Arizona played Tinkle's pace, running a mere 55 possessions.OSU won 58-56.
ITEM II: Of the teams ranked in the AP Top 25, Arizona probably has the most difficult schedule between now and New Year's Day weekend — at Illinois, at No. 13 Tennessee, at No. 4 UCLA and at No. 16 USC. It's unlikely any Top 25 team could win more than two of those road games, if that, so temper your expectations a bit.
It's probable USC will be 14-0 and ranked in the Top 10 when the Trojans and Wildcats meet Jan. 2 at the Galen Center. The only difficult games USC plays before then are on neutral courts against 5-3 Georgia Tech and 6-3 Oklahoma State.
Patience is suggested: Given the UA's front-loaded schedule, Kenpom.com lists Arizona as the favorite to win its final 17 games of the regular season.
ITEM III: Arizona sophomore Bennedict Mathurin got a lot of attention for his behind-the-back dribble and emphatic dunk to give Arizona an 84-58 lead at Oregon State. ESPN played and re-played it. But the unrecognized co-star of that play was point guard Kerr Kriisa.
Kriisa got possession under the Oregon State basket, took two dribbles and had the vision and instincts to take advantage of a momentary opening between a Beaver defender and Mathurin, sprinting near mid-court. Kerr didn't hesitate, hitting Mathurin in stride, who then exhibited the athleticism and spunk to jet past two more Beavers.
That's not a play previous Arizona point guards James Akinjo, Nico Mannion and Justin Coleman were often willing to launch. They were by-the-book guards, dribblers first, passers second. They didn't throw the deep ball, which is a base concept of Tommy Lloyd's offense. Lloyd has shown enough confidence in Kriisa to give him the green light to be a creator as much as a shooter and defender.
Kriisa might not improve much more than his current 33.3% on 3-pointers. But Lute Olson long ago figured out that 33% on 3-point shots returns the exact amount of points as a 50% 2-point shooter.
ITEM IV: This is how much 3-point shooting has proliferated in the last 30 years of college basketball: In Arizona's classic 1990 game at Duke's Cameron Indoor Stadium — Duke won 78-76 — the Blue Devils and Wildcats both shot just seven 3-pointers.
On Sunday, Arizona shot 32 3s at Oregon State and ex-Duke point guard Bobby Hurley's ASU Sun Devils shot 21 3s in a surprise win at Oregon. In that 1990 game, Hurley took just two 3s against Arizona.
Arizona and ASU rank 1-2 in the Pac-12 in 3-point attempts, Arizona with 25 and ASU with 24. In 1990, Arizona averaged just 13 3s per game. Welcome to the 21st century.
ITEM V: UA football coach Jedd Fisch last week said that more than 700 players had entered college football's transfer portal, including three Wildcats: linebacker Rourke Freeburg, cornerback Malik Hausman and receiver Jaden Mitchell.
The transfer portal gets a ton of attention, but most of the 700-plus — a number that could reach 1,000 shortly — are marginal prospects,.
Freeburg made four tackles for Arizona last season. Mitchell didn't catch a pass. Hausman didn't make a tackle.
Of far more consequence to Arizona is the status of women's golfers Vivian Hou and her sister, Yu-Sang Hou, two elite talents who would help to make Arizona a strong contender to win another NCAA championship next spring.
The Hou sisters both survived the penultimate stage of the LPGA's Qualifying Series over the weekend in Alabama. Both shot 5-under par scores across four rounds. Now they are among 74 to advance to the Q-Series finals Thursday; the low 40 scores will gain LPGA Tour privileges in 2022.
If the Hou sisters play well enough this week, they almost surely will not complete their eligibility for coach Laura Ianello's Wildcats. That's another version of a transfer portal that really hurts.
ITEM LAST: Every Pac-12 football program should hope that Oregon athletic director Rob Mullins hires someone other than Cal's Justin Wilcox to replace Mario Cristobal, who I contend won at Oregon because of available talent and resources and not because he has special coaching skills.
Wilcox is Kyle Whittingham II, a defense-first, make-more-of-less builder whose teams play tough. Somehow Wilcox has gone 26-28 at Cal with resources a "flashy'' hire might've done well to go 16-38 with.
Wilcox is a former standout linebacker at Oregon who grew up in nearby Junction City, whose father, Dave, was also a Duck standout Wilcox has done about all he can do at Cal, similar to what new TCU coach Sonny Dykes did in his short time as Cal's head coach.
Wilcox would be a lifer at Oregon the way Whittingham has been a lifer on his home turf in Utah. That should be a compelling option at a school hiring its fourth coach since Chip Kelly left a few years ago.
Other than USC's Pete Carroll, whose 97-19 term in Los Angeles almost defies belief given USC's so-so previous decade and post-Carroll years, I think Whittingham is one of the three best Pac-12 football coaches of the last 30 years.
Yet few grasp what my other two choices, Washington State's Mike Price and Oregon State's Mike Riley, accomplished.
Somehow, Price had seasons of 10-2, 10-2, 10-3 and 9-3 over 14 seasons at WSU, including two Rose Bowls. Can you imagine how successful he might've been at modern-day Oregon?
Just as impressive, Riley went 93-80 at Oregon State, which had been America's worst college football program for the 20 years before he was hired. Riley had one four-year run at OSU of 10-4, 9-4, 9-4 and 8-5.
Yet you'll never see Riley or Price in the College Football Hall of Fame because of an archaic qualification standard that says a coach must have won 60% of his games. Riley won 54% of his OSU games and Price won 51% of his WSU games.
Neither Price nor Riley "won the press conference'' when hired by the Cougars and Beavers, respectively. That's why I think Oregon, which rarely resists a chance to show off for the cameras, will go with the flash rather than hire homeboy Justin Wilcox.
Contact sports columnist Greg Hansen at 520-573-4362 or ghansen@tucson.com. On Twitter: @ghansen711