McKale Center aging nicely
The average age of Pac-12 basketball arenas is 53. That's a lot of old bricks. McKale Center turns 48 this year and has held its own and then some. In order, here's the average winning percentage of home teams at every Pac-12 basketball facility, its record and age:
UCLA's Pauley Pavilion, age 53, 738-119 (.861)
Oregon's Matthew Knight Arena, age 7, 139-23 (.858)
Arizona's McKale Center, age 47, 603-111, (.845)
Utah's Huntsman Center, age 50, 631-157 (.801)
Washington's Hec Ed Pavilion, age 92, 1,005-356 (.738)
Colorado's Events Center, age 40, 441-175 (.716)
Stanford's Maples Pavilion, age 51, 539-218 (.712)
ASU's Wells Fargo Arena, age 42, 451-204 (.689)
USC's Galen Center, age 13, 148-69 (.682)
Cal's Haas Pavilion, age 79, 771-374 (.673)
Oregon State's Gill Coliseum, age 70, 630-322 (.661)
Washington State's Beasley Coliseum, age 46, 367-232 (.613)
Note to readers: I refuse to refer to Washington's Alaska Airlines Arena as anything except its historic name of Hec Ed Pavilion.
---
The Pac-12 Conference's most difficult records to break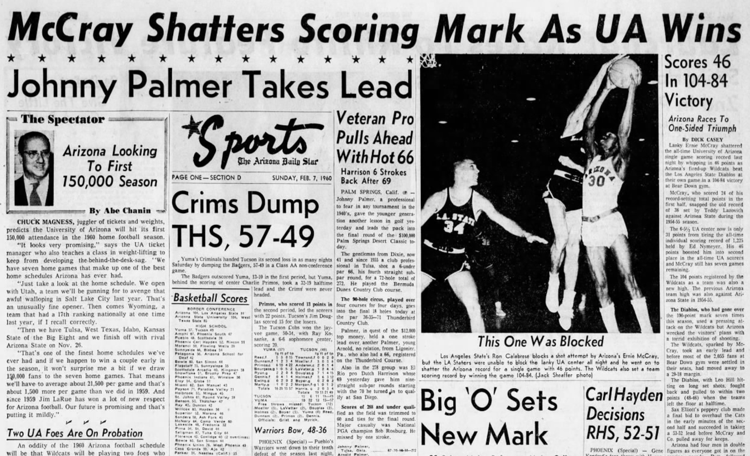 Entering a new decade of Pac-12 basketball, one prediction seems safe: Nobody will break his school's single-game scoring record. Half of the records are at least a half-century old. The last player to do so was ASU's Eddie House in 2000. Here are the records to shoot for:
Arizona: 46 points, Ernie McCray vs. Cal State Los Angeles, 1960
Arizona State: 60 points, Eddie House vs. Cal, 2000
Cal: 48 points, Ed Gray vs. WSU, 1997
Colorado: 47 points, Cliff Meely vs. Oklahoma, 1971
Oregon: 43 points, Greg Ballard vs. Oral Roberts, 1977
Oregon State: 58 points, Gary Payton vs. USC, 1990
Stanford: 50 points, Hank Lusetti vs. Duquesne, 1938
UCLA: 61 points, Lew Alcindor vs. Washington State, 1967
USC: 45 points, John Block vs. Washington, 1966
Utah: 61 points, Billy McGill vs. BYU, 1962
Washington: 49 points, Bob Houbregs vs. Idaho, 1953
Washington State: 45 points, Brian Quinnett vs. Loyola Marymount, 1986
---
Don't expect McKale Center to host NCAA Tournament games
The 2020 NCAA Tournament will bypass McKale Center again this season; the UA last played host to first-and-second-round games in 2011.
That's a shame: From 1974-2011, Arizona played host to 53 NCAA tournament games. In Western precincts, only Salt Lake's Huntsman Center was the site of more March Madness.
Arizona has not submitted a bid to host the NCAA Tournament since Jim Livengood was its athletic director more than a decade ago.
This season's tournament opening weekend sites are in nontraditional college basketball cities such as Sacramento, Spokane, Tampa, St. Louis, Omaha, Cleveland and Albany. Only Greensboro, North Carolina, has been a regular in the March rotation.
It gets even worse in the Sweet 16-Elite Eight rounds, as big-city venues such as Madison Square Garden in New York and Staples Center in Los Angeles join much-too-big-for-basketball facilities in downtown Houston and Indianapolis.
---
Oregon State senior Tinkle shooting for Pac-12 history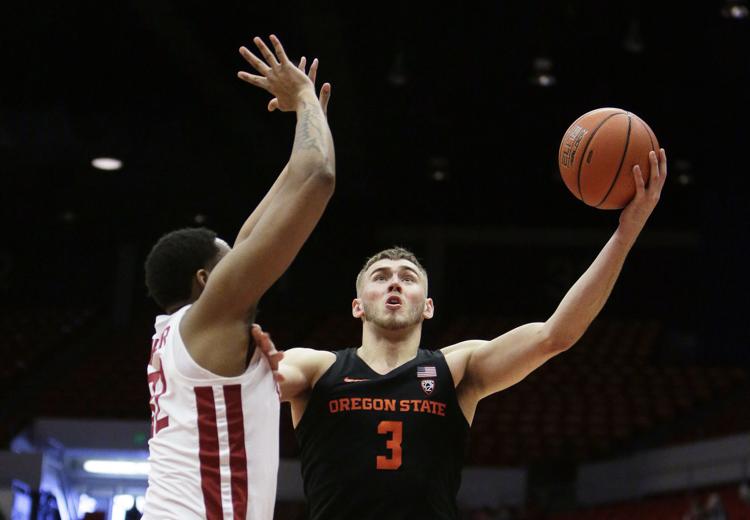 Given the proliferation of one-and-done basketball players in the Pac-12, Oregon State senior forward Tres Tinkle has a face that is recognized in most Pac-12 arenas. He is a strong possibility to become the Pac-12 Player of the Year.
Tinkle is also in position to join perhaps the most elite historical statistics category in the league: Pac-12 players who have scored 2,000 points and grabbed 1,000 rebounds in a career. Over the last 50 years, only UCLA's Lew Alcindor (2,325 points, 1,367 rebounds) and Stanford's Adam Keefe (2,139 points, 1,119 rebounds) have done so.
Entering his final season, Tinkle has 1,661 points and 670 rebounds. The Beavers will likely need to play deep into the postseason (likely the NIT) for him to get the necessary 330 rebounds.
Only one Pac-12 player, OSU's Gary Payton, has ever scored 2,000 points and dished out 500 assists. He had 2,172 points and 938 assists as a Beaver. Arizona's Damon Stoudamire is the next-closest to that 2,000-500 club; Stoudamire scored 1,849 points and had 663 assists as a Wildcat in the mid-1990s.
---
Colorado occupies rare position near top of preseason poll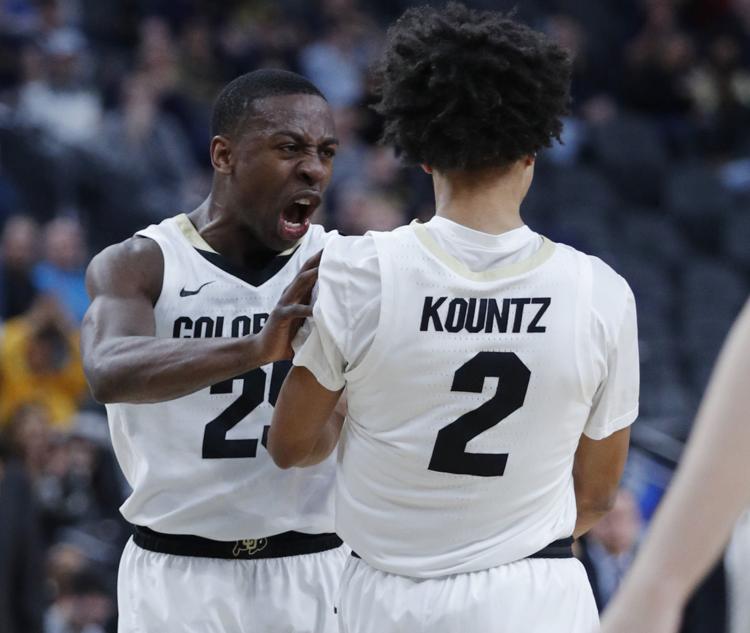 Colorado was picked to finish second in the Pac-12 preseason media poll, a voting process that goes back to 1992-93. Arizona was picked fourth. The Wildcats have been ranked No. 1 more than any other team in that period: 13 times, including a record four straight from 2013-16.
The Wildcats have never been voted lower than No. 4 in the preseason poll, although the accuracy has been so-so. Picked to finish fourth in 2002 and 2009, Arizona reached the Sweet 16.
Here four reasons why Colorado was picked ahead of the Cats:
The Buffs return 94.9 percent of last year's scoring. Arizona: 37.8 percent.
The Buffs return 95.9 percent of last year's rebounding. Arizona: 52.9 percent.
The Buffs return 91.7 percent of last year's 3-point baskets. Arizona: 23.4 percent.
The Buffs return 96.1 percent of last year's assists. Arizona: 21.7 percent.
Colorado coach Tad Boyle has never won a regular-season conference championship in his 13 seasons as a Big Sky and Pac-12 head coach. His Northern Colorado club was No. 2 in the Big Sky in 2010, 25-8 overall, which led to his hiring by the Buffaloes a year later.
---
Pac-12 scheduling scrapes the bottom — again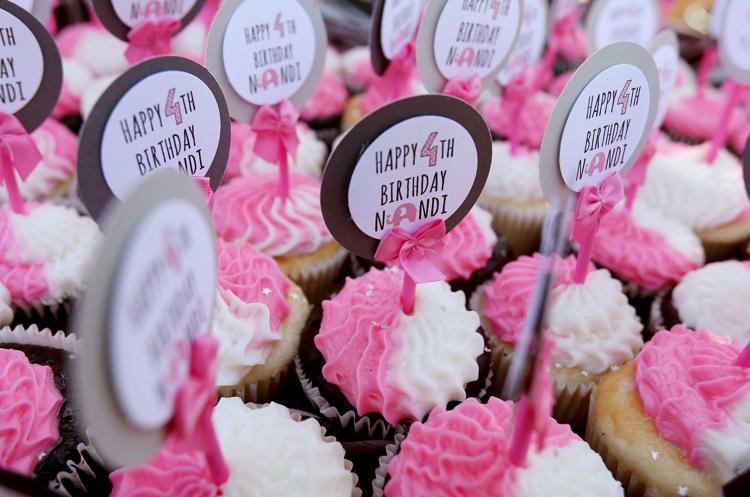 Pac-12 teams have scheduled 81 home non-conference games this year and, to no surprise, only five are against Power 5 conference teams. Same old, same old.
Season-ticket buying fans are instead treated to teams like Nebraska-Omaha, Prairie View A&M, Texas Southern, Montana, South Dakota State and Arkansas-Pine Bluff, all of which play multiple games in Pac-12 arenas.
The marquee opponent is Kansas, scheduled to play at Stanford in a Dec. 29 game at noon on ABC.
Gonzaga plays at Arizona on Dec. 14 and at Washington on a Tuesday, Dec. 17, in a game that unfortunately will tip off at 9 p.m. Tucson time on the Pac-12 Networks. That should be the most hotly contested nonconference game played on a Pac-12 court.
Worst home schedule of a supposed contender? UCLA has a lightweight home schedule that includes Hofstra, Long Beach State, UC Santa Barbara, UNLV, Southern Utah, San Jose State, Denver and Cal State Fullerton. Yuck.
Highly regarded Colorado is giving its fans the brush-off by scheduling UC Irvine, Sacramento State, Loyola Marymount, Prairie View A&M, Northern Iowa and San Diego. Worse, the Buffs aren't scheduled to play Arizona and ASU at home this season.
ASU's routine schedule of patsies includes one Power 5 opponent, Georgia, along with Rider, Central Connecticut State and Louisiana-Monroe. Zzzzzzz.
Excluding Gonzaga-Arizona, Gonzaga-Washington and Kansas-Stanford, here are the three most inviting games of the Pac-12 preseason:
New Mexico State at Arizona, Dec. 17 (Pac-12 Arizona): The Aggies are loaded, coming off a 30-5 season and return seven rotation players, including standout guards A.J.. Harris and Terrell Brown. Last year, the Aggies took Final Four participant Auburn to the wire in a 78-77 NCAA Tournament game.
Houston at Oregon, Nov. 22 (Pac-12 Networks): Kelvin Sampson's Cougars went 33-4 last season before playing Kentucky to the wire in the Sweet 16. Six Cougars who averaged double-figure minutes return, making for a likely tournament team.
Iowa State at Oregon State, Nov. 9 (Pac-12 Networks): The Cyclones have been a consistent NCAA Tournament team, appearing in four of the last five dances, and would be seen as a marquee opponent in any Pac-12 arena.
---
Where does UA's Mannion fit as a college freshman?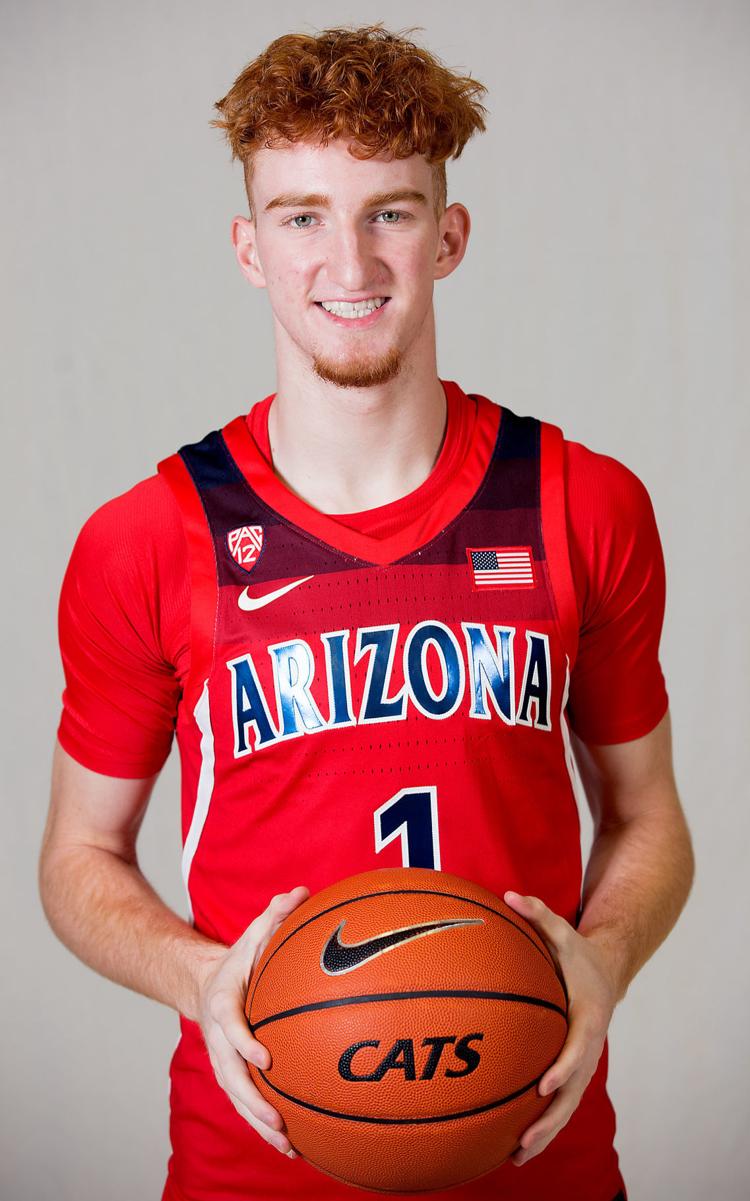 Times have changed so significantly in the last 25 years of college basketball that Arizona freshman point guard Mike Bibby, a bolt of lighting in Arizona's 1997 NCAA championship season, did not make the All-Pac-10 first team.
That didn't raise an eyebrow 22 years ago: From 1970-1999, only five freshmen were first-team all-conference selections: Oregon's Ronnie Lee in 1973, Stanford's Todd Lichti in 1987, Cal's Brian Hendrick in 1990, Cal's Jason Kidd in 1993, and Cal's Shareef Abdur-Rahim in 1996.
Since then, 19 freshmen have been voted first-team All-Pac-12 players, including Arizona's Jason Gardner in 2000, Jerryd Bayless in 2008, Derrick Williams in 2010, Aaron Gordon in 2014, Stanley Johnson in 2015, Lauri Markkanen in 2017 and Deandre Ayton in 2018.
Mannion, Arizona's freshman point guard, is generally viewed as one of the six or seven leading players in the Pac-12 for the 2019-20 season — and it wouldn't be much of a surprise if fellow Arizona freshman Josh Green was voted to the first team, which consists of 10 players.
Only one school, UCLA in 2016-17 — a team that included Lonzo Ball and T.J. Leaf — has put two freshmen on the first-team all-conference team in the same season.
Here's my way-too-early ballot for the All-Pac-12 team of 2019-20, in order of No. 1 to No. 10:
Tres Trinkle, forward, Oregon State
McKinley Wright, guard, Colorado
Remy Martin, guard, Arizona State
Isaiah Stewart, forward, Washington
Nico Mannion, guard, Arizona
Payton Pritchard, guard, Oregon
Ethan Thompson, guard, Oregon State
Nick Rakocevic, forward, USC
Tyler Bey, forward, Colorado
Tyger Campbell, guard, UCLA
---
The top 5 transfers in the Pac-12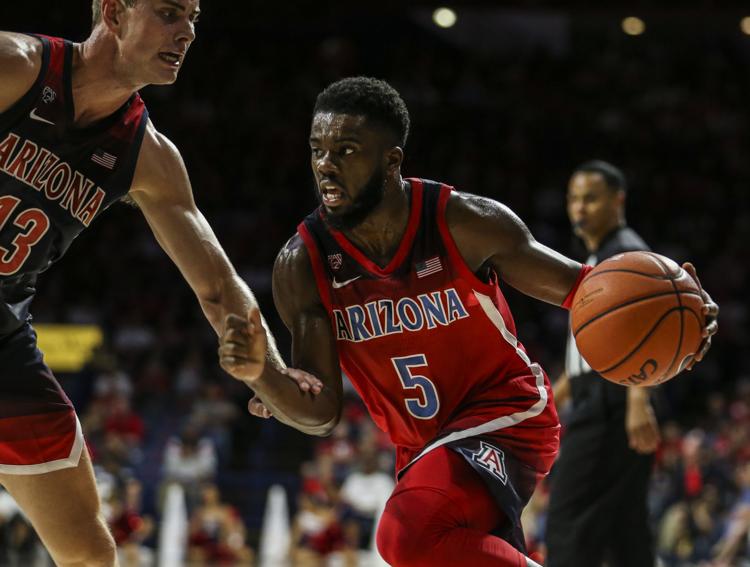 It will probably take until February for even the most veteran McKale Center observer to get up to speed on the Pac-12's newest stable of players, which includes grad transfers and those who go the traditional route by sitting out a year.
The transfer game is so acute in college basketball that more than 700 Division I players jumped to new schools since March. Here are my top five transfers in the Pac-12, 2019-20:
Quade Green, Washington: A former five-star recruit who began his career at Kentucky, averaging nine points as a true freshman, is likely to be the UW's point guard when he becomes eligible in late December.
Max Hazzard, Arizona: What I like most about Hazzard is that he's both unafraid and old enough to vote. Hazzard played more than 100 games at UC Irvine, where he played 2,286 minutes, took part in the NCAA Tournament and buried 170 3-pointers. His distance shooting is just what Arizona needs.
Shakur Juiston/Anthony Mathis, Oregon: Both were productive players in the Mountain West Conference — Juiston started at UNLV and averaged a double-double, while Mathis, pictured, averaged 14.5 points at New Mexico.
Stone Gettings, Arizona: Being a second-team All-Ivy League player at Cornell doesn't turn a lot of heads, but Gettings does. He's big (6-9, 235), physical and has shooting range to 22 feet. He fills an immediate need on Arizona's front line.
Deion James, Washington State: The 2017 NJCAA Player of the Year from Pima College by way of Cienega High School, James averaged 10 points per game at Colorado State before transferring to Pullman. He's a rebounder with size (6-6, 225) and a skilled "point forward" passer.
---
Picking the Pac-12 standings
Since the league expanded and became the Pac-12 in 2011, six teams are above .500 in conference games:
That's a strong top half, although Bobby Hurley has changed the culture and expectations at Arizona State so much that I'll make it a seven-team first division. All should be extremely difficult to beat at home in 2019-20, as will Oregon State. It'll be difficult to go any better than 14-4, a record that is likely to win the regular-season championship. Here is my predicted finish:
1. Colorado (14-4): If not now, when?
2: Arizona (13-5): UA will get better as the season continues.
3. Oregon (12-6): As always, the Ducks have considerable talent.
4. Washington (11-7): Mike Hopkins was a home-run hire.
5. Oregon State (10-8): Tres Tinkle's fourth year will be his best.
6. Arizona State (10-8): This may be too low for the Sun Devils.
7. UCLA (9-9): The Bruins will be a tough out.
8. Utah (8-10): Larry Krystkowiak's team is building for 2021.
9. USC (7-11): Andy Enfield has been below average at 'SC.
10. Stanford (6-12): Remember when Maples Pavilion was the place to be?
11. Washington State (5-13): Is WSU still in the league?
12. Cal (3-15): It's going to be a long road back to relevance.
---
One man's Final Four
It's too easy to pick Duke, Michigan State, Kentucky and Louisville, which seems to be the national consensus. I'll go elsewhere for my Final Four, which will be an underdog's delight:
Memphis: Coach Penny Hardaway's club has a dominant 7-foot 1-inch freshman James Wiseman as part of a superb recruiting class. The Tigers have has quietly returned to the national stage.
Utah State: Yes, this is tilted toward my alma mater, but the Aggies have their best personnel since a 1970 Elite Eight team, with size, experience, rim protecting and one of the best shooters in college hoops, Sam Merrill.
Colorado: Tad Boyle's club is using the "Virginia model," with seniors, juniors and not a one-and-done player in sight.
Maryland: The Terrapins haven't been relevant for what seems like ages, but they'll deploy one of America's most talented collegians — guard Anthony Cowan Jr. — to team with powerful 6-10 center Jalen Smith.
Contact sports columnist Greg Hansen at 520-573-4362 or ghansen@tucson.com. On Twitter: @ghansen711
Be the first to know
Get local news delivered to your inbox!