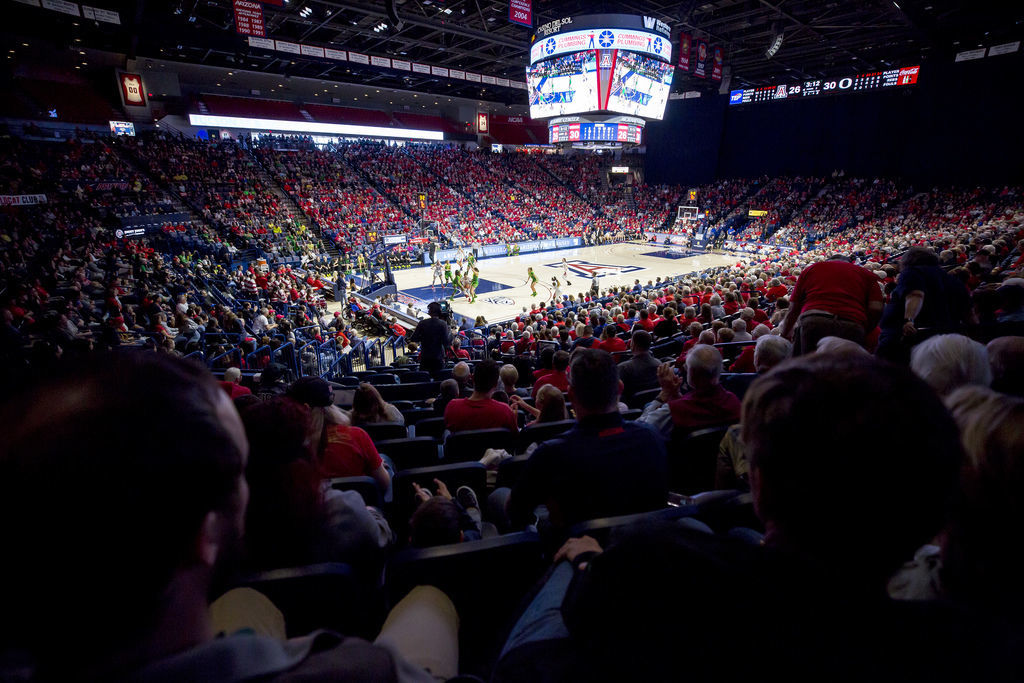 International players no longer a novelty in Pac-12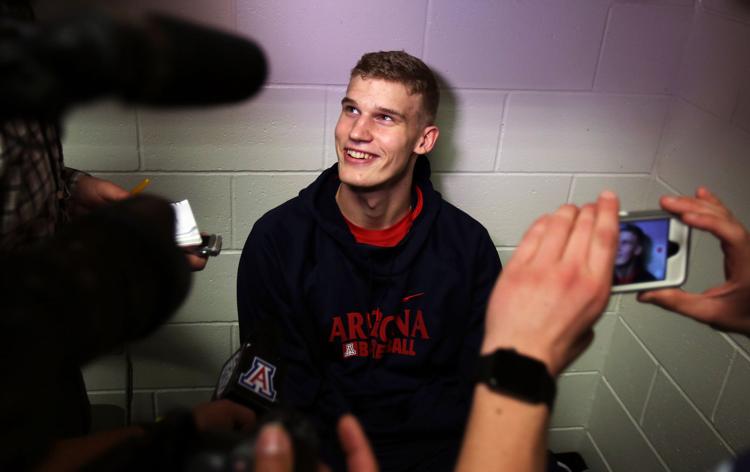 Arizona has a combined 14 international basketball players — seven women, seven men — on its rosters this season. That's unprecedented — the previous cumulative high was six — but it's a sign of the times.
The foreign influence in Pac-12 basketball has become more than an influence. It has become an essential part of roster management the past few years for both men's and women's teams.
Put it in this light: In the 2009-10 men's Pac-10 season, 10 foreign players were on men's rosters, including Arizona's Kyryl Natyazhko of Ukraine and three guys from Serbia named Nikola: Nikola Knezvic of Cal, Nikola Vucenic of USC and Nikola Koprivica of Washington State.
Pac-12 men's rosters this season have 35 foreign players, including six at Washington State, six at Arizona and three each at Colorado and Utah.
But that pales next to the Pac-12's 43 international women's basketball players — including eight at WSU, seven at Arizona and six at Utah. What's more, on letter-of-intent day this month, Pac-12 women's teams added recruits from Portugal, New Zealand, Spain, Canada, Australia and Greece.
Why such demand? It's simple. The quality of European basketball has improved mightily the last two decades, in women's and men's leagues. And they are available because there is no equivalent to the exposure provided by college hoops.
Plus, it's a free college education.
The demand for foreign players began slowly. Washington coach Marv Harshman landed All-Pac-10 and future NBA standouts Detlef Schrempf and Christian Welp of Germany in 1984. The Huskies won league championships in 1984 and 1985 with Schrempf and Welp, but no other program followed Harshman's lead and looked to Europe or Australia for recruiting help.
Even with robust numbers of foreign players today, most have not been star-level performers. Here's the list of first-team All-Pac-12 players from foreign countries:
1983-1984, '84-'85: Schrempf, Washington (Germany)
1985-1986: Welp, Washington (Germany)
1993-94: Teo Alibegovic, Oregon State (Yugoslavia)
2002-03: Amit Tamir, Cal (Israel)
2010-11: Nikola Vucevic, USC (Serbia)
2015-16: Jakob Poeltl, Utah (Austria)
2016-17: Lauri Markkanen, Arizona (Finland)
This year's group of foreign players in the Pac-12 has some notable all-conference possibilities, as follows:
 Stanford forward Oscar de Silva of Germany, who averaged 15.7 points per game last season.
 Oregon's Chris Duarte of the Dominican Republic, who averaged 12.9 points per game last year.
 Utah women's standout Lola Pendande of Spain, who averaged 10.6 points per game last year.
Oregon center Nyara Sabally of Germany, who is considered a top WNBA prospect.
Oregon State forward Andrea Aquino of Portugal, who was the nation's No. 7-ranked recruit.
---
Duquesne transfers have been good for the Pac-12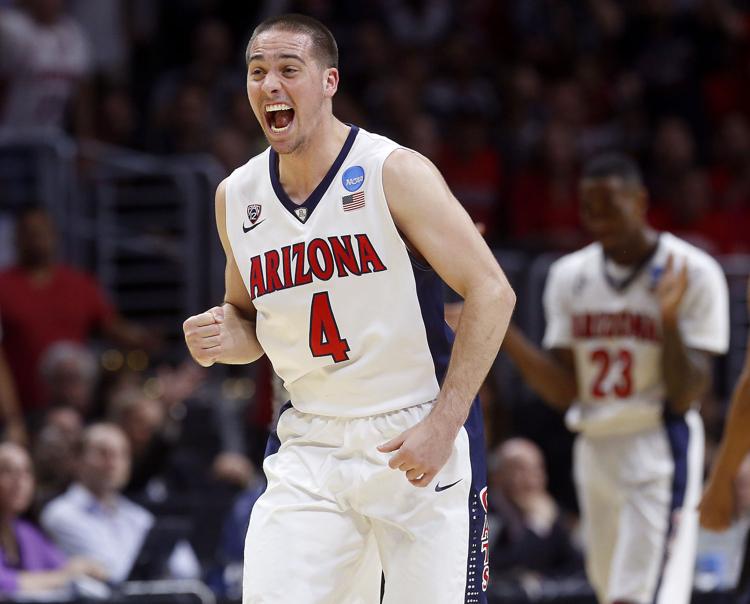 Arizona recruited an otherwise obscure point guard, T.J. McConnell, from Duquesne after he completed his sophomore season in 2012. After a redshirt season, McConnell became a leader, an All-Pac-12 point guard who has now played five NBA seasons.
This year, ever-resourceful Oregon coach Dana Altman tapped into the Duquesne pool. After a redshirt season, 6-foot-6-inch Eric Williams is eligible at Oregon. He averaged 14.1 points and 8.2 rebounds per game over two Duquesne seasons, posting 17 double-doubles. Williams is expected to be an immediate impact player for the Ducks.
"I just wanted to go somewhere that I felt had a winning tradition and be on a team that will help me take the next step and get to the next level," Williams told reporters. "This was just the best option."
---
 Arizona State receives rare preseason attention
Arizona State's men are ranked 18th in the AP preseason poll, a news item that would attract almost no attention in precincts such as Arizona, UCLA and Oregon.
But it is only the fifth time in ASU history the Sun Devils have been ranked in the AP preseason poll. The others:
 2008-09: ASU was ranked No. 15 — and finished 19th, with one NCAA Tournament win.
 1991-92: ASU was 24th but finished unranked and did not play in the NCAAs.
 1975-76: The Sun Devils were No.  18, but finished unranked and did not play in the NCAAs.
 1963-64: ASU was No. 6, finished unranked and lost its lone NCAA game.
In comparison to the Sun Devils' uncommonly high preseason rankings, Arizona was picked to finish a distant fifth in the Pac-12 preseason poll. 
 Arizona has been picked No.  1 in the Pac-12 preseason poll 18 times since 1986.
Arizona has been picked No. 2 six times in that period.
Arizona has been picked No. 3 three times.
Arizona has been picked No. 4 six times.
Arizona has been picked No. 5 once — this year only.
 Arizona was picked No. 8 in 1986. It won the conference championship.
---
Pac-12 coaching turnover usually big, but game of musical chairs on pause
Since Arizona and ASU joined the Pac-10 in 1978, the business of coaching has not been a stable one — unless you're Lute Olson, who spent 25 years at Arizona, or Mike Montgomery, who spent a combined 24 years at Stanford and Cal.
Over those 42 years, Pac-12 schools have fired 53 coaches. Only 16 have retired or left for other jobs. WSU's George Raveling and Tony Bennett went to Iowa and Virginia, respectively, and UCLA's Larry Brown left for Kansas.
It's not a steppingstone league as much as it has been a you're-stepping-down league.
Ernie Kent, for example, was fired by Oregon (2010) and WSU (2019). Kevin O'Neill was fired by USC (2013) and departed Arizona on less than cheerful terms (2008).
But no coaches were fired or left their school after the 2019-20 season, nor did any coaching jobs change after the 2017-18 season. That's the first time since 2001 that the coaching market had two stable seasons in such a short period.
There are signs of longevity: Colorado's Tad Boyle and Utah's Larry Krystkowiak begin their 10th seasons in the league. Oregon's Dana Altman will be in his 11th year in Eugene. At Arizona, Sean Miller opens his 12th season and is the league's dean of coaches.
Remarkably, it is the first time since 1981-82 that four league coaches begin a season with more than 10 years or more of tenure. The roll call from '81-'82:
 Ned Wulk, Arizona State, 26th year
 Fred Snowden, Arizona, 10th year
 Marv Harshman, Washington, 11th year
 Ralph Miller, Oregon State, 12th year
Not that the longevity of the early '80s had a long run. Both Snowden and Wulk were fired after the '82 season.
---
Coach of Year balloting sometimes baffling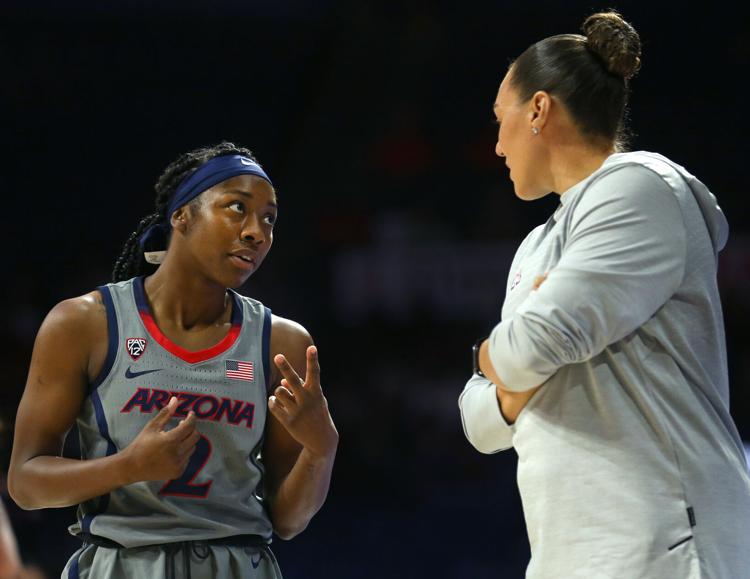 Given the almost hopeless situation Adia Barnes inherited when she became Arizona's women's basketball coach five years ago, it seems strange she hasn't been the Pac-12 Coach of the Year.
Rebuilding from scraps, Barnes went 6-24 three years ago, then followed it with back-to-back seasons of 24 victories, the most in school history.
Yet Oregon's Kelly Graves, an established and highly successful coach, was named the league's Coach of the Year the last two years. Not that he shouldn't have merited strong attention; Graves' powerful UO teams went 33-5 and 31-2 and twice won the Pac-12.
It gives one an appreciation of how difficult it is to be a Coach of the Year in the Pac-12. Here are some updates on the league's coaching award:
Stanford's Tara VanDerveer has been COY a remarkable 15 times since the league began in 1986-87.
No other coach has been the COY more than twice — not even Oregon State's Scott Rueck, who rebuilt the Beavers into a top-10 program after inheriting a situation similar to the one Barnes did at Arizona. Rueck was COY in 2015 and 2017.
ASU's accomplished coach, Charli Turner Thorne, has the widest split in COY awards, winning in 2001 and 2016.
Arizona's only COY award came in 1998, when Joan Bonvicini coached Arizona to the first of seven NCAA Tournament appearances.
During the same period for men's basketball, Arizona's Lute Olson was the Pac-12 men's coach of the year a record seven times. Behind Olson comes Stanford/Cal coach Mike Montgomery, with four COY awards. Arizona State coaches have won a single award; Herb Sendek took it home following the 2010-11 season.
---
UA's reign as attendance leader may be in peril, but not during this COVID year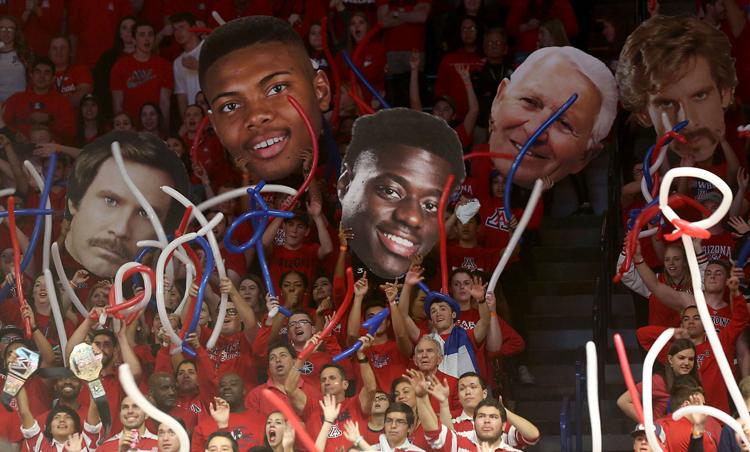 UA coach Sean Miller frequently adds context to his public conversations by saying Arizona has led the Pac-12 in basketball attendance for 35 years, dating to 1984-85.
Although COVID-19 protocol is likely to prohibit fans from attending games at McKale Center this season, Arizona's grip on the prized attendance record has been slipping. Some data to consider:
 The UA averaged 13,654 fans per game at McKale last season, the 22nd-best total nationally. It was the school's lowest national ranking since being No. 23 in 1985-86.
 Arizona State averaged 10,538 and 10,603 over the last two seasons, its highest back-to-back seasons ever and, once the coronavirus pandemic allows fans back into the arenas, the rising Sun Devils figure to surpass those totals.
 Utah continues to threaten the McKale streak. The Utes averaged 13,035 fans per game in 2016, challenging its school record 14,281 of 1996.
 The last time a team other than Arizona led the Pac-12 in attendance was Oregon State in 1984, averaging 9,827.
 UCLA led the Pac-12 in attendance every season from 1979-82, with a high of 11,780 in 1979.
 Arizona never led the WAC in attendance after McKale Center opened in 1972. The highest WAC attendance at McKale was 12,995 in its inaugural season. But BYU led the WAC all six seasons before Arizona left for the Pac-12. The Cougars' Marriott Center averaged as many as 18,281 in 1973 and was steadily over 15,000.
 The Pac-12 has ranked sixth in attendance among all conferences every year since 2003. It averaged 7,487 fans per game last season. The Big Ten led with 12,691, followed by SEC at 11,527 and the ACC with 10,912.
The NCAA attendance leaders last year were: Kentucky, 21,695; Syracuse, 21,192; North Carolina, 19,765; Tennessee, 19,024; and Wisconsin, 17,170.
---
UA's McDonald going for a scoring leader three-peat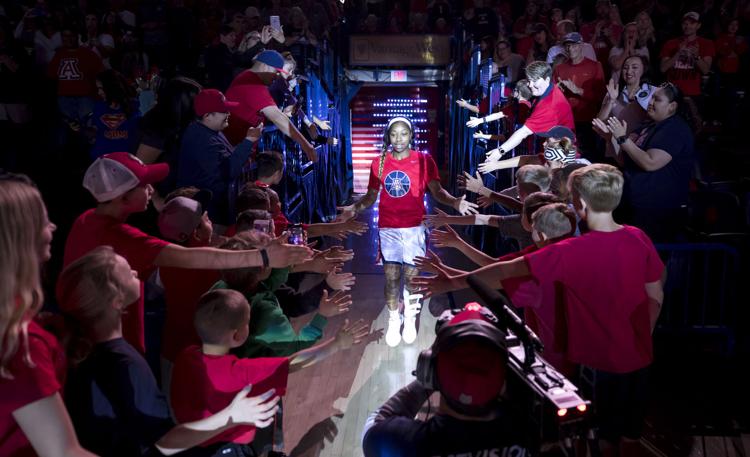 UA senior point guard Aari McDonald has led the Pac-12 in women's basketball scoring in both of her Arizona seasons. She broke a school record with 890 points two years ago, averaging 24.1 points per game. Last year she again led the league, averaging 20.6 points per game.
Could there be three-peat? It is not uncharted territory.
Washington's Kelsey Plum became led the Pac-12 in scoring in 2015, 2016 and 2017. Stanford's Nnemkadi Ogwumike led the league in scoring in 2010, 2011 and 2012.
With 1,486 points, McDonald will likely have a little chance to break coach Adia Barnes' school-record 2,237 points, set from 1995 to 1998. The pandemic could shave five or six games from the UA's 2020-21 schedule.
To reach 2,000, a level reached at Arizona by only Barnes and Davellyn Whyte (2,059), McDonald would need to average 20.6 points per game over 25 games. If Arizona is fortunate enough to play 30 games, she would need to average 17.1 points.
---
Pac-12 men's basketball projections
The men are scheduled to play 20 conference games this season:
1. UCLA (17-3): The days of underachieving Bruins teams will end under Mick Cronin.
2. Arizona State (16-4): Will the Sun Devils win a league basketball title before Arizona gets to a Rose Bowl? It could happen.
3. Oregon (14-6): Strange that as good as the Ducks have been that they only averaged 8,700 fans last season, about 2,000 fewer than the UO's women's team.
4. Stanford (13-7): This is as good as Stanford has been since the Mike Montgomery days of more than a decade ago.
On some nights, the Utes could be the league's toughest out with a chance to climb higher.
6. USC (10-10): The Trojans are underrated a bit.
7. Arizona (9-11). With no true home-court advantage, the Wildcats could fall below .500 in league play.
8. Washington State (8-12): Coach Kyle Smith is going to be a problem much the way Tony Bennett was in his Cougars days.
9. Colorado (7-13): After last year's fade, the Buffaloes have a lot to prove.
10. Washington (6-14): Seems hard to imagine Mike Hopkins was the league's Coach of the Year in both 2018 and 2019.
11. Cal (5-15): The Golden Bears' return to relevance is going to take a while.
12. Oregon State (4-16): Wayne Tinkle's son, Tres, has gone, and the Beavers will struggle mightily.
Players of the Year: The combination of ASU guards Remy Martin and Alonzo Verge is as good as it gets in the Pac-12.
Coach of the Year: UCLA's Mick Cronin. He seems capable of putting a defense-first system securely in place and dreaded by all.
---
Pac-12 women's basketball projections
The women play a full round-robin, 22 games, meeting each team home and away for the first time since the league expanded a decade ago.
1. Stanford (19-3): Oregon's reign atop the league is likely to end against an old familiar powerhouse.
2. Arizona (17-5): It's possible the Wildcats have a Final Four roster.
3. Oregon (16-6): If the Ducks can successfully replace irreplaceable Sabrina Ionescu, it would be a shock.
4. UCLA (15-7): The top four teams in this league may collectively be as tough as at any time in league history.
5. Oregon State (13-9): Don't underestimate the Beavers.
6. Arizona State (11-11): The Sun Devils lost their two best players, but Charli Turner Thorne's slow and defense-based system has worked for 20 years.
7. Colorado (10-12): There's a huge split from the top half of the league to the second six.
8. USC (9-13): The Trojans continue to restock and regain lost ground.
9. Utah (7-15): Hard to imagine the Utes not being swept by the top six finishers.
10. Washington State (6-16): With eight international players, it's difficult to figure out if the Cougars are ready to make a run yet.
11. Washington (5-17): It seems like decades since the Huskies went to the 2015 Final Four.
12. Cal (4-18): It was only two years ago that the Golden Bears could beat anyone in the league.
Player of the Year: Aari McDonald. With help from Canadian national team guard Shaina Pellington, McDonald won't have to take all the big shots, opening up Arizona's offense.
Coach of the Year: Arizona's Adia Barnes. It could be the first of many.
Contact sports columnist Greg Hansen at 520-573-4362 or ghansen@tucson.com.
On Twitter: @ghansen711