Greg Hansen's Sunday Notebook: Watch these 20 Wildcats in the 2019-20 athletic year
The Star columnist checks in with news, notes and analysis. 
These 10 athletes will be difference-makers for Wildcats in 2019-20 athletic year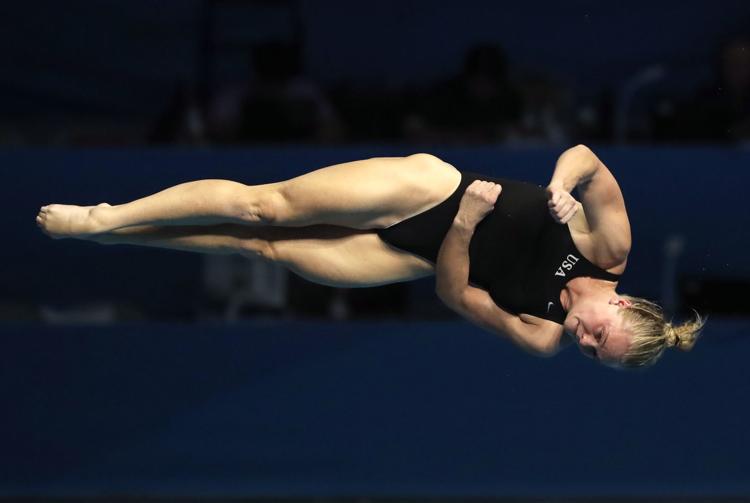 Classes begin at the UA this week, launching a 2019-20 sports season in which the Wildcats appear capable of fielding Top 25-type teams in softball, baseball, women's golf, volleyball, men's and women's basketball, men's and women's swimming and men's track and field.
Maybe it's not what Stanford and UCLA expect, but it should be a year in which the Wildcats make a move toward returning to the Top 25 of the Director's Cup standings — and challenge for national titles in women's golf and softball.
Here's my list of the 10 difference-makers on campus, '19-20:
1. Delaney Schnell, diving. No one at the UA has an international sports profile to match Schnell, a Tucson High product: She won a bronze medal in platform diving at the FINA World Championships in July, and then won a bronze in the Pan American Games a few weeks later in synchronized diving. The only unknown is whether she will redshirt in 2019-20 to prepare for the Tokyo Olympics.
2. Austin Wells, baseball. The Pac-12 Freshman of the Year hit .353 with a team-high 60 RBIs and a freshman-record 73 runs. Then the catcher-first baseman was named the Cape Cod League's top pro prospect. Big time.
3. Aari McDonald, women's basketball. The face of Arizona's rebirth as a potential women's basketball power, McDonald broke the UA's single-season scoring record with 890 points in her debut last year. What's next? How about being a consensus All-American?
4. Yu-Sang Hou, women's golf. In Arizona's last two seasons — the 2018 national championship and a No. 4 finish in 2019 — Hou became a potential national champion herself.
5. Carlos Villarreal, men's track. He won the gold medal at 1,500 meters at the Pan American Games. His next step is to join the greatest distance runners in UA history: Martin Keino, Marc Davis, Lawi Lalang, Abdi Abdirahman and Robert Cheseret.
6. Nico Mannion, men's basketball. Although he hasn't played a minute of college basketball, the freshman point guard carries the weight of Arizona's hopes to return to national relevance. Watch the first five games; Mannion could score 100 points, which would tie Deandre Ayton's first five UA games, and surpass those of freshmen Chase Budinger (95), Lauri Markkanen (94) and Jerryd Bayless (92).
7. Jessie Harper, softball. Arizona's senior shortstop led the NCAA with 29 home runs. She's as good as it gets in college softball.
8. Jordan Geist, track and field. Although he may redshirt to prep for the U.S. Olympic Trials, Geist won a silver medal in the shot put at the Pan American Games, won the Pac-12 title and was named the league's athlete of the year in field events.
9. Trevor Werbylo, men's golf. Entering his junior season, the Salpointe Catholic grad, who finished No. 7 in U.S. Amateur qualifying this summer, has the ability to average under 70 strokes per round. If he did, he'd be the second UA golfer in history to do so.
10. Alyssa Palomino-Cardoza, softball. Mike Candrea's leadoff hitter and defensive standout hit .386 with 19 home runs to be named a first-team NFCA All-American for the second year in succession.
These 10 new Wildcats have a chance to do something special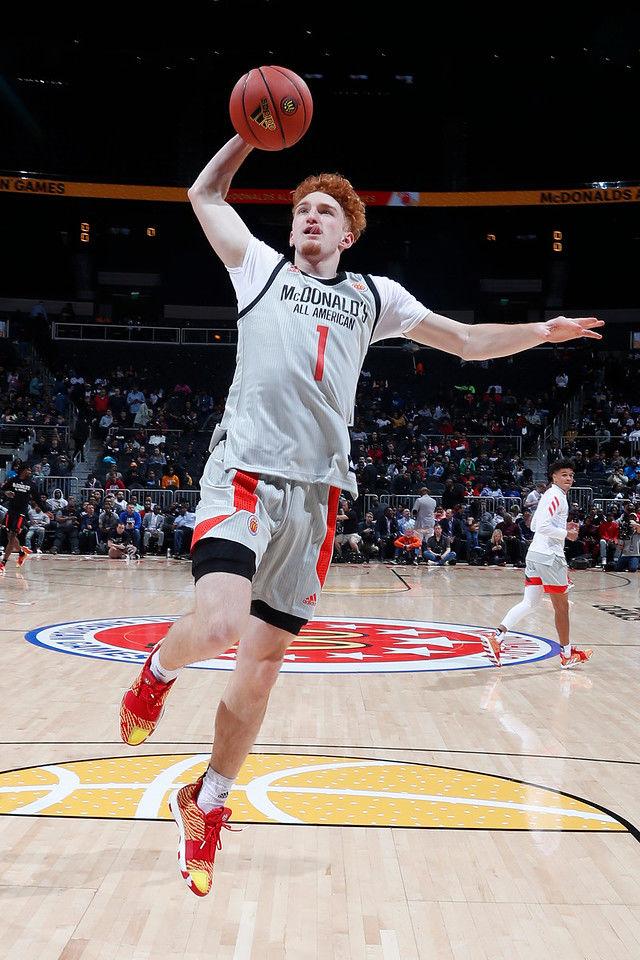 One of the most inviting stories of Arizona's athletic Class of 2019 is that track coach Fred Harvey was able to recruit Camron Herron, a middle-distance runner from Fairbanks, Alaska.
Herron, the 12th fastest 800-meter runner in the nation last year, is the son of Doug Herron, one of Arizona's leading middle-distance runners in history. Doug ran 1:47.00 as a Wildcat in 1986; Cam has already clocked 1:49.2. Injuries ended Doug Herron's UA career, but he now operates the Alaskan Running Academy in his hometown of Anchorage. His son is on campus, trying to win a spot on coach James Li's 2019 cross country team.
Watch these 10 new Wildcats
Here's my list of the 10 leading first-year athletes at Arizona:
1. Nico Mannion, men's basketball. Enough said.
2. Faith Knelson, women's swimming. Technically, Knelson is apt to transfer to the Class of 2020, taking a "gap year" while she trains for the Tokyo Olympics. But she is a game-changer no matter when she suits up for Augie Busch's club; Knelson won silver and bronze medals at the Pan American Games this month and was part of Team Canada's junior world record in the 400 medley relay.
3. Dawson Netz, baseball. A pitcher from Pasadena, California, Netz was part of the Perfect Game All-American Game, the equivalent of basketball's McDonald's All-American game. He had an 0.43 ERA as a high school senior with 99 strikeouts in 65 innings.
4. Helena Pueyo, women's basketball. Adia Barnes' recruiting class is loaded, but she said that Pueyo, a 6-foot-1-inch guard from Spain "will be a star in the Pac-12." Pueyo helped the Spanish national team win a silver medal in the 2018 U-18 European championships.
5. Kamaile Hiapo, volleyball. Dave Rubio keeps turning out Pac-12-worthy recruits and Hiapo, a libero, was the state's player of the year at Gilbert's Skyline High School. Hiapo was also a first-team All-American as chosen by Prep Volleyball, and a second-team All-American by Flo Volleyball.
6. Israel Oloyede, men's track and field. At Paradise Valley Community College last year, Oloyede, from North Canyon High School, was the NJCAA champion in the hammer throw and discus. Imagine the points he could score as a Wildcat.
7. Vivian Hou, women's golf. Younger sister of UA junior standout Yu-Sang Hou, Vivian is regarded as one of the five or 10 leading incoming female golfers in the NCAA, and could help the Wildcats back to the national championship scene. "She will be a dominant force," said UA coach Laura Ianello.
8. Amari Carter, women's basketball. The grad transfer from Penn State started 90 games for the Big Ten team, making 113 3-pointers and being selected to the second-team All-Big Ten team in 2017-18.
9. Wesley Scott, baseball. Originally committed to national champion Vanderbilt, Scott, part of the 2018 Perfect Game All-Star team, changed his mind and will pitch for Jay Johnson's Wildcats. Scott had 85 strikeouts in 50 innings last season for his Riverside, California, high school team.
10. Mariah Lopez, softball. In three years at Oklahoma, Lopez went 51-2 with a 1.61 ERA. She will likely be Arizona's big-game pitcher from the season opener, giving the Wildcats a legitimate chance to challenge for the national championship.
Salpointe's Bourguet brothers put on hold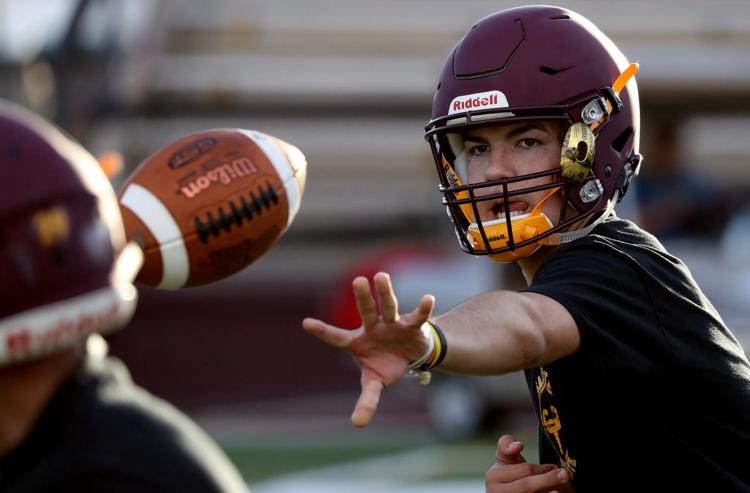 The AIA last week denied an appeal to make Salpointe Catholic transfer students Treyson and Coben Bourguet immediately eligible. The brothers transferred from Marana High School last winter.
Ordinarily, Salpointe wouldn't need much help. The Lancers are probably one of the four best high school football teams in Arizona, any classification, ranking with powerhouses Scottsdale Saguaro, Peoria Centennial and Chandler High School in a Big Four. The state's top eight teams this year will play for the inaugural Open Division championship.
But the Bourguet brothers appear to be difference-makers. Treyson, a 6-foot-2-inch sophomore quarterback, has already been offered a scholarship by Arizona'sKevin Sumlin. Coben caught 31 passes for 553 yards at Marana last season.
Unless their Sept. 3 appeal is successful, the Bourguet brothers will not be able to suit up for Salpointe until Game 6 — Oct. 4 at Sahuaro. They will miss two big-game type road showdowns, Sept. 6 against Phoenix power Desert Edge and a week later at long-time El Paso contender Del Valle.
The back-half of Salpointe's schedule is much easier: Casa Grande, CDO, Catalina Foothills and Vista Grande.
As much anxiety as the Bourguet brothers' transfer has created, it probably can't match the transfer of Amphitheater linebacker Jon McGee in 1991 and Amphi quarterback/defensive end Jeff Saffer two years later.
Amphi was Tucson's ranking prep football power in that period, coached by Vern Friedli, and when McGee and Saffer transferred, it was very big news.
McGee played his senior year at Sahuaro High School, much nearer his home. He ultimately accepted a scholarship to USC, although his career was sidetracked when he was shot at a Trojans practice, the victim of a random, drive-by shooting.
Saffer, who also moved closer to home when leaving Amphi, became a star for a Jeff Scurran-coached Sabino state championship team, and ultimately became a baseball player at Pima College and in the minor leagues.
At the time Friedli said "I haven't had anything like this happen in 30 years of coaching. This is a crazy time."
The craziness continues decades later.
Don Pooley to host pro-am that benefits KIDCO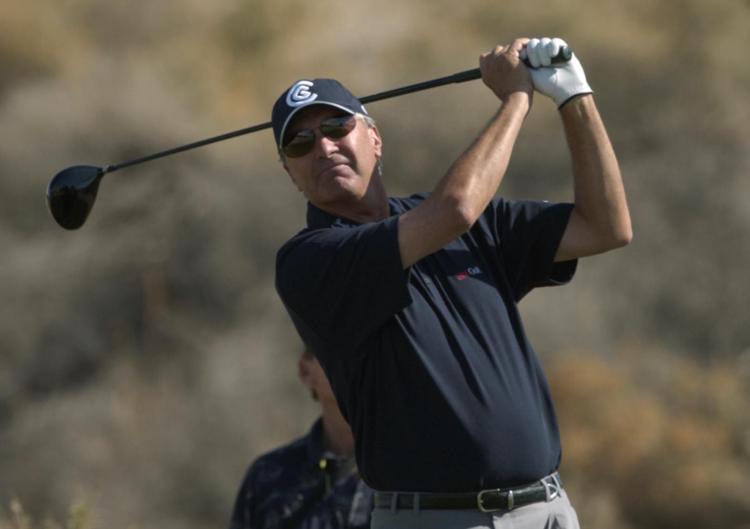 Two-time PGA Tour winner Don Pooley, a UA grad who won the 2002 U.S. Senior Open, will help stage the Don Pooley Pro-Am on Sept. 6 at Randolph North. The event will benefit the Tucson Parks Foundation and the Tucson Parks and Recreation Department's KIDCO after-school youth program. Pooley has helped to make it a special event by recruiting PGA Tour winners Andrew Magee, Ronnie Black, Jim Carter and Tom Purtzer to be part of the event. Signup information: tucsonparks.com.
Ka'Deem and "Mama" Carey's open Kitchen near UA
Arizona consensus All-American running back Ka'Deem Carey is back in Tucson this weekend to make an appearance at the opening of his mother Tisha's "Mama Carey's Kitchen" at North Park Avenue and East Sixth Street. Carey took advantage of a bye in the schedule of the Calgary Stampeders to be at the event; he signed autographs Saturday. After breaking into Calgary's starting lineup last month, gaining 204 yards, Carey suffered a leg injury on July 25 and has missed the Stampeders' last three games.
Winnipeg's problems happen on same day as Tucson monsoon
When Tucson attorney and Nova Homes Loan Arizona Bowl co-founder Ali Farhang tried to arrange an Oakland Raiders game — or full schedule — in Tucson, he got the NFL team's attention, but ultimately was not successful. The Raiders reworked an agreement to play in Oakland in 2019, but the NFL did give the Raiders permission to hold a Week 3 preseason game elsewhere. The NFL allowed the Raiders to choose from sites in Santa Clara, San Francisco, Las Vegas, Reno and, of all places, Winnipeg, Manitoba. So the Raiders played in Winnipeg on Thursday. It didn't go so well. Because of holes left by goal posts in the end zone of the longer CFL dimensions, the field was reduced to 80 yards for the game. It's probably a good thing Arizona Stadium wasn't chosen as the site for the game. Thursday night thunder and lightning storms in Tucson canceled a UA soccer game and a CDO-Flowing Wells football game.
My two cents: NMSU budget shows Aggies, Cats occupy different worlds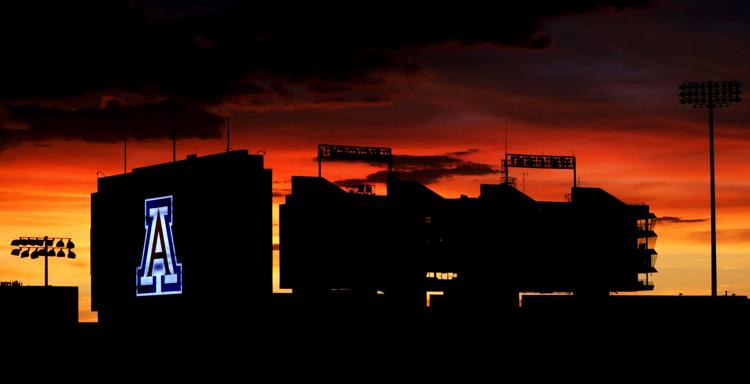 New Mexico State is about 300 miles from Tucson, but in college sports it is more like 300,000 miles.
Last week, NMSU athletic director Mario Moccia described to a Las Cruces newspaper the details of the Aggies' budget of $20.7 million. By comparison, Arizona's budget is almost exactly $100 million.
Arizona receives about $32 million in media rights money alone. NMSU's media rights money is $1.2 million. Yearly ticket sales, all sports, at NMSU are $1.4 million. That's about one home football game at Arizona Stadium.
That's why NMSU plays road football games at Alabama, Ole Miss and Washington State this year. They will be paid $3.8 million for those games, including $1.7 million to play Greg Byrne's Crimson Tide. That's why September TV programming in college sports is so weak. It's the only time the New Mexico States can pay the bills by agreeing to suicide football games.
You don't have to go back very far — let's say 1975 — when Arizona and NMSU played on a similar financial basis. But now the two old rivals play different games.
Now the Aggies' home schedule includes Liberty and Incarnate Word. Now they struggle to pay $50,000 a year to continue the buyout of former football coach Hal Mumme, fired in 2008. They'll continue paying him through 2025.
Hiring the wrong guy at a school like New Mexico State can wreck your budget for a decade. Hiring the wrong guy at a school like Arizona is absorbed by an agreement that gives ESPN and Fox Sports the right to determine where and when you play football games.
Pick your poison, right?