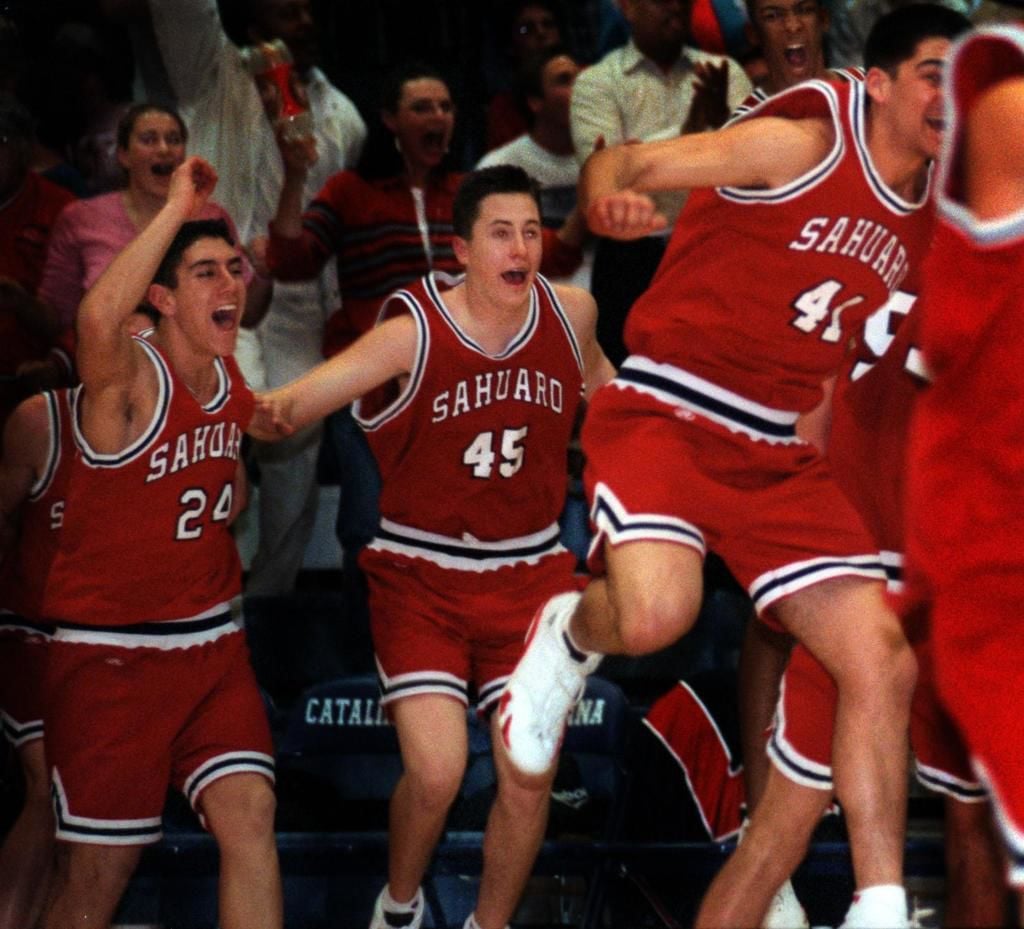 Editor's note: Over five weeks, Star columnist Greg Hansen is profiling 10 times that Tucson teams beat No. 1. Today: Sahuaro's Class 4A state quarterfinal win over top-seeded Santa Rita in 2000.
Tucson's entertainment options the week of Feb. 13-20, 2000, overflowed with temptation. An Elton John concert at Tucson Arena drew 9,500 fans. Pitchers and catchers reported to spring training for the White Sox, Rockies and Diamondbacks. And No. 4-ranked Arizona swept USC and UCLA at McKale Center in men's basketball.
But even the UA's acclaimed freshmen guards, Gilbert Arenas and Jason Gardner, were drawn to the old basketball gymnasium at Catalina High School to watch No. 1 and defending state champion Santa Rita in an epic state quarterfinal showdown against Sahuaro and esteemed coach Dick McConnell.
Tickets were $4. All 3,000 seats in the Catalina gym were full when Arenas and Gardner pushed through the door just before tipoff. Their companion, UA senior guard Josh Pastner, had to stand in the doorway all night.
"It was so important for us to win a state title for coach McConnell," remembers former Sahuaro forward Chris Wharam, a senior on the 2000 team. "It had been way too long."
Too long? McConnell's Cougars had last won a state title in 1982, which remains the last time a Tucson team won the state's big-schools basketball championship.
Santa Rita, meanwhile, coached by Jim Ferguson, a leading figure of McConnell's first Sahuaro state title team, 1970, had emerged as Tucson's ranking prep basketball school. He won the 1999 championship and went on to reach the title game five times in the next 10 years.
"The audience was split," remembers Wharam, now a teacher and volleyball coach at Sahuaro. "All of the Santa Rita fans were on one side and all the Sahuaro fans were opposite. It was bedlam."
Santa Rita was on a 16-game winning streak; it had gone 36-0 against Southern Arizona teams over two seasons. Sahuaro made a late-season charge after it began the year without starting point guard Reggie Robertson and power forward Mike Wells, star-level players during Sahuaro's November-December push to the football state championship game.
Of course, the game went into overtime.
"The defending state champion Eagles looked like No. 1, played like No. 1 and acted like No. 1," I wrote that night. "The problem was, Sahuaro did, too."
But it wasn't a problem at all. It was unforgettable.
Santa Rita led 30-28 at the half, having forced an unfathomable 14 Sahuaro turnovers. But the Cougars were able to hang close because they out-rebounded the Eagles 21-7 in the first half.
"They were animals on the boards," Ferguson said.
With future NCAA Tournament point guard Mark Brown dictating terms, Santa Rita pushed its lead to 47-38 entering the fourth quarter. But Brown twisted his ankle and was limited the rest of the game.
Sahuaro responded, tying the game at 50, forcing overtime.
"It was basically a game between neighborhood kids; we all grew up together in the same part of town," says Wharam. "I grew up playing against (Santa Rita's) Mark Brown, Alan Batiste, Ryan Sonnek and those guys. It's not like it is today, where kids specialize in one sport, or so many of the best players go to Salpointe."
With five seconds remaining, the Eagles' Sonnek swished a long 3-pointer to cut Sahuaro's lead to 69-68. But high school rules of the day did not include stopping the clock after a made basket. As the crowd roared, waiting for more, Robertson calmly held the ball under the basket.
The clock ticked. Sahuaro won 69-68.
Cougar fans rushed the court.
McConnell and Ferguson, mentor and pupil, shook hands near the scorer's table. Neither looked happy. "I didn't want to meet Jimmy here," McConnell told me 10 minutes later. "And he didn't want to play us, either."
Wharam scored six of his 12 points in overtime. Wells finished with a game-high 20 and Matt Lohmeier scored 19. Batiste led the Eagles with 26.
"Nobody lost that game," said Ferguson. "Sahuaro won it."
The ramifications would become historic: Sahuaro had to play 24 hours later, at America West Arena in Phoenix, and beat favored Glendale Cactus 60-53. McConnell finally got his third championship two nights after that, edging Palo Verde 72-58 at AWA.
The Cougars repeated as state champions a year later, beating Phoenix Sunnyslope.
Postscript: "My mom taped that game against Santa Rita," says Wharam, who is married and has two young children while teaching/coaching as his alma mater. "I've gotten it out a few times to get my teams jacked up. There's a good message from that game that carries over; no matter who you're playing, you can do it."
Where are they now? Ferguson retired from coaching at Santa Rita in 2011, having won the 2010 state title and coaching 377 wins in 17 seasons. He was inducted into the Sahuaro Hall of Fame in 2014.
McConnell died in 2019. He was 89. He retired in 2007 after guiding Sahuaro to 774 victories, then a state record.
Robertson went on to play quarterback at Cal, playing in 31 games from 2001-04, throwing for 1,280 yards.
Brown became a starting point guard at Utah State, leading the Aggies to the 2003 NCAA Tournament and a 17-1 record, winning the Big West Conference in 2004.
Lohmeier graduated from the Air Force Academy and became a major, working for the space and missile control program.
Batiste, who was an all-league player at Fort Leas College in Durango, Colorado, has been the head boys basketball coach at Durango High School for 10 seasons.
Contact sports columnist Greg Hansen at 520-573-4362 or ghansen@tucson.com. On Twitter: @ghansen711
Be the first to know
Get local news delivered to your inbox!