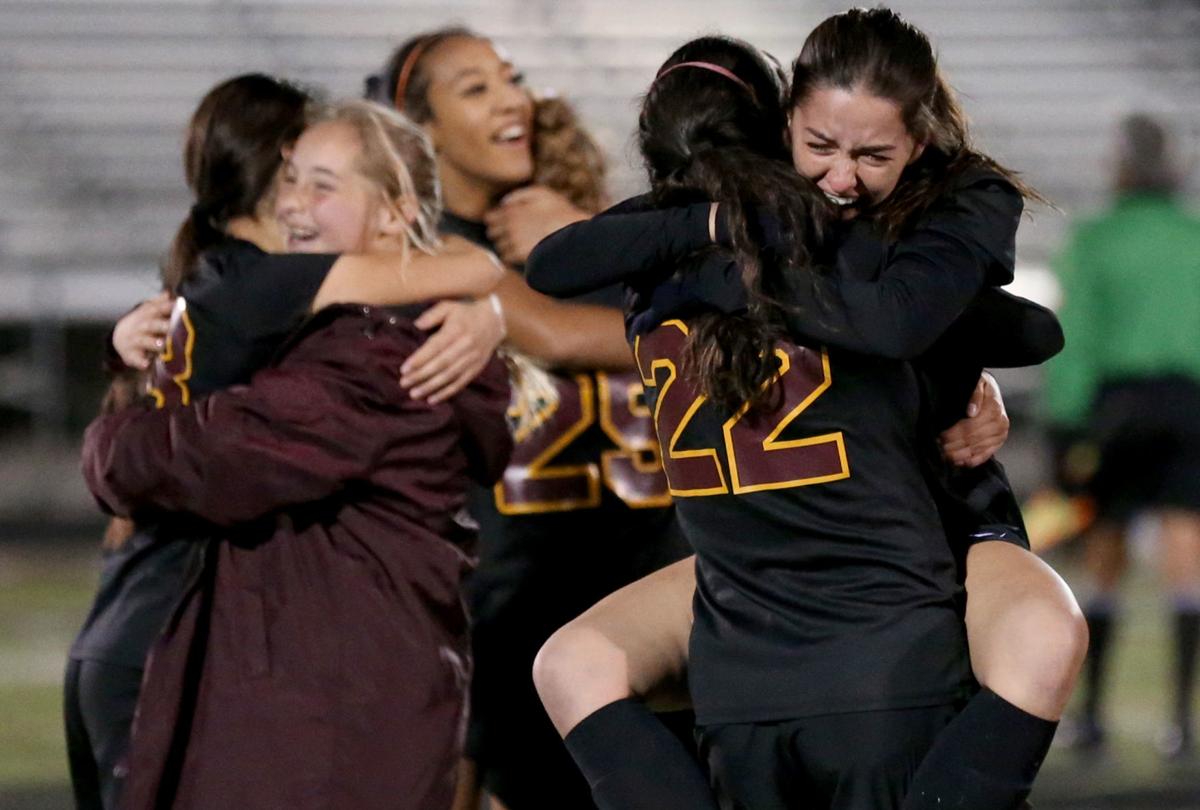 Six years ago, the Arizona Daily Star published a photograph of three little boys sitting in the bleachers at Kino Sports Complex watching their mother play soccer. It was a clip-and-paste-in-a-scrapbook keeper.
The back of the boys' T-shirts said:
Last week, "mommy" coached the Salpointe Catholic girls soccer team to a second consecutive state championship.
Tyler, now 15, Brady, 11, and Camden, 8, were in the grandstands again as Team Mommy increased its state championship total to four. Kelly Pierce — mommy — also won back-to-back state championships as a Salpointe soccer player in 1998 and 1999.
This time there is a new part of Team Mommy. In September, Pierce, a single mom, became a foster mother. Now 9-month old Harmony lives with Tyler, Brady and Camden and you wonder how Kelly Pierce, soccer champion, can possibly coach a soccer team, work full-time as a law clerk and be a diligent mother.
"I'm exhausted, but having Harmony with my three boys is a blessing," says Pierce. "I'm not a quitter."
Kelly Pierce has been an influential part of Tucson's flourishing soccer community for more than 20 years. She was an all-city player at Salpointe — "a fire-starter for our team," said 1999 state title coach Alesha Kientzler — an All-ACCAC standout at Pima College, a head coach at Mountain View High School and part of the vast FC Tucson Youth Soccer program as a player and coach for what seems like forever.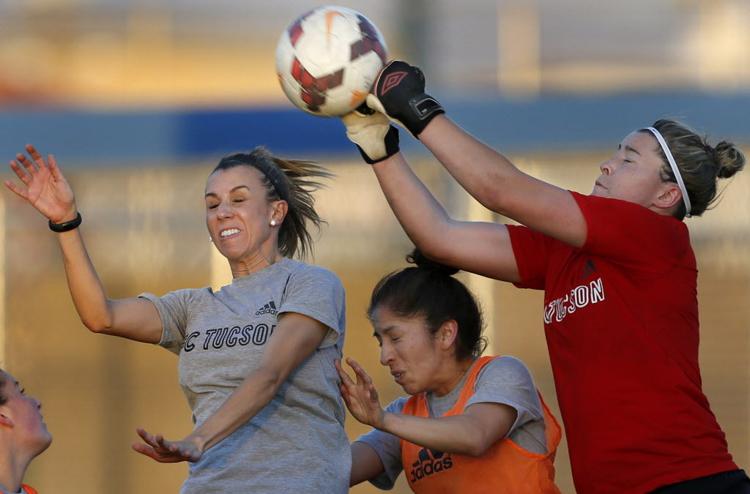 She has coached soccer teams like Foothills FC White Lightning in the famed Fort Lowell Shootout as far back as 2001.
But what Pierce accomplished this season at Salpointe was extraordinary. In a season that began Nov. 1 and ended last week, Pierce successfully balanced her day job and her coaching job while raising four kids.
"Everyone asks me how I do it, and honestly I don't know," Pierce says with a chuckle. "My mom (Donna) is huge help to me. She's my rock. I've got a really good support system, with baby-sitters, and now my oldest son, Tyler, helps out. It's my life and I love it."
Pierce took temporary custody of Harmony, the daughter of a friend, five months ago. Initially, it was going to be for a weekend. And then it grew into a week, and a month.
"We are totally in love with Harmony," she says. "Our ultimate goal is a reunification with her parents, but until then, we treat her as our own. The girls on our team just love Harmony. It's been so rewarding."

Pierce became a single mom three years ago and was struggling financially when her longtime soccer friend Ted Schmidt stepped in.
Schmidt, a partner in the Tucson law firm Schmidt, Sethi and Akamajian, is also president of the Pima County Junior Soccer Club and FC Tucson Youth Soccer. He watched as Pierce grew from a junior soccer star to motherhood and was impressed.
But Pierce and her needs went way beyond soccer.
"Ted took a shot on me back when I needed a job, taught me the ropes and I've been there since," she says. "It's an awesome job. They're incredible people."
Schmidt was like a proud papa as he watched Salpointe beat Catalina Foothills in last week's state championship game. It wasn't about the winning as much as it was about Pierce's perseverance.
"I'm so proud of her and all she has accomplished in the face of adversity," he says. "It is pretty cool when good people who deserve to win do. Kelly is such a wonderful role model for young women today. We are truly blessed that she is coaching and influencing high school girls in our community."
Pierce is not one to back away from a challenge.
She started playing soccer at 5, when Tucson soccer was in its growing stages. There were few girls teams, so Pierce was one of two girls placed on a boys club. She made it work.
"My mom was a softball player and she initially put me in softball," Pierce remembers.
"But I was too hyper to stand in the outfield. Once I tried soccer, I knew it was for me. I've been all-soccer since."
After coaching Mountain View's girls soccer team from 2013-17, Pierce suspected that her soccer days were ending. Her three boys were into junior football. And besides, when would she find the time to coach again?
But when Becky Freeman left Salpointe after coaching the Lancers to the 2017 state championship, the phone rang.
Was she interested in coaching her alma mater?
"My plan was to step away from coaching altogether," she remembers. "But there's so much history there — I'm a third-generation Salpointe graduate, and I grew up next to the school — that I just couldn't say no."
She says she'll be back next year.
"I'm not just going to zip out because we won the championship," she says. "It's been so humbling and so rewarding. I'll make it work."
Contact sports columnist Greg Hansen at 520-573-4362 or ghansen@tucson.com. On Twitter: @ghansen711