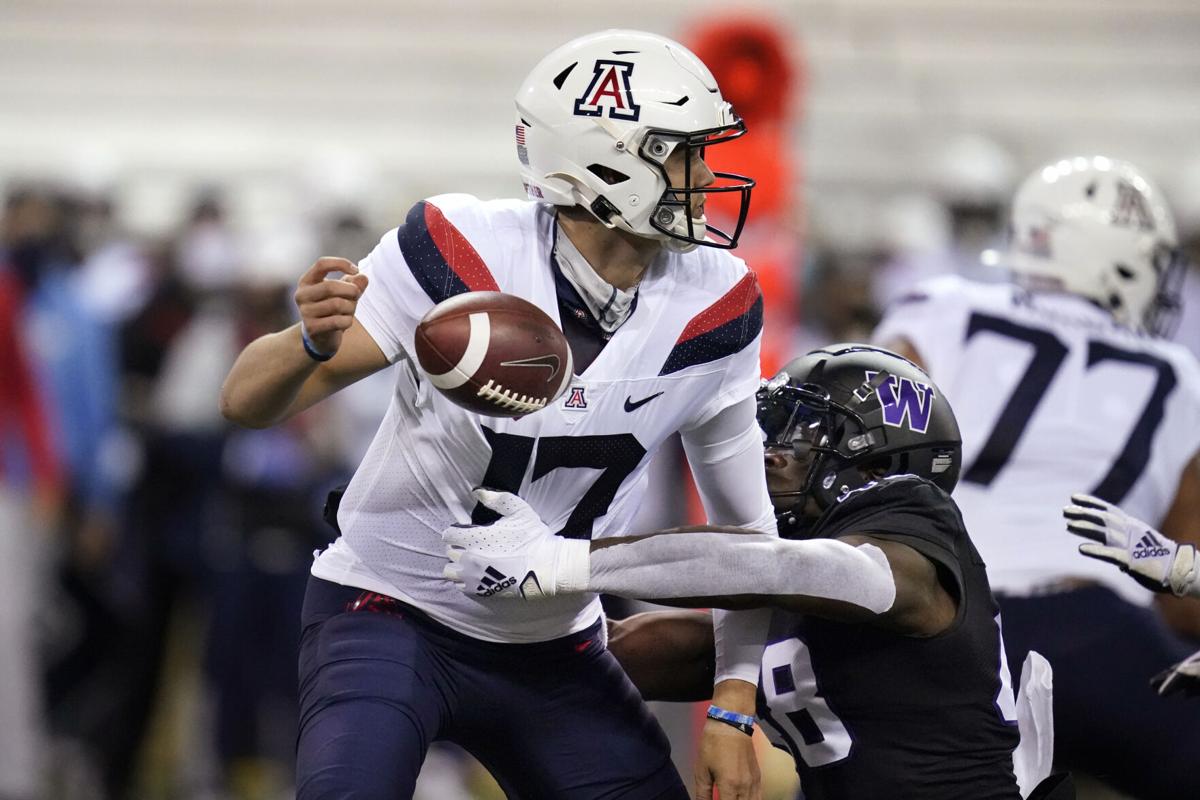 In the pandemic period of college football, the most benign term in in the game has become "no contest.''
It's the operative phrase meant to define the implication of canceled games. No winner, no loser, no forfeit.
But on Saturday night in Seattle, Arizona went back to pre-pandemic times when "no contest'' was the most indelicate term in college football. It meant you didn't have — pick one — the energy, toughness, discipline, effort or execution to be competitive.
In a 44-27 loss to Washington, the Wildcats picked the wrong time to exhibit the lack of all five elements. No this. No that. No nuthin'.
Whatever gains Arizona seemed to make in a last-minute loss to USC a week earlier were lost and forgotten.
It was such a cringe-worthy performance that when the Huskies took a 30-0 lead early in the third quarter they had outgained Arizona 318 to 34. That's a no contest in any era.
First-year Washington coach Jimmy Lake began his post-game Zoom conference by saying "Well, first of all, that's Husky football right there.''
No one needed to say what Arizona football has become. Its performance spoke for itself.
As I watched Washington's lead grow from 10-0 to 24-0 to 37-0 with almost no pushback from the Wildcats, I thought about Catalina High School and its third-year coach Chris Barlow. The numbers-challenged Trojans, who have for decades struggled to be competitive in Southern Arizona football, have been the only Tucson prep football team unable to play this season.
Barlow's club is 0-0, lacking the numbers to engage any other Class 2A opponent in a game. That's a no contest. That's life in the pandemic.
Arizona has no such explanation.
The UA's face-plant in Seattle has significant consequences. It gave the Wildcats a school-record nine consecutive losses, the most by a Wildcat club dating to 1899. You don't just blow that off and say "it was an off night; we'll get 'em next week.''
Only Kansas, on an 0-11 streak, has a longer losing streak in Power 5 conference football. Not exactly the type of company you want to keep. This ain't basketball. There isn't much heartbreak involved; eight of Arizona's nine losses have been by double figures.
Seattle seemed like the perfect place for Kevin Sumlin's team to break its oh-fer streak, especially against a club with a new coach, a new quarterback and no home field advantage, a rebuilding team that struggled to edge a not-so-powerful Oregon State team a week earlier, a game in which the UW benefitted from a controversial call near the goal line late in the game.
Beat the Huskies? Why not? There was an established link to taking out Arizona's football misfortune on the Huskies. Arizona had broken its two longest losing streaks in school history against UW teams.
When Arizona lost a school-record eight straight games in 2003, it snapped the streak by upsetting the Huskies 27-22. And when Arizona lost seven straight games a year later, it again upset the Huskies, winning 23-13 in Seattle.
Those streak-breaking victories seemed to put Washington into a six-year funk; the Huskies went 15-56 after that surprising 2004 loss to Arizona, including an 0-12 season, 2008, as the UW became the Pac-10's most dismal football franchise.
Now the negative numbers have turned back on Arizona. The Wildcats have gone 0-9 in the Pac-12 since winning at Colorado in October 2019.
If you've followed the league the last few decades, you recognize that an 0-9 streak in the conference has little precedent with the exception of the epically bad Oregon State teams of the 1980s and 1990s and a handful of others that lost eight or nine straight league games, such as the Huskies of 2009, an 0-9 Washington State club of 2008 and a stumbling Cal team that went 0-8 in 2001.
Saturday's game turned on Washington's successful conversion of a fake punt on the game's first possession. That established the Huskies as the aggressor and even though there were 56 minutes remaining, Arizona seemed unable to fight back until the fourth quarter against Washington's reserves.
For Arizona, fighting back is all that remains of this abbreviated 2020 college football season.
What's left? Stop the streak, regain a bit of dignity, don't lose to Arizona State, and don't let Saturday's humbling evening in Seattle continue to define a program that might've been better off stuck on the tarmac at the Tucson airport.
---
Photos: Arizona Wildcats lose to Washington in first road game of the season
Arizona Washington Football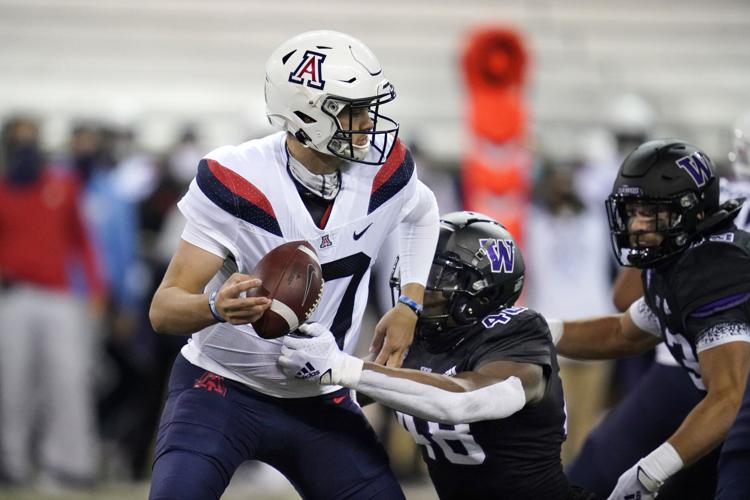 Arizona Washington Football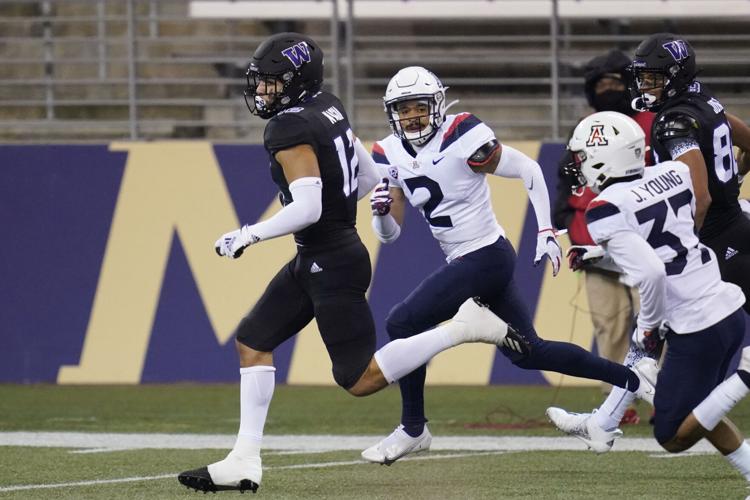 Arizona Washington Football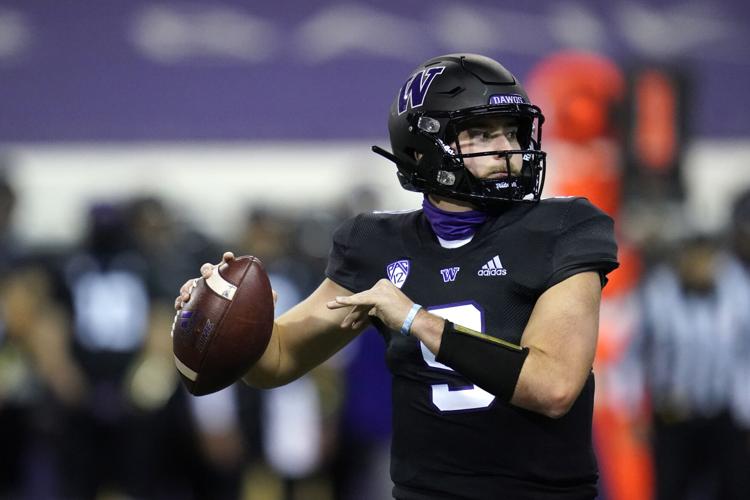 Arizona Washington Football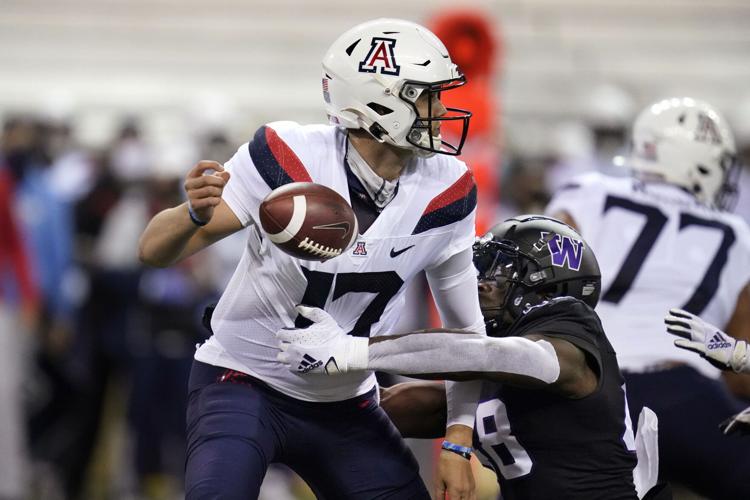 Arizona Washington Football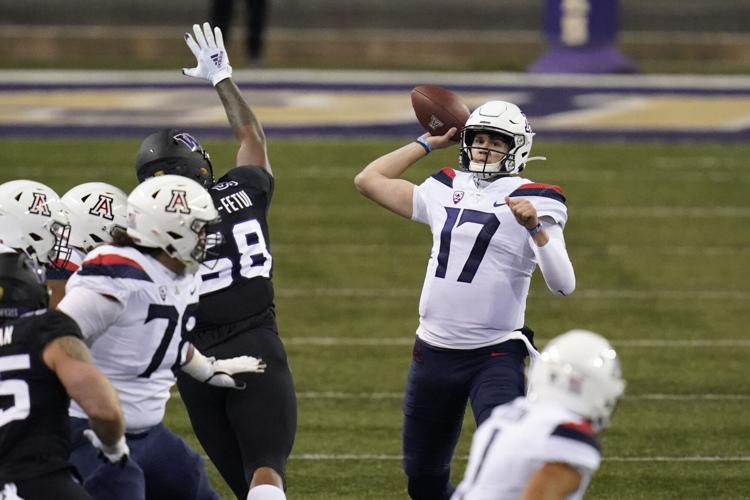 Arizona Washington Football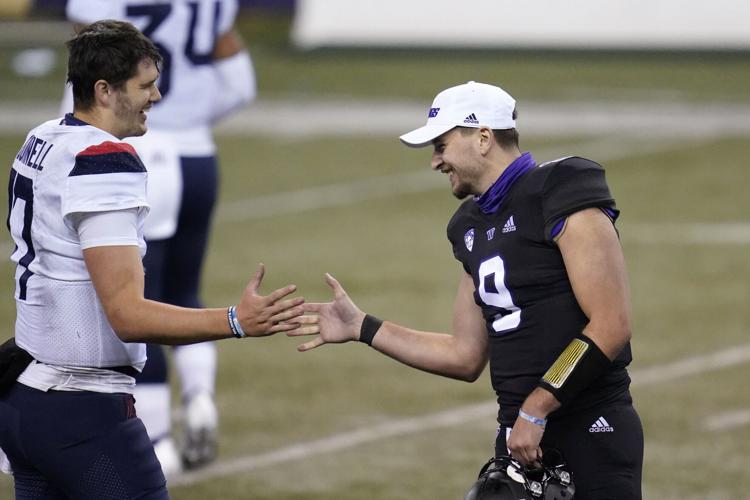 Arizona Washington Football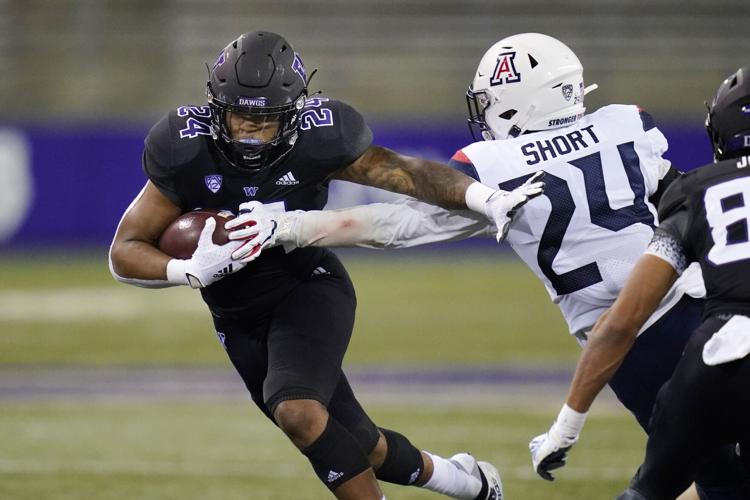 Arizona Washington Football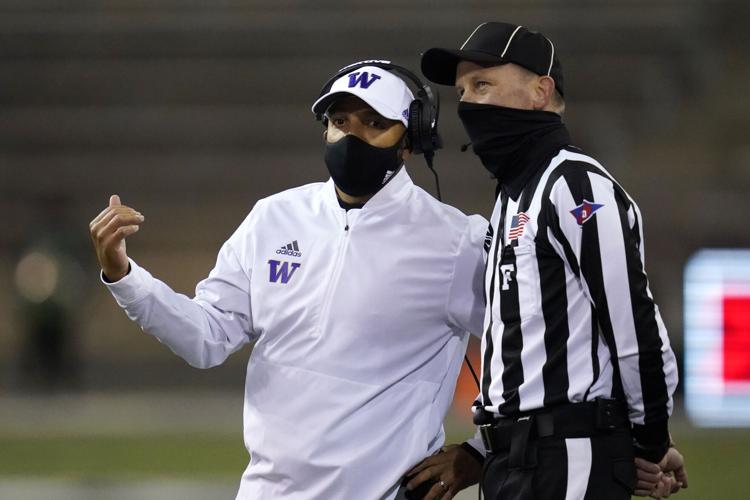 Arizona Washington Football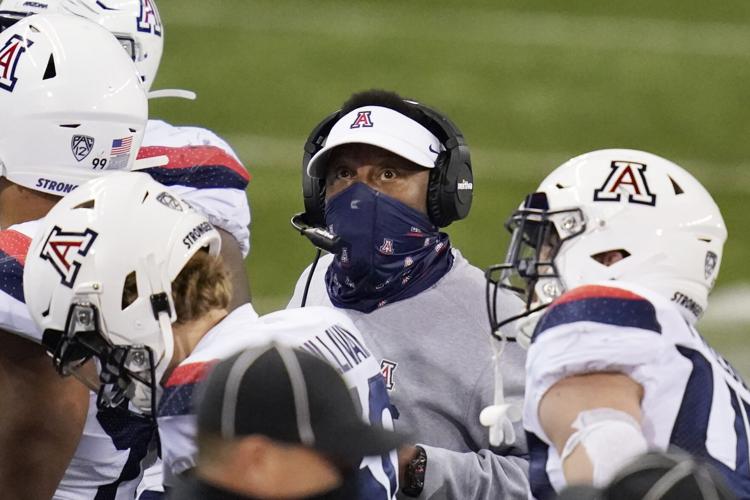 Arizona Washington Football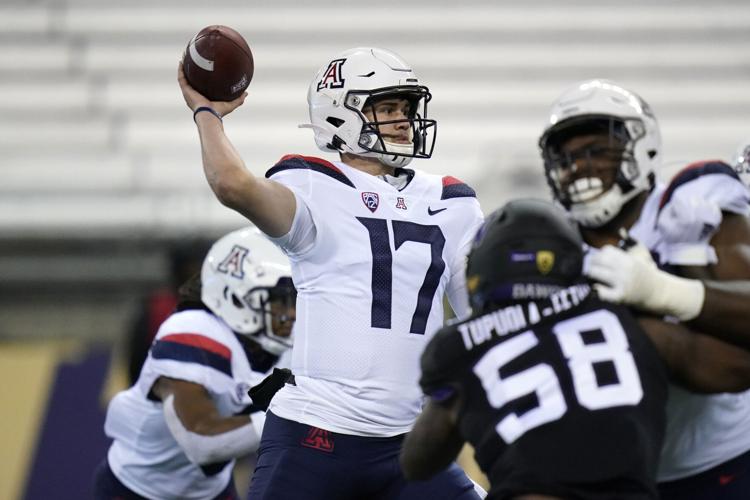 Arizona Washington Football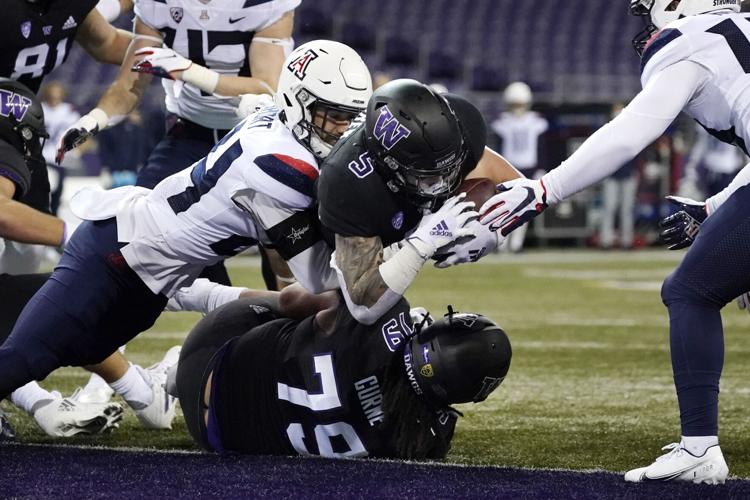 Arizona Washington Football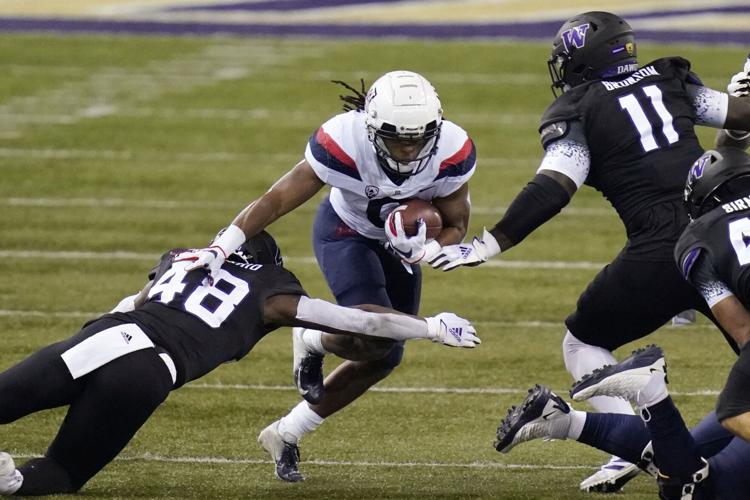 Arizona Washington Football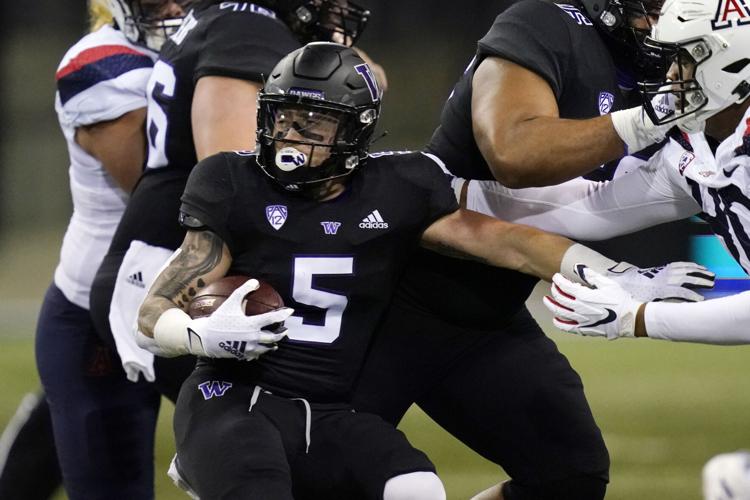 Arizona Washington Football
Arizona Washington Football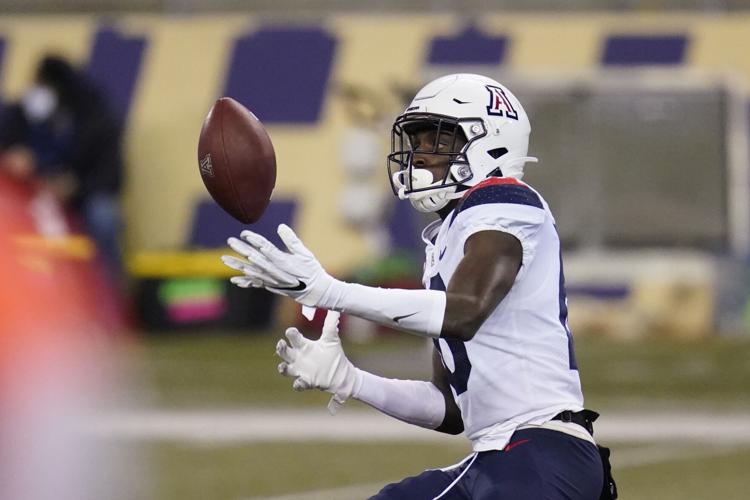 Arizona Washington Football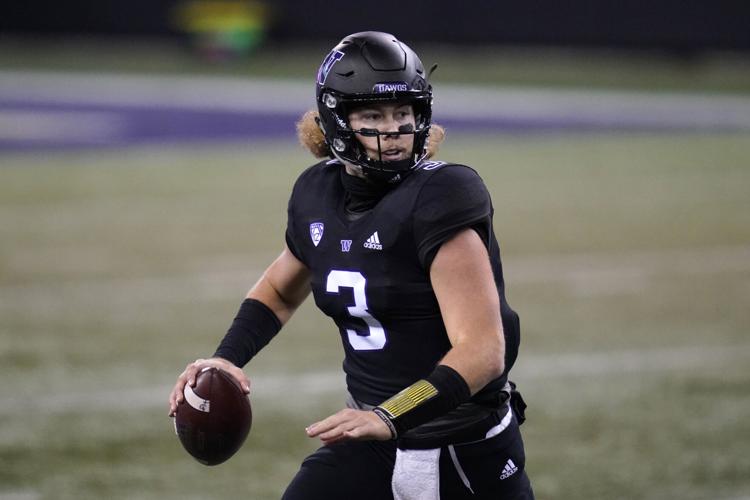 Arizona Washington Football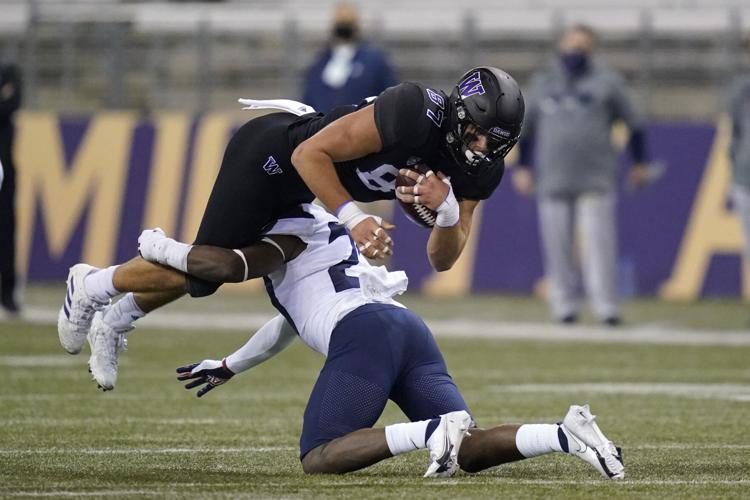 Arizona Washington Football
Arizona Washington Football
Arizona Washington Football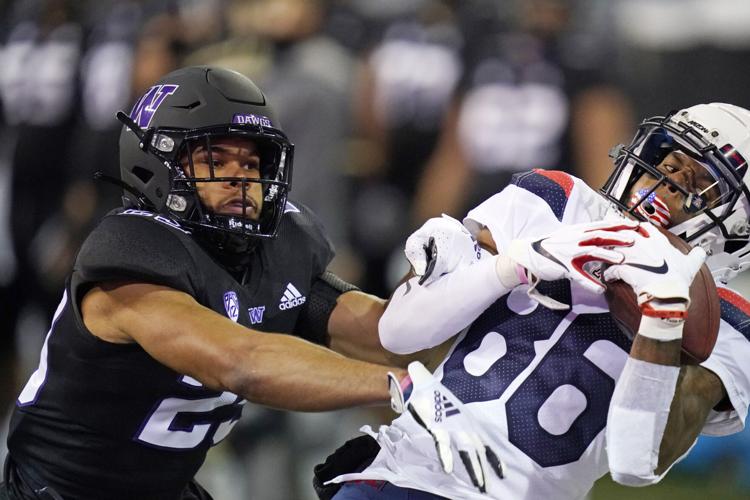 Arizona Washington Football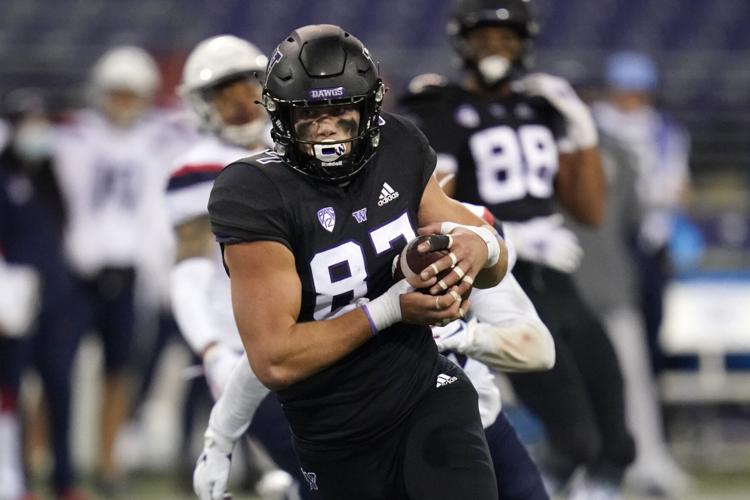 Arizona Washington Football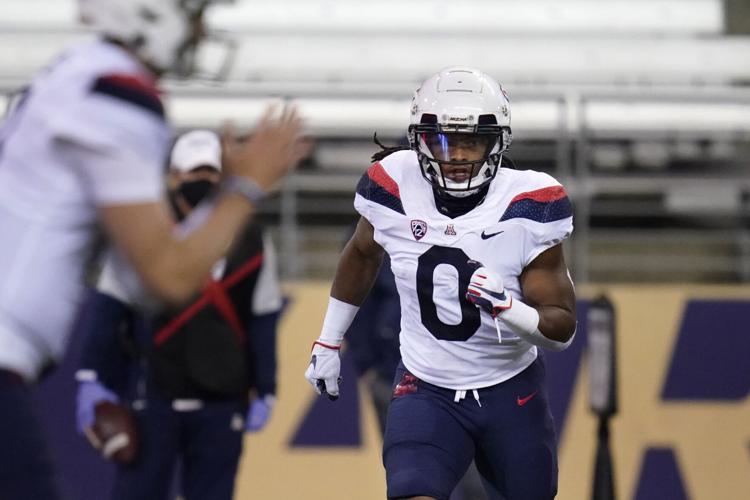 Arizona Washington Football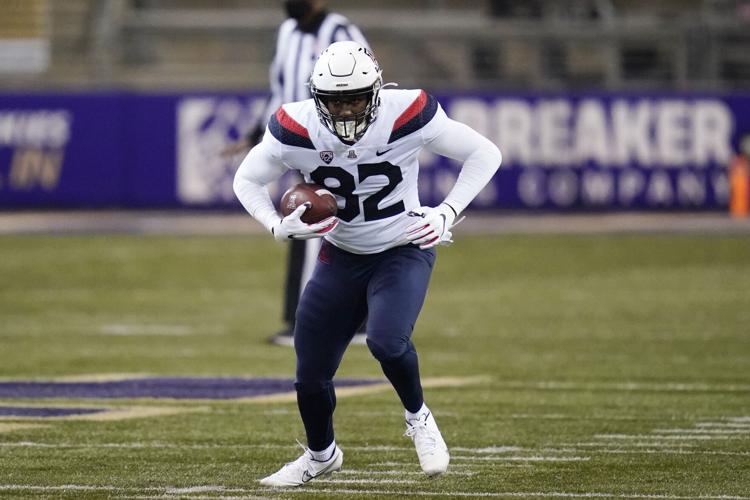 Arizona Washington Football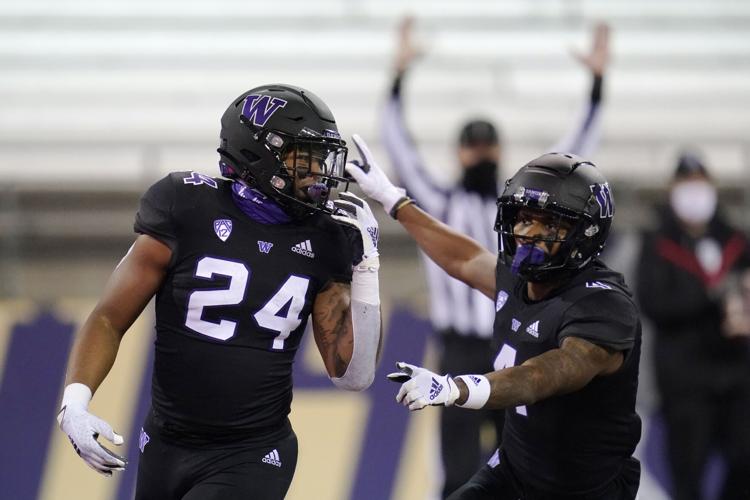 Arizona Washington Football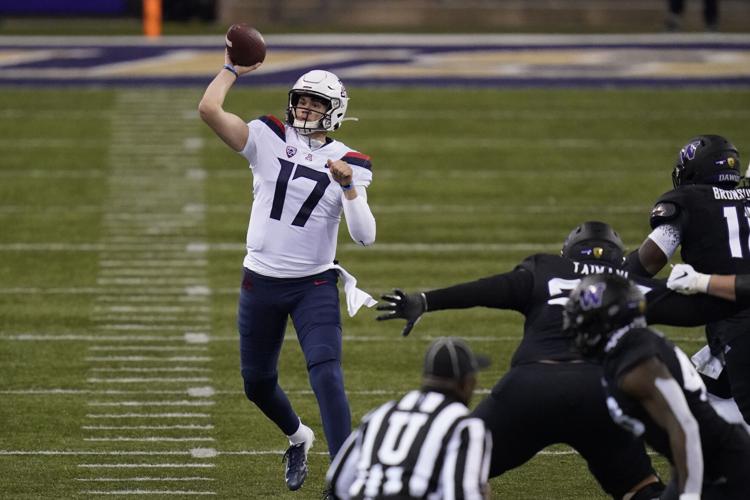 Arizona Washington Football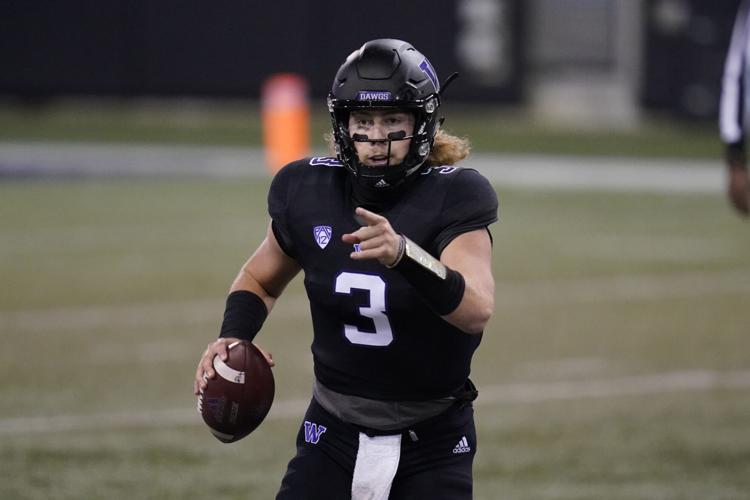 Arizona Washington Football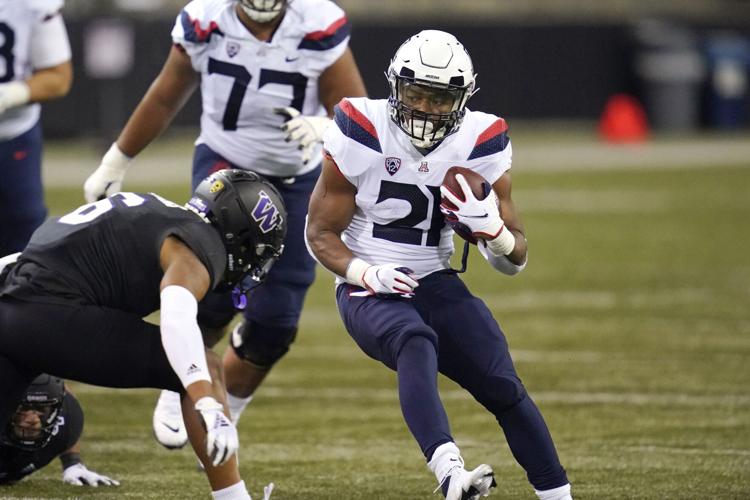 Arizona Washington Football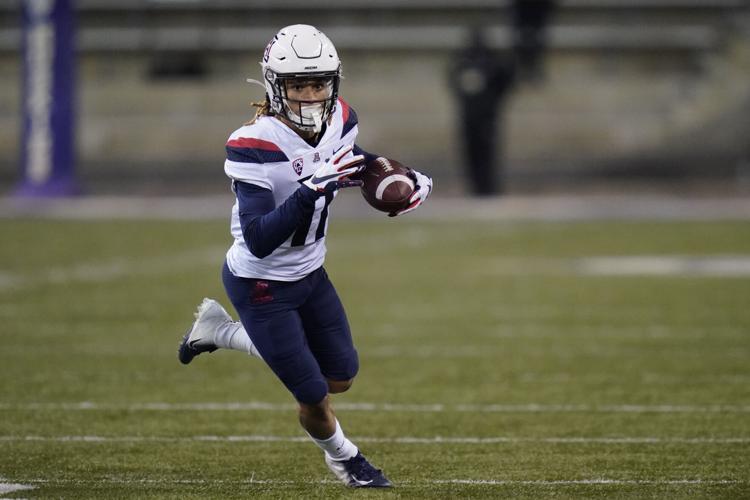 Arizona Washington Football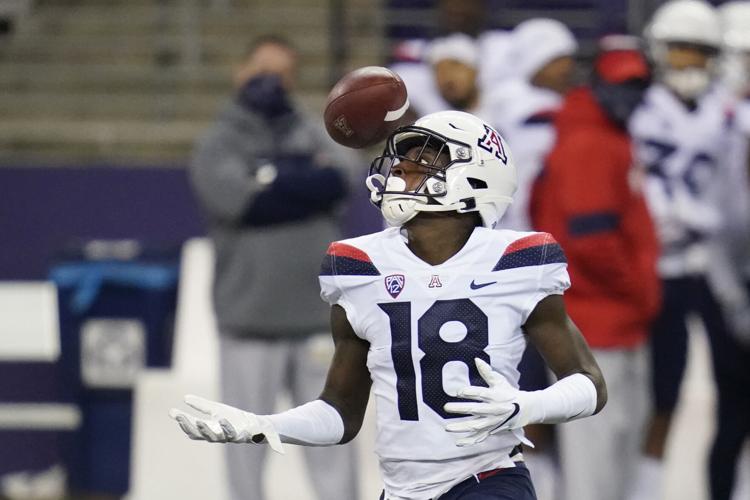 Arizona Washington Football
Arizona Washington Football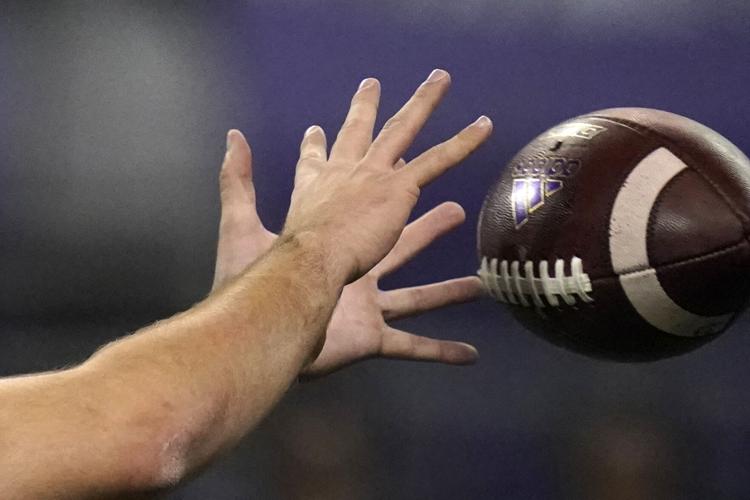 Arizona Washington Football
Arizona Washington Football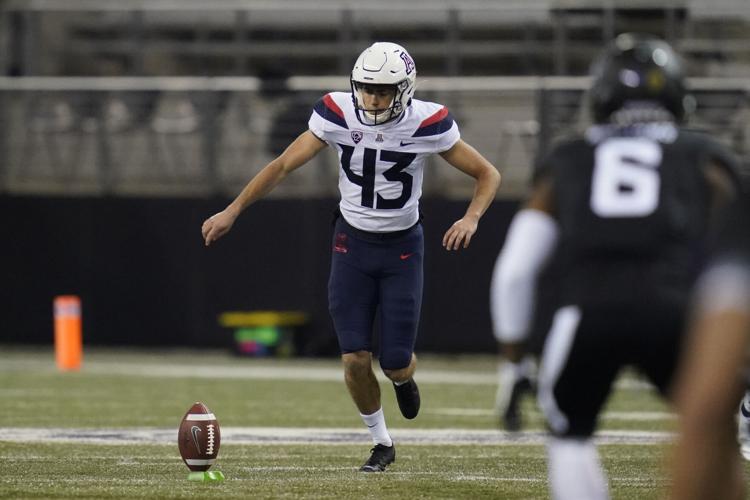 Arizona Washington Football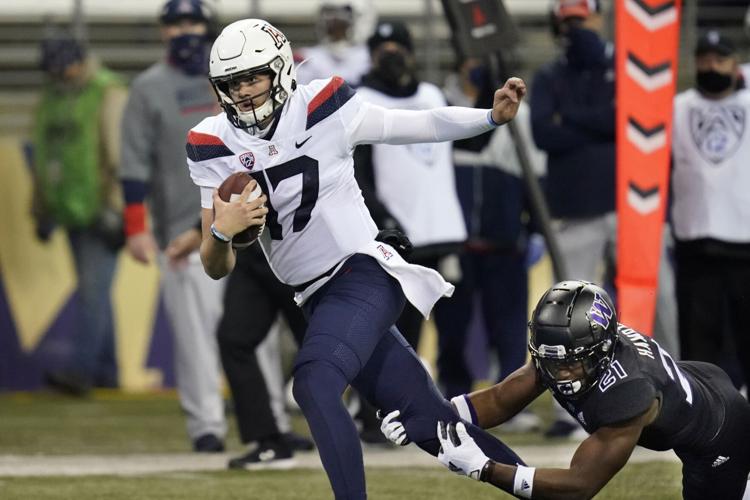 Arizona Washington Football