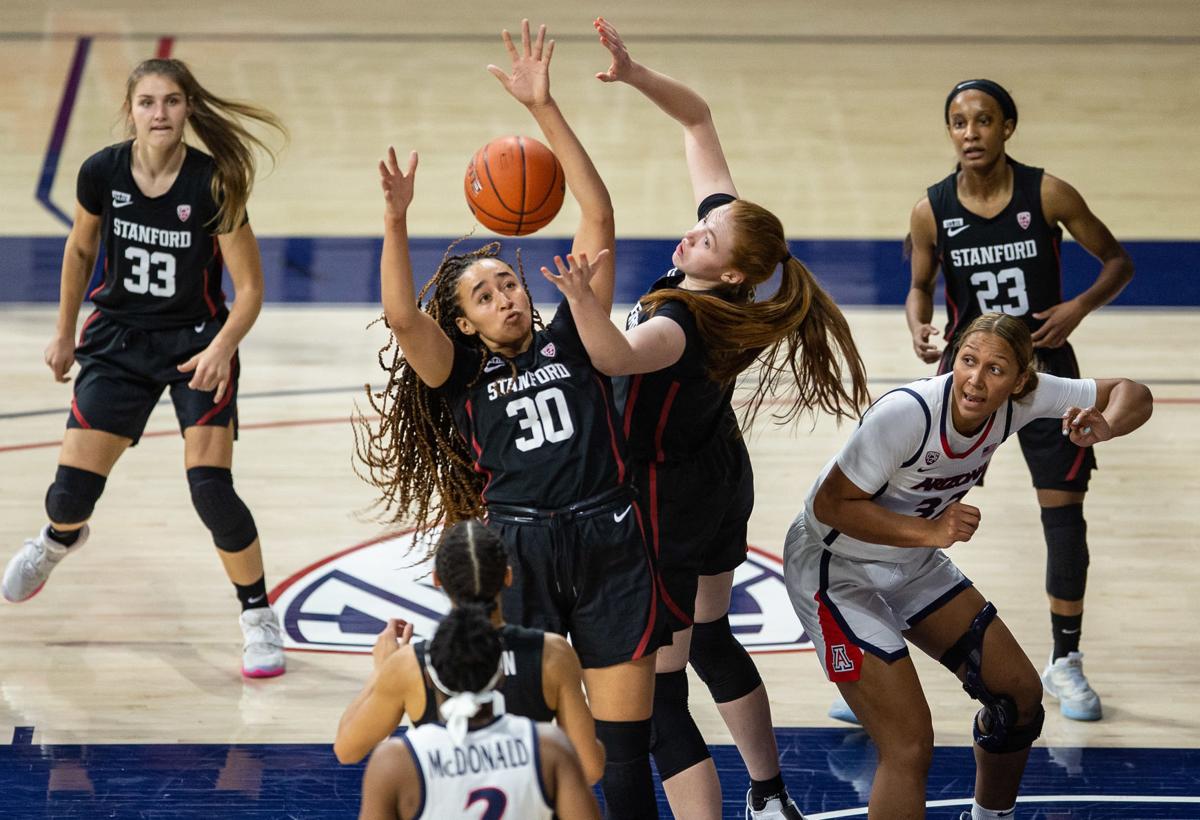 If Stanford's women's basketball team was featured on "Jeopardy!" the categories would likely be:
McDonald's All-Americans.
100-point games.
Final Fours.
No. 1 rankings.
Revenge.
If you choose All-Americans for $1,000, the clue might be: "These three high school All-Americans were alternately assigned to guard Arizona's Aari McDonald in a sobering 81-54 victory over the Wildcats on New Year's Day, 2021":
Answer: Kiana Williams, Haley Jones and Anna Wilson.
You get bonus points if you know that Wilson, a McDonald's All-American from Seattle, is the sister of Seattle Seahawks quarterback Russell Wilson. That she's a fifth-year senior who only averages 19 minutes and 6.1 points for the No, 1 ranked Cardinal — a team so deep and so talented it's difficult to imagine any women's basketball team any better, not even UConn.
"I feel like on a good day we could beat them," said Arizona coach Adia Barnes. "It wasn't a good day."
Stanford opened the season with 108-40, 101-50 and 101-61 victories. It arrived at McKale Center Friday outscoring opponents by an average of 39 points per game and beat the Wildcats by "only" 27.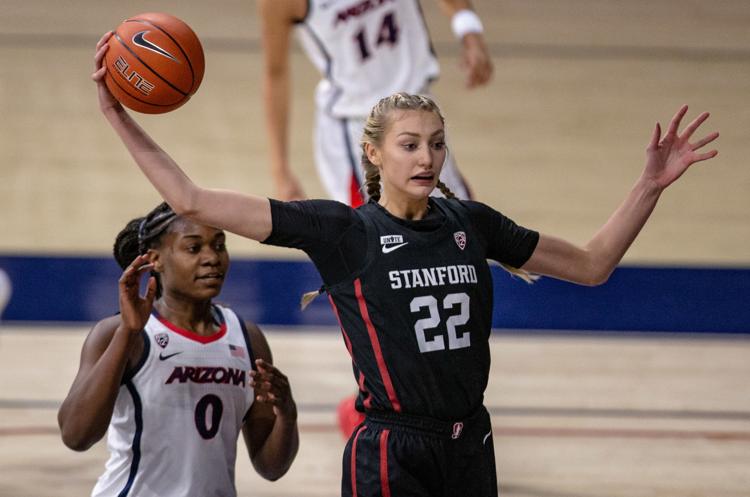 If you follow Pac-12 men's basketball, here's a comparison between the available talent at Stanford and Arizona: Stanford has Aaron Gordons, Lauri Markkanens and Nico Mannions. Arizona?
The Wildcats aren't yet at that level.
UA senior Sam Thomas led the Wildcats with 14 points, but she's been around long enough to know it was probably the night's most meaningless statistic.
"One basket isn't going to bring us back 20 points," she said, and then described the talent on Stanford's roster as 12 players deep and that "they make you pay."
The Cardinal also made it a payback game.
The headline on its basketball website said "Statement made."
Coach Tara VanDerveer clearly spent some of the team's week-long stay at a Tucson hotel a mission to get back at the Wildcats for last year's 73-72 loss at McKale Center.
"We came down here last year and it was really tough on us," said VanDerveer. "Our players didn't forget that. I know I didn't forget it."
There was little UA superwoman Aari McDonald could do to make a difference against VanDerveer's ridiculously deep and talented roster.
McDonald was ineffective Friday, missing 15 of 18 shots. It wasn't that she was cold or that it wasn't her night. Wherever she went, the Cardinal followed with a McDonald's All-American. Stanford's Wilson called it "tag-teaming."
Stanford's game is as good as it gets in women's college hoops. It's not that Arizona was overrated or over-ranked at No. 6 nationally; it's that Stanford almost played a perfect game.
"We did not play like No. 6," said Barnes, "but they played like No. 1."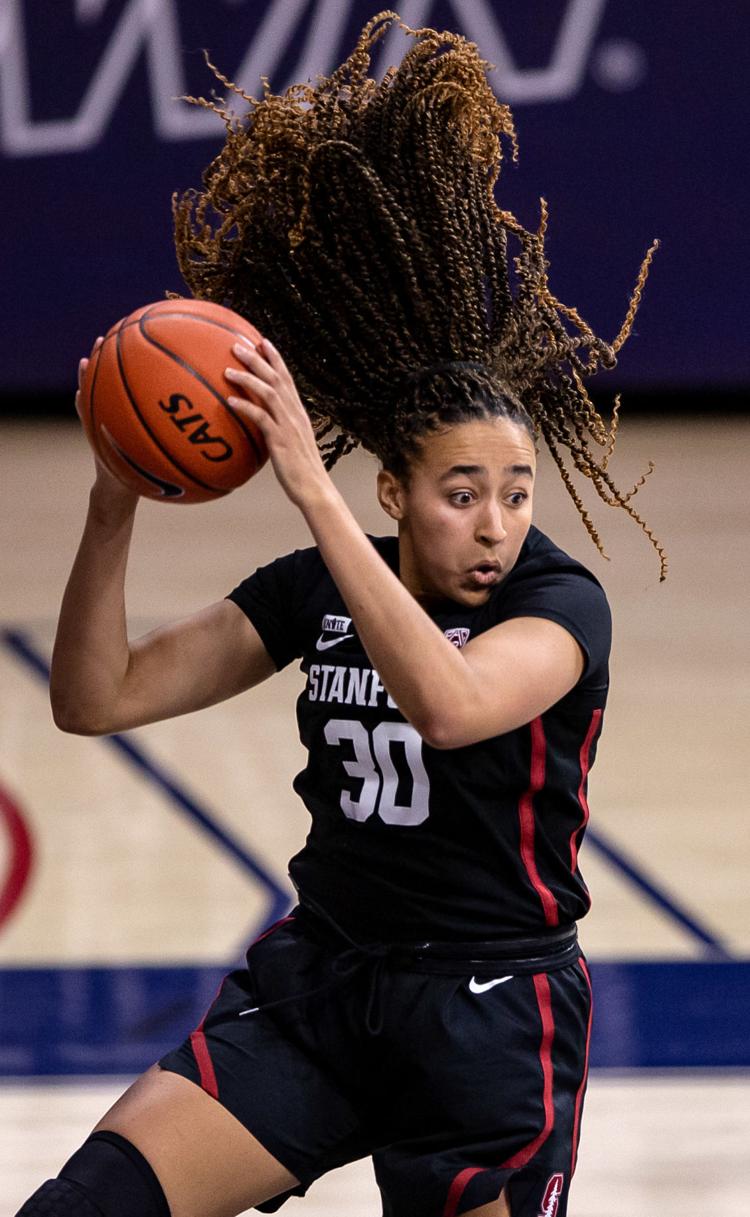 Here's how deep Stanford is: Leading 28-17 in the second quarter, VanDerveer inserted 6-foot 4-inch sophomore Ashten Prechtel, a McDonald's All-American who was ranked the nation's No. 15 high school player two years ago. Prechtel averages just 12 minutes per game, on the fringe of Stanford's rotation.
Prechtel swished a 3-pointer. Three minutes later it was 40-17. Game over.
Stanford is so deep that 6-4 freshman Cameron Brink, the nation's No. 3 high school player a year ago, averages just 16 minutes per game. Brink makes the most of it, averaging 12 points and 6.3 rebounds per game. She is obscured by Haley Jones, the nation's No. 1 high school player two years ago, a 6-1 sophomore who leads the Cardinal with 16 points and 10 rebounds per game.
Jones is a difference-maker.
When Arizona won an epic 73-72 overtime game against No. 4 Stanford last February at McKale Center, Jones didn't play. She was out with a knee injury.
This isn't to be critical of Arizona, but on Friday it was shown how far it must go — how many more elite-level players it must recruit — before it can compete with a program like Stanford on a night it doesn't have its best stuff.
Stanford is about defense and discipline. It's about size and strategy. It was able to gang up on McDonald and make her come off as just another player, which almost no other team has done, or will do between now and April.
A few weeks ago, VanDerveer coached her 1,099th college victory, tops in women's basketball history. Midway through the game, Stanford sophomore Fran Belibi, a McDonald's All-American from Colorado, got a breakaway steal and dunked the ball.
It is believed to be the first-ever dunk by a Pac-12 player. At any other school in this league, Belibi would be a franchise-type player. She averages 17 minutes per game at Stanford and is fourth on the team in scoring.
"They have really good players," Barnes said, understating the ease with which Stanford won Friday's game. "They're No. 1 for a reason."
Contact sports columnist Greg Hansen at 520-573-4362 or ghansen@tucson.com.
On Twitter: @ghansen711