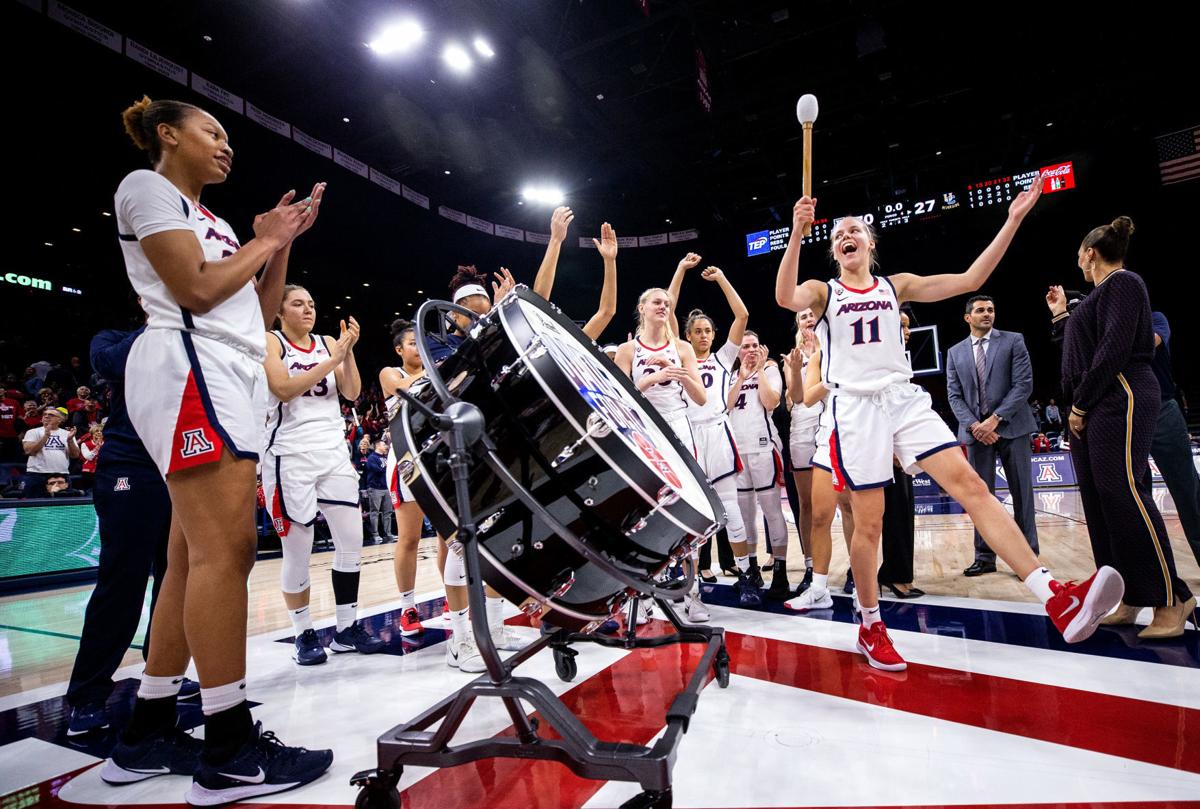 This is mission impossible, right?
Arizona's women's basketball team plays No. 3 Oregon State and No. 2 Oregon in a Friday/Sunday showcase that has no equal in McKale Center history.
Nothing like this has ever taken place at McKale, not even during the days Duke and North Carolina and Kansas used to play against Lute Olson. This is being at the center of a basketball storm like no other.
Welcome to the Roaring '20s.
Oh, there was a week in December 1999 that Arizona played No. 9 Texas, No. 6 UConn and No. 4 Michigan State, but one of those games was in Texas and another in Chicago and it didn't seem impossible because Arizona was ranked No. 2.
That's what happened when you had Gilbert Arenas and Luke Walton in the lineup; beating top-10 teams was expected. And Arizona did, going 2-1 against those basketball monsters.
This is different. Adia Barnes' club and those UA women's teams before her have lost 50 consecutive games to top-10 teams. Exactly 50. What are the odds that streak is broken Friday against the Beavers or Sunday against the Ducks?
The best answer would come from Oregon coach Kelly Graves, whose team is so good that it beat Team USA in an exhibition game a few weeks ago, a team so exceptional that it has gone 33-5 in each of the last two seasons and played in a Final Four and an Elite Eight.
Graves knows how to chop down a giant beanstalk.
On Jan. 2, 1988, Graves was a graduate assistant coach at New Mexico, sharing ideas with Lobos head coach Gary Colson as unranked UNM prepared to play newly-minted No. 1 Arizona.
Graves and Colson knew what they were getting into. Two years earlier, as Arizona was in the process of winning its first-ever Pac-10 championship, the Lobos lost in Tucson 70-55. Graves, then a junior forward averaging 11 points per game, had the misfortune of guarding Sean Elliott.
A rematch came two years later at The Pit. Elliott would be a consensus All-American that season, the Pac-10 Player of the Year and the Wildcats were ranked No. 1. The Lobos weren't anything special, a club that would finish 8-8 in the WAC.
Graves and the rest of the Lobos staff were engulfed as hundreds of fans stormed the court, celebrating the biggest win in New Mexico history.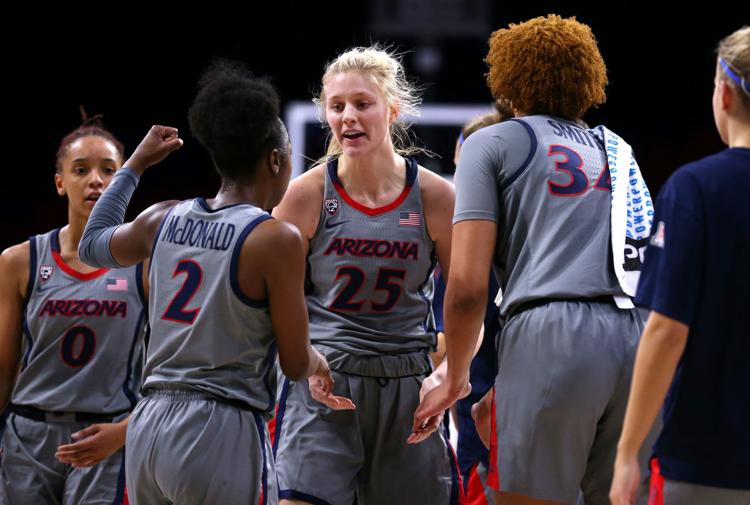 One thing has changed in Tucson. For the first time in more than a decade, top-10 teams like Oregon State and Oregon pause to give Arizona their full attention. On a Portland radio show Wednesday, Oregon State coach Scott Rueck referred to his team's trip to No. 18 Arizona and ASU as "two tough puzzles."
Until now, Arizona hasn't been much of a puzzle to anyone. As Barnes' program gets comfortable in the Top 25, she has learned it's better to be called a puzzle than a pushover.
First, some introductions are in order.
It wasn't long ago that Oregon and OSU were pushovers like the pre-Barnes Wildcats. How did those two Willamette Valley programs suddenly combine for two Final Fours, three Elite Eights and two Sweet 16s across the last four seasons?
It happened in three stages:
1. The Beavers hired Rueck, a 1991 alumnus, from nearby George Fox University. Doesn't sound familiar? Rueck was a dynamo at GFU, coaching the Bruins to the 2009 NCAA Division III national championship and finishing 32-0. His George Fox teams were so good so often — 288-88 over 14 seasons — that the Beavers administration finally couldn't ignore him any longer. It had employed three women's basketball coaches while Rueck was at George Fox; none reached the NCAA Tournament.
Now the Beavers so treasure their women's basketball coach that they signed Rueck to a contract through 2026-27, and will pay him a minimum of $880,000 a year before the contract expires. That's double Barnes' $440,000 a year.
That's also a reward for coaching OSU to six consecutive NCAA Tournaments; before Rueck was hired, the Beavers had not played in the NCAAs since 1996.
The Beavers have a very large bandwagon; they average a school-record 5,438 fans per game at Gill Coliseum this year. That's more than the OSU men's team (4,128).
2. The Ducks hired Graves away from Gonzaga six years ago. Buried by the national attention given Mark Few's men's program, Graves barely got a whisper of national attention, but, man, did he deserve it.
Graves went 316-136 in 15 years at Gonzaga, putting a streak together of such excellence from 2010-12 — an Elite Eight and two Sweet 16s — that the Ducks dipped into their stash of Nike-related cash and signed him to a $5.95 million contract through 2025-26.
The money is being repaid in a hurry. Oregon is averaging 9,836 fans per game at Matthew Knight Arena this year, which would smash the Pac-12 women's basketball season attendance record set last year by — who else? — the Ducks, at 7,148 per game.
Before Graves became a Duck, Oregon had not played in the NCAA Tournament since 2005.
3. The most anticipated weekend in women's college basketball no longer has anything to do with UConn or Baylor or Notre Dame. It's all about Ducks and Beavers.
On Jan. 24, OSU will play at Oregon. Two days later, the Ducks will play at OSU. Both games — almost 24,000 tickets — have already been sold out.
In a league once ridiculously dominated by Stanford and Hall of Fame coach Tara VanDerveer — she coached the Cardinal to 11 Final Fours from 1990-2011 — the Beavers and Ducks have taken charge.
Not a soul on this planet could have seen it coming.
Oregon and Oregon State have won the last five Pac-12 women's basketball championships, with the winner going 16-2 each season. They are no longer puzzles. They are powerhouses. Arizona watches with envy, building year to year.
Now, opportunity knocks as it did in the fall of 1999.
Top-ranked Purdue and No. 2 Louisiana Tech played Joan Bonvicini's 1998-99 UA women's basketball team at McKale Center on Nov. 19 and Dec. 6, respectively. Arizona had a chance to win both games, losing 65-58 and 85-72.
Both games were tight until the final two minutes.
"This is such a bummer loss," said UA guard Felecity Willis after the Louisiana Tech game. "We let it slip away."
Now all these years later, the Wildcats have a chance to grasp what once got away. Now's the time, right?
Contact sports columnist Greg Hansen at 520-573-4362 or ghansen@tucson.com. On Twitter: @ghansen711.