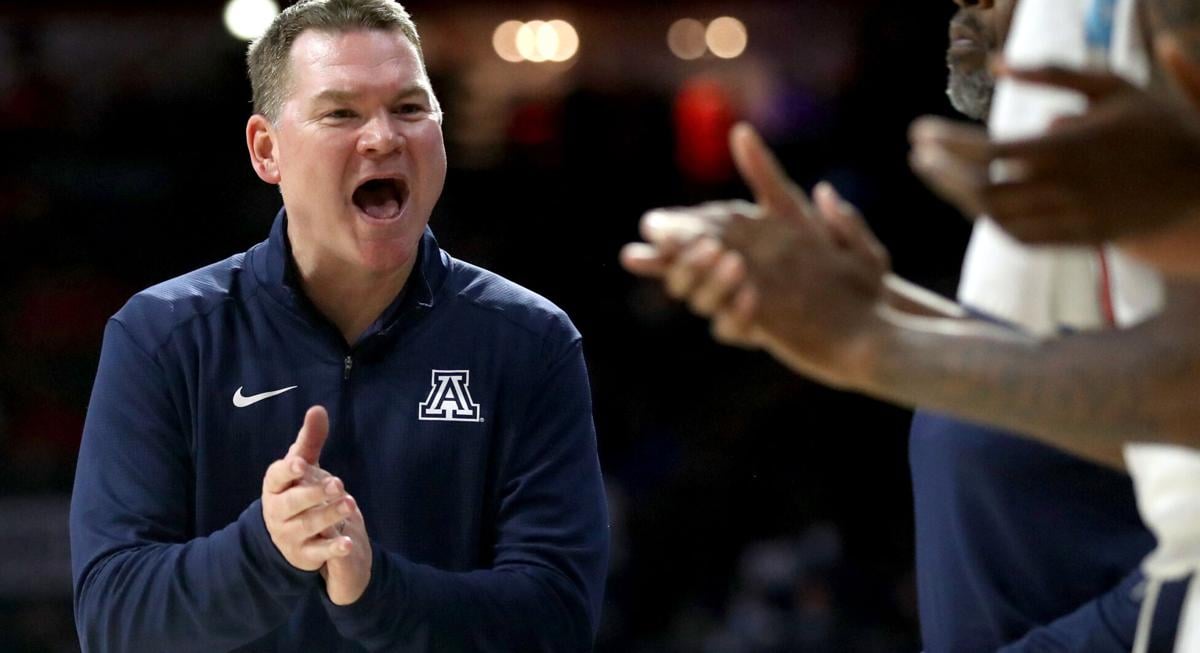 How things have changed at McKale Center in 2021:
UA coach Tommy Lloyd — let's call him "Blue Collar Tommy" — is a toucher. This is a good thing. It's a Steve Nash motivational, team-bonding tool. Nash believes that giving high-fives, tapping a player on the backside, fist-bumping or chest-bumping brings a teams together. Someone in New York counted 270 "touches" between Nash, his players and coaches in a recent Brooklyn Nets game. Arizona seems likely to lead the Pac-12 in scoring and possessions, but also in touches. Put that into your analytics computer.
When Bennedict Mathurin and Oumar Ballo exited the media interview room after Tuesday's 97-45 victory over North Dakota State, Lloyd was waiting in the hallway. "Good job, Benn!" he said with gusto. "Good job, Oumar!" He gave each a fist bump. Such positivity creates a good culture. Some coaches — and I'm not saying Sean Miller — are simply too stressed to figure out that a smile works as well as a lecture.
Lloyd plays a new offense. It's the "Air Raid." Or maybe it should be called "8 o'clock Lightning." To begin the second half in Tuesday's victory over North Dakota State, Arizona was a blur. It ran 18 possessions in the first 10 minutes of the second half, outscoring the Bison 35-13. Pay no attention to the 30-second shot clock; Arizona's average possession in that 10-minute span lasted 11 seconds. It took good (or relatively good) shots with 27, 26, 25, 24, 22 and 21 seconds remaining on the shot clock. It wasn't just a gunner here or a quick shooter there. During one blur, Mathurin, Kerr Kriisa, Kim Aiken and Mathurin (again) swished four consecutive 3s. This ain't your grandfather's offense.
While at Gonzaga last year, Lloyd was part of the NCAA's seventh-fastest-moving offense. Arizona, which ran Miller's old-fashioned "loop" offense, with a point guard jogging the ball upcourt, handing off to a teammate and then running a lap around the other nine players, was No. 198. The only teams in the country that averaged more possessions per game than Gonzaga last season were Coppin State, East Carolina, South Carolina, the Citadel, Bryant and Monmouth. Ballo said Lloyd is running Gonzaga's offense and has also "added eight or 10 plays."
People talk hopefully about Arizona being able to run 80 possessions per game, but that's almost impossible. Yet somehow Lloyd's Wildcat ran 80 possessions in its opener against NAU. Last year at Gonzaga, Lloyd and the Zags ran 85 possessions against Iowa, 82 against Kansas and 81 against West Virginia, all legit Top 25 programs. In Miller's last season, Arizona's fastest pace was 75 possessions. What does this mean? It means fans at McKale Center will have more fun.
It's unfortunate that Kenpom.com's database only goes back to 2002. We'll never know how many possessions Lute Olson's 1997-98 team averaged. Maybe 80. The '98 Wildcats, periodically ranked No. 1, averaged a school-record 91 points per game. Olson's teams, much like Lloyd's first UA team, were, shall we say, swift. In '02, the Wildcats ran 88 and 87 possessions against Kansas and Michigan State, respectively.
After Tuesday's "Air Raid" performance created a buzz at McKale, Lloyd raised eyebrows by talking mostly about being a strong defensive team, declaring that he wants D to be his club's "calling card." "It's inspiring how these guys are playing," Lloyd said. "They are on their way to being a good defensive team.'' Knowing the road ahead is considerably more difficult, he added this caution: "Don't anoint them the 1990s Detroit Pistons yet."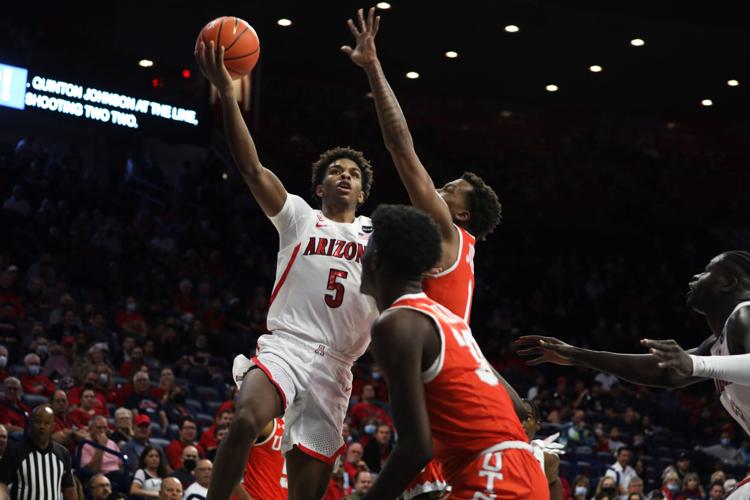 Transfer guard Justin Kier, a "super senior" who played last year at Georgia and before that at George Mason, is almost 24 years old. He has a perspective most college basketball players don't. He compared Lloyd to his previous coaches by calling him "a lot more calm." "He believes in you," Kier said. "I feel like he'll be a friend for life. It's a pleasure to be able to play for him." As we said, the culture at McKale has flipped.
Monday afternoon, Lloyd spoke about his break-in time at Arizona. "I've got a passion, not a job," he said. He is not shy about being in public, eating out, being recognized. "You can't have it both ways," he said. "You want people to respect your privacy, but you also want them interested in your product." I suspect Lloyd was far more recognizable in Spokane, Washington, than he is in Tucson — so far. That will change. His nature is such that he'll handle it well. Before the NAU opener, he walked onto the court before McKale began to fill and stopped next to an usher/security guard. "What do you think?" he asked the man, engaging in a conversation. Times change.
Lloyd's unbeaten record will soon end, most likely this weekend against either Wichita State or Michigan in a made-for-TV event in Las Vegas. Those uncontested 3-point shots the Wildcats have made against teams nicknamed the Bison, Lumberjacks and Vaqueros will be contested. "We'll be facing better athletes, higher-level athletes," Lloyd said. Not that he's dreading those first punches to the gut. "I'm actually looking forward to those bumps in the road," he said. "It's a teaching moment."
So far, the teacher has the apt attention of his class and this town.
Contact sports columnist Greg Hansen at 520-573-4362 or ghansen@tucson.com. On Twitter: @ghansen711