When Ted Keil joined the Navy in early 1942, immediately put into harm's way at the horrific World War II killing fields of Guadalcanal, Andy Tolson had just won his seventh state baseball championship at Tucson High School.
Keil knew Tolson as Coach. But when Keil returned from the war in late 1945, having survived the deadly Japanese attack on the USS Astoria and an almost fatal bout with malaria, Tolson had become Tucson High's principal.
It didn't mean that the man who coached all those Badgers state champions stopped winning.
Upon returning to Tucson, Keil attempted to use the GI Bill to enroll at the University of Arizona. But there was a glitch: Keil and several of his THS classmates had enlisted in the Navy in such a hurry that they didn't complete the last few weeks of their senior year.
The UA told Keil he would have to return to high school for a year.
A day later, Keil went to Tucson High and told Tolson about his academic situation.
"Come with me," said Tolson, who then drove Keil a few blocks to the UA's administrative office and asked for Keil's transcripts.
"I want you to admit Ted into this university," said Tolson. "I'm vouching for him."
Everybody on the campuses of Tucson High and the UA knew Andy Tolson. He was the most accomplished Wildcat baseball player of the 1920s, setting pitching records that stood into the 1950s. He earned a UA degree in education and returned to THS, where his teams won 91% of their games.
In addition, he was the president of the Tucson City Parks and Recreation Department and one of the Southern Arizona leaders of the Boy Scouts of America. The respect for Andy Tolson was such that if he vouched for you, people took action.
A day later, the UA admitted Ted Keil to school. He earned his degree, worked in the school's athletic department and then spent 25 years working for the Lockheed corporation near Los Angeles Airport. After retiring from Lockheed, Keil and his wife, Sarah, moved to Silver City, New Mexico, and worked in real estate.
He made such an impact that the Silver City suburb of Tyrone named their town park after him.
Each time I talked to Keil — my father-in-law — about his upbringing, about World War II and about his days at Tucson High and the UA, he would get emotional, wiping away tears, reminding me how much "Coach Tolson" meant to him.
Today, in Part 3 of the Star's 10-part series of 100 Years of Tucson sports, a decade-by-decade look at 1920 to 2020, Andy Tolson's impact is acknowledged in our look at the 10 games of the decade.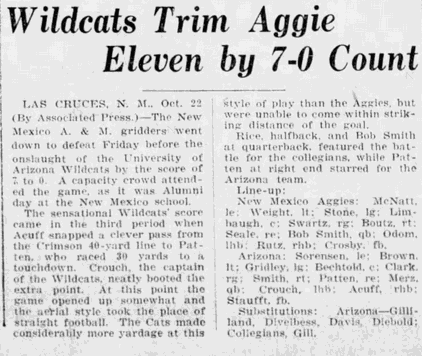 Game of the decade: Arizona 7, New Mexico State 0, football, October 22, 1926. Five days after UA quarterback and student body president John "Button" Salmon was killed in a car accident near Florence, UA football coach J.F. "Pop" McKale and the team traveled by train to Las Cruces to play the Aggies on a Friday night.
The sobering travel party included McKale, 24 players, trainer Leo Wolfson, business manager Jack Stevens and Dr. John Huffer. It was a small and intimate group still grieving Salmon's death.
In 1984, Bisbee attorney Martin Gentry, a lineman on the '26 UA team, told me that moments before kickoff McKale gathered those 28 people and spoke about Salmon's final hours in the hospital.
"It was a very emotional moment," said Gentry. "'Mac' said that he had asked 'Button' if he had a message for the team. And 'Button' had told him, 'Tell them … tell them to bear down.'
"I'm sure it was the truth," Gentry said in the '84 interview. "It was exactly what I would've imagined 'Button' to say."
And so began the "Bear Down" legend at Arizona, carried on a year later by naming the school's new gymnasium Bear Down Gym, and by the school's fight song, "Bear Down, Arizona," written in 1952.
Game of the decade: Tucson High 11, Phoenix Union 6, March 30, 1935, state championship baseball game. The Badgers completed the season 21-3, including a 13-game winning streak. Tolson told the Star that "it was the finest team ever to play for Tucson."
Game of the decade: Tucson High 9, Mesa 0, Nov. 21, 1945, state championship football game. Coach Rollin Gridley — who had been "Button" Salmon's teammate in 1926 — coached the Badgers to their 32nd consecutive victory in the state finals.
The Badgers outscored the opposition 228-33 that season, winning their third consecutive undefeated state championship on a club whose starting quarterback was future Apollo 8 astronaut Frank Borman.
Game of the decade: Arizona 62, Long Island 61, Jan. 29, 1951, men's college basketball. A state-record basketball crowd of 4,650 filled Bear Down Gym as Arizona overcame an 18-point deficit to beat No. 2 ranked LIU and, as the Tucson Citizen reported, "bathed in the sun of new-found national attention."
Beating LIU, which was the 1950s equivalent of today's Michigan State or Gonzaga, propelled Arizona to its best season in school history. The Wildcats went 24-6 overall, played in their first NCAA Tournament and finished No. 12 in the Associated Press poll.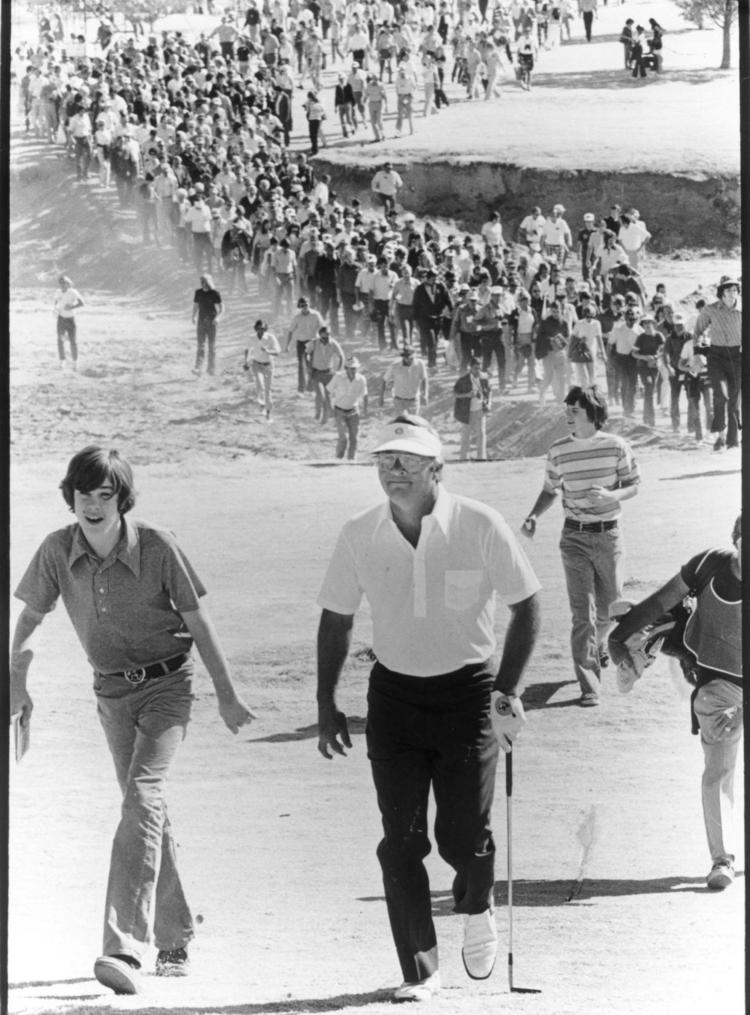 Game of the decade: Arnold Palmer wins the Tucson Open, Feb. 19, 1967. The biggest name in golf, Palmer had won the Los Angeles Open three weeks earlier, his 49th career victory. His arrival in Tucson touched off a weekend-long celebration by Arnie's Army, which jammed the fairways of Tucson National as Palmer won his 50th championship, shooting rounds of 66-67-67-73.
Palmer's victory in Tucson launched the Tucson Open to a higher platform, securing national TV rights, raising prize money from $60,000 to $100,000 and leading to victories by big-name golfers Lee Trevino and Johnny Miller over the next decade.
Game of the decade: Arizona 5, Arizona State 1, College World Series, June 18, 1976. The first national championship by a UA sports team came when it was least expected.
The top-ranked Sun Devils swept Arizona in six consecutive games in the 1976 regular season and then beat the Wildcats in Game 2 at the World Series. But coach Jerry Kindall's team persevered, winning three loser's bracket games to earn an eighth crack at the Sun Devils.
Arizona won as Steve Powers pitched a four-hitter, eliminating the Sun Devils. "It was like a death in the family," said ASU coach Jim Brock. A day after stunning the Sun Devils, Arizona beat Eastern Michigan 7-1 for the national title.
Game of the decade: Arizona 66, Iowa 58, Dec. 12, 1987. In a bold maneuver, UA coach Lute Olson agreed to return to "The House That Lute Built" on the Iowa campus, Carver-Hawkeye Arena, where Olson and coached Iowa to the 1980 Final Four.
Iowa was ranked No. 3, Arizona No. 4. The Wildcats, who had beat No. 1 Syracuse two weeks earlier, would themselves become No. 1 before Christmas. Beating Iowa was the trigger that led Arizona to a 35-3 season and the Final Four, a burst into national prominence that has lasted almost 40 years.
Game of the decade: Arizona 16, Washington 3, Nov. 7, 1992. The defending national co-champions had won a Pac-10 record 22 consecutive games before Dick Tomey's first "Desert Swarm" team shut down the Huskies at sold-out Arizona Stadium.
Arizona rose to No. 9 a week later, getting so much national attention that it was pictured on the cover of the 1994 Sports Illustrated college football issue, putting together back-to-back seasons of 10-2 and 8-4, leading to a successful decade in which the Wildcats were No. 2 in the Pac-10 in football victories.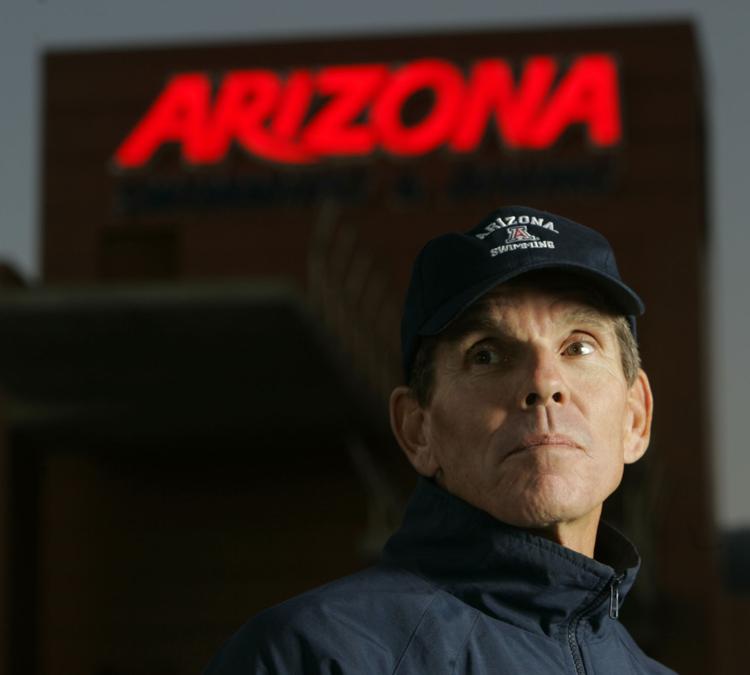 Games of the decade: March 21, 2008, UA women's swimming team wins NCAA championship. March 28, 2008, UA men's swimming team wins NCAA championship.
Coach Frank Busch's swimming teams were so dominant in 2008 that the women's team beat runner-up Auburn by 136 points, and a week later Arizona's men's team routed No. 2 Texas by 94 points.
Game of the decade: Pima College 2, Barton College 1, Nov. 17, 2018. The Aztecs won the NJCAA men's soccer title in overtime, using a Hugo Kametani goal to finish the season 26-2 with an 18-game winning streak.
Kametani was named the NJCAA player of the year as coach David Cosgrove's team went 6-0 in the playoffs, outscoring opponents 15-3.
Contact sports columnist Greg Hansen at 520-573-4362 or
On Twitter: @ghansen711.
Be the first to know
Get local news delivered to your inbox!