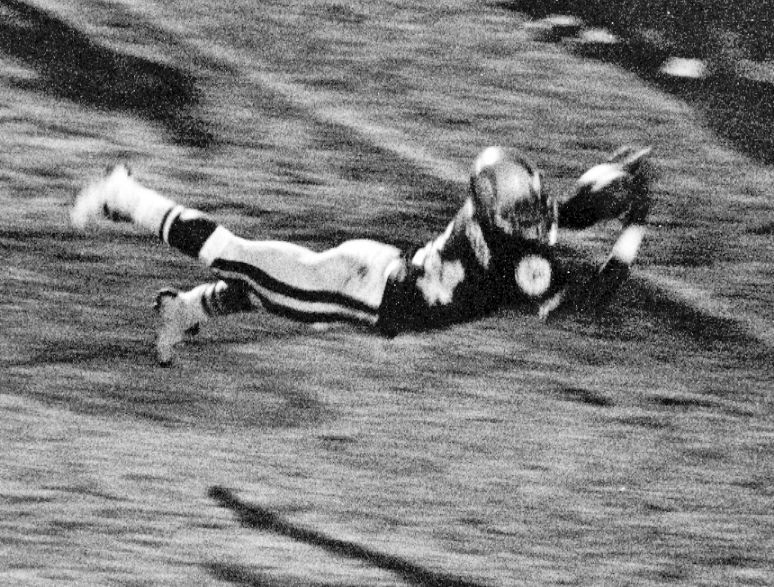 The most soul-crushing, mind-numbing, eternal defeat in Tucson sports history has so many possibilities that you could fill a 747 airliner with those who claim nothing can possibly be worse than:
(a) Arizona's 2005 Elite Eight collapse to Illinois;
(b) The UA's failure to hold a 20-0 lead at Cal in 1994 and therefore blow its chance at the Rose Bowl;
(c) Jennie Finch's unaccountable loss to Cal in the 2002 Women's College World Series, her final game in a Wildcat uniform;
or (d) open a vein and let the blood flow as you recount a loss that has been planted in your brain since high school.
Today, in Part 5 of a 10-part series on 100 Years of Tucson Sports, 1920-2020, Decade by Decade, my nomination for the Worst Loss in Tucson Sports History, probably isn't at or near the top of your list of regrettable setbacks.
Part of that is because the UA men's track and field team has so few rabid followers to keep the pain alive. But from June 3-6, 1998, in Buffalo, New York, coach Dave Murray's track team was in its best-ever position to win the NCAA championship, a not-so-remarkable journey that Murray calls "one of the best meets and worst meets I've ever experienced."
Arizona had its best-ever finish at the NCAA finals, scoring 42 points. The trouble is, it needed 59 to win. But two athletes predicted to win national championships — All-American Doug Reynolds in the discusshot put and three-time Olympian Dominic Johnson in both the decathlon and pole vault — failed to score a point.
Had they just finished third in those events — six points each — Arizona would've won the NCAA title, outscoring Arkansas 60-58.
Oh, what might have been.
On a week Wildcats Klaus Ambrosch won the decathlondiscus, Esko Mikkola won the javelin, Abdi Abdirahman finished second at 5,000 meters and fifth at 10,000 meters, and Chima Ugwu was second in the shot put, the club's two most feared point-scorers came off like, say, Phil Mickelson, shooting 80 in the final round of the U.S. Open to lose by a stroke or two.
Murray referred to Johnson and Reynolds as "pillars'" of the program. But that's life in track and field — and sports. Even Tom Brady loses in the Super Bowl. It's like the '05 Wildcats blowing a 15-point lead in the final four minutes of an Elite Eight game to Illinois, losing in overtime, never setting foot at a Final Four since.
Here's my look at the most painful defeat of each decade over Tucson's last 100 years: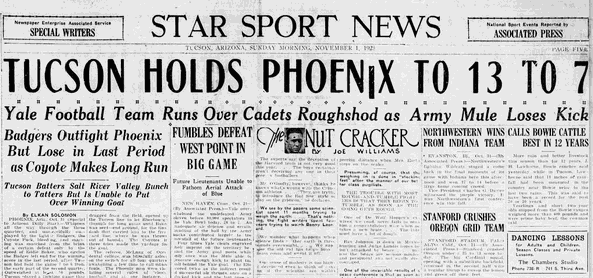 1920s
Phoenix Union 13, Tucson High 7, Oct. 31, 1925. Coach Syl Paulus' Badgers' were the second-best football program in Arizona for more than a decade, but couldn't beat the PUHS Coyotes. Their losing streak reached 14 games in 1926, its closest bid to end the streak and win a state title. A year later, Paulus pulled his version of a "Win One For the Gipper" by telling the Badgers that he was quitting as at year's end. "I have never been able to beat that team," he said. "Fellas, give me the game." And so they did, finally winning 13-12.
---
1930s
ASU 19, Arizona 6, Oct. 31, 1931. The Wildcats owned the football rivalry, not losing since 1899. The Star reported that "the Arizona State Teachers College found the end of the rainbow and the pot of gold" after an ASU-record 3,000 fans filled every seat at old Irish Field.
---
1940s
ASU 34, Arizona 7, Nov. 12, 1949. Unbeaten against ASU since 1931 — winners of 19 ofor their last 20 against ASU — the Wildcats were blown out before a state-record crowd 18,000 in Tempe. It was the trigger that turned the series, which ASU dominated for the next 30 years. ASU fans carried coach Ed Doherty off the field, chanting "We Beat the U!"
---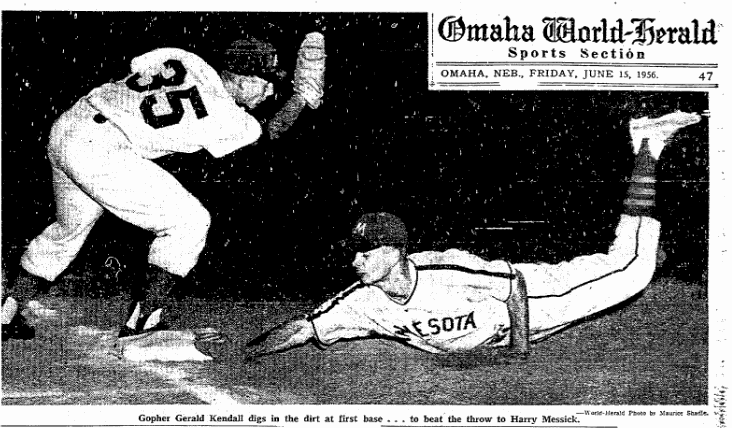 1950s
Minnesota 12, Arizona 1, June 14, 1956. The most dominating UA baseball team of the century, playing in its third College World Series, whipped Minnesota 13-6 to force a winner-take-all championship game. But coach Frank Sancet's team had exhausted the arms of two All-American pitchers, Donnie Lee and Carl Thomas, and lost a lopsided game to the Gophers and their star shortstop, Jerry Kindall, who 20 years later would end the UA's 0-for-8 streak at the 1976 College World Series.
---
1960s
Phoenix Union 63, Rincon 60, March 4, 1967. Coach Dick King's Rincon Rangers entered the state championship basketball game undefeated, 22-0. The trouble was that Phoenix Union beat 22-0 Flagstaff High to earn a spot against Rincon; PUHS was 24-1, and had the state's top player, future UA standout Bill Warner, ending what might've been the greatest season in Rincon sports history.
---
1970s
ASU 24, Arizona 21, Nov. 29, 1975. Had TV slow-motion replays been available in '75, "The Catch" that painfully ended what had been the best football season in UA history — the Wildcats were 9-1 before kickoff — wouldn't have been counted as a game-changing touchdown. Sun Devil John Jefferson appeared to bobble a pass in the end zone. ASU went on to finish 11-1 and finish No. 2 in the nation. Arizona? Not even a bowl game.
---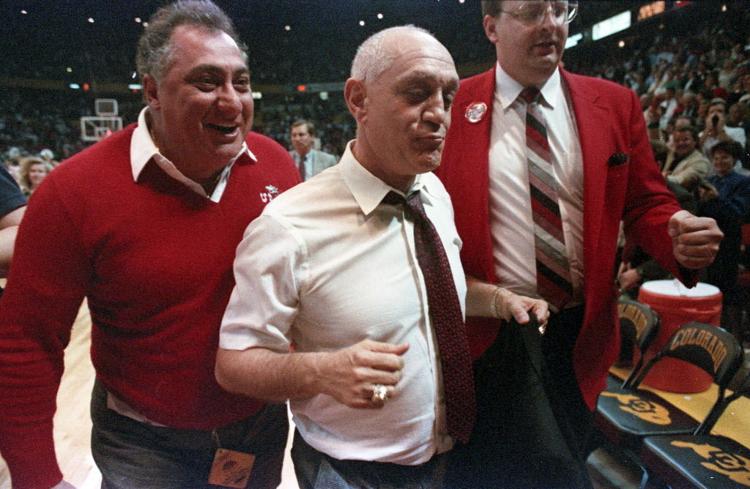 1980s
UNLV 68, Arizona 67, March 27, 1989. A trail of Sweet 16 tears led to Arizona's locker room, ending Sean Elliott's remarkable college career, as UNLV guard Anderson Hunt swished a 3-pointer with 2.3 seconds remaining. Controversy? It continues 31 years later. Hunt appeared to push UA guard Kenny Lofton to the floor, freeing himself for the 3-pointer. The No. 1-ranked Wildcats were done.
---
1990s
Mesa Mountain View 28, Amphitheater 24, Dec. 7, 1997. A Tucson prep football team had not won the state's big-schools football title since coach Vern Friedli's 1979 Amphi team. Against all odds, playing 13-0 Mountain View at Sun Devil Stadium, Friedli's 13-0 Panthers appeared to have the game in control with 2 1/2 minutes remaining, leading 24-21, with possession and running out the clock. But an official ruled Amphi tailback Antrel Bates lost control of the ball and fumbled, giving Mountain View a final possession. TV replays showed that Bates did not fumble. A Tucson school has still not won the big-school's state title since 1979.
---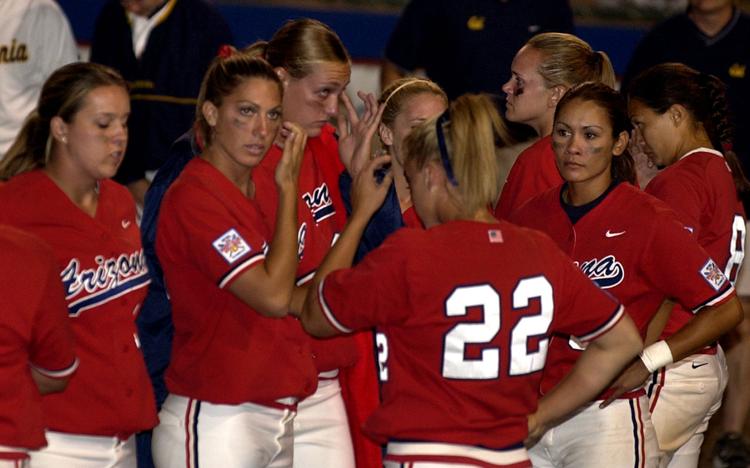 2000s
Cal 2, Arizona 1, May 25, 2003. Coach Mike Candrea's softball team entered the Women's College World Series 54-5, ranked No. 1, riding freshman All-American pitcher Alicia Hollowell, who seemed unbeatable. Hollowell was 40-5 with an 0.94 ERA, setting school records in wins and strikeouts with 22 shutouts. But Cal, ranked No. 9, stunned the Wildcats 2-1 in 12 innings in the semifinals, forcing a loser-goes-home game, which the Golden Bears won 4-1.
---
2010s
Wisconsin 64, Arizona 63, March 29, 2014. With a chance to win in the final four seconds of overtime, Arizona's Pac-12 Player of the Year Nick Johnson was called for a push-off foul. Even though the Wildcats forced overtime — even though Sean Miller's best UA team had been ranked No. 1 for eight weeks — the UA lost as Johnson and future NBA players Aaron Gordon and T.J. McConnell combined to miss 27 of 38 shots.
Be the first to know
Get local news delivered to your inbox!