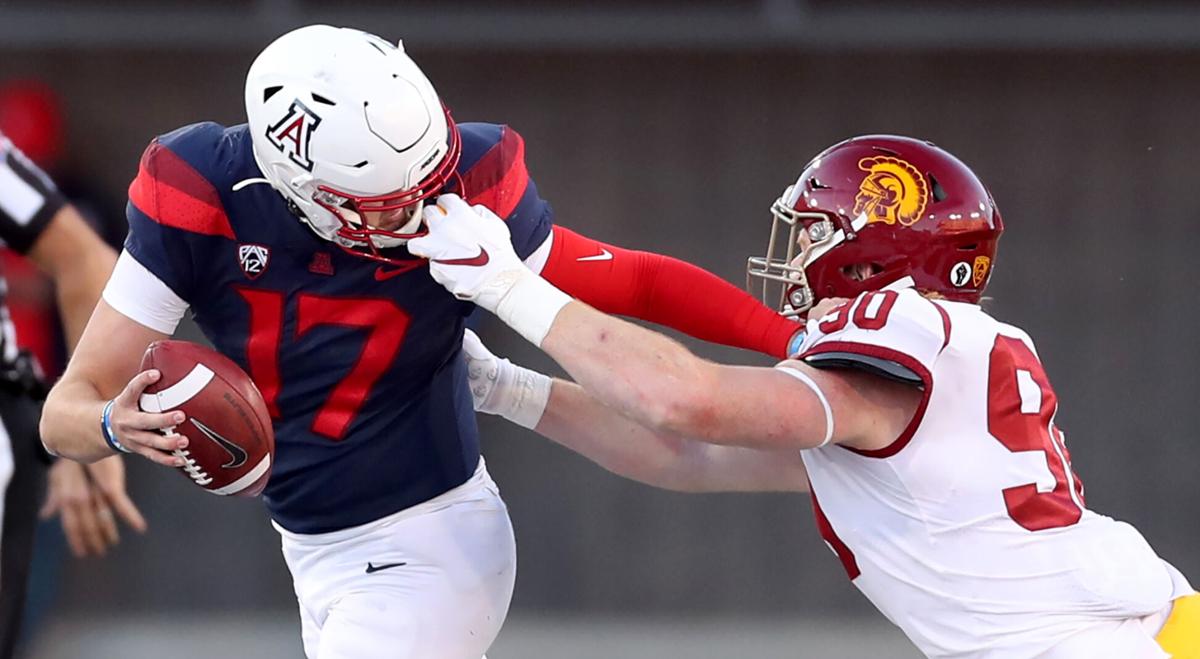 If forensics experts worked in sports, they would quickly find that the five worst teams in 100 years of UA sports were those with the longest losing streaks.
An 0-16 stretch: Coach Fred Enke's 1958-59 men's basketball team finished 4-22. He retired two years later.
An 0-15 stretch: Coach June Olkowski's 1990-91 women's basketball team finished 6-25. She was fired.
An 0-14 stretch: Coach Rosie Wegrich's 1991 volleyball team finished 4-24 (including a historic 0-18 in the Pac-10). She was fired.
An 0-14 stretch: Coach Ben Lindsey's 1982-83 men's basketball team finished 4-24. He was fired after one season.
An 0-12 stretch: Coach Lisa Oyen's 2011 soccer team might've had the worst overall season of any in UA history, 1-16-2. She was fired two years later.
No one has yet stepped forth to say that any of those five teams were (a) better than their records indicates or (b) lost a lot of heartbreakers that could've gone either way.
All were historically bad. The sports DNA matches the losing streaks.
If you could assign forensics specialists to sports, to the Arizona football program, it wouldn't take long for them to say "what is this, Northwestern?"' When Jedd Fisch's Wildcats unfathomably lost their 18th straight game last week at Colorado, it put the Wildcats within reach of the three Power 5 schools who have lost at least 20 straight games the last 40 years: Northwestern (34), Duke (23 and 22) and South Carolina (21).
A further forensics breakdown of Arizona's 18-game losing streak would find that the smoking gun was not just the hiring of an indifferent Kevin Sumlin in January 2018, but the pursuit of Texas high school quarterback Grant Gunnell.
Gunnell wasn't good enough to be a winning Power 5 quarterback, and the coaching staff, specifically ineffective offensive coordinator Noel Mazzone, made a costly mistake in believing he would be a franchise-type quarterback.
If you don't have a top-level QB in the Pac-12, you don't have a chance.
Sumlin and Mazzone, both from Texas A&M, chose to work their Texas recruiting connections rather than go to Southern California where available Class of 2019 quarterbacks included ASU's three-year starter Jayden Daniels of San Bernardino.
Gunnell is now at Memphis; he is injured and has not played a down. Mazzone is an offensive analyst at UConn — not even a full-time coach — at one of the weakest football franchises in America. Sumlin is out of the game, having been paid a composite $18 million by both Texas A&M and Arizona not to coach at their schools.
Arizona's 0-18 streak is not their problem, even though they created it.
Sumlin pulled the trigger on the unimaginable depths, 18 straight losses, that Jedd Fisch, his coaching staff and Tucson's long-suffering fan base are experiencing. But it was Rich Rodriguez who loaded the football gun.
True, he left junior QB Khalil Tate to Sumlin and Mazzone, but by the time RichRod was fired in December 2017, Tate had lost his touch, losing three of his last four starts under RichRod, seemingly reluctant to be the RPO quarterback that caught America's imagination in October 2017 — unwilling to put his body in harm's way — trying to become a pocket passer and therefore a more attractive NFL prospect.
Sumlin and Mazzone couldn't — or wouldn't — work with Tate to rediscover his scrambling skills. There was a clear and tense disconnect between Tate and his coaches. Some of it was Tate's lack of coachability. Some was on Mazzone for trying to force Tate to run Mazzone's "system.''
Either way, Tate's effectiveness eroded to the point he lost his job to Gunnell, a true freshman, at the close of the 2019 season. Tate didn't even start on his Senior Day, against Utah, in 2019.
Sumlin and Mazzone were betting on Gunnell, who was often injured and one-dimensional. Gunnell was just good enough to get you beat in the Pac-12.
By the time Sumlin arrived in Tucson, RichRod's sometimes inept recruiting efforts had blown the chance for the Wildcats to get two top Western Class of 2018 QB prospects: Cam Rising of Newbury Park, California, who is now at Utah and last week helped the Utes decimate ASU 35-21; and Zach Wilson of Draper, Utah, who first committed to Boise State before changing his mind and going to BYU, where he became a first-round draft pick of the New York Jets.
Instead, Arizona's Class of 2018 included one QB, Kevin Doyle of Washington D.C., who never threw a pass at the UA before leaving school.
Put Rising or Wilson in Arizona's lineup and there would be no losing streak.
RichRod and Sumlin are not alone in going after the wrong QB. Before BYU fortunately got Wilson, who was 12-1 last year with the Cougars, the school had made Texas' Zadock Dinkelmann their so-called QB of the future.
Dinkelmann is the nephew of former BYU offensive coordinator (and Heisman Trophy winner) Ty Detmer. But Detmer was fired for ineffective coaching and Dinkelmann, the one-time BYU quarterback of the future, wound up at Texas A&M-Kingsville.
Long-time Arizona football fans have seen this before: When John Mackovic replaced Dick Tomey in 2001, he inherited junior QB Jason Johnson, who was exceptional on a weak roster, passing for 5,749 yards in two seasons, buying Mackovic some time.
But Mackovic blew it. His hand-picked QB of the future was Ryan O'Hara of Muir High School in Pasadena, California. At the time, O'Hara, whose dimensions are similar to those of Grant Gunnell and the injured Gunner Cruz — about 6-feet 6-inches and 215 pounds — was so ineffective that he was the last straw in the midseason 2003 firing of Mackovic.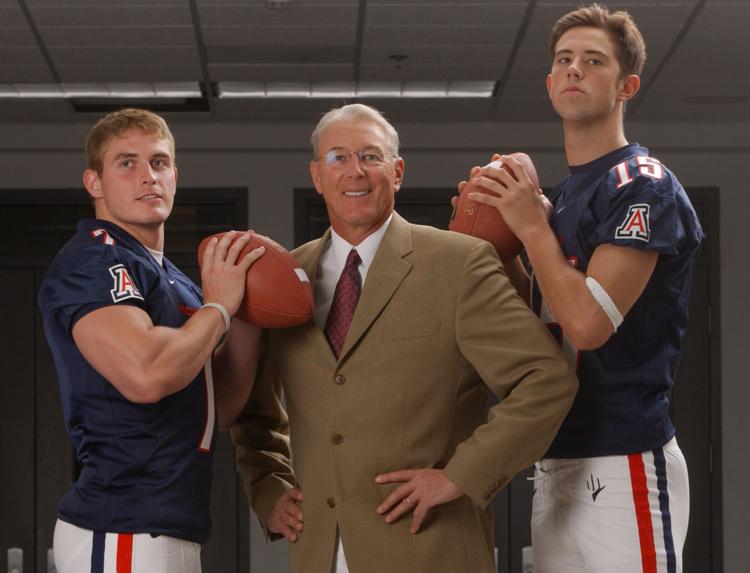 Mackovic's first QB recruit was Nic Costa of Portland, Oregon, who had been sought as a defensive back by UCLA and Purdue. Costa couldn't pass. Neither could O'Hara. When they fought for the No. 1 job in the spring and summer of 2003, few could have imagined that the entire program was about to implode.
Costa started the first three games, which included a 59-13 loss to LSU and a 48-10 loss to Oregon. O'Hara got the job for Game 4, a disastrous 59-7 loss at Purdue. Mackovic was fired a week later.
The Wildcats completed a hard-to-fathom 46% of their passes that season and scored 15.1 points per game, then the lowest at the school since 1965.
Costa never played again. O'Hara transferred to Central Oklahoma. True freshman Kris Heavner started the last seven games. Arizona went 2-10. It didn't get a franchise-type quarterback until Mike Stoops and his staff recruited Willie Tuitama for the 2005 season.
It took Tuitama 2½ years to help Arizona to a winning season.
In total, Mackovic's wrong choices at QB set Arizona back five years. That's probably the minimum time it will take Fisch to get the Wildcats to .500 or better.
Right now, Arizona has an 0-6 record and an 0-6 roster. All of the football science points to the QB and recruiting decisions made by Rodriguez and Sumlin as the source of this historic losing streak.
Contact sports columnist Greg Hansen at 520-573-4362 or ghansen@tucson.com. On Twitter: @ghansen711