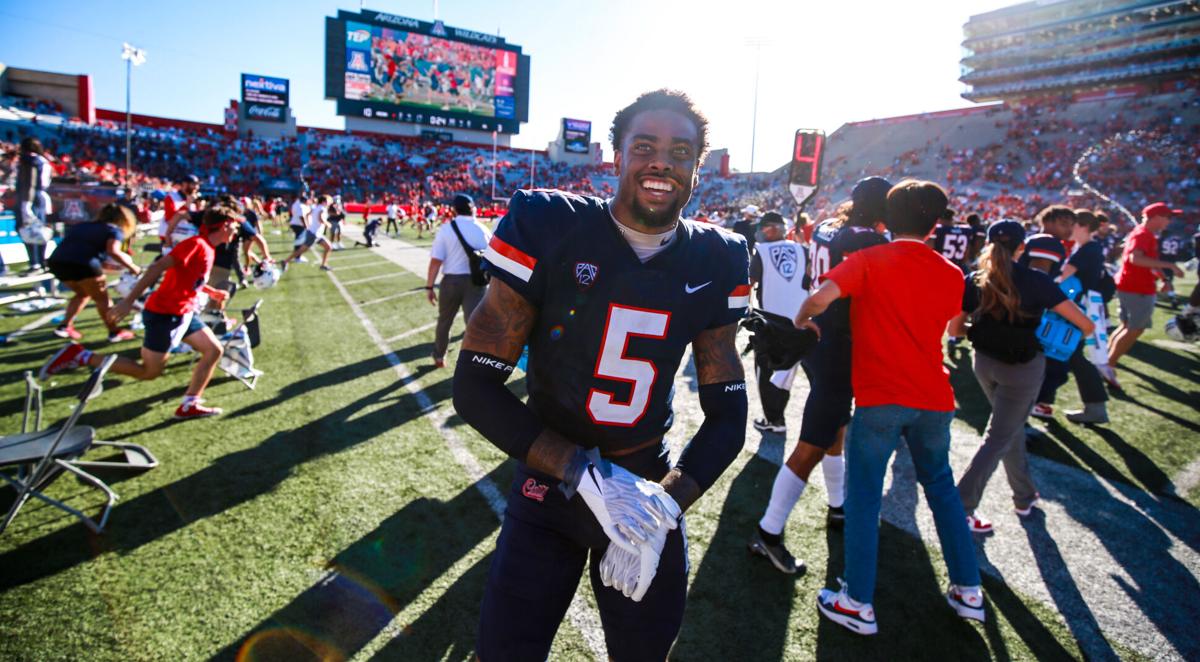 In a moment of rare locker room euphoria Saturday, Jedd Fisch told his UA football team "this is just the beginning.''
It wasn't quite Winston Churchill, whose famous World War II declaration — "This is not the end. It is not even the beginning of the end. But it is, perhaps, the end of the beginning'' — gave England hope that it was making progress toward defeating Germany.
But for Fisch, it was the end of a 20-game losing streak. That's both an end and a beginning.
On Monday, Fisch said the Wildcats have come "a way, a way, a way from where we used to be. We are finally able to climb out of a hole and see light.''
In any other business, this is when the insurance adjusters would show up to assess the damage. To Arizona, it remains overwhelming. The depth of the damage done by Fisch's predecessors has not gone away. The forecast for UA football remains unfavorable.
The Wildcats will be significant underdogs in the season's final three games. They must then blend 16 currently-committed recruits into its 2022 roster and hope to get eight or 10 high-level players from the offseason transfer portal.
Even if those processes are successful, it is unlikely Arizona will reach .500 next season. At the UA's Senior Day against Utah on Saturday, 25 seniors and super seniors will play their last game at Arizona Stadium. Many the 25 are those who made it possible for the Wildcats to "see light.''
The damage of a 20-game losing streak remains almost unspeakable.
Financially, based on a listed capacity of 50,800, Arizona has failed to sell 110,454 tickets in the 2019 and 2021 seasons. That's close to $10 million or more in cost of tickets, donations per seat and attendant spending. It does not include as many as 40,000 no-shows this season alone, those who purchased a ticket but didn't show up to pay for parking and concessions or to reconnect with UA football.
Buyouts to Kevin Sumlin and his staff approached $10 million. Expenses to hire and move a new staff to Tucson went well into seven figures.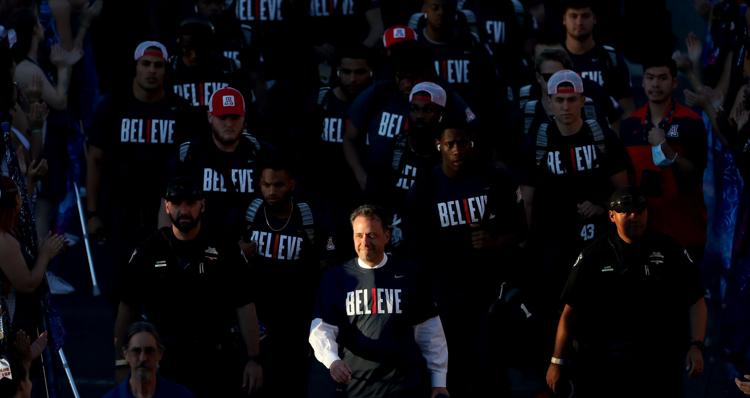 But the financial losses of a 20-game losing streak go beyond tickets sold. The blow to the reputation of UA football — of the Arizona athletic department — is incalculable. Nationally, locally and regional, UA football is now viewed among the bottom feeders of bottom feeders, linked with Kansas and Vanderbilt as the most hapless Power 5 football programs.
With that hit on the school's reputation, it's remarkable that Fisch and his staff have been able to recruit effectively. So much damage had already been done, such as the loss of elite-level local recruits Bijan Robinson (to Texas), Lathan Ransom (to Ohio State) and Bruno Fina (to UCLA). Imagine all the recruits in California and Texas who didn't consider an offer from Arizona the last four or five years.
The toll of Kevin Sumlin's three lost seasons as Arizona's football coach can't be fully estimated. By my count, more than 30 people lost their jobs because of the 20-game losing streak.
Imagine the lives and careers impacted at all levels. Where are they now?
Assistant director of football operations Cassie Petty now works in the Rutgers football office. Coaching analyst Dylan Furrier is now coaching at Chadron State. Assistant coach Theron Aych found work at UTEP. Strength and conditioning assistant Chris Desrosiers is the athletic director at Cienega High School. Director of recruiting Cody Moore was hired in a similar position at Army.
Assistant coaches Paul Rhoads, Noel Mazzone, Kyle DeVan, Stan Eggen, Iona Uiagalelei and Greg Burns were unable to find full-time, on-field coaching jobs.
Fisch said that beating Cal begins a new period of UA football. "The beginning of winning,'' he said. Fisch termed his first 10 months on the job as "laying the foundation.''
I doubt there are many in sports journalism more experienced than me in witnessing epic football losing streaks. I've seen the lasting repercussions. One thing I learned: Going from record-losing to consistent winning isn't a quick turnaround.
From 1979-81, I covered an Oregon State football program that went 1-23 in the short term and 6-47-2 over five seasons. It took the Beavers 20 years, until the late '90s, to rebrand their football program and university's sports reputation. It still hasn't fully shaken its 1980s reputation.
Before that, in 1976-77, as a beat writer in Tampa, I was an up-close witness to the Tampa Bay Buccaneers' 0-26 losing streak, the longest in modern pro football history. When the Bucs finally broke through and won, in December 1977 against the New Orleans Saints at the Superdome, it touched off a celebration that was 10 times beyond Arizona's joy after beating Cal.
More than 10,000 fans mobbed the Tampa airport, making it impossible to drive home until midnight. Bucs owner Hugh Culverhouse showered me with champagne, as if it was a Super Bowl party.
Head coach John McKay, a legend at USC who had won four national championships at the Rose Bowl — an old-school tough guy who rarely showed his emotions — broke down and cried.
And yet McKay never got it right at Tampa Bay. He retired eight years later with a 44-88-1 NFL record. That losing streak stained the Buccaneers' franchise for more than 15 years, scaring off potential free agents and the chance to become a regular contender.
Now, as Jedd Fisch attempts to avoid becoming another Oregon State or the next Tampa Bay, he boldly says "this is the beginning of winning.''
Contact sports columnist Greg Hansen at 520-573-4362 or ghansen@tucson.com. On Twitter: @ghansen711