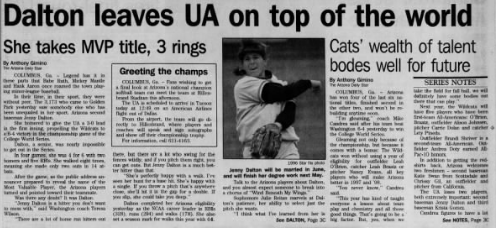 Editor's note: Star columnist Greg Hansen is profiling 10 times that Tucson teams beat No. 1. Today: Arizona's Women's College World Series win over top-ranked Washington in 1996.
A bus ride from Oregon State's campus to the Portland airport normally takes about 90 minutes, but in May 1996 Arizona softball coach Mike Candrea instructed the bus driver to exit Interstate 5 for an impromptu motivational talk.
As the bus pulled into a McDonald's, Candrea quietly asked the players from his No. 2-ranked team — coming off a weekend sweep of Oregon and OSU — to gather in a corner of the restaurant. No food was forthcoming.
"None of us knew what was going on," Arizona senior second baseman Jenny Dalton Hill says now. "Coach had never done anything like that."
Candrea's message went deep. How deep? A home run.
Earlier that afternoon, the NCAA's softball selection committee chose to send the No. 2 Wildcats to the Tallahassee, Florida, regional, rather than to Arizona's Hillenbrand Stadium, as was customary and expected.
For the only time dating to 1990, the selection committee scheduled its softball championships according to geographical balance, not team rankings. Candrea announced the unexpected news to his team.
"In that moment we felt so disrespected," says Dalton, who would go on to be the NCAA Player of the Year. "It was like, 'No, you didn't; you couldn't.' It became a journey to prove everybody wrong."
Candrea's Wildcats had won the 1991, 1993 and 1994 national championships, but slipped a bit in 1995 and finished second. His '96 team was no one's idea of a national champion.
Three first-team All-Americans would be unavailable for the '96 season: star pitcher Nancy Evans broke her foot, first-baseman Leah O'Brien was on tour with the United States Olympic team, and catcher Leah Braatz redshirted to have a baby.
"It was really like we were missing five All-Americans," says Hill, a mother of three who is married to Marc Hill, the executive associate athletic director at the University of Kentucky. "Our '95 team had All-Americans Laura Espinoza and Amy Chellevold. They graduated."
It was supposed to be one of Candrea's rare 'tweener years, one in which No. 1 Washington broke up the longtime Arizona-UCLA domination of Pac-10 softball.
"We've known all along this team has the potential for a national championship," UW coach Teresa Wilson said after the top-ranked Huskies pitched a no-hitter to beat Arizona 7-0 in their regular-season finale, winning the league by a half-game. "For four years, these kid have had nothing on their minds but the (national title)."
Thus motivated, Arizona swept the Tallahassee regional and moved to the Women's College World Series in a new location, Columbus, Georgia — a decision made to help prepare Georgia fans for the 1996 Olympics held in Atlanta.
The top-seeded Huskies easily swept the Seattle Regional and rolled through the bracket, reaching the Memorial Day 1 p.m. championship game.
Arizona's road to the title game, as with the regular season, was not as comfy.
"That year was full of unexpected hiccups," says Hill. "So many things felt so wrong. We had so many close games, so many struggles. We won a lot of games, but even the fans booed us at times for not run-ruling teams. That's not the way it is at Arizona."
Yet after Arizona beat Iowa to qualify for the Women's College World Series championship game, there was no more feeling of missing Braatz, O'Brien and Evans.
Left fielder Alison Johnson McCutcheon had emerged as a dominant player, a consensus All-American, hitting .450 with 28 stolen bases. Catcher Lety Pineda-Bouitte of Desert View High School smashed 14 home runs and hit .404. Third baseman Kristie Gomez-Humphreys hit exactly .400, and sophomore pitcher Carrie Dolan was a revelation, going 35-6 overall. Shortstop Brandi Shriver, a terrific leadoff hitter, finished with a .397 batting average.
As always, if unexpected, Arizona was loaded.
"Washington was being so cocky; the bus that brought them to the park had a sign in the window about them being No. 1," Hill recalls. "That made me want to absolutely demolish them."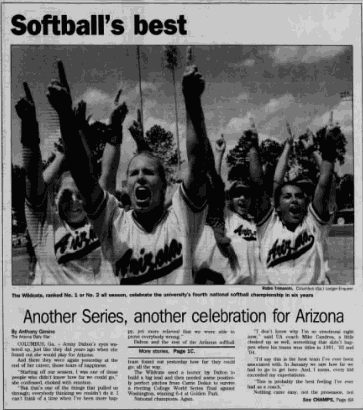 And so it was. Arizona won 6-4. Hill's NCAA-leading 25th home run gave Arizona a 5-2 lead, and Dolan pitched a complete game. The Wildcat finished 58-9; the Huskies 59-8.
Even though Candrea's UA teams had won three NCAA championships — his '94 club went 64-3 — he didn't temper his praise for the '96 team's accomplishments.
"I'd say this is the best team I've ever been associated with," he said in a postgame news conference. "I mean, every kid exceeded my expectations. This is probably the best feeling I've ever had as a coach."
Hill completed the year with a .469 batting average and 109 RBIs. She struck out only 11 times all season. Her jersey was retired; a replica of it is on permanent display at Hillenbrand Stadium.
Postscript: "I can taste the feeling of togetherness of this team," sophomore outfielder and starting designated player Julie Reitan of Sahuaro High School said then. "It's awesome. I have never felt that before."
Where are they now? Hill taught elementary school in Tucson before moving to Kentucky, where she was an assistant coach. She is an analyst for ESPN and has three children; her daughter, Brooke, plays for BYU's softball team. Her son, Dalton, plays for the Utah Valley University baseball team.
McCutcheon and her husband, former UA football player Ian McCutcheon, operate a campus ministry for Oklahoma State University. She is also a college softball TV and social media analyst for OSU.
Doty served in the United States Marines in Iraq as a weapons technology specialist, among other things. She has returned to Tucson.
Gomez-Humphreys is a school teacher in the Corona-Norco district in Southern California and active in AAU softball development and coaching.
Pineda-Boutte, a three-time All-American, was an assistant coach at Purdue and Creighton before becoming head coach at NCAA Division III Washington University of St. Louis. She won 351 games in 11 seasons, and reached the 2007 national championship game.
Contact sports columnist Greg Hansen at 520-573-4362 or ghansen@tucson.com.
On Twitter: @ghansen711
Be the first to know
Get local news delivered to your inbox!