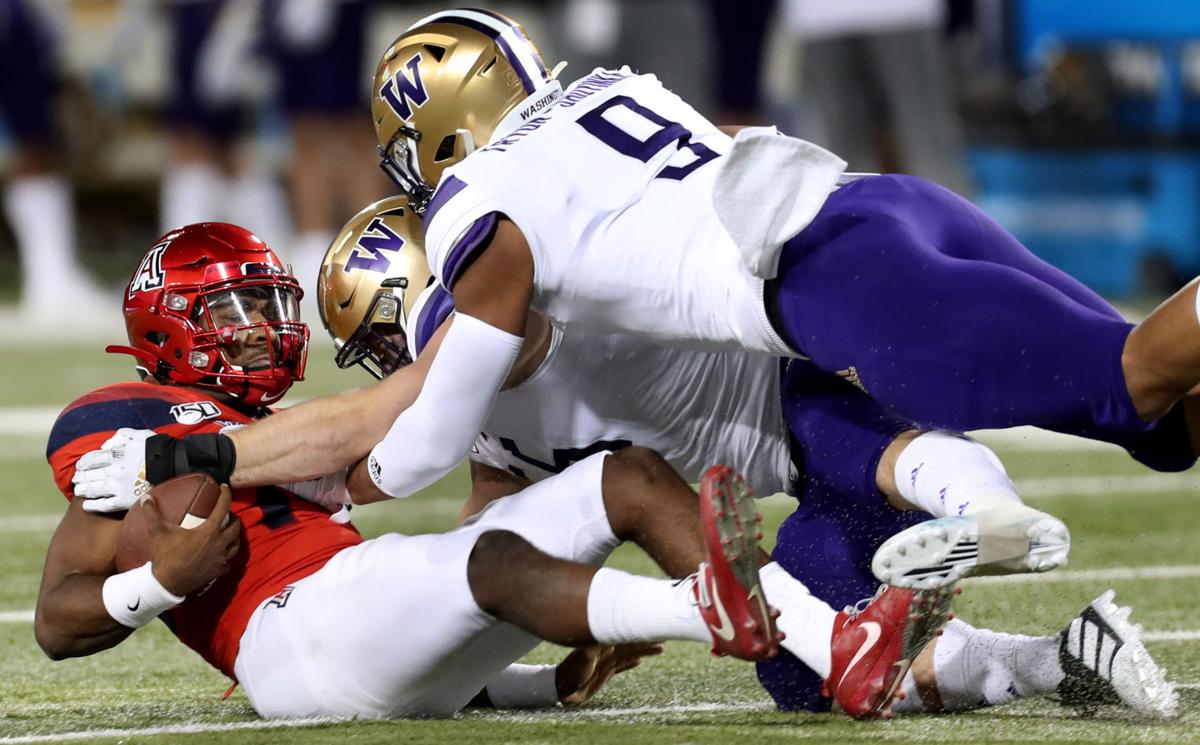 For most of Saturday's game, Arizona's offense and kicking game looked a lot like Charles Barkley's infamous golf swing: a shank, a chunk, a worm-burner, a whiff.
For 30 minutes, about the only thing that kept the Wildcats close was a resolute defense and, blessedly, the fact that Washington wasn't much better.
But ultimately so much has to go right for a Pac-12 team not named Utah or Oregon to beat the Huskies that Arizona's collective fumbles, sacks, botched punts and backward plays were too much to overcome.
Washington won 51-27. It was a sobering lesson on the difficulty of making the jump from average to good in college football.
This isn't a vintage Washington team. I mean, when the Huskies scored early in the second half, taking a 20-17 lead, it was the first time in 16 offensive possessions UW scored a touchdown. The Huskies only gained 134 yards in the first half.
The Huskies were clearly and by far the best team Arizona has played — maybe the only good team Arizona has played. By the fourth quarter, Arizona was just hanging on. By game's end, it had been fully routed.
In retrospect, Arizona's four-game winning streak was against the softest part of its 2019 schedule. UCLA is historically bad. Texas Tech and Colorado both have lost three of their last four, and NAU is NAU.
Did I mention that Colorado lost 45-3 to Oregon on Friday?
Now the Wildcats must swim upstream, in troubled waters, playing consecutive games at USC and Stanford, which is tough enough. The back-loaded finish includes games against three Top 25 teams — Oregon, Utah and ASU.
What if last week's victory at Colorado was as good as it gets?
Washington has the league's most accomplished defensive coaching staff, with heralded coordinator Jimmy Lake and long-time associates Pete Kwiatkowski and Bob Gregory. Their strategy was clearly not to let Arizona quarterback Khalil Tate pass with the freedom and fearlessness he enjoyed last week in Colorado.
The UW defense forced Arizona to play a 3-F offense: Flushed, Flee and Fling It Out of Bounds. Tate had no little time to throw. He threw at least six balls far out of bounds to avoid a relentless rush from all directions and remain in one piece.
The Huskies used what some staffs call a "conflict player'' or a "lurk player'' to spy on Tate and make sure he couldn't escape from the pocket and run for game-changing chunks. It was a conflict and then some.
Not only did Washington render Tate ineffective, Arizona couldn't respond with a running game of any impact. That would've been Arizona's only chance,.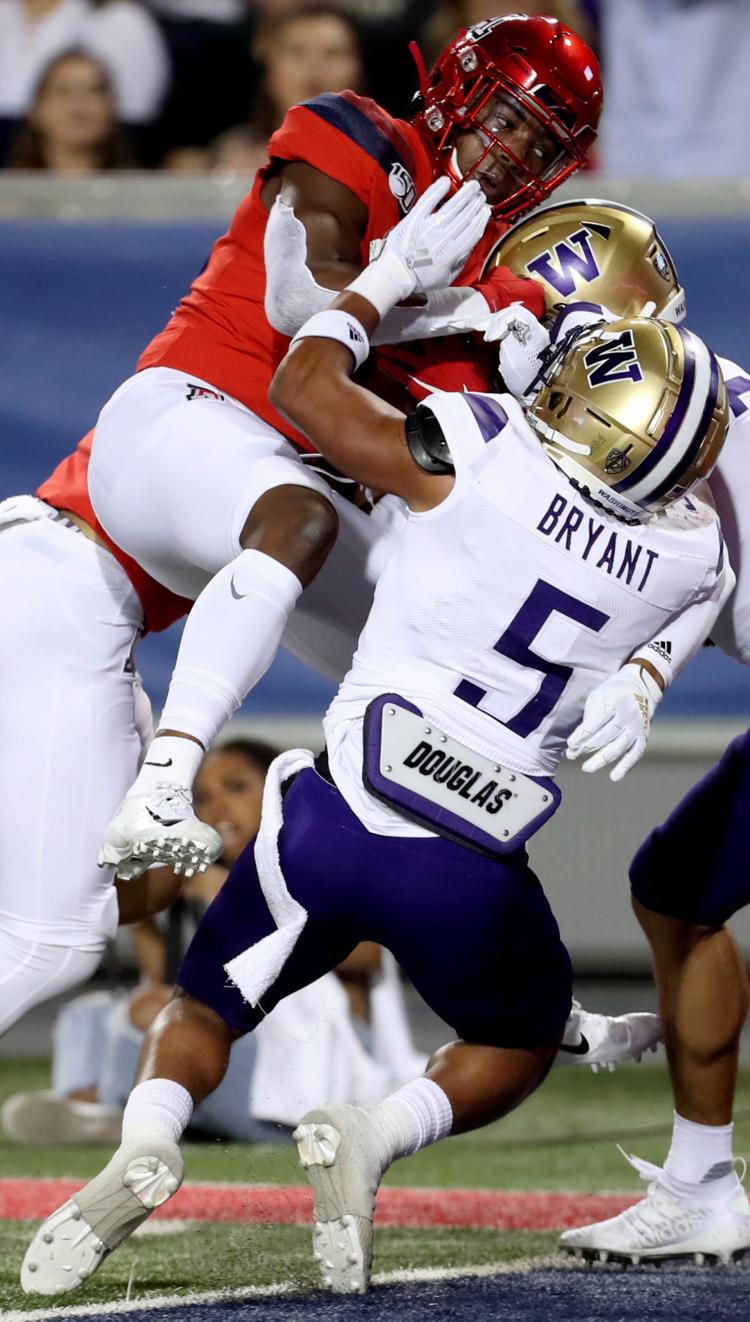 When the Huskies led 41-20 midway through the fourth quarter, the Wildcats had just 97 total rushing yards. That's like a red light on your car's dashboard flashing the "Check Engine" sign. Everything blows up when you can't run.
Since the 2011 season opener against NAU, the Wildcats have been held under 100 yards rushing just 14 times. They're 2-12 during that span, with their two wins coming against UCLA and Colorado this season. Both of Arizona's conference losses in the 2014 Pac-12 South championship season, to USC and UCLA, came when Arizona failed to gain 100 yards rushing.
On Saturday, the Wildcats didn't gain their 100th rushing yard until trailing 44-20. Same thing.
UW coach Chris Peterson played to his defense on Saturday, in the attack mode, forcing Arizona to be one-dimensional, winning the line of scrimmage battles, and there was almost nothing Tate and Arizona offensive coordinator Noel Mazzone could do about it.
Washington has superior personnel and it was an in-your-face message that Kevin Sumlin needs another recruiting class or two before the Wildcats can play Big Boy football for 60 minutes.
The final 10 minutes were garbage time.
The home field advantage, you say?
Arizona drew a season-high 47,933 fans, but the most throaty cheers came when the Jumbotron video board showed 90 seconds of highlights of the Desert Swarm defense sacking QBs and forcing fumbles a quarter-century ago.
This time Tate was Desert-Swarmed.
Tate's final statistical line reflected Washington's defensive success — minus-28 rushing yards. As a starter, the only other time Tate gained negative rushing yards was at Oregon State last year (minus 9). But that was when Tate was limping on a bad ankle, the game plan was for him to pass or hand off, and it didn't matter because OSU was so bad that Arizona won 35-14.
The significance of Saturday's debacle won't be known for a few weeks. It could be that Washington exposed Arizona and established a template for which to neutralize Tate and his offense.
A collective struggle to finish the season at .500 has suddenly become Arizona's goal for 2019.
Contact sports columnist Greg Hansen at 520-573-4362 or ghansen@tucson.com.
On Twitter: @ghansen711