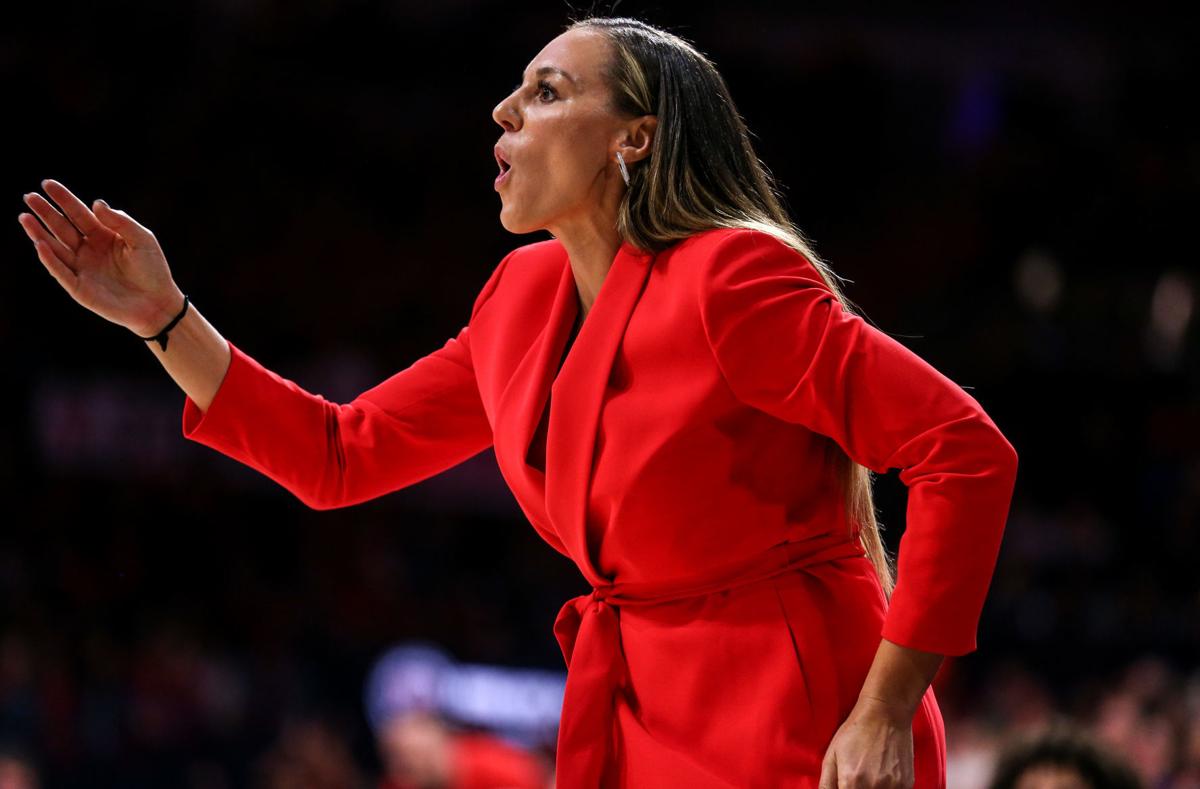 The first Adia Barnes radio shows were staged at The Cellar in the UA's Student Union. Could you get a more fitting location for a women's basketball program that had spent a decade in the Pac-12's basement?
"We had maybe 10 people show up," Barnes says, shaking her head. "Really. Ten."
Now, three years later at a beer-and-barbecue place on North Stone Avenue, every table in a spacy dining area and most of the seats at a 30-yard long bar are full before "The Adia Barnes Show" goes on the air.
At Monday's radio show, the fourth-year Arizona coach sat next to junior point guard Aari McDonald, who has become the most captivating athlete on campus. The Adia and Aari Show has been almost too good to be true. The Wildcats have drawn crowds of 14,664 (a sellout) and 10,160 at McKale Center.
The team that once lodged in The Cellar is now ranked No. 16 nationally.
"Can you believe that?" asked Barnes, who spent part of her radio program discussing the possibility of McKale Center being a host of the first and second rounds of this year's NCAA Tournament.
Again, can you believe that?
Little things have become big things.
"I asked if we could get (free) parking on the mall, and we got it," says Barnes. "The size of our pep band has doubled. Those things help you win games."
In her trips to the grocery store, or to Walmart, Barnes notices people looking at her.
"It was like, 'What are they looking at? Do I have something on my face?'" she says. "It surprises me sometimes."
A few weeks ago, someone told Barnes that Arizona athletic director Dave Heeke was going to accompany the Wildcats on a long road trip to Washington State and Washington, even though her club wasn't able to fly on time-saving charter planes.
Barnes was taken aback. "I said, 'He is?' I mean, he ate dinner with us, had ice cream with us, sat in the airport for a couple of hours with us."
Barnes looks into the growing crowds at McKale Center and often spots UA president Bobby Robbins. "He's even there at some nonconference games," she says. "You don't expect these things to happen."
One of those who follows Barnes' team is Jerry Holmes, the master recruiter for Fred Snowden's Arizona basketball teams when McKale Center opened in 1972. Holmes was an up-close witness to the rise of Tucson as a basketball city, and he sees it again in Barnes' program.
"A woman is soon going to be the head coach of a men's basketball team, no doubt about it," says Holmes. "Adia could do it. I don't know if she wants to coach a men's team, but she's got the personality and the recruiting ability to do it."
To the relief of the growing legion of those in the UA women's basketball audience, Barnes does not want to coach a men's team.
"I prefer to coach women," she says, and then laughs, saying "guys don't listen at all; they just want to go one-on-one." Barnes has no interest in the one-and-done concept of men's basketball, re-making a roster year to year.
"You can't mold the guys into a team," she says. "I don't know if the women's game will ever get to that."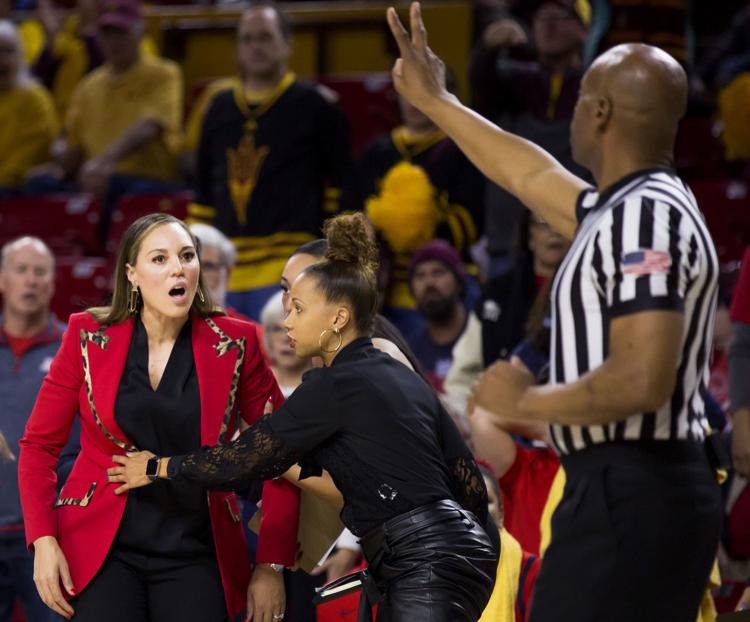 Two years ago, Colorado State had serious discussions with former CSU basketball player Becky Hammon, gauging her interest in becoming the first women's coach of a D-1 men's team. Hammon chose to stay on Greg Popovich's coaching staff with the San Antonio Spurs.
Last summer, Cal women's basketball coach Lindsay Gottlieb left the Pac-12 to become an assistant coach for the NBA's Cleveland Cavaliers. The Toronto Raptors soon hired Brittni Donaldson to be an assistant coach, the fifth woman hired by the NBA in the last year.
Barnes' transformational work at Arizona reflects the growing respect for female coaches. It probably won't be long until an athletic director successfully persuades an Adia Barnes or a Lindsay Gottlieb to change the identity of a Division I men's team.
But for the here and now, entering Friday's showdown at McKale Center against No. 8 UCLA, it's all about beating the Bruins, one step at a time, resetting the timetable for success.
"I thought it would take us six years to get to this point," Barnes says.
How did this happen? Mostly because Barnes has won the living room battles during recruiting season.
That is a strength. She's engaging, a connector. She has recruited so well, turning Arizona from a 6-24 team two years ago to a Top 25 program now.
But there's more to it than recruiting. In an interesting juxtaposition, Barnes' husband, Salvo Coppa, sits in the No. 2 chair, a highly respected and experienced coach, an X's and O's and skills-development specialist whose background includes head coaching duties in Europe and Asia. He has also worked in the WNBA and at Montana State.
"His aspirations weren't to be an assistant coach," Barnes says, breaking into a smile. But they've come together to make it work.
At Arizona, there's a lot of that going around.