Point Guard U has been on pause since 2003, as the leading Pac-12 point guards over the last 18 seasons have been Stanford's Chris Hernandez, Oregon's Aaron Brooks and Payton Pritchard, Colorado's McKinley Wright, ASU's Remy Martin and Cal's Jorge Gutierrez.
True, Arizona had its moments, temporarily reviving PGU point guard excellence from Mark Lyons in 2013 followed by T.J. McConnell. But the real Point Guard U of Pac-12's the last generation has been UCLA.
Don't say you haven't been warned.
Since Jason Gardner left Arizona in '03, UCLA has fielded a succession of elite point guards: Jordan Farmar, Darrin Collison, Kyle Anderson, Bryce Alford, Aaron Holiday, Lonzo Ball and now, perhaps the least likely franchise-type point guard of all, Tyger Campell.
Entering Thursday's much-needed streak-stopper — UCLA hasn't lost at McKale Center since 2016 — the under-the-radar prospect from LaPorte, Indiana, who initially pledged to play at DePaul, of all places, has not committed a turnover against Arizona in 134 minutes.
Think about that: 134 minutes, no turnovers. That would be impressive against the College of the Sequoias.
Campbell has been the most important player on the court in the last four UCLA wins over Arizona, more than all of the Bruins' much taller and more celebrated NBA prospects whose names start with J.
When is the last time a Pac-12 point guard played four consecutive rivalry games without committing a turnover? I'll tell you when: never.
I can't accurately document that statistic, but as I combed through the game-by-game records of Arizona's old PGU guards Steve Kerr, Damon Stoudamire, Mike Bibby, Jason Terry and Gardner, the longest no-turnover streak by anyone was Kerr's historic November and December of 1987, when he did not commit a turnover against No. 1 Syracuse, No, 3 Iowa and No. 9 Duke.
That was 110 minutes of error-free ball-handing and leadership, capped by an unforgettable Kerr streak of 118 minutes of Sweet 16, Elite Eight and Final Four games against Iowa, North Carolina and Oklahoma. In those stressful games, Kerr committed just two turnovers in 119 minutes.
Campbell, who is listed at 6 feet and 180 pounds but is probably closer to 5-10, 175, has played like a behemoth against the Wildcats.
Kerr committed one turnover every 36 minutes in his All-American senior season. Campbell averages a turnover every 26 minutes. By comparison, Arizona point guard Kerr Kriisa, who is really more of a shooting guard, has averaged a turnover every 14 minutes. Kriisa deserves a margin for error; this is his first full season in college basketball. Campbell began his first college practices at UCLA in September 2018.
If the Wildcats can't force the calm and collected Campbell out of his comfort zone Thursday, if they can't keep a body in his path, a hand in his face and compromise UCLA's offense, their chances to break a McKale Center losing streak against the Bruins are scant.
"Tyger is a tough, heady point guard who gets UCLA's offense in situations they want to get in," Arizona coach Tommy Lloyd said Wednesday. "He doesn't make many mistakes; he's a winner."
Campbell and UCLA are a testament to the value of avoiding one-and-done basketball. He was part of former Bruins coach Steve Alford's recruiting Class of 2018 that included senior Jules Bernard, who would be a star-level player on a lot of Pac-12 teams. By comparison, Arizona's Class of 2018 vanished long ago: Brandon Willilams, Omar Thielemans and Devonaire Doutrive never found a home here.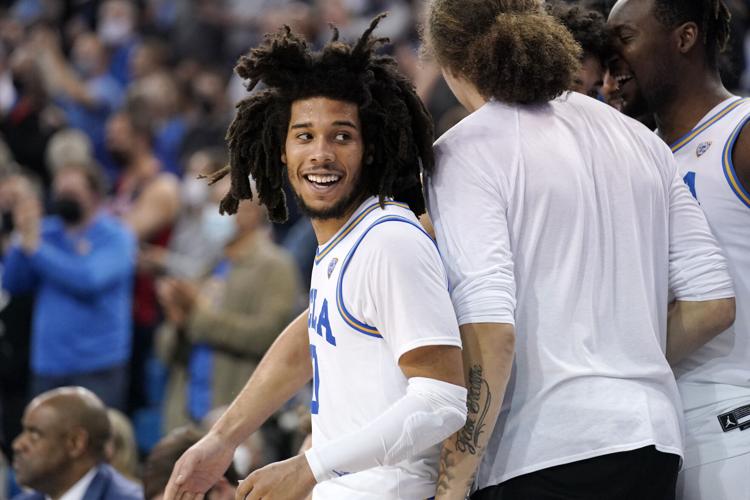 More telling, UCLA's Class of 2019, coach Mick Cronin's first, included Jaime Jacquez, who now combines with Kentucky transfer Johnny Juzang as the most threatening 1-2 combination in the league.
Arizona's Class of 2019 splintered long ago. One-year players Nico Mannion, Josh Green and Zeke Nnaji were swept by the Bruins as Campbell combined for 13 assists and no turnovers. In the first UA-UCLA game that season, Mannion, Green and Nnaji combined to shoot 7 for 33 afield.
Lloyd is still playing catch-up to Cronin. Two days after Lloyd was hired last April, Cronin announced that the Bruins signed Los Angeles point guard Dylan Andrews, a five-star prospect who didn't even take time to listen to Lloyd's recruiting pitch.
Amazingly, UCLA might not even need much from Andrews next season. It seems probable that Campbell will stick around for the 2022-23 season; he is a bit undersized to make the NBA draft projections. That won't be good news to any team except UCLA.
In that sense, Campbell could be like Oregon's Payton Prichard, who remained a Duck for four long seasons, tormenting Arizona with 56 points in a two-game sweep as he became a consensus All-American.
Campbell isn't likely to make anyone's All-American team this season, but if the Bruins win at McKale on Thursday it'll almost surely be because the Wildcats couldn't get the Tyger in a cage.
Contact sports columnist Greg Hansen at 520-573-4362 or ghansen@tucson.com. On Twitter: @ghansen711