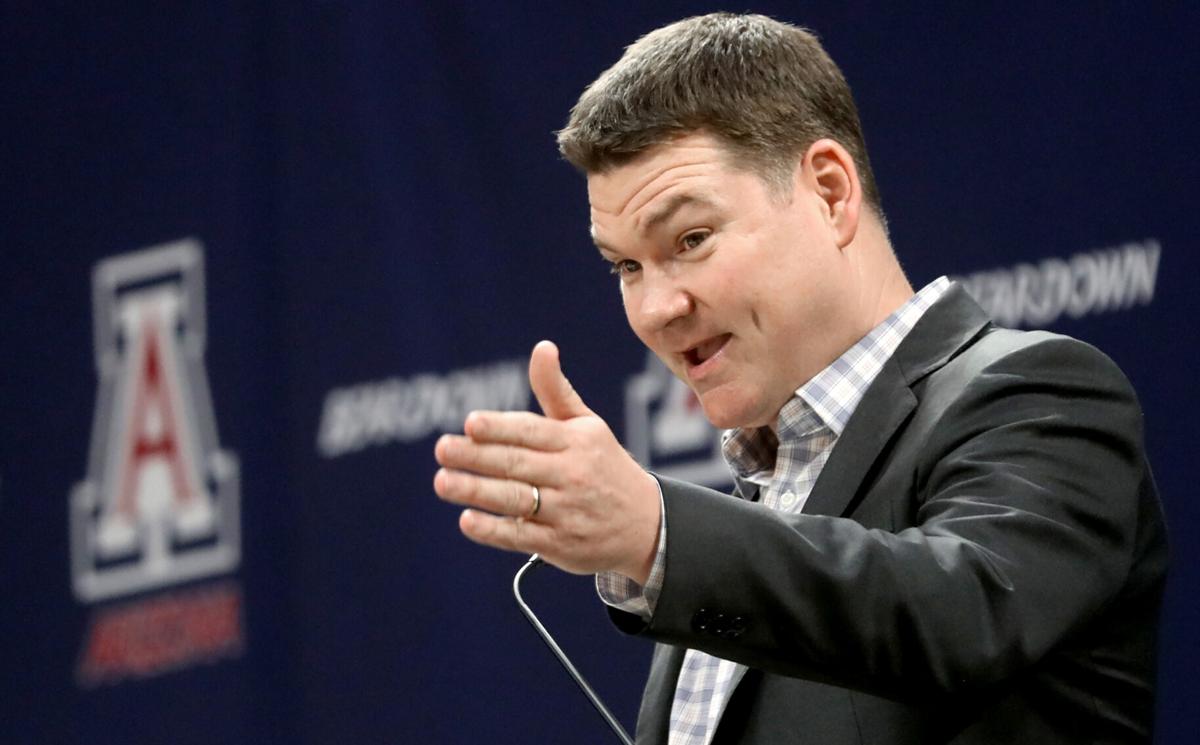 Tracing the basketball DNA of Tommy Lloyd reveals at least two moments that forever changed his professional future and today finds him occupying the Big Office at McKale Center.
The first came 25 years ago when Utah coach Rick Majerus ordered a scouting evaluation of Lloyd, then a clutch 3-point shooter from Walla Walla Community College. Imagine Lloyd in a Utes uniform during their conquest of No. 1-seeded Arizona at the 1998 Elite Eight.
Didn't happen. Majerus judged Lloyd to be a step slow. Lloyd enrolled at what is now Colorado State-Pueblo and struggled to get off the bench, a move that ultimately led him to Gonzaga. And now Arizona.
A second career-shaping moment came at the 2003 NCAA Tournament in Salt Lake City, when Lloyd was in his third season as a Gonzaga assistant coach.
On the weekend the Zags' Blake Stepp missed a 10-foot buzzer shot that would've eliminated No. 1 Arizona in double overtime, Gonzaga got a gift that keeps on giving.
According to "Glory Hounds: How a Small Northwest School Reshaped College Basketball. And Itself,'' a 2016 book that offers remarkable insight to the last 30 years of Gonzaga basketball, it was on that trip to Utah that Gonzaga president Robert Spitzer, athletic director Mike Roth and Zags coach Mark Few met with the two most prolific athletic donors in Gonzaga history: Salt Lake City mining and newspaper millionaires Tom and Phil McCarthey.
At the time, Gonzaga played basketball at the antiquated Martin Centre, a 2,500-seat equivalent to old Bear Down Gym. The plan was to ask the McCarthey brothers for, say, $3 million or so to help build a campus fitness center. But about an hour before the meeting, Few basically went off script and said "forget that; let's ask them to help us build a new basketball arena.''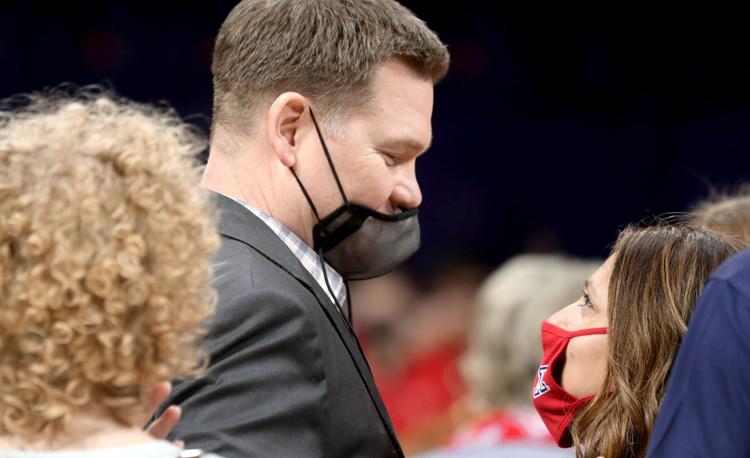 By the time the Gonzaga high command left Salt Lake City that weekend, the McCarthey brothers, both Gonzaga grads, had committed about $9.5 million to help build the $27 million McCarthey Athletic Center. That 6,000-seat gem has turned into a latter-day Cameron Indoor Arena — ''the Kennel'' — at which opposing teams have about as much chance as they do at Duke.
As "Glory Hounds'' author Bud Withers concludes, Few later rationalized his club's 96-95 double-overtime loss to Arizona as "it's possible to lose and you really don't lose.''
With a new arena, Gonzaga's basketball program rocketed to sustained excellence, an extraordinary 20-year burst of success that might not have been possible in the 50-year old Martin Centre. Lloyd's coaching future would likely have been fluid, not secure.
Withers, who in my opinion is the leading journalist to cover Pac-12 sports the last 50 years, has written two books on Gonzaga basketball. The first "Bravehearts: The Against-All-Odds Rise of Gonzaga Basketball,'' was released in 2002, a year after the Wildcats and Zags began a captivating relationship that has matched the West Coast basketball titans everywhere from Tucson and Spokane to Honolulu, Seattle, Phoenix and Salt Lake City.
If you want to know the Tommy Lloyd story, read "Glory Hounds.'' If you want to document Lloyd's rise in the coaching profession, read Chapter 4: "Tommy: A Hoops Opera.''
Withers tracks the truths and untruths of Few's celebrated career. Yes, he has been the target of coaching searches from UCLA, Oregon, Stanford, Kentucky and even a money-is-no-issue overture from Oklahoma State benefactor Boone Pickens.
Few did little more than shrug at those opportunities, which furthered Lloyd's employment and development.
Arizona? When the Wildcats searched for a permanent successor to Lute Olson in 2009, Few was tempted. "That was one I probably look at harder than the other ones,'' Few told Withers.
One of the many reasons Gonzaga has experienced such far-reaching basketball success goes back not just to the hiring of Mark Few in 1989, but to the stability of Gonzaga athletic director Mike Roth and, indirectly, Tommy Loyd.
Roth, who grew up in Moses Lake, Washington, 100 miles southwest of Spokane, is in his 24th year as Gonzaga's AD. That just doesn't happen in the 21st century. Not only that, but Roth's top administrative assistant, Chris Standiford, is in his 14th year at Gonzaga.
The story of Gonzaga basketball is one of success, stability and sustainability. It is a portrait of why Lloyd wasn't interested in moving, to say, take the coaching job at Utah State in 2018, or at a rival West Coast Conference school the last decade.
Roth and Few so valued Lloyd's presence that they raised his total compensation to close to $1 million, which is far more than the Pac-12's highest-paid assistant coach of 2021, Utah's Tommy Connor, whose salary has been listed at $550,000.
One element of Withers' book that strongly parallels Lloyd's debut as a head coach in Tucson goes back to Roth's decision to elevate Few to head coach in 1999. Roth said that as much as he believed in Few, he couldn't be sure how the career assistant would react to "moving 18 inches'' from the assistant coaching seat to the head coaching seat.
Lloyd has moved 1,500 miles from Spokane to Tucson, but as Roth said long ago, it's those 18 inches that will determine if Lloyd is the right man to restore Arizona to prominence.
Contact sports columnist Greg Hansen at 520-573-4362 or ghansen@tucson.com. On Twitter: @ghansen711