Arizona's school record for a coach's longest sustained smile was surely the February 1989 afternoon when Sean Elliott made a free throw to break Lew Alcindor's Pac-10 scoring record, then beat the Bruins 102-64, leading to a return to the nation's No. 1 ranking and a Pac-10 championship.
The no-time-for-joy coaching business is such that Lute Olson allowed himself to smile for about 3.2 seconds and then it was back to work.
Until Saturday afternoon at McKale Center, Sean Miller's record for a sustained, game-in-progress smile, was, what, 0.7 seconds? Maybe less?
I didn't have a stopwatch in hand when UA guard Max Hazzard sprinted upcourt in a 2-on-2 fast break late in the first half, the type of play you take to the rim and hope for a foul, if nothing else.
That's the type of safety-first basketball Miller usually prefers. Don't force anything.
But Hazzard hit the brakes and launched a long 3-pointer from Steph Curry distance. The crowd gasped at the audacity of it — and then roared. Hazzard's 3-pointer swished, Arizona extended its lead to 29-15 and the 20th-ranked Colorado Buffaloes were goners.
In front of the scorer's table, Miller did a mini-jig, a dance step for sure, putting on a happy face for what seemed to be close to Olson's 3.2-second record. Arizona won 75-54, capping a redemptive weekend in which it routed Utah and Colorado by 37 points and revived hopes that the Wildcats can (a) still win the Pac-12 and (b) have a pulse on Selection Sunday.
Afterward, Miller talked about the "pageantry" and "goose bump" atmosphere at McKale and announced that he and his club will "take our act on the road" for Part II of the Territorial Cup this week at Arizona State.
The operative phrase is "take our act on the road," because it means that Arizona still has an act. After being swept in Oregon a week earlier, falling out of the top 25, you couldn't be certain what route Miller's young team would take.
It took the "not today" route, jumping on Colorado Saturday before the Buffaloes had a chance to think of winning its first game in Tucson since it joined the Pac-12. McKale Center was juiced. The Wildcats were primed. It's unlikely any team in the country, from Duke to Kansas, could've won in the land of goose bumps Saturday.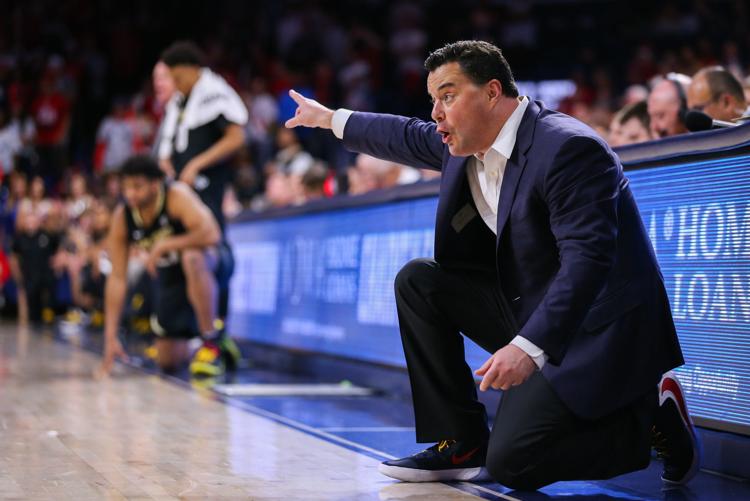 Outside Colorado's locker room, Buffaloes standout guard McKinley Wright IV reflected what 14,279 fans and a Fox television audience witnessed.
"Everybody in the country saw it today," he said. "We got our butts whipped. We'll see those guys again in Las Vegas."
Colorado is the most experienced team in Pac-12 basketball. Only one freshman has played for the Buffs this year, and that was for a mere 3 ½ minutes. It's the new template for success for those programs not blessed with ready-for-the-NBA talent.
Wright was impressed with Arizona's young guns.
"They're young but they can go," he said. "They've got three guys who can go."
Colorado center Evan Battey concurred. "They're as talented as I've seen all year," he said.
The day went so well that Arizona finished with three unused timeouts. Do you ever recall Miller not using his full allotment of timeouts?
What had been anticipated as one of the most challenging home games of the year was instead stress-free.
This was the year I thought Tad Boyle's Buffaloes would break through and win the Pac-12. But it's not likely to happen because (a) they lost at home to Oregon State, (b) the Oregon Ducks won in a miracle finish at Washington on Saturday and (c) the Buffaloes still haven't shown they can make the most difficult leap in college basketball — winning the toughest road games, of which Saturday was one.
Since being admitted to the league in 2011, Colorado has only won a single Pac-12 road game against a top-25 team, and that was a 48-47 win at No. 19 Oregon in 2013. Boyle had a loaded lineup of Josh Scott, Xavier Johnson, Askia Booker and future NBA regulars Spencer Dinwiddie and Andre Roberson.
One big road win in 8½ Pac-12 years. That's brutal.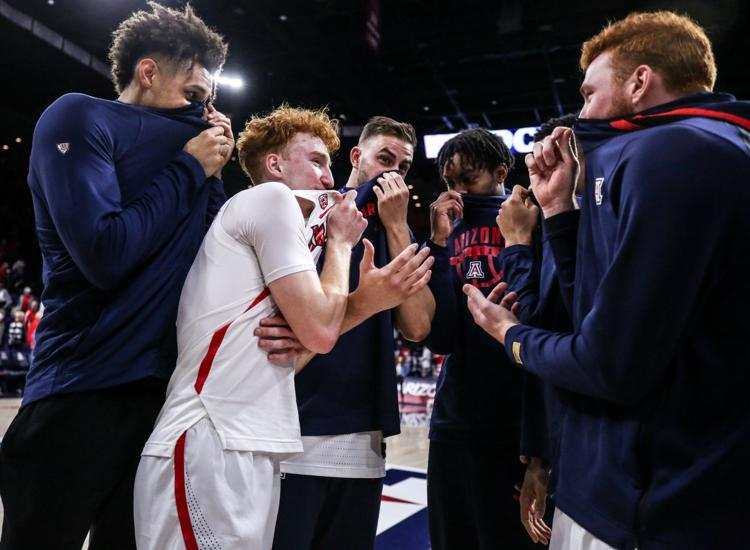 Until CU can take Arizona's best shot at McKale and win, it's not going to be able to join Oregon and Arizona among the league's most feared teams.
"They kicked our tails and that's not acceptable," said Boyle. "We got their best shot."
Colorado must find its best shot in upcoming road games against Stanford, USC, Oregon and Oregon State.
If it doesn't, at worst, go 3-1 in those games, it won't challenge for the championship.
It's debatable whether Arizona found itself in the Utah-Colorado homestand. Let's see what happens at Arizona State, and the following week at Washington and Washington State.
The most encouraging development is that Hazzard scored 33 points in just 33 minutes, showing that he's a distance shooter who can change Arizona's upward trajectory, and that Ira Lee emerged Saturday as a jump-starting, energy-driven inside presence.
If Lee and Hazzard remain such reliable contributors the next two months, all things are possible.
"We had a fight in us," Miller said. "We weren't going to go away."
He did not smile. The hard work is just getting started.
"It's great to have everyone behind this team."Sean Miller impressed with the way Arizona responded this weekend and also credits McKale's atmosphere: pic.twitter.com/Amt2nTCYyC

— The Wildcaster (@TheWildcaster) January 18, 2020
Contact sports columnist Greg Hansen at 520-573-4362 or ghansen@tucson.com. On Twitter: @ghansen711