Editor's note: Over five weeks, Star columnist Greg Hansen will profile 10 times that Tucson teams beat No. 1. Today: Arizona's wins over top-ranked Florida State in the 1986 College World Series.
Arizona's journey to the 1986 College World Series — the No Place for the Timid Tour — was such that when the Wildcats learned they would face No. 1 Florida State and the NCAA's Player of the Year, 20-1 pitcher Mike Loynd, it was more like "bring it on."
As the UA's All-Pac-10 catcher Steve Strong recounts the 1986 march to Omaha today, he does so with a bit of awe in his tone.
The Wildcats beat Texas pitcher Greg Swindell in the NCAA Regionals. Swindell became the No. 2 overall pick in the 1986 draft.
They beat Cal State Fullerton pitcher Mike Harkey, the No. 4 overall selection in the '87 draft.
They beat Stanford pitcher Jack McDowell, the No. 5 overall selection in the '87 draft.
They beat USC pitcher Brad Brink, the No. 7 overall selection in the '86 draft.
And they beat Pepperdine pitcher Mike Fetters, the No. 27 overall selection in the '86 draft.
Who's next, Sandy Koufax?
"I'll tell you how good Florida State was," says Strong, now a senior executive in Tucson's Merrill Lynch Wealth Management firm. "I was looking at some memorabilia the other day and saw that Deion Sanders was on Florida State's roster that year — and he couldn't regularly get in the lineup."
After opening with a historic 8-7 victory over Maine on Dave Shermet's pinch-hit, two-run home run in the bottom of the ninth, and then beating Loyola Marymount, the Wildcats met a 59-11 Florida State juggernaut with its well-rested ace, Loynd, 20-1, tied for the most victories in college baseball history.
In a press conference a day earlier, FSU coach Mike Martin said "this puts us exactly where we want to be."
Arizona, no slouch, had won 10 straight games, including a blissful sweep of Arizona State, outscoring the Sun Devils 49-17 to finish second in the Pac-10 behind No. 2 ranked UCLA.
"Loynd had a devastating slider, and he was really good," remembers then-UA hitting coach Jerry Stitt, now the executive assistant athletic director at Pima College. "But we were coming off a sweep at the NCAA regionals in Texas, and we knew we were good. That '86 team could really hit."
This is hitting: the '86 Wildcats finished with a .337 team batting average, which hasn't been topped by any UA team the last 34 years. Cleanup hitter Todd Trafton hit 15 home runs; third-hole hitter Mike Senne drove in 80 runs, the third Wildcat ever to reach 80; leadoff hitter Tommy Hinzo not only hit .322 but stole 47 bases, which remains a school record.
Coach Jerry Kindall's lineup was so loaded that shortstop Dave Rohde, a future Houston Astros and Cleveland Indians shortstop, hit .336 and batted No. 9 in Arizona's lineup Third baseman Chip Hale, who went on to play in 638 MLB games, hit .340 — but that was sixth among the '86 Wildcat starters.
But could the Wildcats hit off someone like Loynd, a cocksure, emotional pitcher who told an Omaha newspaper, "I'm not here to finish second."
Loynd was gifted with a second-inning grand slam off Arizona pitcher Gil Heredia, giving the Seminoles a 5-1 lead.
In the bottom of the fifth, leading 5-1, Loynd became even more animated. Rather than pitch to the imposing Trafton, he hit him with a pitch to load the bases. Trafton had hit a mammoth home run off Loynd in the second inning; Predictably, Loynd chose to pitch to Strong, who entered the CWS hitting .401, but had dislocated the index finger on his left hand; Loynd knew he didn't have his best stuff.
"Loynd threw a slider in the dirt that kind of got away and ran in to cover the plate," Strong remembers.
The next day's Star quoted Strong saying that Loynd got in his face and said, 'You're mine; I'm going to strike you out.' "
Instead, Strong hit a deep fly ball to score a run. An inning later, Senne hit a towering, 3-run home run. Arizona led 7-5. Loynd was gone. So were the Seminoles.
"I think our team fed off facing guys like Loynd, the guys like McDowell, Swindell, Harkey and Fetters," says Strong. "We were used to it."
With Loynd sitting in FSU's dugout — he later said an early-week rainout, pushing the UA game back a day, caused him to "lose his pop" — it was Heredia's game to win or lose.
Heredia went 16-3 that season, the most victories by a pitcher in Arizona history. He was a big-game talent of such note that he had gone 15-1 a year earlier, pitching Pima College to the NJCAA championship game.
Heredia retired the final 11 FSU batters in order.
"Gil wasn't easily rattled," says Stitt. "He could throw four pitches for a strike in any situation. He was just so even-keeled that even though we trailed 5-1, he had the mental toughness not to let it bother him."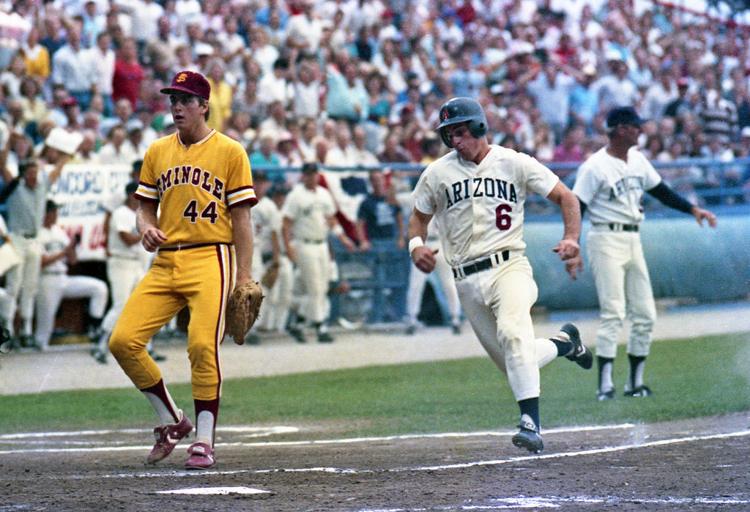 Heredia pitched a complete game. Arizona won 9-5. Two days later it faced Loynd and Florida State in the championship game.
Wash, rinse, repeat. Senne hit a home run off Loynd and became the MVP of the World Series. Arizona took a 10-0 lead and won 10-2 behind sometimes-pitcher, sometimes-hitter Gary Alexander, who pitched eight strong innings.
Postscript: "Looking back, that was no upset," says Strong, who went on to play three years of minor-league baseball in the Detroit Tigers' system. "We didn't have a hole in our lineup. We had played such a good schedule that once we got to Omaha we could just play ball and not worry about anybody else."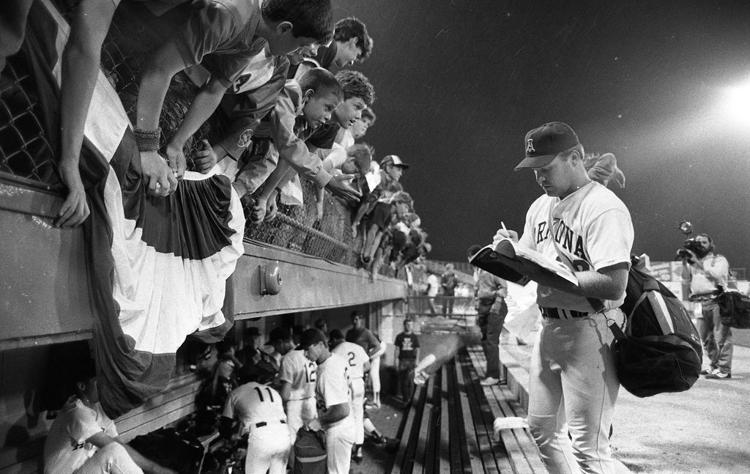 Where are they now? Heredia, who went on to pitch 10 MLB seasons for the A's, Giants, Expos and Rangers, is the minor-league pitching coordinator for the Arizona Diamondbacks. Heredia completed his four years at Arizona/Pima College with a 48-12 record.
Hale is the bench coach for the world champion Washington Nationals. He is living in Tucson during the COVID-19 shutdown of MLB. Hale was the manager of the Arizona Diamondbacks in 2015 and 2016 and the Tucson Sidewinders manager from 2004 to 2007.
Kindall, who died in 2017 at 82, was the first person ever to win a College World Series title as both a player (at Minnesota) and a head coach (at Arizona). His Wildcats won national titles in 1976, 1980 and 1986. Kindall retired following the 1996 season.
Hinzo played for the Cleveland Indians before becoming a scout for the Chicago White Sox. He is now an instructor for the San Diego Firecrackers youth baseball organization.
Rohde is the chief financial officer for McDowell Enterprises, a commercial real estate firm in Phoenix.
Contact sports columnist Greg Hansen at 520-573-4362 or ghansen@tucson.com.
On Twitter: @ghansen711
Be the first to know
Get local news delivered to your inbox!