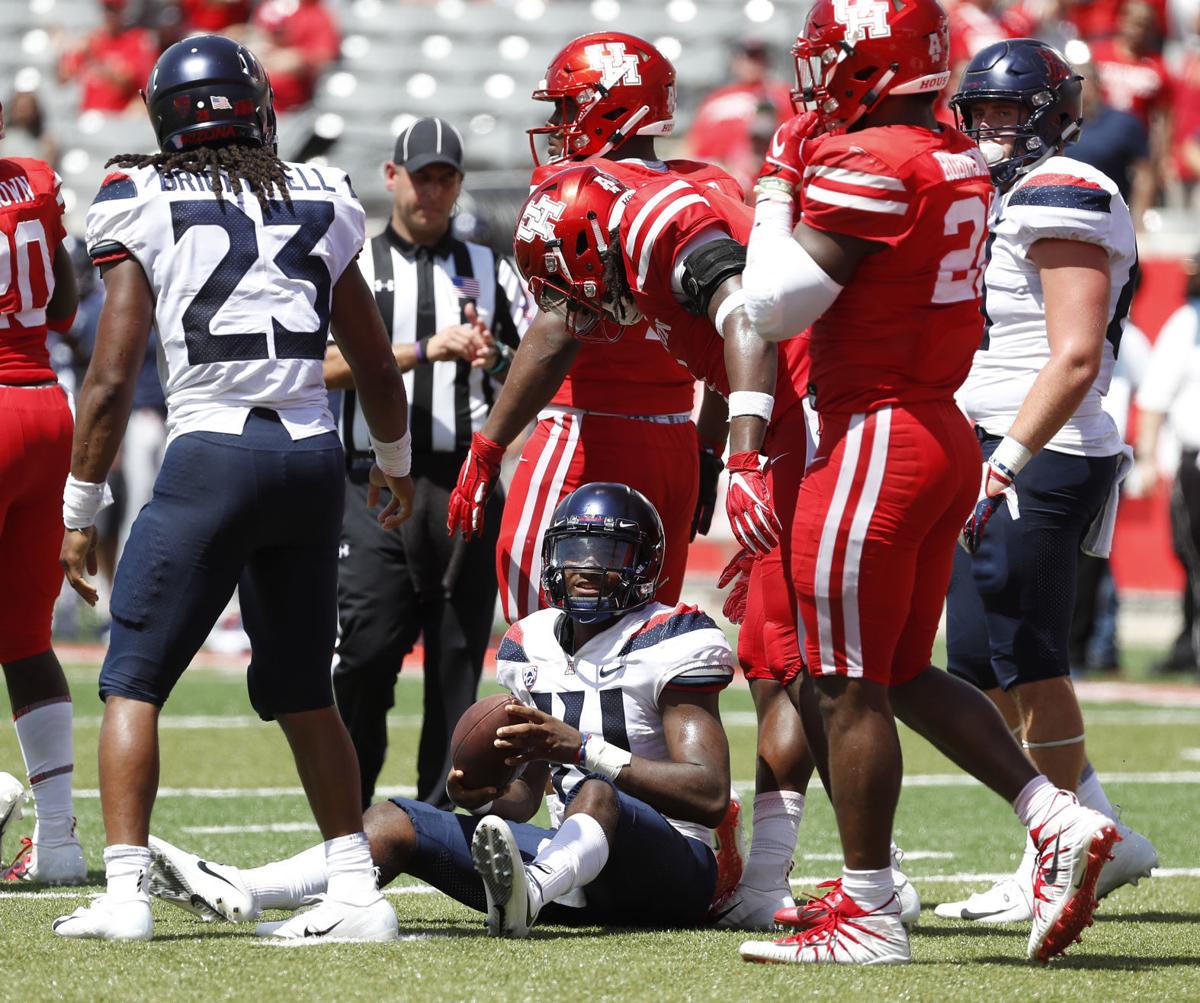 Rather than sit in a food-is-served and drinks-are-cold press box suite Saturday, Arizona president Robert C. Robbins put on a red Arizona shirt, a blue Arizona cap and a pair of golf shorts.
Sure it was going to be hot and humid. Robbins knows how it goes; two years ago, he worked 3½ miles from TDECU Stadium as the president/CEO of the Texas Medical Center.
He loved the Cougars then the way he loves the Wildcats now. Even after an ESPN producer mentioned that the kickoff-time temperature on the artificial turf was about 120 degrees, Robbins proceeded to the field.
Bring it on. New era, right?
But even a steadfast UA fan like Robbins knows when the hellish conditions — and I'm not talking about the weather — are too much. As Houston scored to lead 31-0 just before half, the man who supported the hiring of Kevin Sumlin yielded to the elements.
Robbins walked alone up a tunnel next to a "GO COOGS" sign and didn't return for the second half.
By then, thousands of UA fans had surely clicked off the ESPN telecast in search of more enjoyable programming. It so happens that HGTV network was airing the Texas-based "Fixer Upper," which until further notice should serve as the 2018 catchphrase for Arizona football.
After two grim performances, we can now see that Kevin Sumlin inherited a fixer upper of his own.
Dig in, ladies and gentlemen: This is going to require all sorts of work, from the foundation to the paint job. How did we miss all of the signs? The UA was pushed around by BYU and couldn't keep up with Houston, a pair of mid-majors with no preseason hubbub.
Sophomore linebacker Colin Schooler, who is probably the UA's lone all-Pac-12 type player, seemed to be unaware of the tough climb ahead.
"I had confidence we'd dominate this game," he said a few minutes after the 45-18 kick in the pants. "Everybody expects to be 2-0."
In the game's final 1:48, an irresistible juxtaposition occurred in Section 121, Row 4. That's where former Arizona coach Rich Rodriguez sat, animated, as his son, quarterback Rhett Rodriguez, played the final seven plays of mop-up time.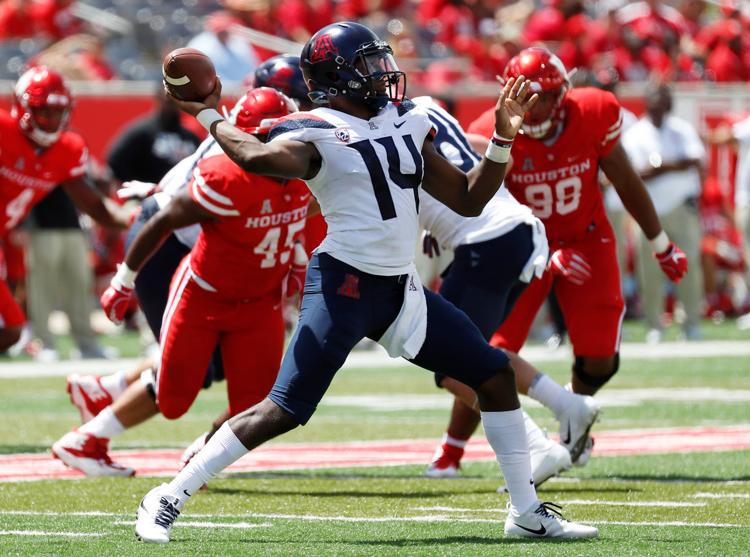 Here is something you must know about the suddenly lamentable state of Arizona's football program: When the game was decided in the first half, every player deployed on Arizona's No. 1 offense and defense except cornerback Tim Hough had been recruited and signed by RichRod.
If you throw in Sumlin-signed punter Dylan Klumph, it means 21 of Arizona's first 23 players used to be RichRod's guys.
Kevin Sumlin isn't about to get rich on this football inheritance. This fixer upper won't be finished until a new brigade of Sumlin recruits are wearing UA jerseys.
You're not likely to hear about this from Sumlin. He appears to be a poker-face with few peers. His post-game media session betrayed neither a look of despair or resignation, but instead the look of a man in a high-stakes card game who was holding a pair of 2s and didn't fold.
He didn't embellish the calamity of a first quarter ankle injury to quarterback Khalil Tate, a tweak that scuttled the UA's game plan. About all Sumlin would say is "you have to draw a line through" a lot of the plays Arizona prepared for Houston.
Nor did Sumlin go out of his way to praise Houston, his former school, or the efficiency with which the Cougars bolted to a 31-0 lead by establishing a tempo that seemed to disorient Arizona's defense.
I mean, the Cougars snapped 10 plays in the game's first 2 minutes and 47 seconds. Touchdown. It would be a very long and hot afternoon.
Sumlin said it wasn't Houston's tempo that dictated terms. "We practice good-on-good all the time," he said.
That means Arizona uses its No. 1 defense against its No. 1 offense in practice. Moreover, Sumlin is a coach known for his up-tempo offenses. He can write a book on playing as fast as the Cougars do.
But does Arizona really have "good-on-good" units on either side of the ball? Judging from the way BYU and Houston beat the Wildcats, that may require some editing. Arizona has struggled just to be "fairly good" at times.
The "good-on-good" practices might not commence in Tucson until 2019 or later.
More dispiriting is that Cougars I and Cougars II, BYU and Houston, both appeared to be bigger, faster and stronger than Arizona.
Tate was thought to be a difference-maker but most of that difference-making was supposed to come from his remarkable ability to run real fast and avoid opposing tacklers.
Through two games, Tate has rushed 15 times for 22 yards. And now there's Tate's "ankle thing" about which to worry.
Tate is fiercely proud of his athletic ability. His confidence gushes forth in his brief interview sessions. On Saturday, he said that the UA's offense has been held back by "one play."
"We're one catch away," he said. "One breakaway touchdown away."
Perhaps it will be that simple when the Wildcats return home Saturday night to play the Southern Utah Thunderbirds, and it may be that elementary a week later at Oregon State, the Pac-12's least-feared team.
But then come the Big Boys: USC, Utah and Oregon.
It might be more likely that defenses have learned how to pitch to Tate, sort of like a hotshot major-league rookie who hits a bunch of home runs his first time through the league. The second time through, when opposing coaches establish a specific plan to stop you, it's a different game.
We do know this: In two games, Tate hasn't turned it upfield and put the pedal to the metal.
After losing to BYU a week ago, it was almost intriguing to do some football forensics and figure out how the Cougars stopped Tate and beat the Wildcats. How did this happen? What went wrong? Did BYU outsmart the UA coaches?
But on Saturday, there was nothing intriguing at all. It was a not-so-subtle warning that the heat is on, and we're not talking about the weather forecast.
Contact sports columnist Greg Hansen at 520-573-4362 or ghansen@tucson.com. On Twitter: @ghansen711