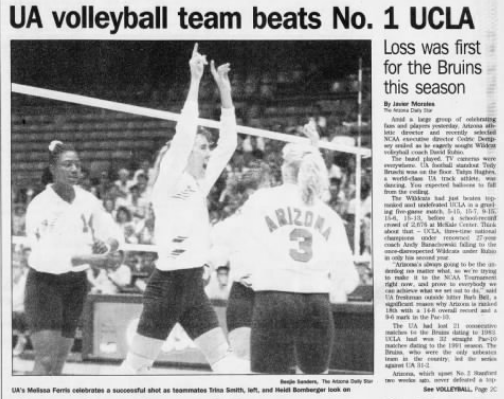 Editor's note: Over the next five weeks, Star columnist Greg Hansen will profile 10 times that Tucson teams beat No. 1. Up first: Arizona's 1993 win over top-ranked UCLA in volleyball.
About the only thing the volleyball teams of Arizona and UCLA had in common on Senior Day 1993 was that the Wildcats had recently gone a hapless 0-18 in the Pac-10 and the Bruins a flawless 18-0.
"Their coach thinks they are the greatest, that they can't lose to anybody," UA senior Melissa Ferris would say on that Sunday afternoon, Nov. 7, 1993.
Either way, a then-record crowd of 2,676 showed up at McKale. Was it just to honor the seniors or did anyone truly suspect the Wildcats would stun the 1990 and 1991 NCAA champions?
UCLA had won 23 consecutive matches against Arizona and 34 straight Pac-10 matches overall. The odds weren't promising.
Looking back, coach Dave Rubio, then in his third season at Arizona, has a much better perspective on how the Wildcats chopped down the No. 1 Bruins in five tension-laced sets. It was a victory so improbable that it triggered a wild celebration involving future college football Hall of Fame lineman Tedy Buschi and Cedric Dempsey, the future executive director of the NCAA.
"Obviously, everyone rose to the occasion," Rubio says now. "UCLA crushed us in the first game, but we hung around and forced a fifth game. If you get to the fifth game, anything is possible."
Even a victory over the most feared program in women's college volleyball.
Rubio recalls a make-or-break moment in the final set with the Pac-10 Player of the Year, UCLA All-American Julie Bremner, spiking a potential game-winning blast at UA senior Stephanie Rempe.
"Steph was in the back row, and (Bremner) absolutely unloaded a shot that normally goes for an easy point, and that would've been it," he said. "But Steph got down, dug it out, and we turned it into a point. It was that kind of a day. All the stars aligned for us."
Before the game, Rempe noticed someone in the crowd holding a sign that said "WE DIG STEPH."
"I remember it like it was yesterday," said Rempe, now the executive deputy director of athletics and chief operating officer at LSU. "I still have a picture from that game in my office."
Arizona had lost to No. 1-ranked UCLA teams in 1992 and earlier in 1993 and has gone 2-17 against top-ranked teams in its volleyball history. (The other win came against No. 1 USC in 2013).
Rubio's '93 team was loaded with familiar names and faces.
Heidi Bomberger, a softball-volleyball letterman from Sahuaro High School, would soon marry Bruschi, hence his presence at the game.
Flowing Wells High School grad Barb Bell, a three-time all-Pac-10 player, was the club's steadying force.
Sisters Laura Bartsch and Michelle Bartsch, Sahuaro High School graduates, were part of a starting lineup that led the Wildcats to their first-ever Sweet 16 appearance later that month.
Sitting nearby, UA athletic director Dempsey — who was in the process of leaving to take command of the NCAA — watched as Rubio presented flowers to each of the UA seniors in a pre-match Senior Day ceremony.
"What people overlooked is that we had an amazing winning streak that year," Rubio remembers. "We lost a close five-set match at UCLA about a month earlier and then we really got it going."
Indeed. The Wildcats followed that October 1993 loss at UCLA by beating No. 2 Stanford, No. 11 Notre Dame and No. 8 USC. By the time coach Andy Banachowski's Bruins arrived at McKale, Rubio's team had climbed into the Top 25.
But even at that, it took a series of games-for-the-ages performances to make it a match-for-the-ages.
Laura Bartsch, then a freshman, had been what Rubio remembers as "a 50/50 server" all season, an ace followed by an error. But on that day, Bartsch was steady. Boom. Boom. Boom. Game on.
"She was never rattled," Rubio said, but he took precautions, twice calling timeouts specifically to reinforce that "we can win this game."
At game's end, Banachowski stopped short of giving Arizona credit for a monumental, program-defining victory. Instead, he complained about the officiating.
"It was questionable," said the man who coached UCLA to No. 1 rankings in the final AVCA polls in 1988, 1989, 1990, 1992 and 1993. (The Bruins finished the regular season 33-1, then lost to BYU in the Elite Eight).
Rubio shrugged off Banachowki's comments and said the win gave his program credibility it lost by going 0-18 in the league and 4-22 overall the year before he was hired away from Cal State Bakersfield, where he won the 1990 NCAA Division II national championship.
"UCLA was certainly the team everyone was chasing," Rubio said. "For me, being such a young coach and not fully knowing what I was doing, it was just one of those monumental victories you never forget. It put us on the map."
Looking back at the 1993 Wildcats: Rubio had a difficult time meshing the players he recruited with those left from Rosie Wegrich's tenure as Arizona's coach.
"There was a lot of dissension on the team; I had not had time to make a full transition and change the culture," he said. "But as much as that group disliked one another, they hated losing even more."
How the season concluded: Arizona finished fourth in the Pac-10 and beat No. 10 Arizona State in a round-of-32 game in Tempe, breaking an eight-match losing streak to the Sun Devils.
"I was so emotionally invested in beating ASU that I actually made a little voodoo doll to help get some good karma going," said Rempe, whose parents are Arizona grads and taught her the importance of beating ASU. "I was at first devastated when I learned we would have to play them again. I had never beaten ASU. Dave finally had to tell me to get my head in the game."
UA lost to BYU 3-1 in the Sweet 16.
Where are they now? Melissa Ferris, a standout senior, is head coach of Division III Pfeiffer University in North Carolina, and former head coach at William & Mary.
Assistant coach Liz Towne-Gilbert went on to be an assistant coach at UC Santa Barbara, USC and UC Davis. She is now out of volleyball, living in Northern California.
"Liz was really the catalyst, smoothing out the rough edges when the kids had personality issues with one another," Rubio said.
Key starter Trina Smith went on to become the head coach at Wright State and an assistant coach at South Carolina and Saint Mary's; she is now the director of the Atlanta Performance volleyball club.
Charita Johnson Stubbs, an all-Pac-10 player in 1994, has been on Rubio's coaching staff for 17 years.
Laura Bartsch Owes married former Arizona basketball standout Ray Owes. They live in Phoenix. Their daughter, Kalen Owes, was a starter on USC's volleyball team last fall.
Michelle Bartsch-Malis operates the Zona Volleyball organization in Tucson with her husband A.J. Their son, Zach, is a first baseman in the Detroit Tigers organization who led Desert Christian High School to three consecutive state baseball championships.
How Rubio's career advanced: He has coached Arizona to 527 victories, which includes a Final Four berth in 2001, three Elite Eight appearances and four Sweet 16 seasons.
Contact sports columnist Greg Hansen at ghansen@tucson.com
or 520-573-4362. On Twitter:
@ghansen711
Be the first to know
Get local news delivered to your inbox!