Throughout the summer, Star columnist Greg Hansen is profiling 10 Tucsonans making a difference. Up today: Suzy Mason, the UA's do-it-all athletic administrator.
Because she was a baseball catcher growing up in Canandaigua, New York, Suzy Mason qualifies for any baseball term you want. Here's the one that fits best: She is a five-tool player.
She helped to hire coaches.
She successfully operated a host site for the NCAA basketball tournament.
She engineered the security for a tense Territorial Cup game.
She wore a hard hat to work to supervise a $30 million makeover of McKale Center.
She coordinated a construction project for as many as 280 workers per day to build the $72 million Lowell-Stevens Football Facility.
Mason's title is a long one: senior associate athletic director for event management and facilities. She's an Ivy League grad (Cornell) whose strength is her versatility; she works in the dust and dirt and also in a dress.
"I'm a boots-on-the-ground kind of person," she says. "It's a fun dance."
A week ago, Mason was in her windowless office at McKale, bouncing between four ongoing construction projects that will cost $66 million. She stopped briefly with associate Matt Brown to watch live webcams of the massive swimming, softball and football makeovers.
"Matt said, 'Watch this guy on the Komatsu backloader. He's unbelievable,'" she said. "And he's right. I've got so much respect for the skill it takes to run a backloader or an earthmover."
Did you ever think you'd hear that from an associate athletic director at a Pac-12 school?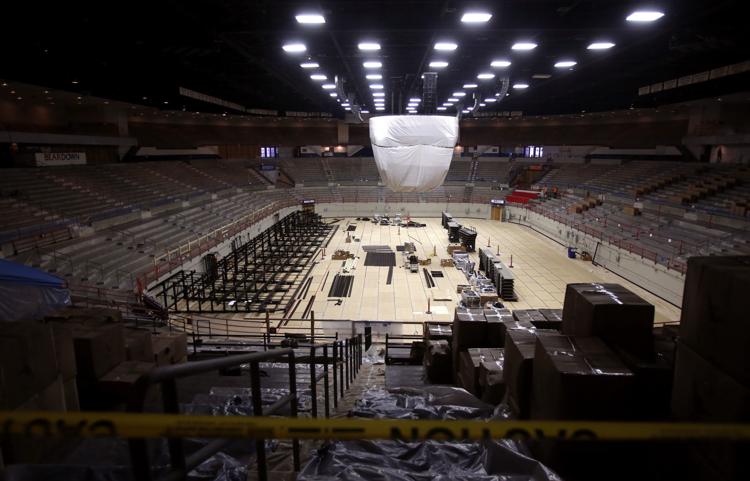 A few years ago, Arizona athletic director Greg Byrne gave a tour of the bowels of a torn-up McKale Center. We walked into a dark corridor accompanied by sounds of power tools and hammers crashing against a wall.
Mason walked out of a dark space, hard hat in place, a purposeful expression on her face.
"We're going to run the work crews in shifts until midnight," she told Byrne. "We've got to get finished on schedule."
As Mason walked away, Byrne spoke the way he would speak when someone like Scooby Wright sacked a Sun Devil quarterback.
"Suzy's in control," he said. "It is very comforting."
In 20 years at Arizona, Mason has touched 'em all, another baseball term from her ballplaying days in Canandaigua. She has been involved with ticketing, security, fan engagement, concessions, lodging, TV replays, NCAA volleyball tournaments, NCAA softball super regionals, and accommodating a training camp for the Phoenix Suns.
That's just a partial list. Once, when the ZonaZoo was at its most popular, she had to tell 600 students that they couldn't get into Arizona Stadium. That being-the-bad-guy routine is not in any job description, especially for a people-person such as Mason.
"One of her assets is the ability to tell you what you need to hear, not just what you want to hear," says the man who hired her, former UA athletic director Jim Livengood. "That alone is an art form."
Mason is married, a mother of two — "I'm a softball mom," she says proudly — who says that "every day is different."
How in the world did a Cornell grad, a varsity basketball player, wind up at Arizona?
"Every winter I'd watch basketball on TV and I'd see that old cactus-and-sunset logo on the court at McKale Center and it drew me to watch Lute Olson's teams," she remembers. "After I graduated from Cornell, I moved to North Carolina to get a master's degree. I never had a plan to move to Arizona."
But she got to know a guy who knew a guy who knew the late Boyd Baker, a top functionary in the UA's physical education operation. One thing led to another and Baker contacted UA assistant athletic director Dick Bartsch, and it wasn't long before Mason drove to Tucson sight unseen.
She has gone from an intern to director of internal operations to a bunch of titles and responsibilities that reflect her ability to get things done.
This summer she is booked, dealing with project managers, demolition experts and work crews who are charged with completing a $25 million Arizona Stadium project by Aug. 31, and to stay on schedule to have an $8 million Hillenbrand Stadium re-do done by Feb. 1.
"It's an ambitious schedule but it can be done; we can't be late on these things," she says. "We've got our swimming team practicing at Amphi High School twice a day. We've got 277 student-athletes taking summer classes. Our softball team will hold fall practice at Lincoln Park. We have to maximize every square-foot of property we have to make this work."
Mason doesn't get the easy stuff, like scheduling basketball games or staying in five-star hotels to oversee a football trip to Stanford or Colorado.
"Her people skills and work ethic skills are over the top," says Livengood. "I've been around a lot of great people during my career, but I'm not sure I've ever been around anyone better or more task-oriented than Suzy.
"Honestly, she could be the AD at any university in the country and they would immediately be better. The UA is so very lucky to have her."
The old-school Mason grew up in a neighborhood where the summer games were Wiffle ball, kick the can, kickball, flashlight-tag and anything you could invent. "I'd stay out until dark," she says. "My neighborhood was mostly boys so I had to learn how to speak up to keep up. I'm sure that's where I got my leadership skills."
As Arizona spends $66 million to maintain pace in the demanding Pac-12, Mason has developed friends foreign to most at big-time athletic departments: project managers, engineers, architects and Komatsu drivers.
"I love the challenge of this," she says. "It lights my fire."