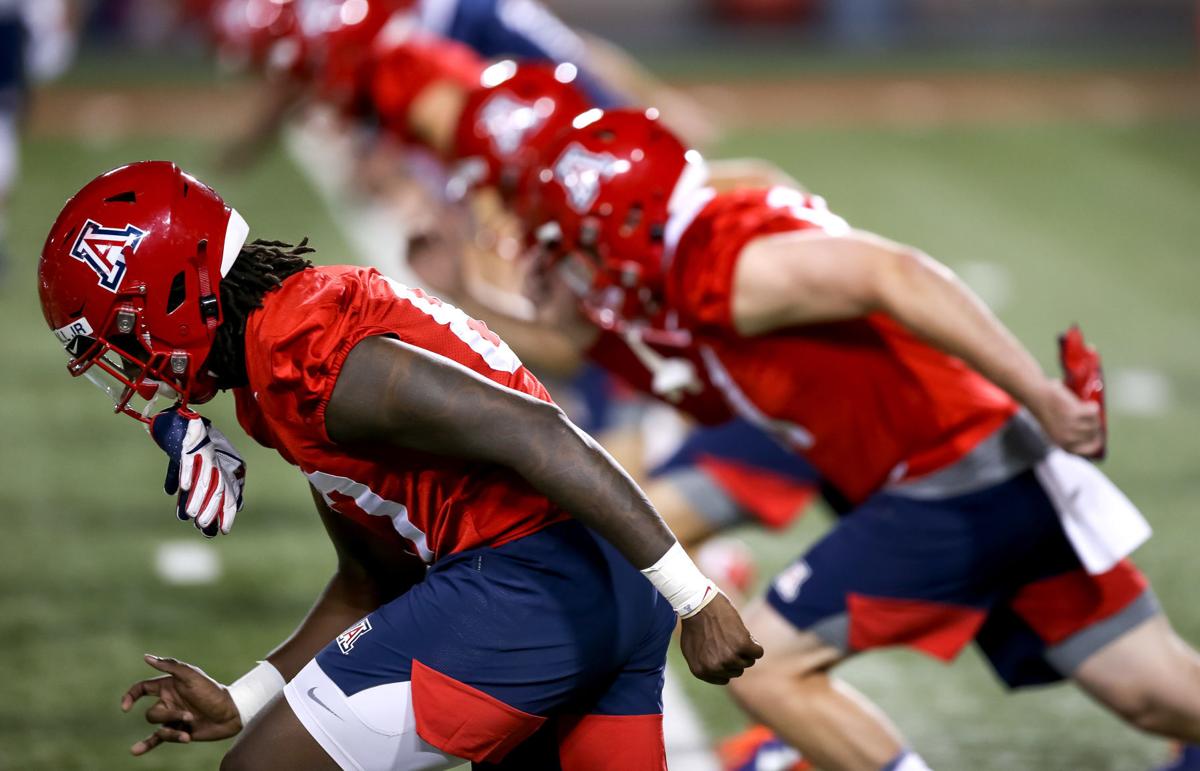 Alone in the dark, I stood outside the Lowell-Stevens Football Facility and watched as 100 football players and coaches quietly walked across National Championship Drive early Tuesday evening.
The stillness of the UA campus and especially the football practice had an eerie nature to it.
Without the oversized "BEAR DOWN" logo towering over the Dick Tomey Practice Fields — without the block "A" on their football helmets — there were so many unfamiliar names and faces that it could've passed for the training camp of, say, Washington State or New Mexico State.
There were no instantly recognizable figures that have so often stood out at Arizona's training camps. No hulking Rob Gronkowski. No fiercely determined Tedy Bruschi. No one wearing jersey No. 89 the way Ricky Hunley did, or no No. 25, Ka'Deem Carey, who could be identified from 100 yards away.
In its 42 seasons in the Pac-12, Arizona has never entered training camp with so many unknowns and uncertainties. Players, coaches, all of it.
Part of it can be traced to the interruption of spring practice to make way for the coronavirus pandemic. There was no true introduction of Arizona's 2020 football team, either to the fans or to four new coaches. Part of it is that Arizona lost seven consecutive games to end the 2019 season, the longest losing streak to end a season in school history. And part of it is that the Wildcats of 2020 are without anyone who qualifies as the face of the franchise.
The most well-known player among the 100 who worked out Tuesday evening? Probably sophomore quarterback Grant Gunnell, who has three career starts.
Even coach Kevin Sumlin was difficult to pick out of the crowd. He looks as if he has lost 20 pounds, limping on a bad left knee, blending into a mix of first-year defensive coaches so unlike past UA training camps when a Duane Akina or a Homer Smith or a Sonny Dykes had as high a profile as an All-Pac-12 tackle.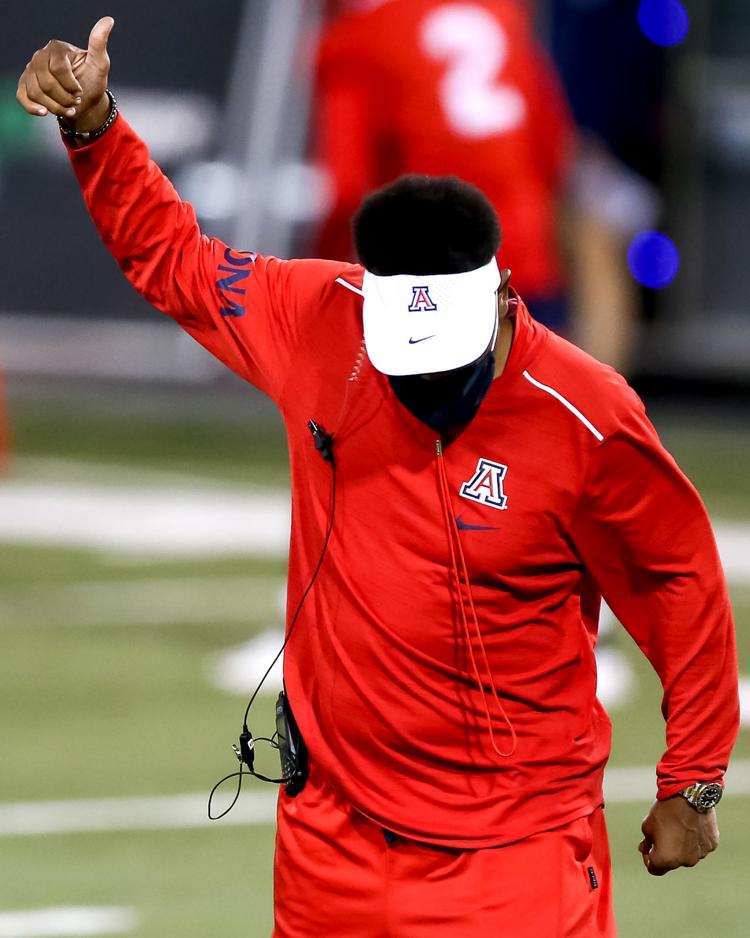 Sumlin does not have a powerful bearing or presence. As I watched the first 20 minutes of practice, I did not hear his voice — even though there was barely a sound outside of the muted traffic on Campbell Avenue.
In 15 days, Arizona will open the season at Utah, the most physical and resourceful football program in the Pac-12. That is a short time to establish a voice.
After Tuesday's practice, the UA made new outside linebackers coach Andy Buh available for a Zoom media conference. Buh is one of four new defensive coaches, a staff totally rebuilt after the in-season firing of Marcel Yates and his partners.
Initially, I suspected hiring Buh, defensive coordinator Paul Rhoads and defensive line coach Stan Eggen was a hopeless exercise, part of the inevitable delay leading to another coaching search and another rebuilding process.
But after listening to Buh I was struck that hiring him, Rhoads and Eggen might've been a wiser course than persuading a younger and eager rising star to introduce his flashy "system" to an undermanned defensive roster.
I doubt there are three crisis managers in college football more familiar with college football's version of "Mission Impossible" — the task awaiting Arizona's defense in 2020 — than Buh, Rhoads and Eggen.
Since 1990, Buh, Eggen and Rhoads have combined to coach 12 seasons in which their head coach was fired. They have combined to coach 13 seasons which were the first for a new coach and his staff.
Since 2011, Buh spent just one season on coaching staffs at Kentucky, Rutgers, Cal and Wisconsin. That is surely an NCAA record. It is football's less glamorous version of college basketball's one-and-done. Another year, 2014, he didn't coach at all, collecting a payout after being fired at Cal.

Rhoads coached on four staffs in which the head coach was fired, and four more in which it was Year 1 for a new staff.
Eggen has been on staffs that were fired at Nevada, Louisiana Tech, New Mexico and Iowa State, and was part of first-year staffs at TCU, Alabama, Texas A&M, Iowa State and Louisiana Tech.
Do not expect them to be in the self-pity mode when they fully evaluate Arizona's defensive personnel. They've been there before and have often been successful rebuilders.
The thing is: You never know how much time you're going to be given to reboot a defense like the one at Arizona that has allowed more total yards and more total points than any defense in the league since the Pac-12 expanded in 2012.
Buh admitted Arizona does "not have enough of these bodies" to easily transition to Rhoads' 3-4 defensive scheme. "We've all had to adjust," he said.
He did not choose to alibi. The club's two most proven defensive players — linebackers Colin Schooler to Texas Tech and Tony Fields II to West Virginia — transferred over the summer. Buh said, simply, "I don't blame them for that."
Junior Jalen Harris, who gained 55 pounds since his freshman season, is one of the few Wildcats who passes the eye test. He will play outside linebacker, a new position. This is neither a quick nor a simple transition.
Said Buh: "He just needs the reps and needs to play more football."
Patience? What's that? Not when you're on an 0-7 losing streak, looking at a possible 0-7 season.
In many ways, the time is now for Arizona football, ready or not.
Contact sports columnist Greg Hansen at 520-573-4362 or ghansen@tucson.com.
On Twitter: @ghansen711.