The Star's longtime columnist takes a look at the players, coaches and storylines to watch during a shortened Pac-12 season, and picks how the conference standings will play out. For more from the Star's annual college football preview section, visit Tucson.com/wildcats or click on the PDF at the bottom of this page. 
Pac-12's cold open: League schedule pays little attention to temps
Those who composed the Pac-12's 2020 football schedule are tempting the weather gods like never before in league history.
They scheduled Utah to play at Colorado at 7:30 p.m. on Dec. 11. The average low in Boulder on Dec. 11 is 23 degrees.
They scheduled Cal to play at chi-chi-chilly Martin Stadium in Pullman, Washington, on Dec. 12. Let's just say the coldest kickoff temperature in Arizona's modern Pac-10/12 history was 34 degrees at Washington State on Nov. 8, 1986.
And then there's an Oregon State at Utah game on Dec. 5. Average low in Salt Lake City on Dec. 5 is 29 degrees.
The general public is not expected to be allowed to attend Pac-12 games this year. Sitting at home, warm and toasty, often makes viewing a Snow Bowl or a Below Freezing Bowl, more enjoyable to watch.
More? The Pac-12 must still add a full weekend of games Dec. 18-19. Let's just hope it leaves Pullman, Boulder and Salt Lake City out of it.
Arizona is scheduled to play Arizona State in Tucson on Dec. 11, which will be the latest regular-season game in program history. Again, the discomfort from potential cold will be inflicted on players, coaches and security personnel, not fans.
Here's a look at the five regular-season Arizona Stadium games played on the latest dates in December:
Dec. 9, 1939: Arizona vs. Loyola Marymount. Low temperature: 46.
Dec. 6, 1941: Arizona vs. Utah. Low temperature: 45.
Dec. 6, 1947: Arizona vs. Utah. Low temperature: 46.
Dec. 5, 1970: Arizona vs. Arizona State. Low temperature: 36.
Dec. 5, 2008: Arizona vs. Arizona State. Low temperature: 43.
---
Another snow day for Wildcats?
Arizona has played four "snow games" in its football history:
Oct. 29, 1949: The Wildcats played at Denver; a mix of rain, sleet and snow at Hilltop Stadium saw the Pioneers beat Arizona 20-6 with a low temperature of 31. The Star's game report said fans were "shivering."
On Nov. 14, 1959: Arizona lost 22-15 to Air Force in a game played in Boulder, Colorado. Temperatures dropped to 5 degrees the morning of the game; a Star photograph showed UA players throwing snowballs the night before kickoff.
On Nov. 16, 1968: Visiting Arizona beat Utah 16-15 in a full-on snowstorm. The game time temperature was 37. The Star reported "a howling storm."
On Nov. 8, 1986: Arizona beat Washington State in Pullman 33-6 when it was 28 degrees at the end of game. It snowed heavily the day before the game, with snow lining the field in the freezing afternoon game.
The coldest regular-season game a Pac-12 team has played is believed to be Colorado's Nov. 2, 1991 home game against Nebraska. It was 12 degrees at kickoff. 
The Buffaloes played Utah in Boulder on Nov. 28, 2015, when it was 26 degrees at kickoff, with snow flurries throughout the game.
---
Star players have been few and far between at Arizona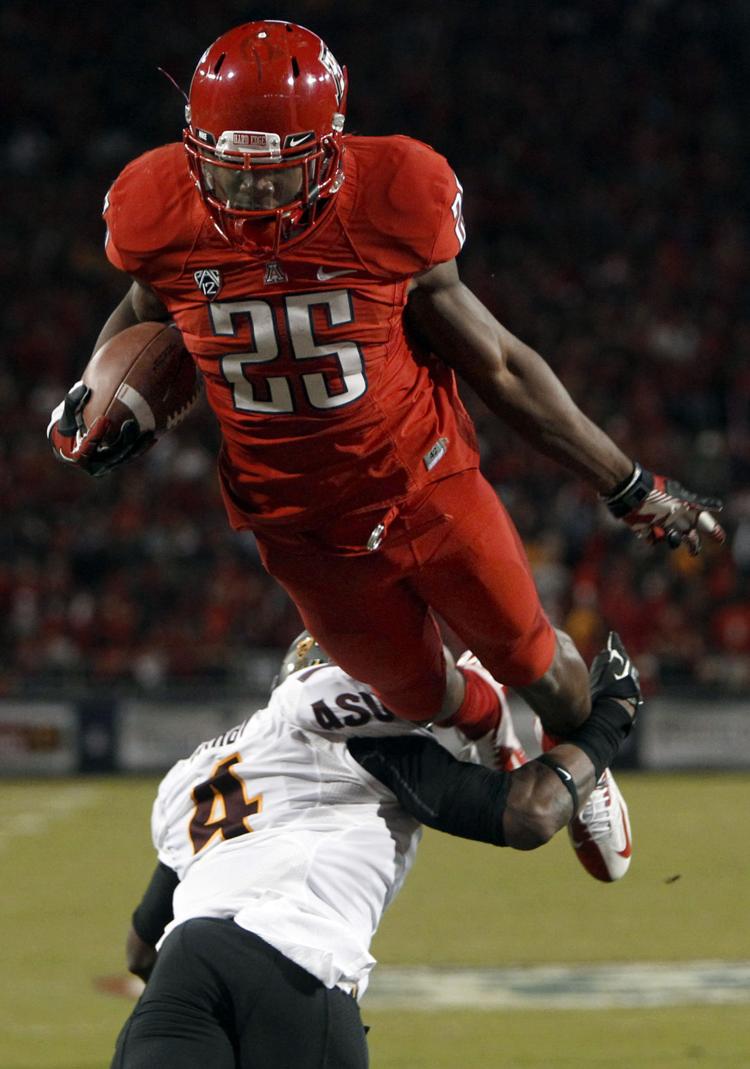 Since the league expanded to 12 teams in 2011, the Pac-12 all-conference first team has included 244 players — an average of 27 selections per season. Among the league's 12 schools, Arizona ranks last with four first-teamers: Ka'Deem Carey in 2012 and 2013; Scooby Wright in 2014; and J.J. Taylor in 2018.  
Here are the teams with the most first-team selections over the last nine seasons:
Those numbers mirror the winning percentages in league games over the same period. If you have star-level players, you win more often. Duh, right?
Utah, Stanford, USC and Oregon combined to have 175 of those 244 all-league picks, or 72%. It should be no surprise that those five schools rank No. 1-5 in wins over those nine seasons:
Here's the bottom tier during that period:
---
 Introducing the new coordinators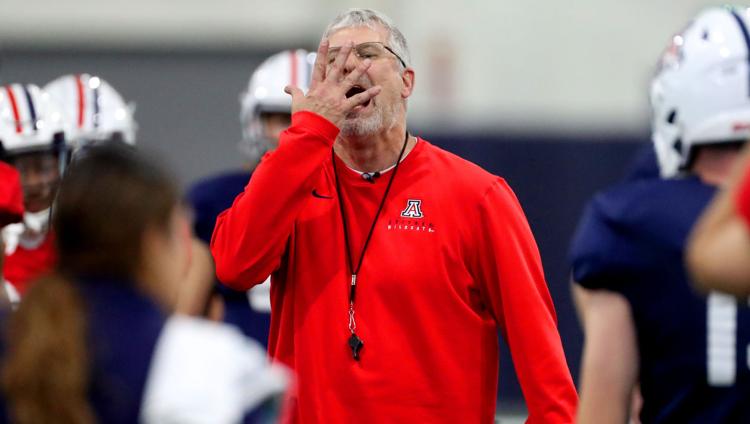 The Pac-12 has 11 new coordinators for the 2020 season — six offensive, five defensive — which is probably the most, or close to it, in league history.
There are no offensive coordinators, new or old, with reputations that have made them recognizable to the average fan. That is a big change. In 2008, for example, Pac-12 offensive coordinators included Chip Kelly at Oregon, Norm Chow at UCLA, Sonny Dykes at Arizona, Steve Sarkisian at USC and David Shaw at Stanford. All went on to become head coaches.
The returning OCs include Arizona's Noel Mazzone, UCLA's Justin Frye, Stanford's Tavita Pritchard, Utah's well-traveled Andy Ludwig, Oregon State's Brian Lindgren and USC's 35-year-old Graham Harrell, who was hired from the North Texas Mean Green.
Here's a look at the league's six new offensive coordinators:
Zak Hill, Arizona State: Arrived from Boise State with a background at Hawaii and Eastern Washington. Hill played briefly in the NFL from 1997-2000.
Bill Musgrave, Cal: The most well-known of the new offensive coordinators. Musgrave was Oregon's starting QB in the late 1980s, long before the Ducks were prominent. Musgrave, 52, has bounced around the NFL for 17 years.
Darren Chiaverini, Colorado: At 43, Chiaverini is coaching his alma mater after stops at Texas Tech and UCLA. He has a lot of work to do.
Joe Moorhead, Oregon: A Fordham man, Moorhead is the rare under-the-radar coordinator at Autzen Stadium He has coached at Pitt, Akron, UConn, Penn State and spent two uneven years as head coach at Mississippi State.
John Donovan, Washington: Another low-profile coordinator, Donovan, 46, has mostly been an obscure coach at, among other places, Villanova, Georgia Tech, Maryland, Vanderbilt and Penn State.
Brian Smith, Washington State: A former Hawaii Rainbow Warrior, Smith's path to the Pac-12 went through Occidental, Portland State, Oregon State and Cal Lutheran.
---
Gunnell's background suggests big things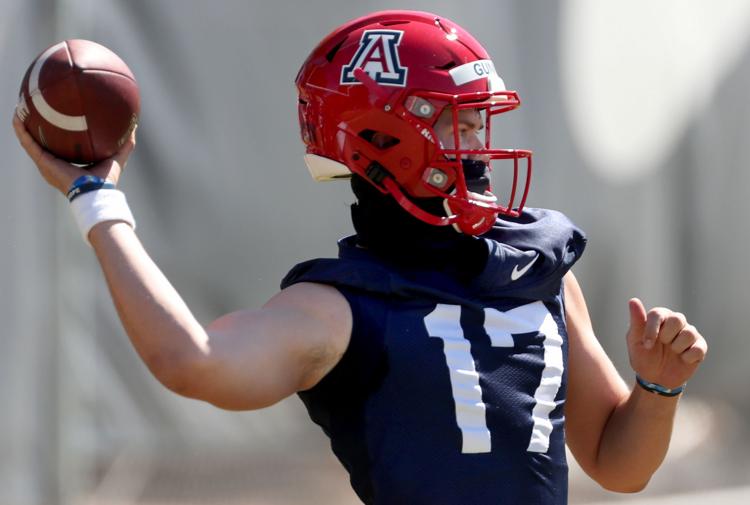 Arizona sophomore quarterback Grant Gunnell is the most highly recruited QB in the school's Pac-10/12 years. He was not only a four-star prospect from Houston's St. Pius X High School — home to former NFL quarterback and Denver Broncos head coach Gary Kubiak — but Gunnell was the first-team All-Texas prep quarterback on the USA Today 2018 list.
No previous UA quarterback — not Nick Foles, not Willie Tuitama, not Keith Smith, not Tom Tunnicliffe — arrived in Tucson with a Gunnell-type résumé.
The other four skill-position players on USA Today's All-Texas team of 2018 were similarly high-profile prospects:
Garrett Wilson: The five-star receiver from Lake Travis High School in Austin caught 30 passes for 432 yards and five TDs as an Ohio State freshman. He caught a team-high seven passes in the Buckeyes' opener against Nebraska.
Zach Evans: The running back from North Shore High School was a five-star recruit who chose TCU over Texas and LSU. Wilson, a freshman, is in TCU's running-back rotation.
Jase McClellan: The five-star receiver from Aledo signed with Alabama and is redshirting.
Theo Wease: The five-star receiver from Allen has already caught 18 passes for 233 yards in five games for the Oklahoma Sooners.
Gunnell originally committed to play for Kevin Sumlin at Texas A&M, then picked Arizona once Sumlin was fired by the Aggies. It's unlikely Gunnell would be starting at A&M this year; senior Kellen Mond has started 39 games for the Aggies with 8,363 passing yards and 1,361 rushing yards and 82 total touchdowns.
---
Four opinions on Pac-12 football in 2020
1. Since Chip Kelly went 46-7 as Oregon's head coach from 2009-12, he has gone off the rails. Kelly's four years in the NFL produced a 28-35 record. His two seasons at UCLA have been 3-9 and 4-8 busts. Kelly had all the resources at Oregon, but once he got to the share-the-load NFL and now to perennial football underachiever UCLA, he has found his "system" works better with elite talent. At 57, Kelly has seen his best years.
2. What was Colorado athletic director Rick George thinking when he hired Karl Dorrell to be the Buffaloes' new head coach? Dorrell was 35-27 in five years at UCLA; the Bruins finished in the AP Top 25 poll once — 16th in 2005 — before he was fired. Dorrell has since been a rank-and-file assistant coach for four NFL teams; he also spent one year at Vanderbilt. At 57, Dorrell enters a daunting challenge to make CU into anything more than a .500 team.
3. How long will Herm Edwards stay at ASU? He is 66; he surely doesn't the $3.5 million-per-year salary. The best guess is that he'll coach sophomore QB Jayden Daniels through his college days and then step away, attempting to hand the Sun Devils program to former Arizona linebacker Antonio Pierce, who is clearly being groomed for the job. Big question: Would Arizona ever be bold enough to try to scuttle ASU's plan and bring Pierce back home to Tucson to replace Kevin Sumlin?
4. The TV networks and Pac-12 shareholders regret the cancellation of four made-for-TV games: USC at Alabama; Michigan at Washington; Ohio State at Oregon; Stanford at Notre Dame. But those would've been potentially four losses for the league, further staining its football reputation. The most regrettable cancellation was BYU at Utah, which might be the most intense rivalry any league member enjoys. BYU's rise into the top 10 this year might be a good story, but the Cougars' soft schedule — they play Navy, Texas State, Troy, UTSA, Houston and Louisiana Tech — is such that even Arizona would likely be 6-0 playing that group of opponents.
---
Pac-12's arms race rages on
After the coronavirus pandemic shut down spring practices at all Pac-12 schools, many in the league also began protecting their pocketbooks.
But the arms race didn't stop at Oregon and Utah, the league's two rising powers.
Oregon will unveil its new $12 million scoreboard when the Ducks open the season at Autzen Stadium against Stanford on Nov. 7. The Ducks' excessive spending hasn't changed. The 12,276-square-foot scoreboard will be the largest in college football, more than double the size of Arizona's once-grand video board at Arizona Stadium. When unveiled five years ago, the UA scoreboard was the largest in the Pac-12, at 5,352 square feet. That was soon surpassed by Sun Devil Stadium's 5,419-square-foot video board, and by the new USC scoreboard, 6,000 square feet, at the remodeled Los Angeles Coliseum.
Utah has continued with its expansion of the south end of Rice-Eccles Stadium, an $80 million project that will increase capacity to 51,000 fans — up from 45,000 — and feature a video board of about 6,500 square feet.
---
Arizona's losing streak enters danger zone
The UA concluded the 2019 season with a school-record seven consecutive conference losses. The school record for consecutive losses, all games, is eight, set by John Mackovic's 2003 team that went 2-10.
Given its low profile, Arizona is entering dreaded territory. If it goes 0-7 this season, it would be challenging the list of chronic losers in Pac-12 history. Here's the list of conference-game losing streaks to avoid:
20: Oregon State lost 20 consecutive league games from 1979-82 and actually had an 0-29-1 period that ran through 1983. The Beavers also had a 14-game losing streak from 1996-98 and a 13-game conference losing streak from 2016-18.
16: Washington State went 0-9 to finish the 2009 conference season and 0-7 to start the 2010 season.
14: Washington, of all teams, lost 14 league games in succession, going 0-8 at the finish of the 2004 season and 0-6 to start 2005.
14: Colorado went 0-8 to conclude its second Pac-12 season, 2012, and 0-6 to start the following year.
12: Cal was 0-8 to end the 2001 league season, sandwiched by four more conference losses in 2000 and 2002.
Note: Arizona State has never lost more than five consecutive conference games since entering the Pac-10 in 1978. Oregon's longest streak is seven, in 1980-81, and USC's longest league losing streak, stretching to 1957, is three games.
---
Utah's Whittingham keeps defying the odds
In a century of football for Pac-12 schools, no head coach has remained at that school for more than 22 years. Utah's Kyle Whittingham begins his 16th season at Utah, by far the longest of any conference coach. He is 61.
Stanford's David Shaw is next, entering his ninth season. Other than Whittingham, the average tenure for the league's head coaches this year is 2½ years.
Here's a list of the longest-tenured head football coaches at Pac-12 schools and at what age they departed that job:
22 years:  Frank Kush, ASU. Fired at age 50 in 1979.
20 years: Terry Donahue, UCLA. Retired at age 49 in 1995.
18 years: Rich Brooks, Oregon. Left to coach in NFL at age 53 in 1995.
18 years: Don James, Washington. Retired at age 60 in 1993.
18 years: Jim Owens, Washington. Fired at age 47 in 1974.
16 years: John McKay, USC. Left to coach the NFL's Buccaneers at age 52 in 1976.
16 years: Len Casanova, Oregon. Retired in 1967 at age 61.
14 years: Dick Tomey, Arizona. Parted ways with school in 2000 at 62.
14 years: Mike Bellotti, Oregon. Retired at age 58 in 2009.
14 years: Mike Price, WSU. Left to coach at Alabama at age 56 in 2003.
---
Picking the Pac-12
1. USC (6-1): Quarterback Kedon Slovis is league's most feared player.
2. Arizona State (5-2): If QB Jayden Daniels stays healthy, it'll be a big year.
3. Utah (4-3): Utes are in a one-year rebuilding phase.
4. UCLA (3-4): Is this the end for Chip Kelly?
5. Arizona (2-5): Beating Colorado is a must.
6. Colorado (1-6): Going to be cold in Boulder.
1. Cal (6-1): Justin Wilcox's club is the real deal.
2. Oregon (5-2): Ducks have quarterback uncertainties.
3. Stanford (4-3): Cardinal is coming off rare losing season.
4. Oregon State (3-4): Beavers are on the rise.
5. Washington (2-5): Chris Petersen opted out just in time.
6. Washington State (1-6): Mike Leach knew when to get out. 
---
Read the Star's 2020 College Football Preview section here: