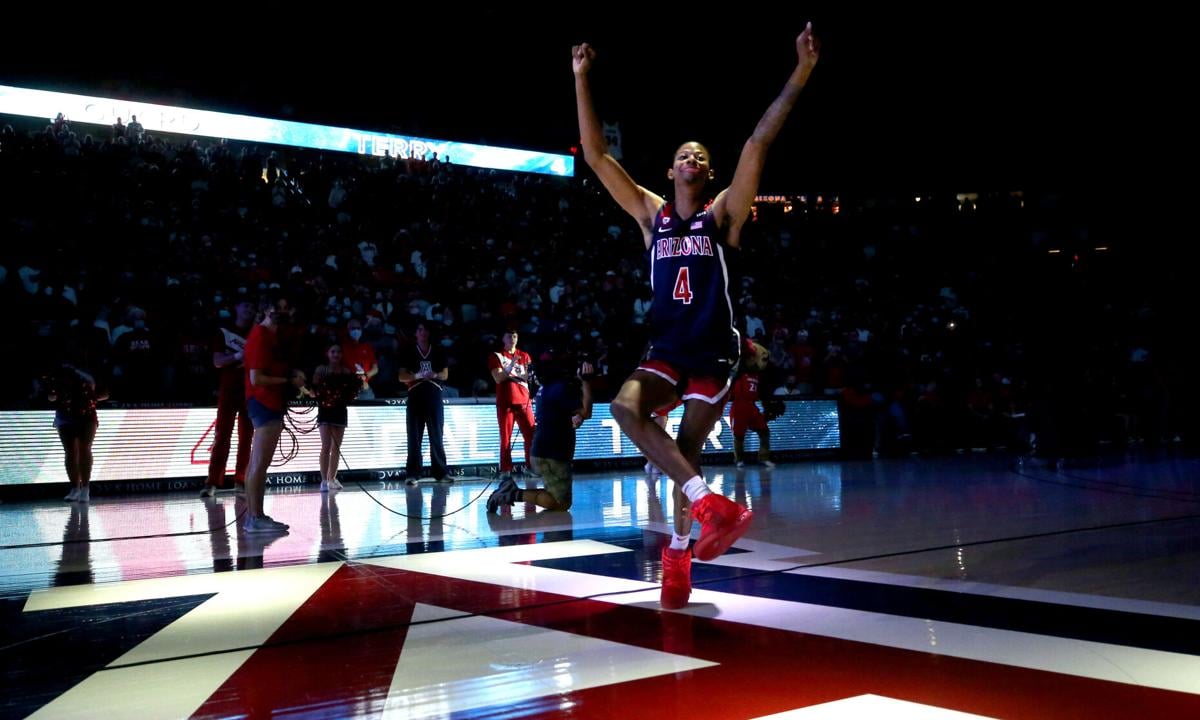 Keep your rosters nearby for Pac-12 identification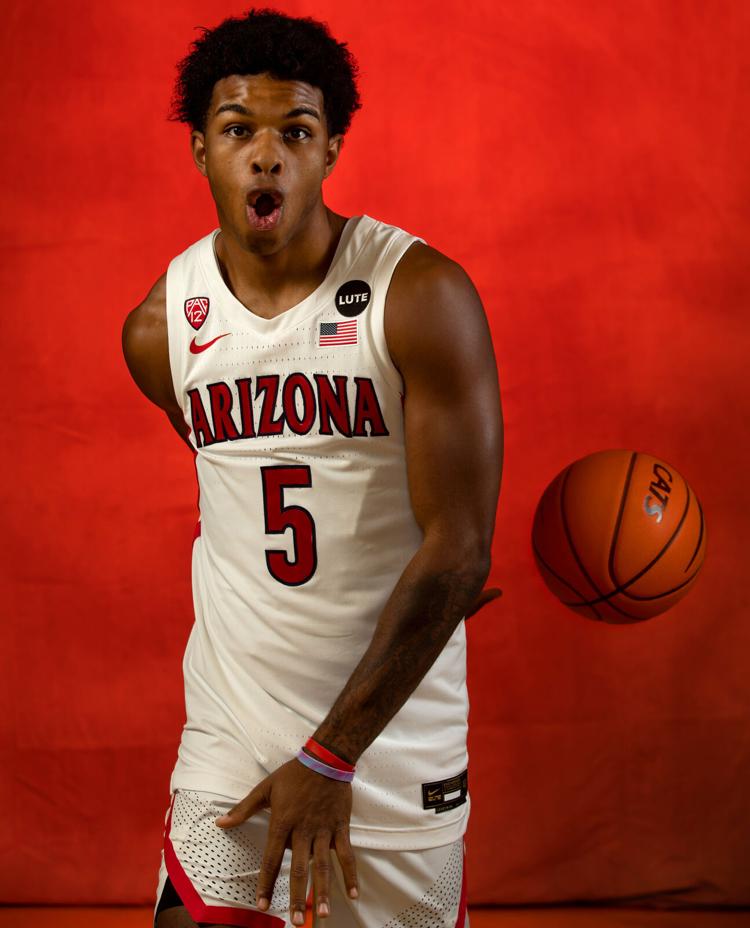 The Pac-12 has a record 32 transfers from Division I schools entering the 2021-22 season. It might take a few months to match the names and faces as the NCAA's transfer portal flourishes.
Oregon coach Dana Altman has turned the Ducks into an elite franchise with remarkable production from transfers, year after year. The Ducks have three highly-ranked transfers this season, from Syracuse, Oklahoma and Rutgers.
Arizona is just the opposite. The Wildcats have eight former Wildcats at the following schools: BYU, Boise State (2), Louisiana-Lafayette, Fresno State, Washington, George Washington and Baylor.
Others in the league are following the hit-the-road pattern. Here are Pac-12 schools who have multiple transfer newbies:
Utah (6): Marco Anthony and Rollie Worster from Utah State; Both Gach, Minnesota; David Jenkins, UNLV; Gabe Madsen, Cincinnati; Darian Mahor, Illinois State.
Oregon State (5): Dexter Akanno, Marquette; Xzavier Malone-Key, Farleigh Dickinson; Chad Marial, Maryland; Ahmad Ranol, Memphis; Tre Williams, Minnesota.
Washington (4): Terrell Brown, Arizona; Daejon Davis, Stanford; P.J. Fuller, TCU; Emmett Matthews, West Virginia.
Washington State (4): Matt DeWolf, Brown; Michael Flowers, South Alabama; Steve Baugh, Purdue; Tyrell Robert, UC San Diego.
Arizona (4): Pelle Larsson, Utah; Justin Kier, Georgia; Kim Aiken, Eastern Washington; Oumar Ballo, Gonzaga.
Arizona State (3): Jay Heath, Boston College; D.J. Horne, Illinois State; Marian Jackson, Toledo.
Oregon (3): Quincy Guerrier, Syracuse; De'Vion Harmon, Oklahoma; Jacob Young, Rutgers.
Pac-12's women's teams have 15 transfers from Division I schools, led by five at Oregon, including those from USC, Utah State, Clemson, Texas and New Mexico.
Arizona and Colorado's women's teams both have three D-I transfers. The Wildcats brought in Taylor Chavez from Oregon; Koi Love, Vanderbilt; Ariyah Copeland, Alabama.
Coach K's farewell tour is limited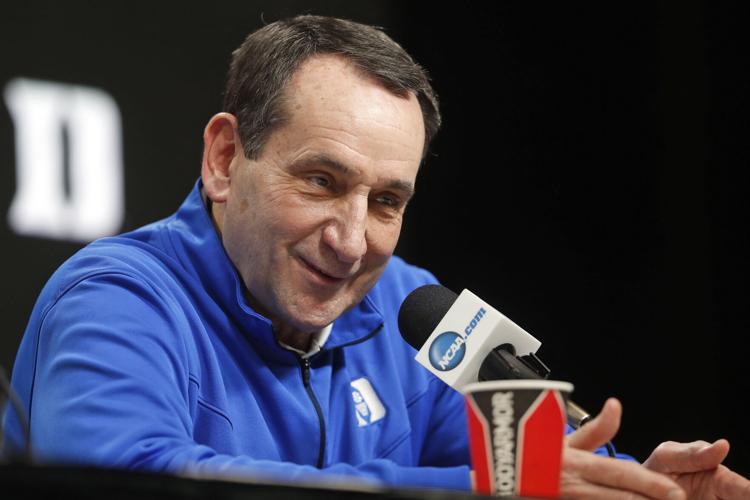 Duke coach Mike Krzyzewski is coaching his final season and, unfortunately, there are no Pac-12 teams on his schedule. There will be no history-triggering farewell games against Arizona or UCLA, who had the pleasure to play Coach K's Blue Devils more than any other Pac-12 school.
Arizona is 5-3 against Coach K. UCLA is 1-8.
In fact, Duke's nonconference home schedule at fabled Cameron Indoor Stadium this season is, shall we say, muted.
The Blue Devils will play Winston-Salem State, Army, Campbell, Gardner-Webb, Lafayette, the Citadel, South Carolina State, Appalachian State and Cleveland State.
If nothing else, Coach K seems sure to go 9-0 entering ACC home games in 2021-22.
Krzyzewski has gone 24-13 against Pac-12 schools. What stands out is that playing at Cameron was like an invitation to a special event. Arizona was fortunate to play just once at Duke, losing 78-76 in February 1990.
The only other Pac-12 schools to play Coach K's Blue Devils at Cameron were UCLA (1993, 1996, 1998), USC (1985), Washington (1985, 1990) and Cal (1984).
Krzyzewski has coached at Duke since the 1980-81 season. Here's what college basketball's landscape looked like in '80-81:
• Lute Olson was coming off a Final Four appearance as Iowa's coach.
• Fred Snowden coached Arizona to a 13-14 season and would be fired a year later.
• Sean Miller, 12, had just made a cameo appearance as a savvy young dribbling expert in the Julius Erving movie, "The Fish That Saved Pittsburgh.''
• Future Duke point guard and ASU head coach Bobby Hurley was 9.
Arizona played Coach K and Duke in 1987 and 1991 at McKale Center, winning both games. The Wildcats beat Duke in 1989 in a made-for-TV game in New Jersey; lost to the Dookies at Cameron Indoor in 1990 and in a 1998 holiday classic in Hawaii; lost to Duke in the 2001 national championship game; beat Duke in the 2011 Sweet 16; and beat Duke in New York City in 2014.
Arizona encouraged by Final Four pattern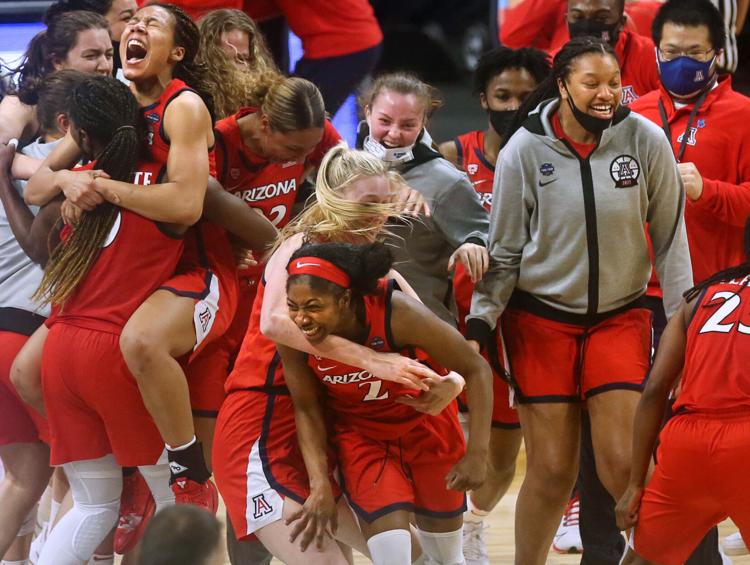 The last 10 teams to finish second in the NCAA women's Final Four all returned to the next year's NCAA Tournament, and six returned to the Final Four. That should be encouraging news for coach Adia Barnes' Arizona Wildcats.
Here's how the last 10 national finalists finished at the next Final Four:
2010: Stanford went 36-2, losing to UConn in the national title game.
2011:Stanford went 33-3, losing to Texas A&M in the national semifinals.
2012: Notre Dame went 38-4, losing to Baylor in the national title game.
2013: Notre Dame went 38-2, losing to UConn in the national semifinals.
2014: Louisville went 33-5, losing to Maryland in the Elite Eight.
2015: Notre Dame went 37-3, losing in the national title game to UConn.
2016: Notre Dame went 33-2, losing to Stanford in the Sweet 16.
2017: Syracuse went 22-11, losing to UConn in the NCAA Tournament's second round.
2018: Mississippi State went 37-2, losing to Notre Dame in the national title game.
2019: Mississippi State went 33-3, losing to Oregon in the Elite Eight.
There was no Final Four played in 2020.
UCLA pieced together Final Four tandem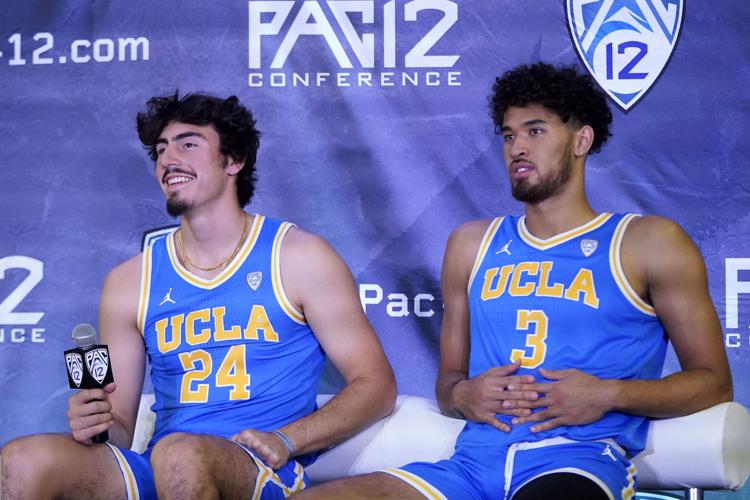 The top two-man combinations in the history of the Pac-12 since Arizona and ASU were admitted in 1978 have probably been Arizona guards Damon Stoudamire and Khalid Reeves, a 1993-94 Final Four tandem; UCLA's dynamic forward wall of Don MacLean and Tracy Murray in 1991-92; and Oregon's 2002-03 Elite Eight backcourt of Luke Ridnour and Luke Jackson.
Now comes UCLA's JJ Boys — forwards Johnny Juzang and Jaime Jaquez, both strong possibilities to be Pac-12 player of the year.
How did the Bruins get Juzang and Jaquez during the turmoil of a coaching change, moving from Steve Alford to Mick Cronin? Part of it was that Arizona was under an investigation by the FBI and NCAA, and neither seriously considered playing for Sean Miller's club.
Juzang, who is from Harvard-Westlake High School in Los Angeles, initially enrolled at Kentucky. He was ranked the No. 34 player by Rivals.com in the Class of 2019. His other visits were to Kansas and Virginia.
Jaquez, who is from SoCal's Camarillo High School, was ranked No. 83 in his senior season. Once UCLA added Indiana point guard Tyger Campbell to the JJ Boys, they were Final Four material.
Home schedules lacking in Pac-12 men's and women's hoops
The trend of college basketball superpowers to dodge home-and-home series with other elite schools has rarely been more apparent than this season.
The four Pac-12 teams ranked in the women's preseason Top 25 will play a combined two home games against ranked teams. That's not good.
Stanford will play host to No. 25 Texas on Nov. 14. UCLA will play No. 17 Virginia at Pauley Pavilion on Dec. 19.
Neither No. 10 Oregon nor No. 14 Oregon State have a home game against a nonconference opponent more imposing than, say, Long Beach State.
On the men's side, Colorado's fans are the only Pac-12 school that will see more than one Top 25 nonconference opponent. The Buffaloes will play No. 18 Tennessee at the CU Special Events Center on Dec. 4 and host No. 3 Kansas on Dec. 21.
Oregon will play No. 8 Baylor in Matthew Knight Arena on Dec. 18, and UCLA will play No. 4 Villanova at Pauley Pavilion on Nov. 12.
That means that out of a combined 168 nonconference home games by Pac-12 men's and women's teams, only six are against Top 25 opponents. Get your tickets now? Not hardly.
McKale Center opens to potential record-setting attendance season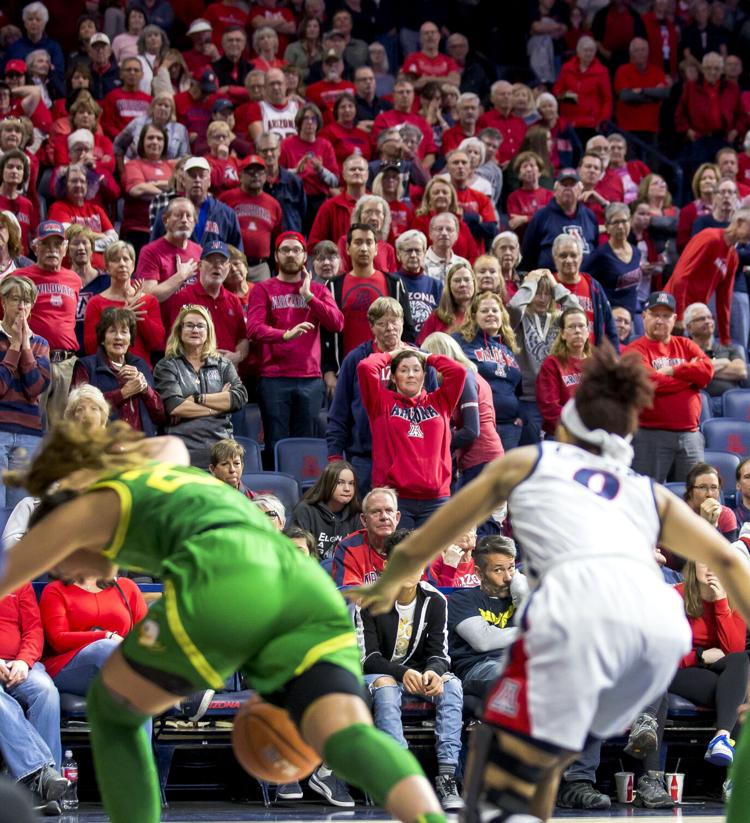 Adia Barnes' UA women's basketball team established a school record with an average attendance of 5,944 at McKale Center during the 2019-20 season. Barnes has said that she expects about 6,000 season tickets to be sold for the 2021-22 season, with an average attendance that could reach 10,000.
As a league, the Pac-12 women's basketball teams have averaged more than 3,000 fans per game just twice, in 2018-19 and 2019-20, when a record 3,574 watched women's games, on average.
That was traced to Oregon, which set a league record by averaging 10,852 fans that season. Arizona hopes to challenge that number this season.
Here's who led the country in fans per game in 2019-20, the last season in which a full schedule of conference games were played:
Mississippi State: 7,680.
The Wildcats are expected to climb that list this season.
One man's All-Pac-12 women's team
Charlisse Leger-Walker, Washington State: The sophomore guard led the league with an 18.8 scoring average last year. She transformed the Cougars into an NCAA Tournament program.
Endyia Rogers, Oregon: Unfortunately for Arizona, Rogers chose to transfer to Oregon instead of Arizona over the summer. The USC transfer is a difference-making point guard who averaged 14.8 at USC.
Haley Jones, Stanford: Take your pick of the Stanford roster; it has four or five possible all-conference players. Jones is a 6-1 junior guard with national title experience.
Taylor Jones, Oregon State: At 6-4, Jones might be the most feared big player in the league, coming off a year in which she averaged 12.2 points and a league-leading 8.8 rebounds.
Sam Thomas, Arizona: Thomas is the league's most versatile player and possibly its most disruptive defensive player. Thomas won't score in bunches, but she's deadly from 3-point distance.
One man's All-Pac-12 men's team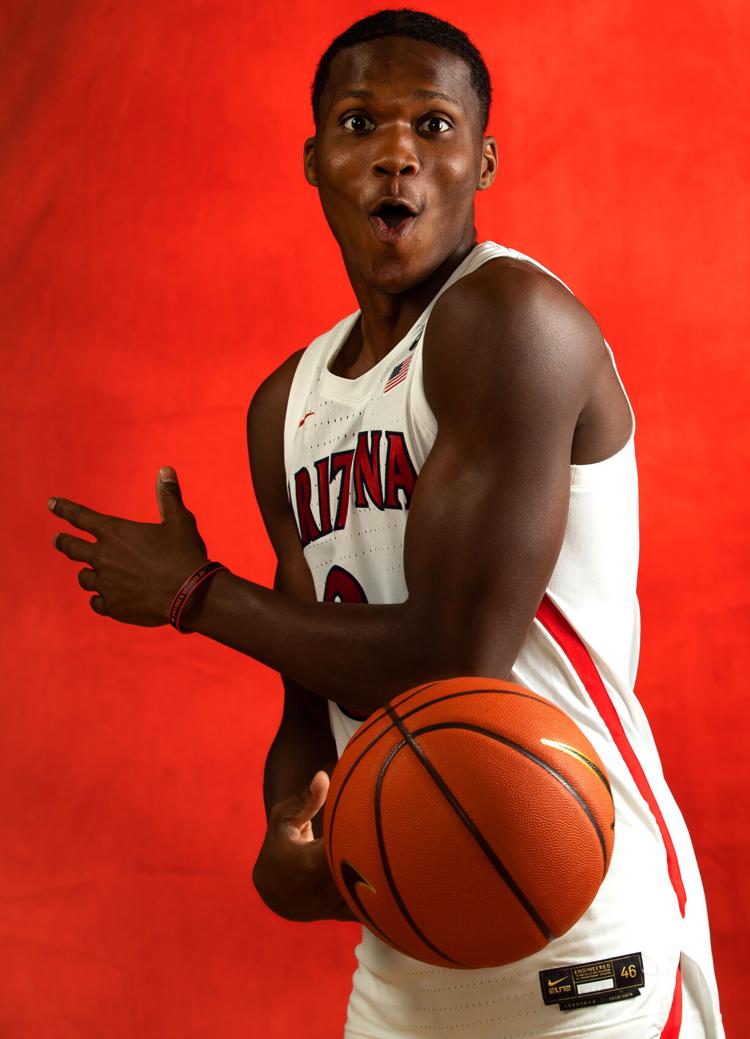 Johnny Juzang, UCLA: He's led the Bruins in scoring (16.4) and is a productive shooter from any range.
Will Richardson, Oregon: The league's go-to point guard.
Benedict Mathurin, Arizona: At 6-7 with speed and athletic explosiveness, Mathurin can play inside and outside effectively.
Jaime Jaquez, UCLA: He could score 20 points per game if he wanted, but has thus far been an all-in team player.
Azuolas Tubelis, Arizona: A fearless in-the-paint player with shooting range to 20 feet.
Pac-12 isn't for every coach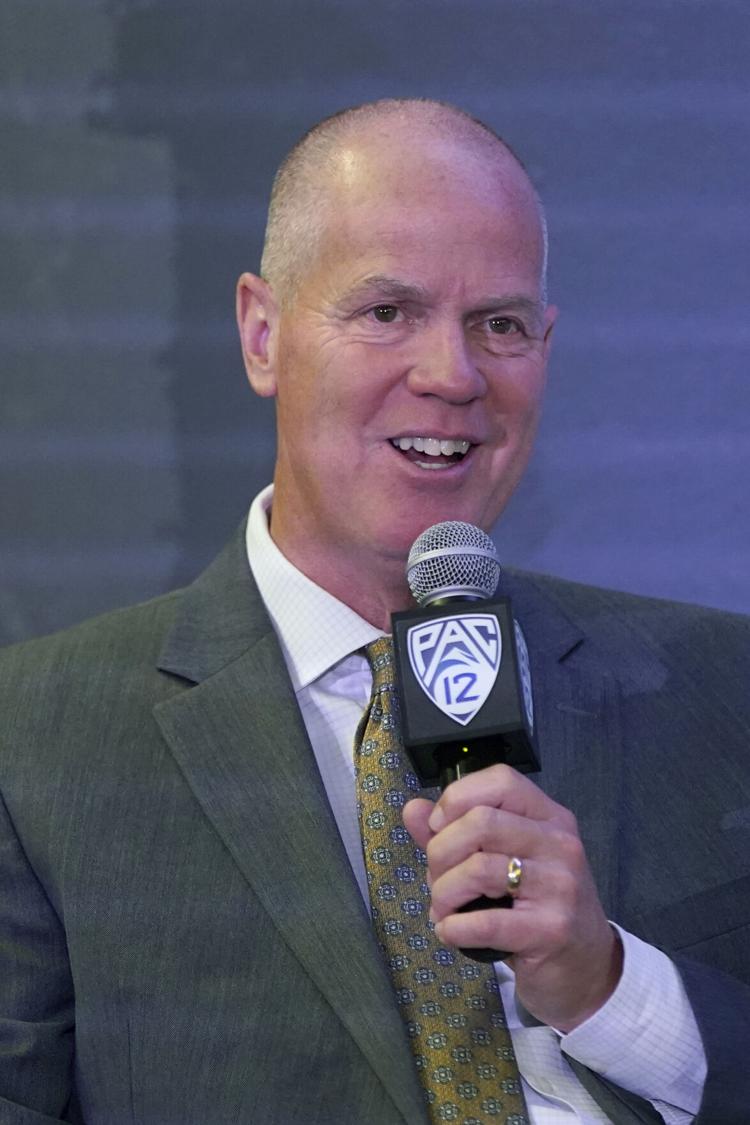 Pac-12 basketball hasn't been considered an equal rival to the ACC or Big Ten since the 1990s, when Arizona, UCLA and Stanford were steady Final Four contenders.
And even though the league seems to have taken a step up from its historic down periods of the mid-1980s and early 2010s, it has not been a career-maker for new coaches. Consider the conference records of veteran coaches as follows:
• Arizona State's Bobby Hurley is 50-57 in conference games;
• Oregon State's Wayne Tinkle is 52-78 in the conference;
• Stanford's Jerod Haase is 44-48 in the league;
• USC's Andy Enfield is 70-76 in the league;
• Washington's Mike Hopkins is 34-39 in conference.
One coach who doesn't get a lot of attention, perhaps because he is not one to stalk the sidelines with an angry demeanor, is Colorado's Tad Boyle.
Boyle is an underrated 106-92 in his time at CU. That puts him behind Oregon's Dana Altman (132-66) as the league's most accomplished long-term coach. Boyle has averaged 23 wins per season in his 10 years at Colorado.
Building toward 2,000
One of Tommy Lloyd's opportunities as Arizona's new coach is to guide the Wildcats to their 2,000th all-time victory.
Most basketball fans don't have a perspective on how impressive 2,000 career victories is, but it immediately identifies one as a "basketball school." Entering Lloyd's first year as a head coach, here's how the top Power 5 conference schools stand in career won-loss records:
North Carolina: 2,293-829.
The Wildcats have won 65% of basketball games in school history, The question for Lloyd: Can he reach 2,000 victories before 1,000 losses? If he can win 149 games before he loses 34 it would mean a winning pace of almost 81%.
That would be acceptable and then some.
Picking the Pac-12 men's race
1. UCLA. Any chance for an incredible 20-0? None.
2. Oregon. The Ducks don't even pause to rebuild a roster — again.
3. Arizona. If Christian Koloko and Oumar Ballo are productive inside, the Wildcats could win 12 or 13 league games.
4. Oregon State. A working man's tough out, with useful pieces everywhere.
5. Washington State. A big-time program might soon steal WSU coach Kyle Smith away.
6. Arizona State. Bobby Hurley keeps grinding but can't get to the top.
7. USC. Andy Enfield's coaching acumen not among the leaders.
8. Colorado. The Buffaloes could break .500.
9. Washington. The Huskies will be improved.
10. Utah. It'll be a tough break-in year for Craig Smith's new team.
11. Stanford. Time for a new coach on The Farm? Perhaps.
Picking the Pac-12 women's race
1. Stanford. Repeating as national champs is within reach.
2. Oregon. As talented as almost anyone in the country.
3. Arizona. How do you doubt Adia Barnes?
4. Oregon State. Returning from a down cycle.
5. Washington State. The league's newest "tough out."
6. UCLA. The Bruins could finish as high as No. 3.
7. Utah. The best of the lower division.
8. Arizona State. It's rare to see the Sun Devils this low.
9. Colorado. Three transfers promise improvement.
10. Cal. It's going to take a few more years.
11. USC. The Trojans are starting over.
12. Washington. Six years ago, the Huskies were in the Final Four.
One man's men's Final Four
Gonzaga. Time to cash in all the chips.
Duke. A proper sendoff for Coach K.
UCLA. It's the best Bruins team since 1995.
Illinois, Purdue or Michigan. Someone from the Big Ten is likely to break through.
One man's women's Final Four
Maryland. Former Arizona standout Brenda Frese returns all five starters from a 26-3 team.
South Carolina. Dawn Staley signed a seven-year, $22 million contract extension, and why not? She has her top nine players back from a 26-5 team.
Stanford. The defending national champs return eight of their top nine scorers.
Arizona. Adia Barnes says the Wildcats could be better than last year's Final Four finalists. She has earned my trust.
Contact sports columnist Greg Hansen at 520-573-4362 or ghansen@tucson.com. On Twitter: @ghansen711