Hansen's Sunday Notebook: Alabama, Arizona among programs lining up for Pima players
Star sports columnist Greg Hansen offers his opinion on recent sports news.
'Bama, Arizona have eyes on Aztecs, who are ripe with talent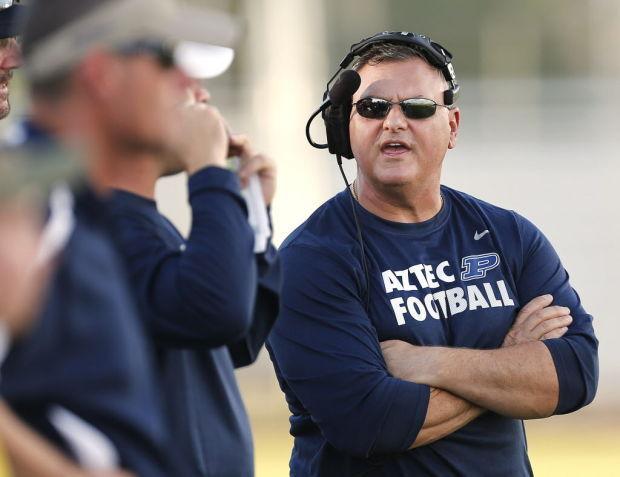 After Pima College football coach Jim Monaco returned from coaching the Champions for Life All-Star football game in Hawaii last week, he became something like Norm from "Cheers," the place where "everybody knows your name."
Coaches from Alabama, Oklahoma State and Auburn called. Colorado coach Mike MacIntyre showed up at Monaco's office. So did Oklahoma linebackers coach Tim Kish and coaches from Kansas, Louisville, Hawaii, Utah, North Carolina State and Kentucky.
Finally, Arizona assistant coaches Brian Knorr and Calvin Magee became part of the pursuit of Pima College's top football recruits.
Pima football? The Aztecs went 2-9 this season.
But if you look closely, you'll see that the Aztecs played four teams ranked in the top six in the NJCAA final poll, and another ranked No. 20.
"We hung tough all year, we were in almost every game but we went through four quarterbacks and had so many injuries," said Monaco. "It's a tribute to our kids that so many college coaches are paying attention to us."
Arizona's interest in PCC players is a first. The Wildcats, with a punting situation that has become embarrassing, offered a scholarship to Aztecs punter John Bowers, who was second in NJCAA with a 45-yard punting average on 59 attempts. Bowers began his career at Rutgers before transferring to Pima.
The Wildcats also asked Pima linebacker Aaron Maddox for a visit, but it's probably too late. Maddox, son of 1992 Desert Swarm captain Richard Maddox, has already taken his allotment of recruiting visits. Former Arizona defensive coordinator Mark Stoops, now the Kentucky head coach, offered a scholarship to Maddox, as did Colorado's MacIntyre, a Pac-12 South rival who flew in a private jet to Tucson just to recruit Maddox.
Pima College's other leading FBS recruits are All-American defensive lineman Tony Fair, defensive back Haki Woods, who withdrew his commitment from Arizona to visit Oregon last month, and linebacker Bryant Pirtle, who is considering an offer from Arizona but is visiting Louisville this weekend. Pirtle is from Kentucky.
One of Monaco's most intriguing prospects — Pima had 14 Polynesian players on its team this season — is defensive lineman Sam Maola of Reno, Nevada. He was an all-conference player at a coveted position.
"He's a freak athlete," said Monaco. "Louisville and Colorado love him. It's amazing; he had no offers out of high school and now everybody knows about him. We may keep him one more year but the signing day is Dec. 20 and things are happening quickly. It's just nuts how quickly our guys have been discovered."
Mike Candrea, Wildcats move quickly to snare two Louisiana-Lafayette stars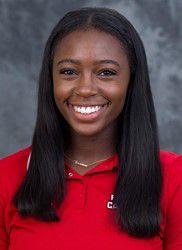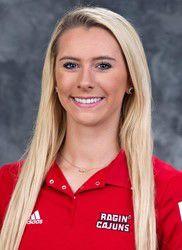 Louisiana-Lafayette's women's softball team swept Arizona in the 2014 NCAA Super Regionals, and over the last four years the Ragin' Cajuns have gone 184-39, reaching the Super Regionals three times and the Women's College World Series once.
Last month, Louisiana fired its long-time coach, Michael Lotief for, among other things, "creating a hostile working environment." Almost immediately, the top three returning Ragin' Cajuns began entertaining recruiting offers. The interest in the three players was crazy; who didn't want them?
Oregon got All-American shortstop DJ Nelson, who hit .388 with 29 home runs. Arizona's Mike Candrea got the other two: first-team All-American centerfielder Aleah Craighton, who hit .345 with 18 home runs, and Sun Belt Conference freshman of the year, pitcher Alyssa Denham, who boasted a 15-2 record with a 2.27 ERA.
Craighton, a senior, and Denham, a sophomore, will be eligible immediately. They will fill the two holes in Arizona's 2018 team — a power-hitting outfielder and a No. 2 pitcher — and surely make the Wildcats a top-10 team entering the season.
It was a very good week for Candrea, who was the leadoff speaker to more than 1,600 softball coaches at the National Fastpitch Coaches Association convention in Las Vegas. His topic was "What 41 years of coaching has taught me."
This time it taught him it's never too late to go from a potential transition year to one in which the Wildcats are apt to be favored to win the Pac-12.
Tucson's Super 11 high school football players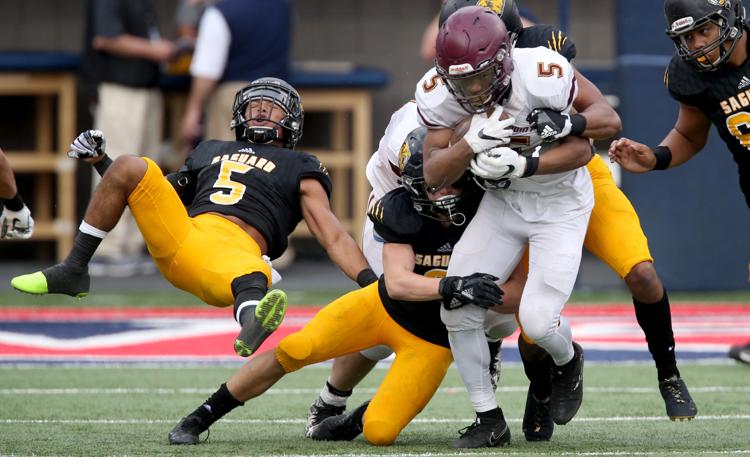 Here's my list, in order, of Tucson's 11 leading players for the just-completed 2017 high school football season:
1. Bijan Robinson, running back, Salpointe Catholic 
Sure, he's a sophomore, but he rushed for 2,023 yards and scored 26 touchdowns on a run-centric team that reached the state championship game. Some context: The top five running backs of Tucson's last 40 years didn't gain close to 2,000 yards as a sophomore. CDO's Ka'Deem Carey had 898; Mountain View's Kevin Schmidtke hit 2,000 as a junior; Amphi's Mario Bates had 1,096 as a sophomore; Amphi's Michael Bates never gained 2,000 in a season; and Sunnyside's Fred Sims had 2,010 as a senior in 1980, the first Tucsonan ever to gain 2,000 in a season.
2. Jamarye Joiner, quarterback, Cienega 
Here are his head-turning numbers: 2,196 passing yards and 1,399 rushing yards and 44 total touchdowns for a state semifinalist.
3. Trenton Bourguet, quarterback, Marana
He'll be Southern Arizona's leading QB entering the 2018 season; Bourguet passed for 2,984 yards and 38 touchdowns and ran for 424 more.
4. Matto Mele, tackle, Salpointe
Mele is taking his official recruiting visit to Washington this weekend, and he plans to play there next fall. The Lancers averaged 8.2 yards per rush this season with Mele, a right tackle, leading the way.
5. Terrell Hayward, receiver/defensive back, Cienega
One of the top two-way players in Arizona, Hayward, a junior, caught 51 passes for 1,021 yards and 12 touchdowns. He also made 40 tackles with two interceptions, returned kicks for 823 yards and intercepted two passes.
6. Christian Fetsis, quarterback, Pusch Ridge
The 13-1 Lions got to the state title game behind Fetsis, who passed for 1,296 yards and rushed for 1,181 with 32 total touchdowns.
7. Jordan Porter, quarterback, Cholla
His team struggled, but Porter did not, passing for 3,002 yards and rushing for 1,727 more with 49 total touchdowns.
8. Nick Brahler, running back, Ironwood Ridge
The senior running back gained 1,960 yards and scored 21 touchdowns for the 8-4 Nighthawks.
9. Kai Golden, defensive line, Mountain View
Headed to New Mexico State on a scholarship, Golden had 63 tackles, including 10 quarterback sacks.
10. Chris Aguirre, linebacker, Salpointe
The Lancers' defense was exceptional, and Aguirre was at the middle of it. He made 143 tackles, including 13 for losses.
11. Mitch Maas, two-way back, Pusch Ridge
The senior captain made a team-high 119 tackles, rushed for 535 yards, scored 12 total touchdowns and intercepted five passes.
Olson-era Wildcats finding success in NBA's G League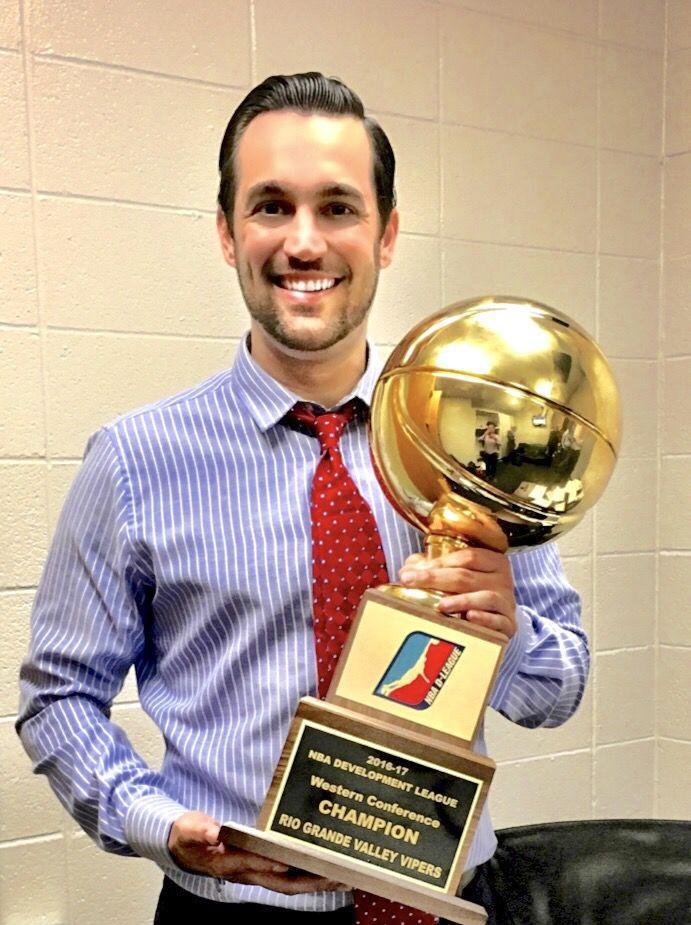 After leading the NBA G League's Rio Grande Valley Vipers to the league championship series last season, Matt Brase has coached the Vipers to a 13-game winning streak and the best record in the G League this season. The former UA and Catalina Foothills basketball player, grandson of Lute Olson, has done special work during the 13-0 run. And he only has one assistant coach, ex-Wildcat Final Four center Joseph Blair, while other G League teams have two full-time assistants. Pretty impressive.
Other former Cats finding their way in the G League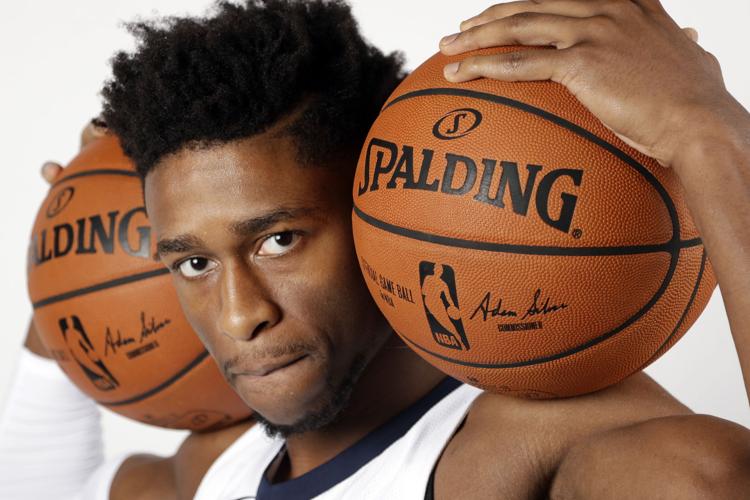 The former Arizona player having the best G League season is Kobi Simmons of Memphis, averaging 17.1 points through Friday; Simmons played in one game for the NBA's Memphis Grizzlies. Brandon Ashley is averaging 14.8 points for the Texas Legends and Nick Johnson, who has been playing point guard, is averaging 12 points for the Austin Spurs.
Should RichRod have sight set on Kansas State's O-line?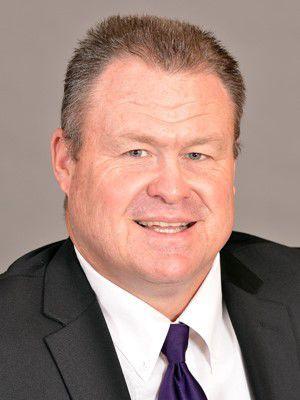 Given the uncertainty about the future of 78-year-old Kansas State football coach Bill Snyder — is he retiring? will his son, Sean replace him? — it could be a good time for Arizona to hire KSU offensive line coach Charlie Dickey for the vacancy on Rich Rodriguez's staff. Dickey is one of the best at his craft in college football, an Arizona starting lineman in 1983 and 1984 and an Arizona offensive line coach from 1992-2003. What's more, Dickey's wife, Lisa Bradshaw, played basketball for Arizona in the mid 1980s.
Arizona State's Michael Crow needs to change beat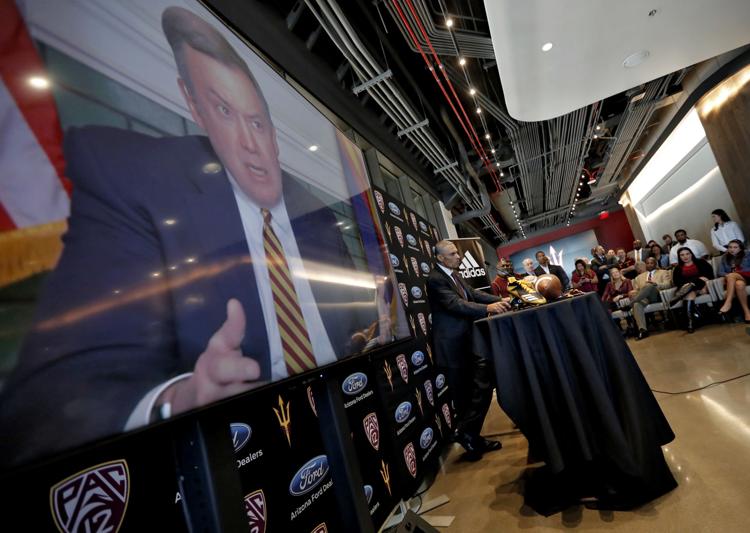 Arizona State president Michael Crow was way off last week when he suggested new Sun Devil football coach Herman Edwards will be expected to be part of the overall excellence of ASU athletics. Crow cited the ASU swimming program as an example. That's clueless. The Sun Devils haven't been a factor in college swimming for 30 years and finished a distant 14th last year in the NCAA men's finals. Crow hired a high-profile swimming coach, Bob Bowman, the long-time coach of Michael Phelps, but Bowman has yet to come close to what Arizona's swimming program was from 1990-2010.
Former UA assistant James Whitford has Ball State ballin'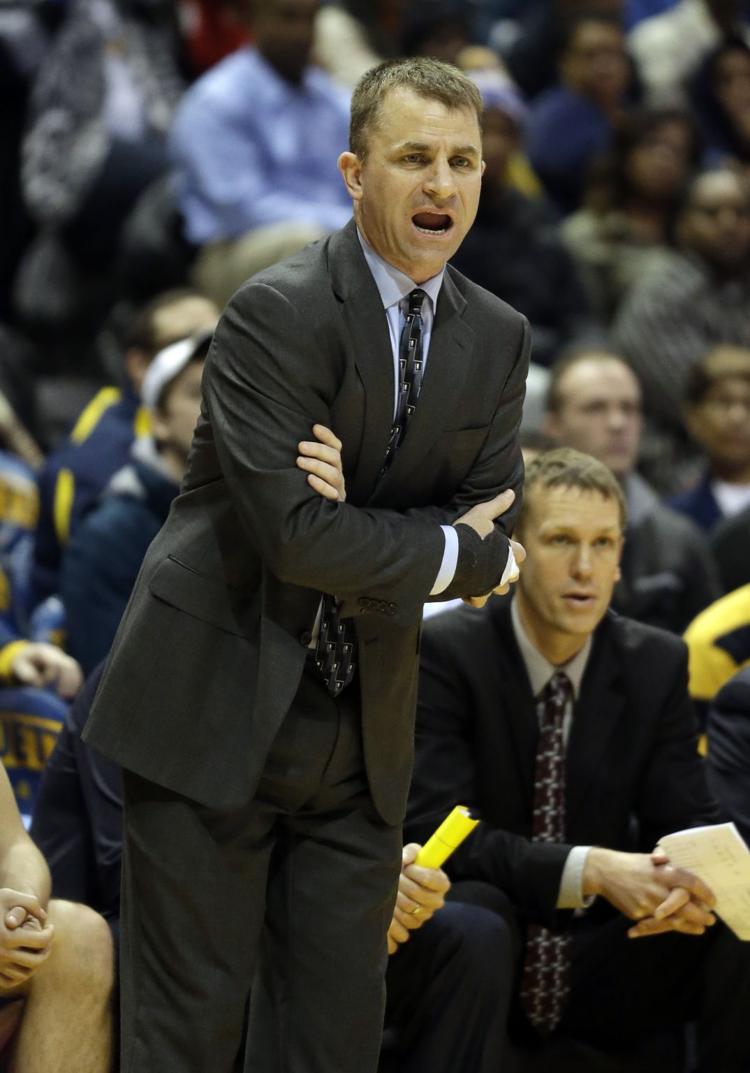 James Whitford, who was part of Sean Miller's Arizona coaching staff from 2009-13, seems to have fully rebuilt the once-woeful basketball program at Ball State. Whitford's club stunned No. 8 Notre Dame on Tuesday in South Bend, Indiana. Now in his fifth year at Ball State, Whitford has gone 21-13 and 21-14 the last two seasons and has the Cardinals among the favorites for the MAC championship.
Mike Canales, Sonny Dykes on the move

Two former Arizona offensive coordinators are making news: Mike Canales, the man who recruited quarterback Willie Tuitama and sparked a run of three top seasons in the Mike Stoops years, is the new offensive coordinator at UTEP, under his former UA coaching partner Dana Dimel, who was named UTEP's head coach last week. Sonny Dykes, who replaced Canales and Dimel at Arizona, appears to be a strong choice to be the next head coach at SMU. Dykes spent the 2017 season as TCU's offensive analyst/consultant. Couldn't hire a better man than Mr. Dykes.
Steve Kerr, Luke Walton one in the same
Steve Kerr last week told ESPN that his connection to Lakers head coach Luke Walton is a special one, even though they were separated by 11 years at Arizona. "I think Luke and I are as much alike as human beings as any two coaches could possibly be in the NBA," Kerr said. "When you consider our backgrounds, growing up in Southern California, on the beach, laid back, both played for Lute Olson, grounded in the fundamentals of Lute, Tex Winter and Phil Jackson, deeply in love and passionate about the game but not to the point of obsession. Good life balance, family man."
Promotion to Double-A manager has former CDO, UA star Shelley Duncan on fast track
Arizona's all-time home run king, Shelley Duncan, has been promoted to be the Arizona Diamondbacks manager at Double-A Jackson, Mississippi, for 2018.
It is the strongest suggestion that the former Canyon del Oro state championship pitcher/outfielder will someday be a big-league manager.
Since 2000, Diamondbacks Double-A managers Chip Hale, Matt Williams, Andy Green, Al Pedrique and Don Wakamatsu have become MLB managers.
Others, such as Brett Butler, Turner Ward, Robby Hammock and Tony Perezchica became big-league coaches after spending time as Arizona's Double-A manager.
Duncan, who spends the winter in Tucson, last week staged a meeting for about 40 at his Tucson Youth Baseball Association organizational council. Duncan has a vision to grow youth baseball and its facilities in Tucson and it's not idle talk.
On January 5-7, Duncan will stage a TYBA 12-U Qualifying tournament at the Kino Sports Complex. The winner will advance to the TYBA Open on Jan. 13-15 at Kino, with the winner advancing to the national tournament in Missouri in July.
To cap it, Duncan will stage the third annual TYBA Clinic on Jan. 20 for ballplayers aged 6-14 at Kino. And there's no entry fee for any of the three events.
Talk about a big-league idea.