Hansen's Sunday Notebook: Arizona continues to struggle when it comes to keeping players home
Bruno Fina the latest Lancer to look outside of Tucson for college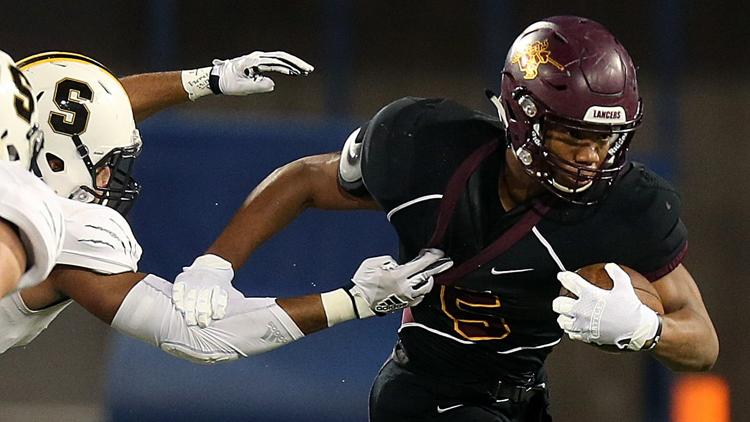 In what has become a long, hot summer for Arizona's football program, the Wildcats whiffed on Salpointe Catholic's Big 3 — lineman Bruno Fina, running back Bijan Robinson and safety Lathan Ransom.
That's unsettling, but also indicative of a football program that has contended for just one Pac-12 championship since 1998 and has been coached by five men in 20 years.
More troubling than Fina, Robinson and Ransom choosing to play elsewhere — hey, this is 2019, millennials are connected to a wider world than prospects of the 20th century — is that none listed Arizona among their final three choices.
All were in the middle of their sophomore years when Kevin Sumlin was hired, so lack of time is not an excuse. The UA had plenty of time to tap into the most highly coveted recruiting class at a Tucson school since the 1970 Tucson High Badgers produced seven Division I signees.
Few things look worse than a player of Fina's stature, a legacy recruit, son of Arizona 1991 all-conference second-team tackle John Fina, not including Arizona in his list of finalists — UCLA, Boston College and Yale.
A huge thank you to all the colleges who have offered me such great opportunities. Here are The Final Three. pic.twitter.com/npQlBna7ld

— Bruno Fina (@BrunoFina1) July 18, 2019
Robinson will choose between Ohio State and Texas on Aug. 2.
But I'll admit there is significant precedence of elite Tucson recruits choosing not to play football at Arizona. Amphitheater's Tamoni Joiner chose Oregon. Fellow Panther Steve Doolittle chose Colorado. Sabino's Brady Doe chose Purdue. Santa Rita's Eric Drage chose BYU.
Tucson's top prospect of the 1950s, Tucson High quarterback Art Acosta, chose Michigan State over Washington and Utah.
Tucson's top prospect of the 1960s, Tucson High lineman Bill Dawson, chose Michigan State over Nebraska.
When the unbeaten Badgers won the 1970 state title, possibly the top team in Tucson history, the most coveted prospect, running back Derral Davis, chose Oklahoma before returning to play at UA. A decade later, 1981, Sunnyside's Freddie Sims, a mega-talent, also chose the Sooners over Arizona.
Arizona has been slow to act on some wonderful prospects for what seems like forever.
In 1976, Arizona did not immediately offer Catalina High linebacker Steve Budinger a scholarship. Once Stanford coach Bill Walsh heard that — yes, that Bill Walsh – he flew to Tucson and got a commitment from Budinger, who was an immediate standout at Stanford and progressing toward the NFL until he was seriously injured in a car accident.
Sometimes there have been mitigating forces.
In 1981, Notre Dame came to Tucson and successfully signed Parade All-America linebacker Rock Roggeman, even though Rock's father, Tom Roggeman, was part of the UA football staff. But the Roggeman family had grown up in South Bend, Indiana, and the appeal of the Fighting Irish was too great to resist.
In 1985, UCLA arrived in Tucson to recruit Canyon del Oro linebacker Craig Davis, the equivalent of today's four-star recruits. Davis became a starting linebacker for the Bruins. Why? He had grown up a UCLA fan in Culver City, California, before moving to Tucson.
In 1995, Ohio State — Ransom's college choice — successfully recruited Catalina Foothills tackle Joe Brown, a future NFL player, away from Arizona. How'd that happen? Brown's father, Ron, was an Ohio State alumnus whose Buckeye blood ran deep in the family.
And at the height of Dick Tomey's power at Arizona, Sabino lineman Mike Saffer chose UCLA over the Wildcats. Saffer might have been Tucson's top line prospect since Tucson High's Dawson brothers 50 years ago. How did Arizona lose Saffer? His father, Don, had played on John Wooden's UCLA national championship teams of 1967 and 1969.
No matter the history, this looks bad for Arizona. The perception is that there's not much local interest in what has been a vanilla football program at the school.
As Tucson has painfully learned many times in college football recruiting, the old "Wizard of Oz" tenet — "there's no place like home" — doesn't always apply.
George Kalil's generosity extended far beyond his love of UA hoops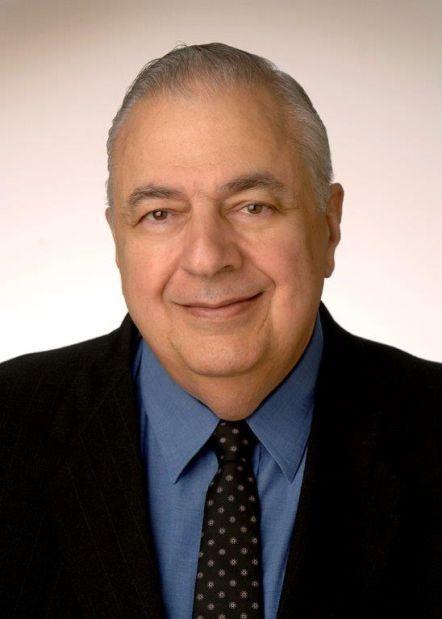 A memorial service was held in Tucson for prominent UA basketball fan George Kalil on Thursday. He died a week earlier at 81 after at one point attaending 1,047 of 1,050 Arizona basketball games, home and road.
But Kalil, a Tucson High grad, wasn't just a basketball fan. One of his favorite stories was about rallying support for Arizona's berth in the 1968 Sun Bowl in El Paso, the school's first bowl game in 20 years.
Kalil organized a caravan of people from the campus Newman Center to El Paso. He arranged for bus transportation and hotel accommodations.
About midnight the night before kickoff, Kalil ran into a UA fan who said he didn't have enough money for a hotel room. As with many college-age kids, bunking four and five to a room, Kalil invited his new friend to sleep on the floor in a room with other UA fans.
When they UA students awoke, the stranger was gone — and so was their money.
Rather than curse the bad luck and ruin the trip, Kalil reimbursed everyone. That's the George Kalil I was fortunate to know for 35 years.
Three Tucson sports figures in the news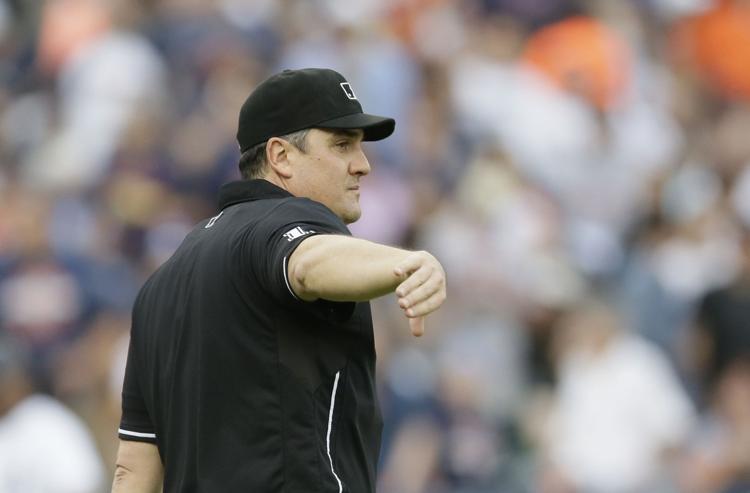 1. Mike DiMuro, a Salpointe Catholic grad, is the son of long-time major-league baseball umpire Lou DiMuro, who umped 2,659 MLB games. Following his father's path, Mike called 1,878 big-league games, including the 2005 All-Star Game and three division playoff series. He retired last week, at 51. Mike DiMuro's older brother, Ray, also umpired briefly in MLB. The highlight of Mike DiMuro's career: He was the home plate umpire at Roy Halladay's perfect game in 2010. Halladay will be inducted into the Baseball Hall of Fame on Sunday.
2. Arizona sophomore-to-be P.J. Austin finished second the Pan American Games U20 long jump championship Friday in San Jose, Costa Rica. It wasn't just an obscure competition in a faraway land. Austin jumped 25 feet 7¾ inches, a jump exceeded by just four men in UA history, all of them All-Americans. Vance Johnson's 1982 jump of 26-11 won the NCAA championship. Gayle Hopkins' jump of 26-9 in 1964 paved the way for him to make the USA Olympic team. Percy Knox jumped 26-3¾ in 1990 to become an All-American, and Luis Rivera-Morales cleared 26-1 in 2010, also becoming an All-American. Austin, who is from Maricopa High School near Phoenix, will enter the 2020 Pac-12 season as the league's long-jump favorite; he jumped 24-7 to finish third this year to two seniors from Oregon.
3. After four standout golf seasons at Arizona, including the 2018 NCAA championship, Haley Moore's pro career continues to thrive. She won the California State Open last week at La Costa Resort and Spa near San Diego, earning $6,000 after shooting an 8-under  64 in the first round. A month earlier, Moore won the Cactus Tour's championship at Stallion Mountain near Las Vegas. She will begin LGPA Tour qualifying competition next month.
Dick Tomey Legacy Fund will hold benefit dinner next month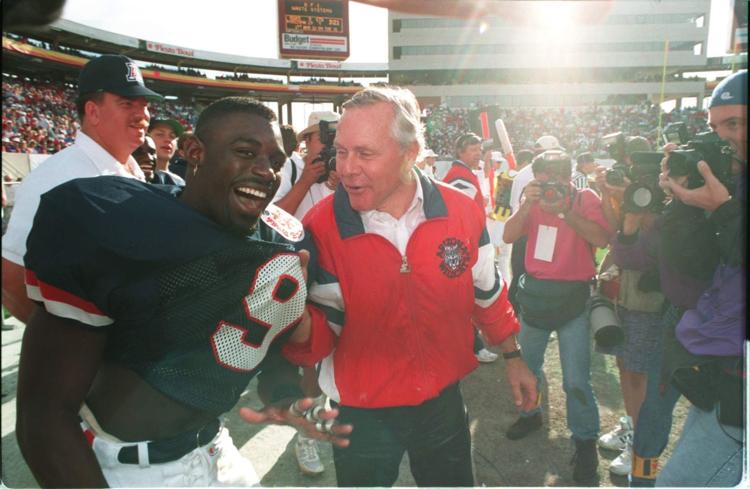 Four days before Arizona opens the football season at Hawaii, a Dick Tomey Legacy Fund benefit dinner will be held in Honolulu to benefit the Positive Coaching Alliance organization of Hawaii. Tomey, who died of cancer in April, was Hawaii's head football coach from 1977-86. Proceeds raised will be used for youth sports organizations in the Honolulu area.
Preston Clifford to follow former NMSU coach to Washington State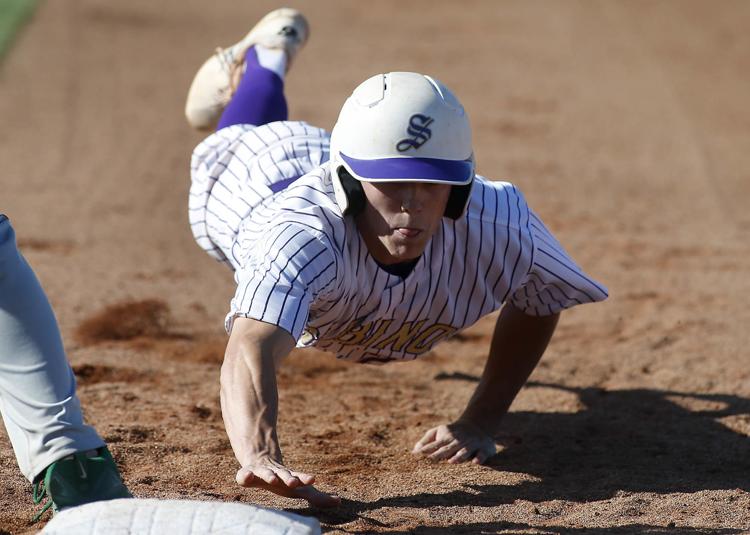 After leading Sabino High School to the 2019 state baseball championship, pitcher-infielder Preston Clifford appeared ready to play college baseball at New Mexico State. But when NMSU head coach Brian Green  resigned to become the head coach at Washington State, he offered Clifford a scholarship to the Pac-12 school. In his final two years at Sabino, Clifford went 11-2 as a pitcher with 151 strikeouts in 98 innings, and hit a combined .401. The last Tucsonan to play baseball at WSU was Salpointe Catholic/Pima College infielder Ryan Ramsower, who was a Cougar in 2017 and 2018. 
Ka'Deem Carey rises from practice squad to become key part of Stampeders' offensive attack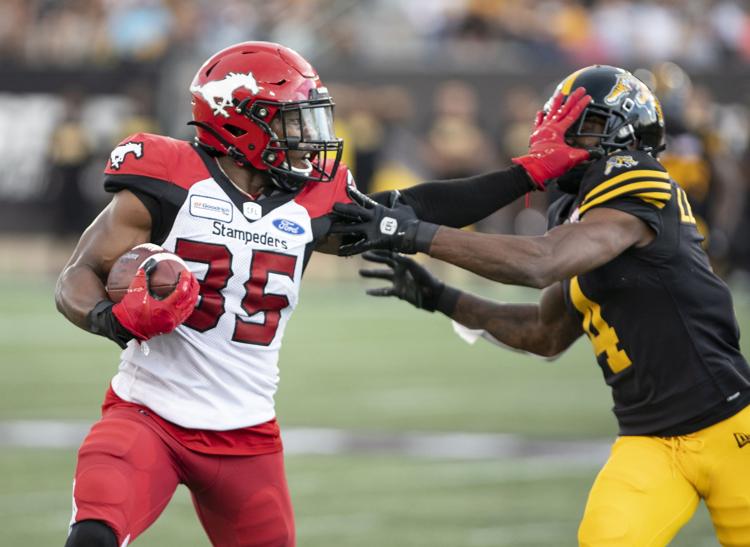 After virtually no game action for a year, Arizona's 2012 All-America running back Ka'Deem Carey is back in a starting lineup. Carey rushed 12 times for 65 yards Thursday for the CFL's Calgary Stampeders and has gained 133 yards in Calgary's last three games. He opened the year on the practice squad. Carey also blocked a punt and returned it for a touchdown. Married and the father of three young children, Carey, 26, has also become something of a dual threat; he has caught seven passes for 66 yards in the last two weeks.
Delaney Schnell's big performance puts her in line for 2020 Olympics
Tucson's Delaney Schnell has been one of America's leading junior divers for almost a decade. Last week, she became one of its leading divers of any rank. She won a bronze medal in the 10-meter platform event at the FINA World Championships in Gwangju, South Korea, and now, entering her junior year at Arizona, is near the top of the radar for the 2020 Tokyo Olympics. Schnell arrived at Arizona a year after two-time Olympic silver medalist Michele Mitchell left the UA swimming and diving program, taking a job with the Mission Viejo Nadadores in Southern California. Schnell has persevered and continued to improve through three diving coaches at Arizona. Schnell continues to cut into China's dominance of women's diving; the Chinese have won seven of the last nine Olympic platform diving gold medals. Now Schnell is fully on the map, trying to get where Mitchell and another former UA head diving coach, Cynthia Potter, a 1976 Olympic bronze medalist, have been.
Harsh Parikh wins ITA singles title, is headed to Wharton Business School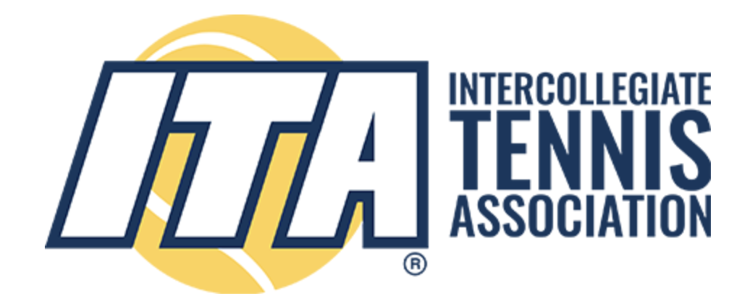 Harsh Parikh, one of the leading prep tennis players in Tucson history, won the ITA men's singles championship last week in Claremont, California, beating USC's Ryder Jackson, 6-3, 2-6, 10-7, to claim one of the top championships of his career. Ranked No. 1 in Arizona and No. 51 in America at his age group, Parikh will now enroll at Penn and the Wharton School of Business. He will also play tennis for the Ivy League school. His older brother, two-time state champion Yash Parikh, also a Salpointe Catholic grad, will enter his junior season at Davidson after a second-team All-Atlantic 10 Conference selection
Dylan Hidalgo gets promotion at GCU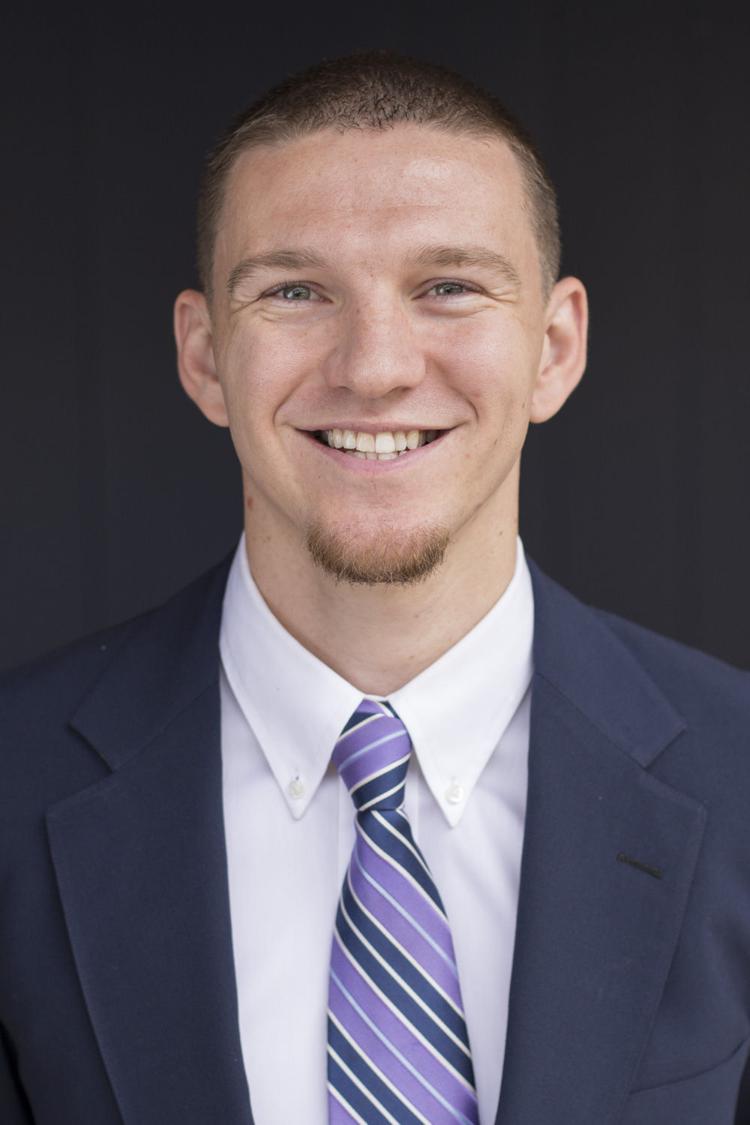 Dylan Hidalgo has created a strong path for himself after playing basketball at Rincon High School and at Kansas Wesleyan. He was a top assistant coach under Brian Peabody when Pima College went 31-5 and finished No. 2 in the NJCAA national championships a year ago. Hidalgo then accepted a graduate assistant coaching position under Dan Majerle at Grand Canyon, and last week was promoted to director of basketball operations at GCU. Hidalgo will continue to work on a master's degree at Grand Canyon. Last week, GCU received a recruiting commitment from PCC sophomore forward Rashad Smith, who scored 13 points per game for an Aztecs team that finished No. 7 in the nation last year.
Recovering Tedy Bruschi gets promoted at ESPN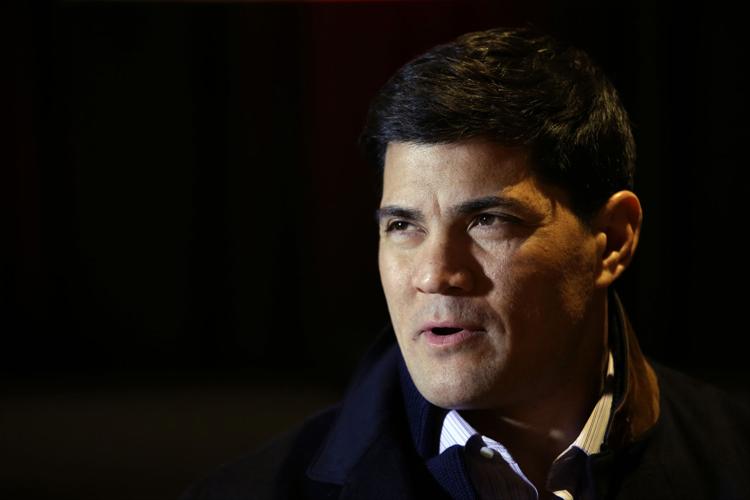 Recovering from a stroke on the morning of July 4, Arizona's Hall of Fame pass rusher Tedy Bruschi has been promoted by ESPN to be part of its Sunday studio show "Sunday NFL Countdown." Bruschi is to join panelists Rex Ryan, Sam Ponder and Randy Moss for three hours every Sunday morning in the 2019 season. He has worked for ESPN for nine years, including an analysts role on NFL Live and as a regular contributor to SportsCenter. Bruschi, 46, previously suffered a stroke in 2005 and recovered fully.
My two cents: Book Richardson should have options upon his October release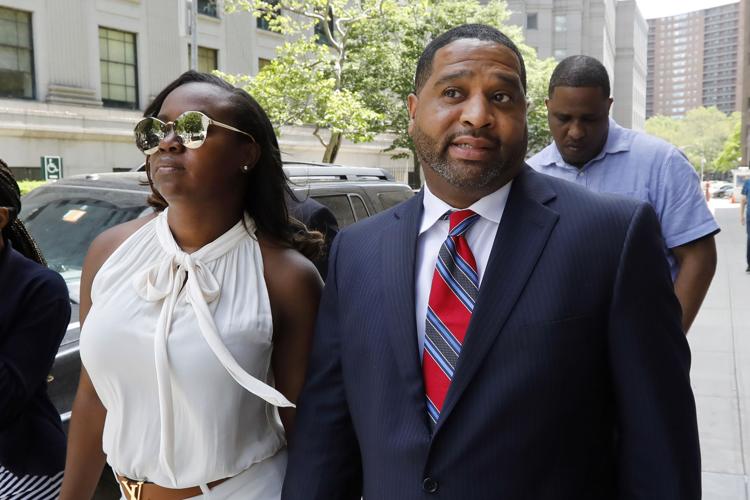 Monday afternoon, a day before Book Richardson caught an early morning flight at Tucson International Airport – destination: the Federal Correctional Institution in Otisville, New York, about 75 miles northwest of New York City — the former Arizona basketball assistant coach was coaching his last shift at Bob Spencer's LEAD Athletic Complex near Interstate 10 and Palo Verde Road.
How quickly things change: On Saturday, former Wildcat and NBA Finals MVP Andre Iguodala was part of a clinic at the LEAD basketball training facility.
Richardson is starting a three-month sentence at Otisville, and is uncertain of his future when released in October.
What seems odd is the inconsistent penalties given to the assistant coaches found guilty in the FBI investigation into college basketball.
Richardson and ex-Oklahoma State assistant Lamont Evans received three-month prison sentences. Ex-USC assistant Tony Bland did not receive a prison sentence. Former Auburn assistant coach Chuck Person, who prosecutors said took $91,500 in bribes – more than $70,000 more than Richardson allegedly took – was not sent to prison; judge Loretta A. Preska said there would be "no purpose served by incarceration."
That ruling seemed most appropriate after the entire FBI investigation went out with a whimper.
Richardson's post-prison options include writing a tell-all book about college basketball, or, given his communication skills and outgoing personality, making himself available as a speaker. He could talk to college athletic departments about how to avoid the pitfalls of recruiting.
I think Richardson's network of connections in grassroots basketball will get him back in some type of coaching/instruction after he serves time at Otisville. At 46, it's not to late for him to start over and become a success at whatever he chooses.