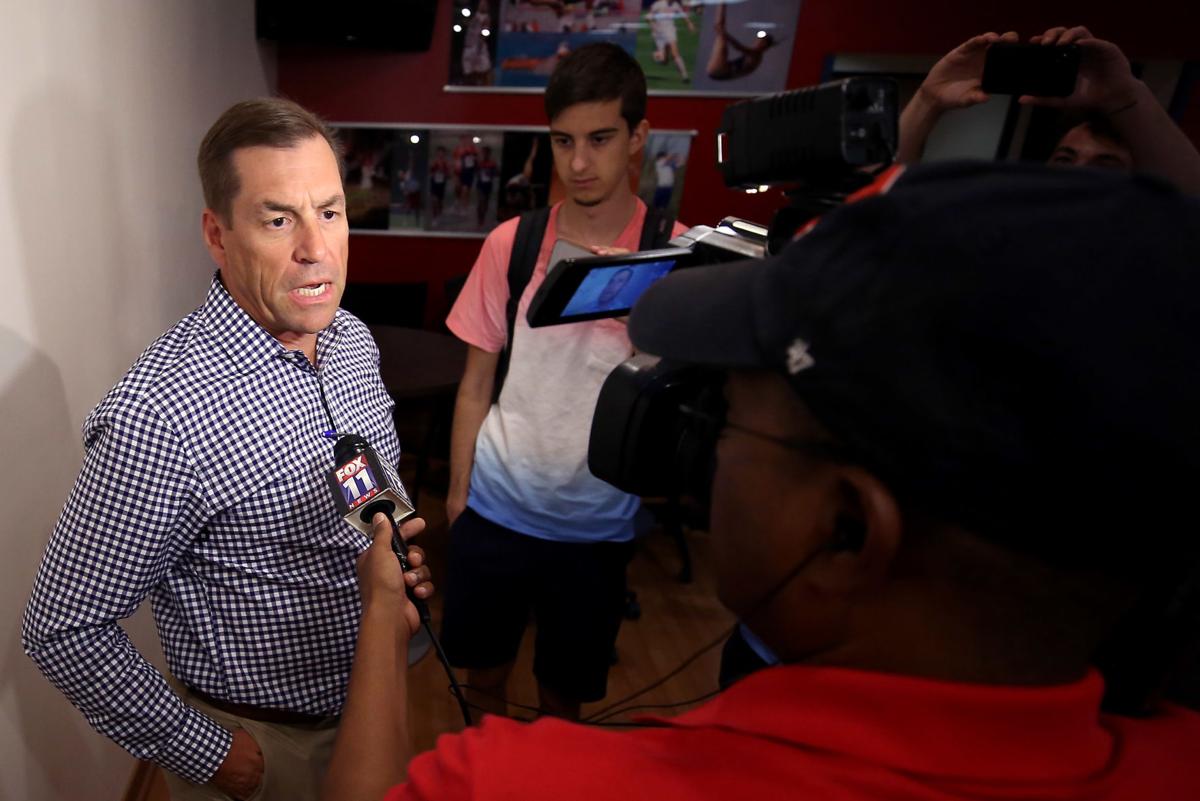 The latest in Southern Arizona sports news from longtime Star columnist Greg Hansen:
Contract deals for ADs mirror rising costs of college sports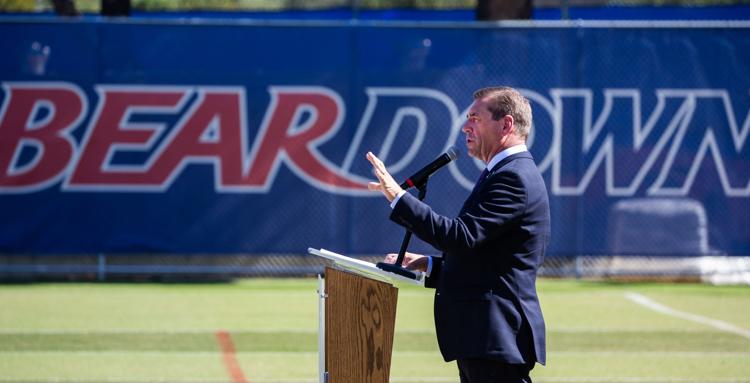 After Greg Byrne left Arizona to become athletic director at Alabama in the winter of 2017, some UA donors contacted then-TCU athletic director Chris Del Conte and encouraged him to replace Byrne.
Del Conte was clearly a rising star in the AD business; he served as Arizona's No. 2 man, behind Jim Livengood, from 1999-2006, The personable Del Conte has the "it" factor. But there was one significant block in a Del Conte return to Tucson: he told UA donors he had a $1 million buyout at TCU.
The deal fizzled before it could gather any momentum. Arizona hired Dave Heeke from Central Michigan.
Now, 2½ years later, the men involved in that series of events — Byrne, Del Conte and Heeke — have had a November to remember.
Byrne last week agreed to a contract extension through 2026, at which time he'll be paid $1.54 million per year. The Crimson Tide front office is so enamored of Byrne that it forgave the remaining balance ($400,000) of an interest-free loan it gave him upon his move from Tucson.
Byrne's biggest impact at Alabama: a $600 million initiative to improve 'Bama's sports facilities.
Del Conte this month agreed to a contract extension through 2027, at which time his salary will rise to $2.5 million at Texas. The UT administration also paid Del Conte's $1 million buyout at TCU.
Del Conte's biggest impact at Texas: a $175 million refurbishing project at UT's football stadium, and the start of construction for a $338 million basketball arena for the Longhorns.
Heeke last week was awarded a contract extension through 2023 at $750,000 per year, a raise of $100,000 per year. Heeke's biggest contribution at Arizona: spending $41 million for the UA football program, which includes an indoor arena and an overhaul of the Zona Zoo section, as well as about $20 million to re-do Arizona softball and swimming facilities.
These Byrne, Del Conte and Heeke comparisons show two things: the rising cost of college athletics has no end in sight, and Arizona plays in a different financial league than Alabama and Texas.
When Arizona joined the Pac-10 in 1978, athletic director Dave Strack made a bold and unpopular move by raising football ticket prices to $13 for premium games against USC and ASU. He also raised ticket prices at McKale Center to $9 for the UCLA game.
At the time, Arizona's athletic department budget reached $3 million for the first time. It's now at $100 million. Strack's salary was $45,000. It was a year-to-year deal.
"The cost of business is going up all the time," said Strack. "We're hit by inflation like any other business."
Here's my question: Is it possible for the finances of college athletics to inflate over the next 40 years like they have the last 40 years? Is it possible that an athletic director like Del Conte will be paid $5 million or even $10 million a year? Can TV media rights and big-ticket donors continue to pay the bills for the athletic departments of 2030 and 2040 and 2050?
Heeke said he plans to spend about $150 million to re-do the west side of Arizona Stadium in the next few years. That no longer seems as outrageous as the day in 1979 that Strack said the UA was paying $627,000 per year on a long-term mortgage to pay for the 1976 expansion of Arizona Stadium.
Sticker-shock in college athletics? What's that?
---
A long road ahead for Rincon/University after newest alignment change by AIA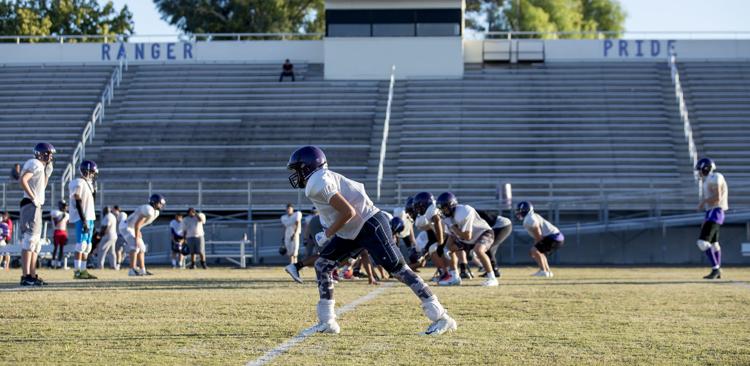 The Arizona Interscholastic Association last week quietly completed its conference alignments for 2020-22, which is a massive undertaking that involves 272 schools from Class 1A through 6A.
Inevitably, several schools will be put in the wrong place, and it's difficult to imagine any school being put in a wrong place more than Rincon/University High School.
The Rangers were denied an appeal to stay in Class 5A (and in Tucson) and placed in 6A with three Yuma high schools, another from the greater Phoenix area and with Tucson High. Purely by enrollment, it's a fit. Rincon/University has an enrollment of 2,439. That's almost exactly what 6A "Desert Southwest" division members Yuma Kofa, Yuma San Luis, Yuma Cibola and Maricopa high schools have.
But it's not far from enrollment numbers at stay-close-to-home Class 5A Southern Division members Marana High (2,204), Cienega (2,113) and Sunnyside (2,169).
University High School principal Amy Cislak has a strong perspective on the move to a division that will require long and expensive bus trips for every sport from football to softball.
"I'm not concerned about the ability to compete and be competitive," Cislak said. "I'm concerned about the amount of travel. The amount of travel our kids will now have interferes in their ability to be present in class, available to meet with teachers after school, time to complete their homework and still get enough sleep.
"The travel costs are tremendous. When moving kids across the state to compete, we need to consider how we will reprioritize our budget as not to ask families to invest more than they already are to support their kids."
Imagine the financial load on Rincon/University and Tucson High parents traveling to watch their children play. Why did the AIA do this? Because it's a numbers game. The 6A Desert Sun division has six teams with Rincon/University's addition. The 5A Southern and 5A Sonoran divisions also have exactly six teams.
Rincon/University lost the numbers game, but there's something beyond numbers to consider.
The demographics of the 2,439 students at Rincon/University are far from typical. Much like nearby and much smaller Catalina High School, Rincon/University has a significant number of refugee students from foreign families who re-started their lives in Tucson. Many of those are strictly soccer players. It's not apples to apples, with new-to-America athletes spreading to all sports.
Cislak and others at RUHS and the TUSD will try to make the best of a not-so-good situation.
"There is some opportunity to create a 'super trip' in a sense where we try to coordinate a trip on a weekend and play two teams," said Cislak. "The silver lining in this is the ability to be creative with how we schedule games and matches."
---
Jake Lieppert in elite company among Pima College basketball players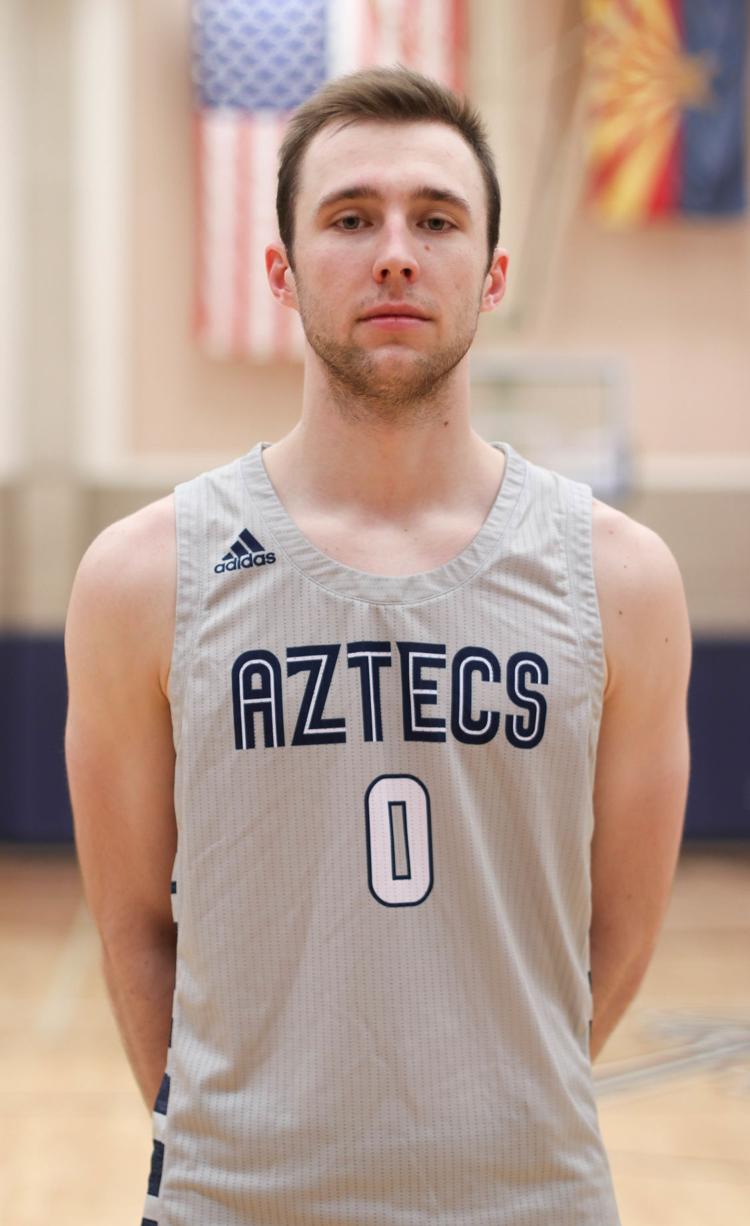 Pima College freshman basketball player Jake Lieppert scored 48 points in the Aztecs' ACCAC-opening victory at powerful Cochise College last week. Lieppert made 10 3-pointers, which is amazing, and was averaging 24 points per game entering Saturday's late game at Eastern Arizona. Lieppert, who played at Scottsdale's Saguaro High School, is now third in single-game scoring in PCC history. Tucson High grad Shakir Smith scored 54 in a 2014 game, and center Horacio Llamas, who went on to play for the Phoenix Suns, scored 52 in a 1994 game. …
---
Tucson's Anthony Sanders set to join O's staff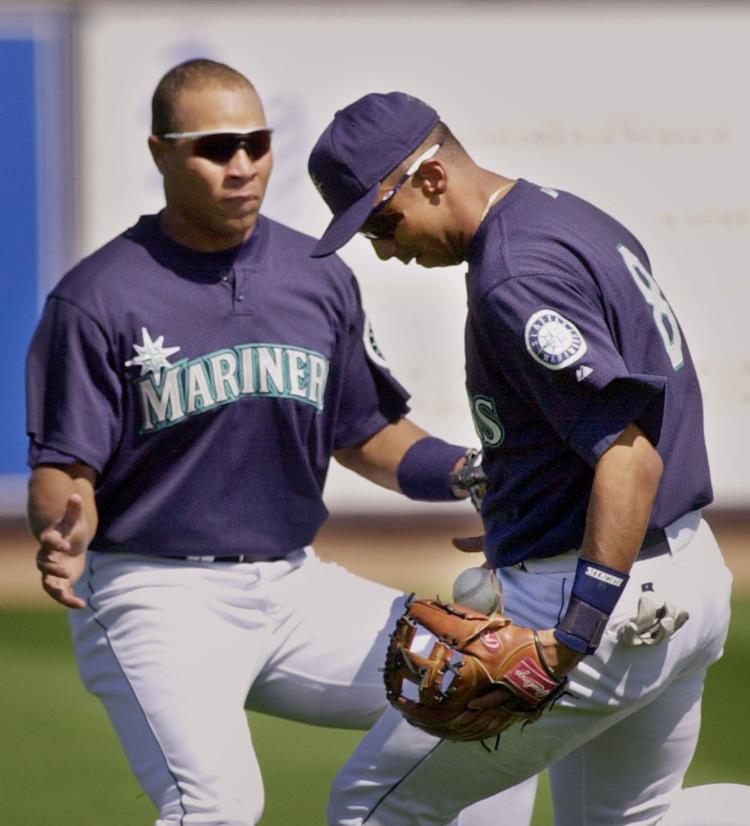 A month after accepting a position with USA Baseball as an assistant coach for the 2020 Tokyo Olympics, Tucsonan Anthony Sanders was hired by the Baltimore Orioles as their first base coach. The Santa Rita High School grad, who in 1992 initially signed to play quarterback at Arizona, will likely have to leave his role with USA Baseball to join the Orioles. He was an outfielder for the 2000 gold medal-winning U.S. Olympic baseball team in Sydney, Australia, who played with the Seattle Mariners and Toronto Blue Jays from 1999-2001. Sanders has spent the last 14 years as part of the Colorado Rockies' minor league coaching organization. …
---
Brandon Sanders leaves Pueblo, likely won't be a Salpointe candidate
After six seasons as Pueblo High School's football coach, going 41-22 overall, Arizona's 1994 All-Pac-10 defensive back Brandon Sanders announced he will leave Pueblo to pursue other opportunities. The one notable high school coaching vacancy in Tucson will be the one at Salpointe Catholic; coach Dennis Bene is leaving coaching to work in his family business. But it's unlikely Sanders will be Bene's replacement. Lancers athletic director Phil Gruensfelder, who has hired every current Salpointe coach except soccer's Wolfgang Weber and boys golf coach Jim Flannery, has almost always hired from within the Salpointe family. Recent state championship coaches Bene, Danny Preble, Mike Urbanski, Kelly Pierce, John Condes and Amy Rocha all have Salpointe pedigrees. Sanders' legacy at Pueblo is a strong one; the last Warriors football coach to produce six consecutive winning seasons was Lou Farber, from 1957-62. Sanders could be a good college assistant coach, but college football is something of an "old boys network" and for someone like Sanders whose background includes coaching at Pueblo High School and Pima College, getting his foot in the door at a Pac-12 school like Arizona would require a coach thinking out of the box.
---
Ex-Cat Rawle Alkins failing to find foothold in pros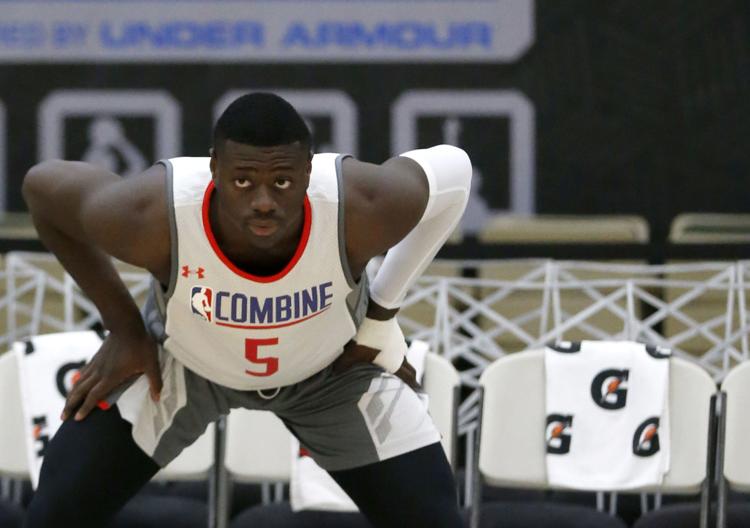 Rawle Alkins' decision to leave Arizona after his sophomore season has not led to fame and riches yet. He is not on any of the 28 NBA G League teams, even though 31 former Pac-12 players are in the G League, through Friday's games, including low-profile players like Dorian Pickens of Stanford, Zylan Cheatham of ASU and Moses Brown of UCLA. Nor is Alkins listed on any roster in the vast EuroLeague system. Former Arizona guard Justin Simon is averaging 12 points per game for the G League's Windy City Bulls, essentially replacing Alkins, who was the Bulls' starting two-guard last year. Ex-Wildcat Kobi Simmons is averaging 16 points for the Greensboro Swarm and Brandon Randolph, who left Arizona after his sophomore season, was waived by the G League's Sioux Falls Skyforce two weeks ago. …
---
Roman Bravo-Young wins match at ASU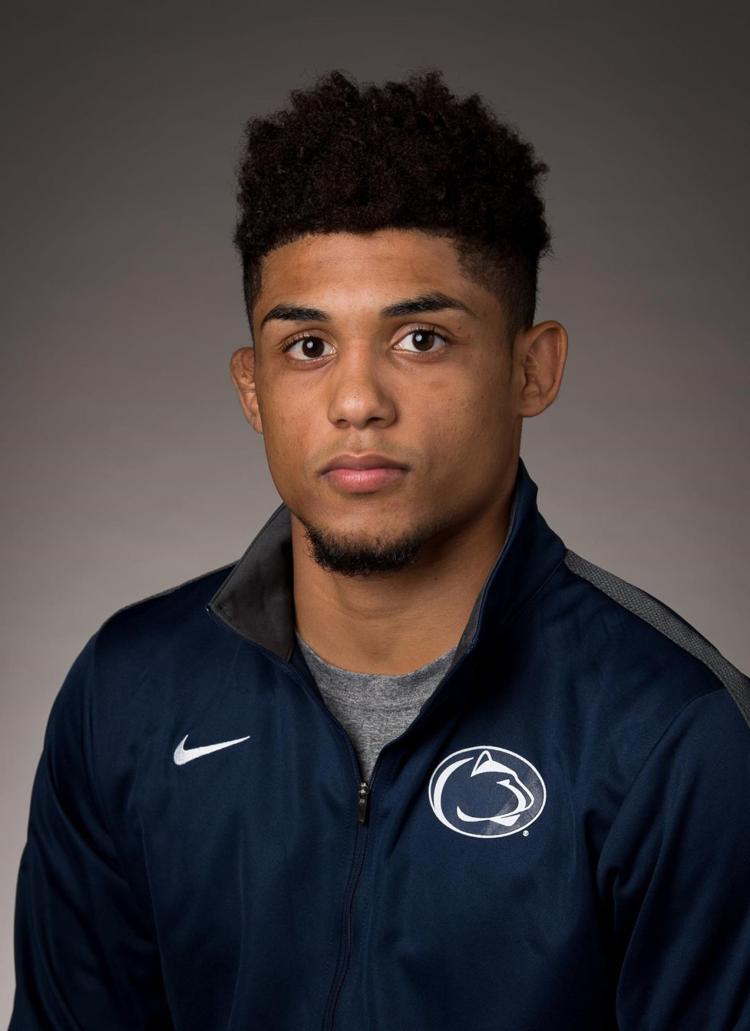 Former Sunnyside High School four-time state championship wrestler Roman Bravo-Young made his first college appearance in Arizona on Friday night. Ranked No. 3 nationally at 133 pounds, Bravo-Young, a sophomore, and the No. 1 Penn State wrestling team were upset by Arizona State in Tempe. Bravo-Young, however, is undefeated this season, having won his match against the Sun Devils. More than 8,000 fans attended the match at ASU. Bravo-Young finished No. 8 in the NCAA during his freshman season at Penn State. …
---
Marana to name gym after Norm Patton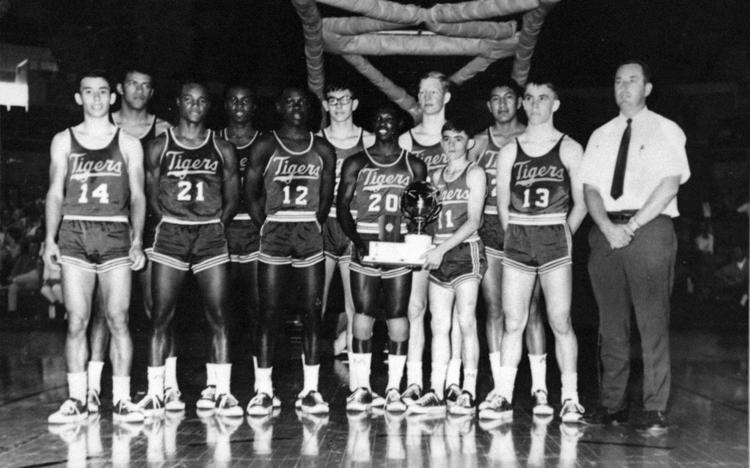 Marana High School will name its basketball gymnasium after three-time state championship coach Norm Patton on Dec. 5 at 6:30 p.m., prior to the Marana-Mountain View boys basketball game. Patton, who died two years ago, coached Marana to 1969, 1970 and 1972 state championships and then became the first men's basketball coach at Pima College, 1973-81.
---
Salpointe faces busy slate of games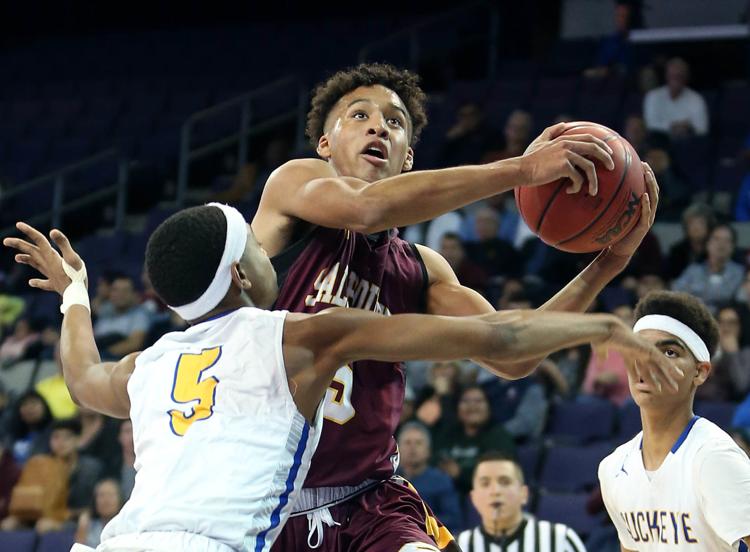 The high school basketball season begins Monday; coach Jim Reynolds' Class 4A state championship favorites at Salpointe Catholic High School play three games in three days, against Desert View, Sahuarita and Ironwood Ridge. Salpointe has never won the boys state title, not in 67 years, but with returning players Evan Nelson, Jordan Gainey, Grant Weitman, Jake Cioe and Braden Miller from a 27-3 team, this could be the breakthrough season.
---
UA's roundtable to offer look into inevitable NIL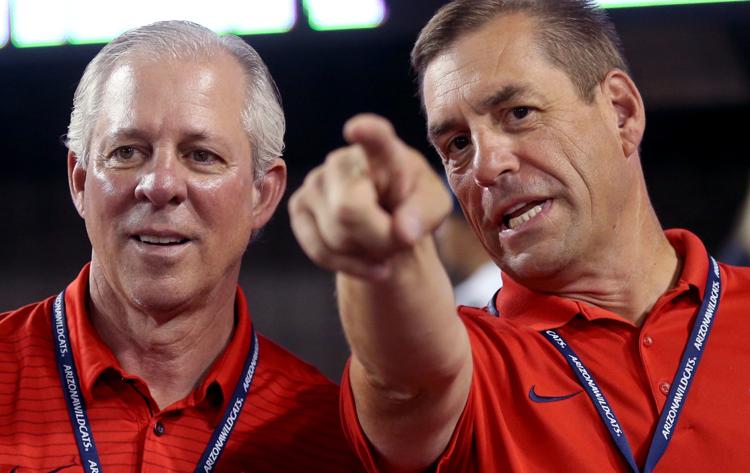 To their credit, UA president Robert C. Robbins and athletic director Dave Heeke will stage a panel discussion about the NCAA's ongoing issue with Names, Image and Likeness legislation. The panel will include Colorado athletic director Rick George, two sports law attorneys and Bay Area economist Andy Schwarz, one of the most visible supporters of what's become known as the "NIL" issue.
The public is invited to attend the discussion on Dec. 2 at the UA Student Union at 3 p.m.
The presentation has some flaws: no current student-athletes are part of the panel discussion, nor is anyone who represents a marketing agency, which are so important to the movement to pay college athletes for use of their names, images and likenesses.
But this is just the beginning of the discussion of potentially paying college athletes and allowing them to earn money from endorsements while maintaining their NCAA eligibility.
Progress in the NCAA is slow-moving, almost glacier-like. But Arizona's move to shine some light on the inevitable move to NIL compensation in college athletics is a moment of triumph in a fall semester dominated by the dysfunction of Arizona's football program.
Contact sports columnist Greg Hansen at 520-573-4362 or ghansen@tucson.com. On Twitter: @ghansen711
Be the first to know
Get local news delivered to your inbox!