Hansen's Sunday Notebook: Dave Cosgrove rolls up sleeves to juggle FC Tucson and Pima jobs
Star sports columnist Greg Hansen offers his opinion on recent sports news.
'I can't envision a future without being at Pima'
In all of the sports and all of the seasons in Arizona's vast community college athletic system — from Prescott to Yuma to Douglas and Safford — the men's soccer program at Pima College must rank, what, third or fourth overall? Maybe higher.
That's why when Pima coach Dave Cosgrove announced he would become the head coach of FC Tucson, I thought that would be the end of his PCC days, which date to 1998.
But that's not what is happening at all.
"My heart is with Pima. That's the backbone of everything I've been able to accomplish," said Cosgrove, who is in the NJCAA Sports Hall of Fame. "I can't envision a future without being at Pima."
Cosgrove has become soccer's Man For All Seasons. He will boldly move forward as the Director of Coaching for Tucson's formidable Tucson Soccer Academy and head coach of both PCC and FC Tucson.
This isn't just some guy working long hours, as so many do. Soccer now rivals softball as Tucson's most successful and heavily-played sport for those ages 6 through high school. Cosgrove has made a significant impact in that growth and success.
"I like the idea of a new challenge at this time in my career," said Cosgrove, who graduated with a history degree from Arizona. "The expectations are so high in Tucson, and I must grow and learn how to train our players differently."
Javier Holguin, a UA grad who has been Cosgrove's lead assistant coach at Pima for six years, is part of the reason Cosgrove is taking on another job. "He's been here during the glory years," said Cosgrove. "He has coached at the Tanque Verde Soccer Club and now at the TSA. He's done coaching in the development ranks with (MLS) Real Salt Lake. He is outstanding."
Now for the hard stuff: How is Cosgrove going to work his day-to-day and week-to-week calendar?
"I can work at Pima during the day," he said. "I can work at FC Tucson in the mornings and at night and at TSA on the weekends. Soccer has given me the best memories I've had, and if I have to put in extra time now, I consider it a fair exchange."
FC Tucson will move to the United Soccer League's Division III ranks in 2019, a step similar to Double-A baseball. If that happens, if the parent Phoenix Rising front office chooses Cosgrove to coach that club, he might not be able to continue in all three Tucson jobs.
His immediate goal, however, remains winning a national championship at Pima College.
As for vacation time, who knows?
"How about Christmas?" he said with a laugh.
RichRod's directory had some high goals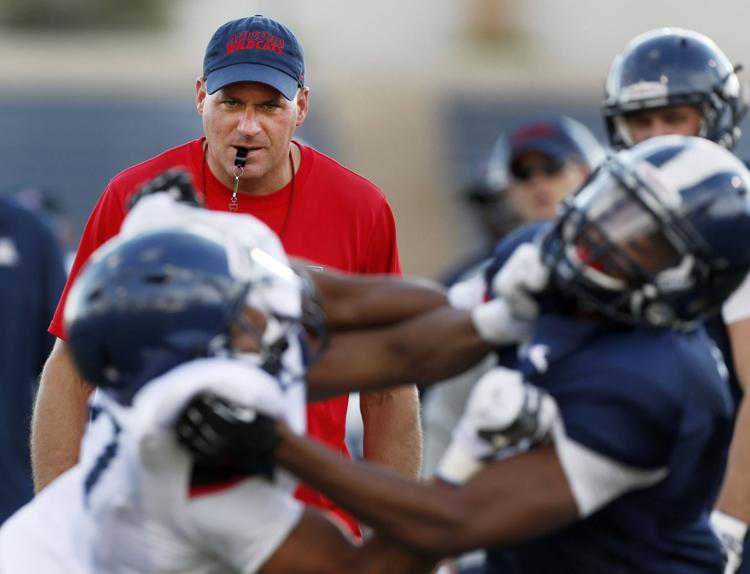 A few years ago, Rich Rodriguez's basic playbook and staff handbook from the West Virginia Mountaineers' 2007 season circulated on the internet.
I read it page by detailed page and was dazed and confused by the X's and O's, which require a coach's mind to decipher.
More of the same has been circulated since RichRod was fired at Arizona; last week, footballscoop.com made Arizona's 2015 staff handbook available.
It is 100 pages in length; most of it is predictable mumbo-jumbo out of a Tony Robbins monologue.
But some, in retrospect, makes you shake your head.
RichRod's 2015 "State of the Union" page said this: "I believe that the type of culture and environment that is necessary to win championships is permeating our program."
A few months after RichRod wrote those words, he flew to South Carolina in an attempt to become the head coach of the USC Gamecocks. Since his '15 State of the Union, his teams went 17-21.
Several other things in RichRod's detailed 100-page guide were head-shakers, but none like this: "The head coach will always be aware of potential or current discipline problems and we will act swiftly to prevent any problems."
It is a modern example of how quickly things can turn in modern college athletics.
The Gregory School wins it all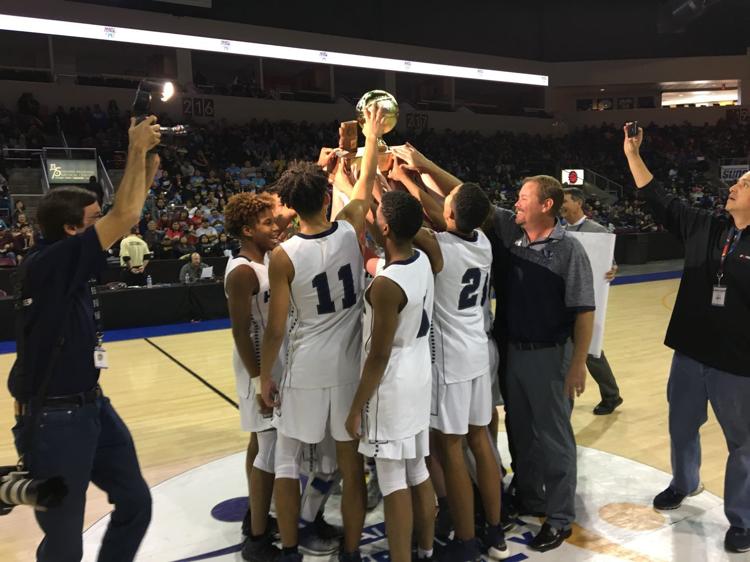 A year ago I went to the The Gregory School to watch their all-city-type basketball player Nick Rosquist on the way to a 29-2 season and the state championship game.
I wasn't disappointed. Rosquist was the real thing, but I was taken as much by the atmosphere and energy at the small school, Class 1A, and its facility.
I was also impressed by junior Addison Mort, a 6-foot-3-inch dynamo who immediately struck me as a college prospect. Even better, the Gregory School inserted junior Conner Heros into that game. Conner has cerebral palsy, but has done all he can to be part of the Hawks team and do the best he can. Talk about an inspiration.
Last week, it all came together at the Prescott Valley Event Center in the Class 1A state championship game. Mort, who averaged 26.3 points per game, scored the 2,000th point of his career — he finished with 2,024 — and the Hawks beat Fort Thomas to win the state title, 27-4 overall under coach Craig Everson.
It was the culmination of four years of hard work for the Gregory School, which went 101-20 in that period — with four head coaches in four years — but couldn't quite win the big one.
The Hawks saved the best for last.
In the final moments of the game, Heros entered the game. He scored the game's last basket.
Tears flowed, tears of joy. What a season.
NAU pushing for student fee to match ASU, Arizona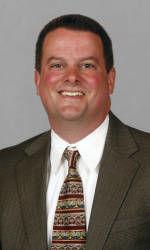 Before Greg Byrne left Arizona, he was able to pass a student fee that could someday mean as much as $3 million a year to the UA athletic department. A few years earlier, ASU passed student fee legislation that is apt to mean $10 million a year to the Sun Devils athletic program. Now NAU hopes to use a student fee to help its athletic program. New Lumberjacks athletic director Mike Marlow is pushing for a student tax that would deliver as much as $3 million annually to the Lumberjacks. Marlow, was hired from the Washington State staff about two months ago.
Pro baseball back in Tucson?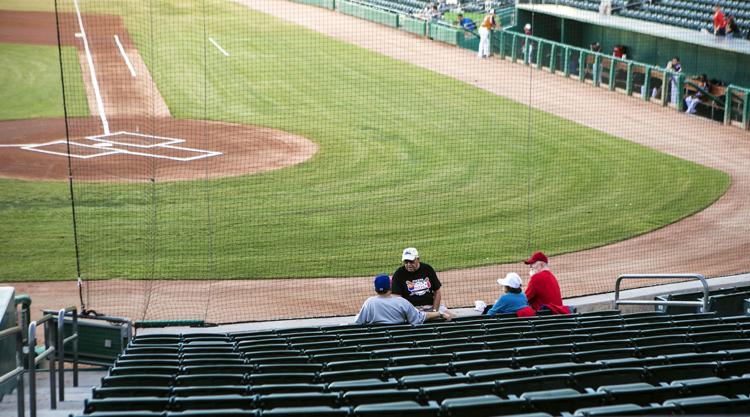 Major league spring training checked out of Kino Stadium eight years ago, but this weekend a pro team from Seoul, South Korea, has been playing the Mexican League's Tijuana Toros. Former Dodgers star Fernando Valenzuela has been in Tucson this week, practicing at Pima College with the Culiacan Tomateros, a Mexican League team owned by the star World Series left-hander of the 1980s, according to PCC athletic director Edgar Soto. The Tomateros include ex-Tucson High and Pima pitcher Jesus Castillo, 33, who has pitched for Culiacan.
Colin Montgomerie and his frosty ditch down, and that's fair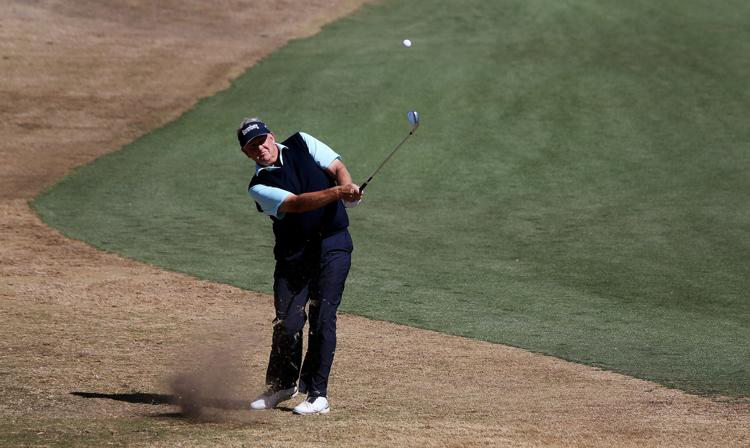 At the top of the Cologuard Classic are 30 or 40 golfers who made so much money in their PGA Tour days that prize money no longer drives them. On Friday, Colin Montgomerie shot a snowman — an 8 — on the 18th hole, twice hitting the ball in the water. He did not sign his scorecard, was disqualified and, apparently, left town. There is no cut; last place in the Cologuard Classic is paid $948. So it was nothing for a man like Monty to cut short his stay in Tucson and travel to Newport Beach, California, for the PGA Tour Champions' Toshiba Classic this week.
Sahuaro grad Carrie Gerlach Cecil part of NFL Combine festivities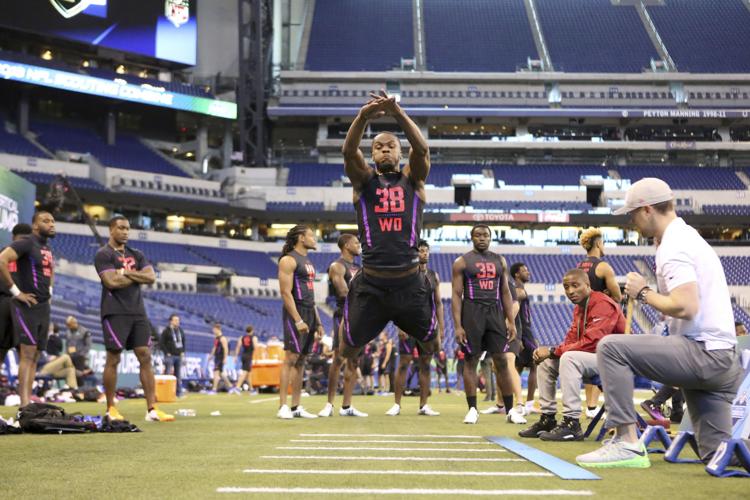 Sahuaro High School grad Carrie Gerlach Cecil, who is married to Arizona Hall of Fame football player Chuck Cecil, is working at the NFL Combine this weekend. She speaks to the prospective draftees about communications, social and digital media and crisis management. In the sports industry, she has become one of the most sought-after sports media speakers in the country. In recent months, Cecil has been hired by the NCAA Convention, NFL Players Association, the American Football Coaches Association and by such athletic departments as Wake Forest and Western Illinois. Impressive.
Tucson's chances in the Calder Cup playoffs get some help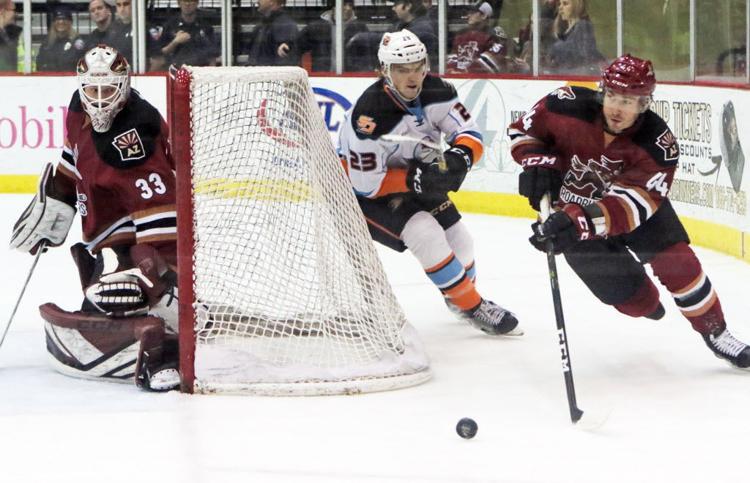 After Sunday's game in Cleveland, the Tucson Roadrunners have 16 games remaining. They are in first place in the AHL's Pacific Division, and last week general manager John Chayka of the parent Arizona Coyotes made a trade with Columbus designed to help Tucson's chances in the Calder Cup playoffs. It is likely that the Roadrunners' final regular-season homestand, April 13-14, will be part of the race to the Calder Cup. If so, if the Roadrunners can win nine or 10 of those final 16 games, it isn't difficult to picture capacity crowds at the Tucson Arena on April 6-7 and April 13-14 home-game weekends. The Calder Cup? That would get me off of the sofa and to the Tucson Arena right now.
My two cents: Superteams spoiling glory of state championships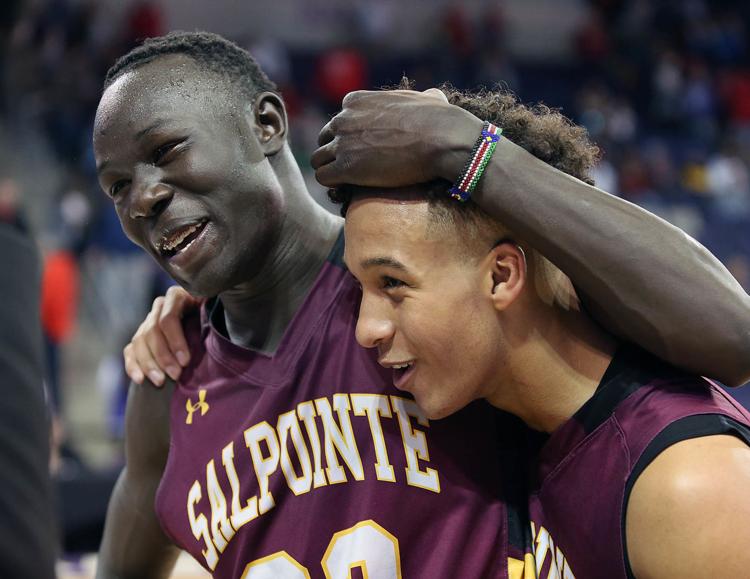 Salpointe Catholic finished second, again, to Mike Bibby's national powerhouse Phoenix Shadow Mountain High School in last week's Class 4A championship game.
Shadow Mountain is a lot like those basketball factories Oak Hill Academy and Findlay Prep, loaded with college prospects.
Unfortunately, Shadow Mountain — which returns three starters next season — won't move to a more appropriate Class 6A category next year. Its enrollment meets 4A standards and the AIA's policy is not to move an individual team from a school to a more appropriate level of competition.
So even though coach Jim Reynolds' Lancers look to be as strong as any team in Salpointe history next year — college prospects Majok Deng and Evan Nelson return, along with key players Luc Rosenblatt, Ryan Grabosch and Orion Ochoa — winning the state title will be an overwhelming challenge.
Salpointe has not won a basketball state title in its 68 years; there has always been a Shadow Mountain-type team from Phoenix in the way, even when the Lancers played in state championship games in 1997, 1999, 2013 and 2017.
Until the AIA acts to deal with the changing element of high school sports — super football and basketball teams filled with kids imported from other districts — state championship games will be compromised.