Four things to watch this week in Tucson-related sports:
1. The Washington Nationals will have three former Arizona baseball players working to win the World Series this week. Former Tucson Sidewinders manager Chip Hale is the Nationals' bench coach, the No. 2 man in the dugout. Former All-Pac-10 outfielder Kevin Long is the Nationals' hitting coach, working in his second World Series. He was similarly employed by the New York Mets in 2015. And ex-UA outfielder Troy Gingrich has been Washington's organizational hitting coordinator since 2013. Jerry Kindall would be proud.
2. Adia Barnes' UA women's basketball team plays a so-called "secret scrimmage" Sunday at McKale Center against Grand Canyon. The Wildcats then play an exhibition game a week later against Eastern New Mexico. Something tells me Barnes is going to use the Pac-12 preseason poll — Arizona was picked a disappointing sixth — as fuel for a run to the NCAA Tournament this season. How popular is women's basketball in Tucson? Barnes and the UA women's basketball team have agreed to be grand marshals of the UA homecoming parade next month.
3. The "Pac-12 After Dark" football series doesn't really work in terms of drawing a viewing audience. Last week's 8 p.m. Fox Sports 1 start, Washington vs. Arizona at Arizona Stadium, drew 730,000 viewers, according to Sports TV Ratings. That was a distant No. 13 in the day's viewing, trailing even the Baylor-Texas Tech game (810,000) and being blown away by the 7.2 million who watched Oklahoma-Texas and the 6.4 million who watched LSU-Florida. The Pac-12 and FS1 put the Friday Oregon-Colorado game on a night before Arizona-Washington and it drew just 687,000 viewers.
4. Sad to learn of the death of Arizona's all-Border Conference forward Bob Honea of Marana High School. Honea, 90, died in Marana earlier this month. Arizona went 26-5 and 24-6 in Honea's junior and senior years; he was the co-captain and leading scorer, 12.8 points per game, when coach Fred Enke's Wildcats earned the school's first NCAA Tournament berth, in 1951. Honea later became the postmaster of Marana and a rancher of note. I was fortunate to talk to Honea several times over the years. When I asked him what he was most proud of as a Wildcat basketball player, he said it was being part of the 81-game winning streak at Bear Down Gym. Hard to beat that.
---
Anthony Sanders returns for another shot at the Olympics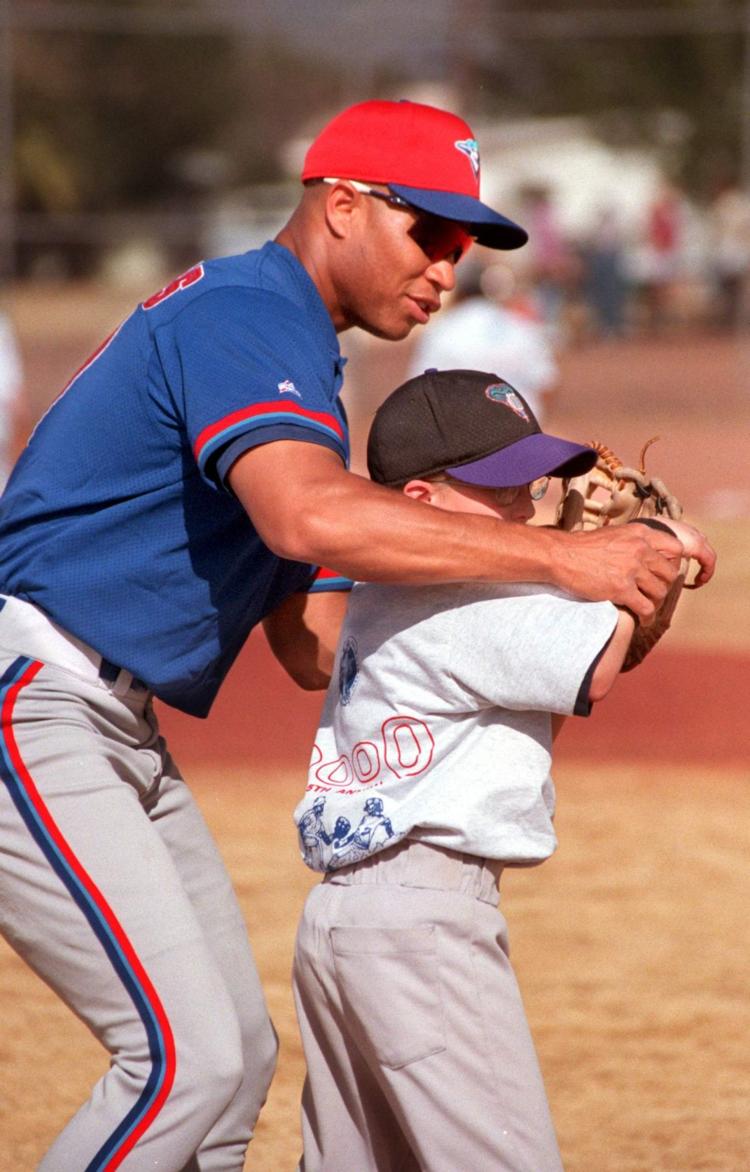 Santa Rita High School grad Anthony Sanders was an outfielder for the gold-medal winning USA baseball team at the 2000 Sydney Olympics. Now the former Toronto Blue Jay is aiming for a second gold medal, and that process will begin Saturday night at Hi Corbett Field.
Team USA, which must still survive a playoff process to qualify for the 2020 Tokyo Olympics, will play Jay Johnson's Arizona Wildcats at 6 p.m. Saturday. Last week, Sanders was officially hired to be part of head coach Scott Brosius' staff. Sanders will coach first base, among other duties.
Sanders has been part of the Colorado Rockies minor-league managerial/coaching staffs for a dozen years. He was coaching the Rockies' winter league players in the Dominican Republic last week when he was offered and accepted the Team USA position. He returned to Arizona on Saturday.
Sanders, who originally signed a letter of intent to play quarterback for Dick Tomey and Arizona in 1992, will be reunited with former Tucson Sidewinders outfielder Ernie Young on the Team USA coaching staff. Young was a starting outfielder for coach Tommy Lasorda's 2000 Olympic gold medal team.
After playing at Hi Corbett Field, Team USA will travel to Guadalajara, Mexico, to play the Netherlands, Mexico and the Dominican Republic as part of the qualifying process for the Olympics. Team USA includes former Arizona All-Pac-12 third baseman Bobby Dalbec, now a top prospect for the Boston Red Sox.
---
Ex-Cats still alive in LPGA qualifying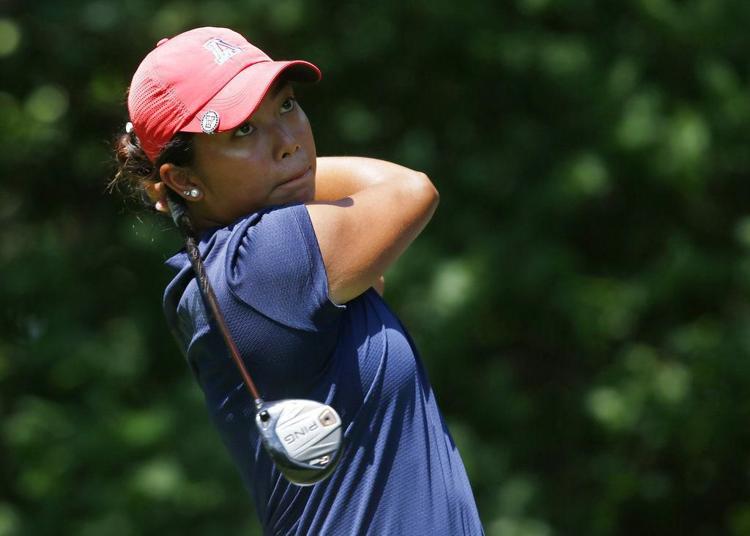 Haley Moore and Bianca Pagdanganan were the clutch golfers who led Arizona to the 2018 NCAA women's golf championship, and a year later helped the Wildcats to a No. 3 finish in the NCAA finals.
The next step — qualifying for LPGA Tour playing privileges — is even more difficult.
In Florida last week for Stage II of the LPGA's three-part qualifying process, Moore and Pagdanganan endured four days of pressure before advancing to an even more stressful process that begins Wednesday in North Carolina.
Moore needed every stroke of her final-round 69 — she did not have a bogey — to tie for the last spot in Stage II. Moore shot rounds of 72-71-72-69 in a field of 185 golfers. Pagdanganan shot 73-68-74-64, the latter being the lowest round of the week, to finish No. 8 and easily qualify. Former UA teammates Krystal Quihuis and Gigi Stoll did not advance.
Now 98 golfers enter the "Q Series," which is played in two parts — four rounds this week and four next week, at the famed Pinehurst courses in North Carolina. The top 45 and ties will get 2020 LPGA Tour privileges.
Those final eight rounds are not only enormously competitive, but it's not cheap, either. Moore and Pagdanganan both will have paid $8,000 in entry fees for the process.
---
Talented sons likely to join ex-Cat Harris for local Hall of Fame induction next week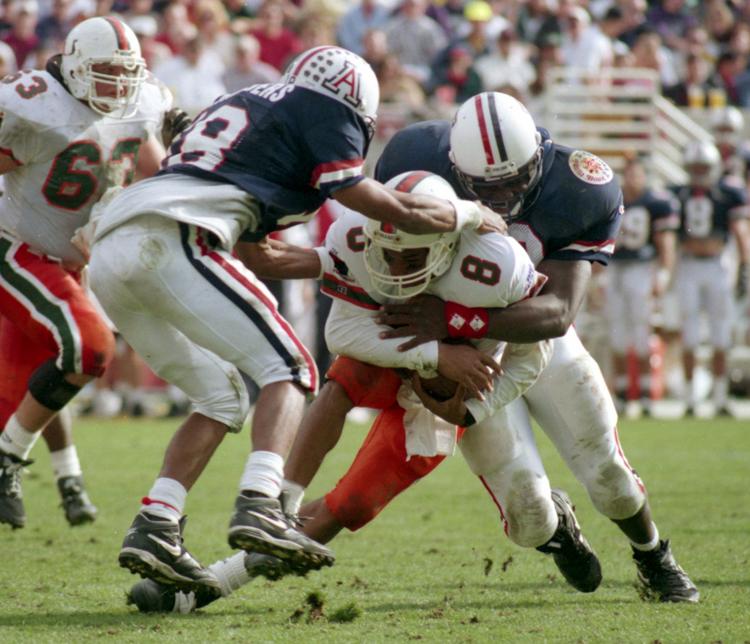 When former "Desert Swarm" linebacker Sean Harris of Tucson High is inducted into the Pima County Sports Hall of Fame next Sunday at 12:30 p.m. at the DoubleTree Hotel, he is expected to be joined by his sons, Arizona starting sophomore defensive end Jalen Harris and his younger brother, Gilbert Higley High School pass rusher Jason Harris, who is 6 feet 8 inches and 225 pounds. Jason, who is being recruited strongly by Arizona, visited Texas last week. He also has offers from Oregon and Colorado, among others. Even though he has missed two games with a foot injury, he led the state with 14 sacks entering Friday's win over undefeated Gilbert Campo Verde. Harris now has 29½ sacks in his prep career.
Tickets for the Hall of Fame banquet are available via PCSHF.org or by calling 520-244-8907.
---
Bijan Robinson ranks 8th nationally in yards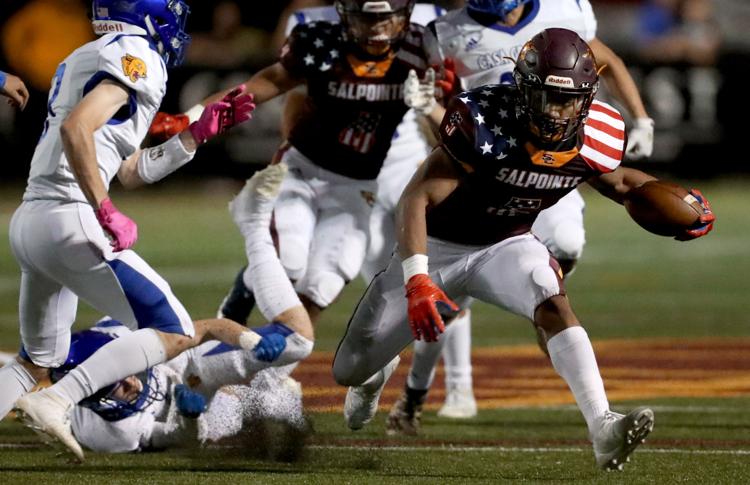 Salpointe Catholic High School running back Bijan Robinson, whose rushing statistics are otherworldly — 22.8 yards per carry and 1,736 yards in seven games — doesn't even lead the nation in rushing. He is No. 11 overall, which is hard to believe. Jalen White of Daleville, Alabama, has rushed for 2,454 yards and Benjamin Jackson of Waynesburg, Pennsylvania, has 2,015 yards through Friday. However, Robinson is No. 8 with an average of 248 yards per game. What makes Robinson's totals more impressive is that Salpointe is only averaging 31 offensive plays per game. It has snapped as few as 20 plays against Tucson High and a high of only 45 against Desert Edge. All of which means that Dennis Bene's Lancers are averaging a touchdown every 3.8 plays, as opponents wisely try to kill the clock and limit Robinson's touches. Incredibly, Salpointe has scored 57 touchdowns in just 215 plays. In his career, Robinson has carried 477 times. Canyon del Oro High School's Ka'Deem Carey rushed 570 times when he set the Tucson rushing record — now broken by Robinson — a decade ago.
---
Tucson's Bernard Lagat 'paced' Eliud Kipchoge in record run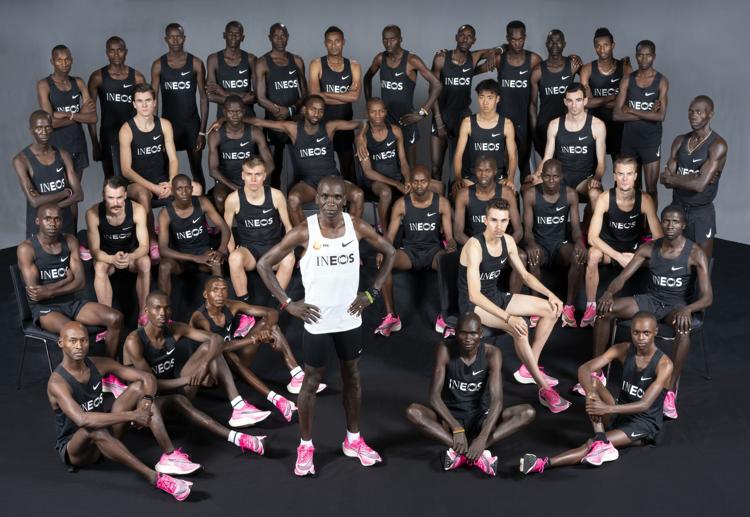 Tucsonan Bernard Lagat played a significant role last week when Kenyan Eliud Kipchoge became the first person to ever break 2 hours in the marathon (1:59.40). Lagat flew to Vienna to "pace" Kipchoge, running the first part of the race and the last mile to the finish line. Lagat, 44, who holds every USA Masters distance record from 1,500 meters through the marathon, is training for the U.S. Olympic marathon trials on Feb. 29, the day he turns 45. He ran a personal record 2:12.44 in July to set the U.S. Masters marathon record. Can he realistically contend for one of three American berths for the Olympics? I wouldn't bet against him.
---
Christa Johnson shines at LPGA Senior Open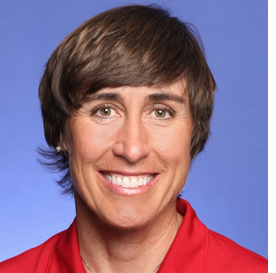 Tucsonan Christa Johnson, 61, a nine-time winner on the LPGA Tour in the 1980s and 1990s, still has considerable game. The 1980 UA All-American finished 11th in the LPGA Senior Open last week in Indiana, playing against many women much younger like another UA All-American Leta Lindley, who finished 16th overall. Johnson shot rounds of 75-74-73 or 6 over par. Five-time LGPA Tour winner Cindy Rarick, a Sahuaro High School grad, did not make the cut in Indiana.
---
My two cents: McKale Center likely to stand alone soon in today's financial reality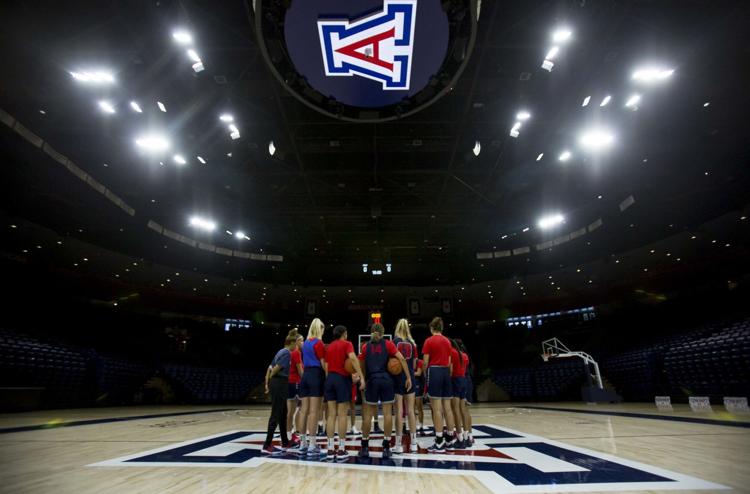 In college sports, the need to pay for bloated coaching salaries, opulent and excessive sports facilities, the use of private jets and the expansion of administrative staffs to triple what they were 20 years ago, leads to things like this:
Arizona State last week agreed to name its basketball facility the Desert Financial Arena. It's a $7.5 million deal over five years. Yuck. Just yuck. What isn't for sale in college sports?
Answer: Everything except the use of a student-athlete's name, image and likeness, and that's likely to change in the next few years.
The Sun Devils are coming off an 18-year period in which Wells Fargo Bank bought naming rights to the school's basketball arena.
But that's a 21st century reality in Power 5 conference sports. The only three Pac-12 basketball arenas not named after a rich and powerful person or financial entity are Arizona's McKale Center, Oregon State's Gill Coliseum and Washington State's Friel Court at Beasley Coliseum.
Former UA athletic director Jim Livengood once told me Pop McKale's name on Arizona's basketball arena was untouchable. "It's historic," he said. "I wouldn't want to be the man who tried to take it down."
Gill Coliseum? OSU's basketball arena is named after Slats Gill, a two-time Final Four coach (1949, 1963) and standout basketball player who was also the Beavers' head baseball coach and athletic director.
Given OSU's athletic debt of more than $50 million — and the need to spend $175 million to finish a renovation of football's Reser Stadium — it wouldn't be a shock if the Beavers soon sold naming rights to Gill's crumbling 70-year-old basketball plant.
Jack Friel was a longtime basketball coach and Wallis Beasley was a professor and executive vice president at WSU.
The days of naming college sports facilities after men like McKale and Gill ended long ago. A few years ago, Washington took down the name of revered UW basketball coach Hec Edmundson from its basketball facility and named it Alaska Airlines Arena. Yuck times two.
Colorado is shopping for a financial entity to buy naming rights for its basketball arena. The former Coors Events Center is now simply the CU Events Center; after 28 years, Coors stopped paying for the right to have its name on the building a year ago.
Most of the other naming rights deals on Pac-12 arenas have been in place so long that you forget where the money originated.
UCLA's Pauley Pavilion is named after Edwin Pauley, who paid for a fifth of the cost of the building 53 years ago. Stanford's Maples Pavilion was seeded by financial gift from Roscoe Maples, a lumber tycoon. Utah's Huntsman Center sports the name of Jon Huntsman, one of the richest men in Utah history. Cal's Haas Pavilion is named for Walter A. Haas, owner of Levi Strauss & Co. USC built the Galen Center a dozen years ago with a gift of $50 million from USC Law School grad Louis Galen. Oregon recently built a basketball center, Matthew K. Knight Arena, with money from the Phil Knight/Nike fortune.
Arizona State's basketball tradition has never been mighty enough to name the Desert Financial Arena after, say, former coach Ned Wulk, probably the most recognizable name in Sun Devil basketball history until James Harden came along.
It probably won't be long until Arizona is the last basketball school in the league with an old coach's name on the building. The AD who attempts to change or even modify the McKale Center name better have an exit strategy in his back pocket.