Hansen's Sunday Notebook: Four gems about college basketball's unofficially official opening weekend
Star sports columnist Greg Hansen offers his opinion on recent sports news.
Allen, Ayton already providing hoops highlights; four gems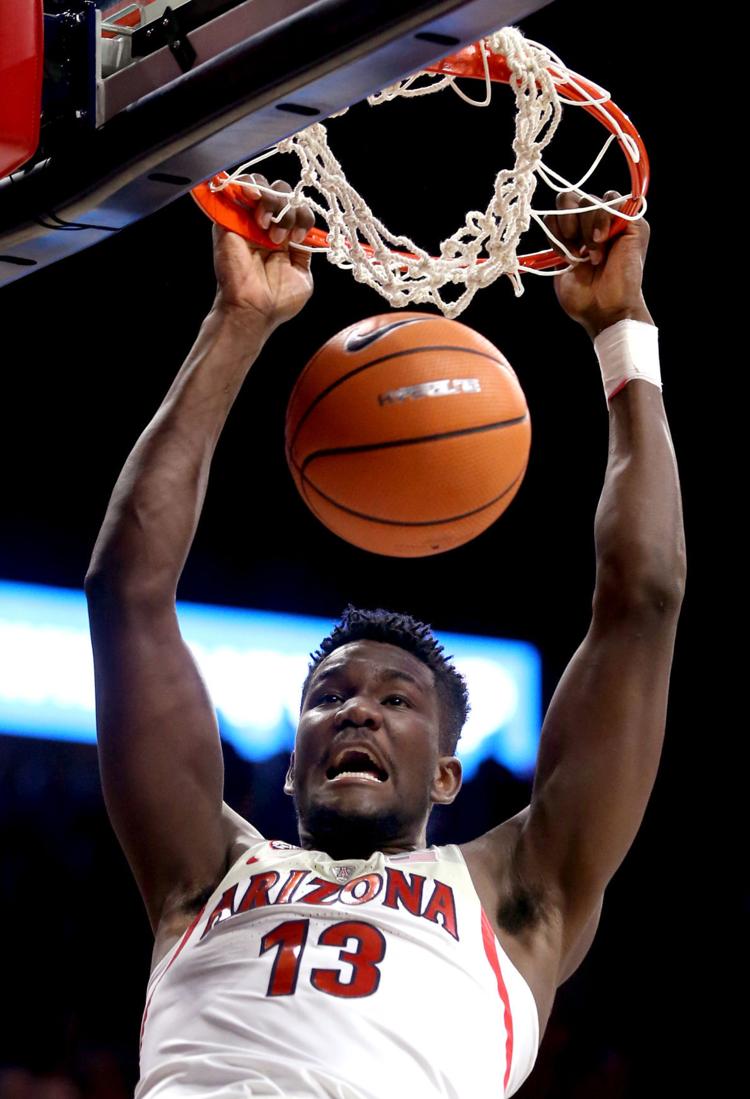 1. The analysts at ESPN's Draft Express, who are outstanding, last week ranked UA freshman Deandre Ayton the No. 1 center prospect for the 2018 NBA Draft. Well, no kidding. You only need watch Ayton once to realize two things: (1) he is the top pro prospect ever to wear an Arizona uniform, and (2) the UA's most anticipated non-conference game will be played Dec. 5 at 7 p.m. at Talking Stick Arena in downtown Phoenix. Ayton will be matched against Texas A&M's 6-foot-11-inch Robert Williams, the reigning SEC Defensive Player of the Year, and a likely first-round draft pick. ESPN's analysis of Ayton: "He looks the part of a basketball prototype built in a lab.''
2. Kadeem Allen  never scored more than 18 points in his UA basketball career, but in Friday's NBA G League opener he scored 21 for the Maine Red Claws. Allen is working on a two-way contract with the Boston Celtics, which is similar to a baseball player shuttling between Triple-A and the big leagues. His versatility and defense are his keys. He played point guard for the Red Claws Friday, a position he rarely played at Arizona. You'll see him in the big leagues soon.
3. Deion James was the NJCAA Division II Player of the Year at Pima College last season. The Empire High grad signed with Colorado State and when CSU opened the season Friday James discovered how difficult the step from JC to NCAA can be. He was 0 for 5 from the field and was the Rams' eighth man in a victory over Colorado Mesa.
4. Two-time Pima College All-American point guard Syd Stallworth plays on a big stage against Duke on Sunday at Cameron Indoor Arena. Her Alaska-Anchorage career was a success last week when she scored 14 points for the nation's top Division II program; the Seawolves are 97-7 the last three seasons and are counting on the Palo Verde High School grad to help them win a Division II national championship.
Tucson's three top recruits to sign this week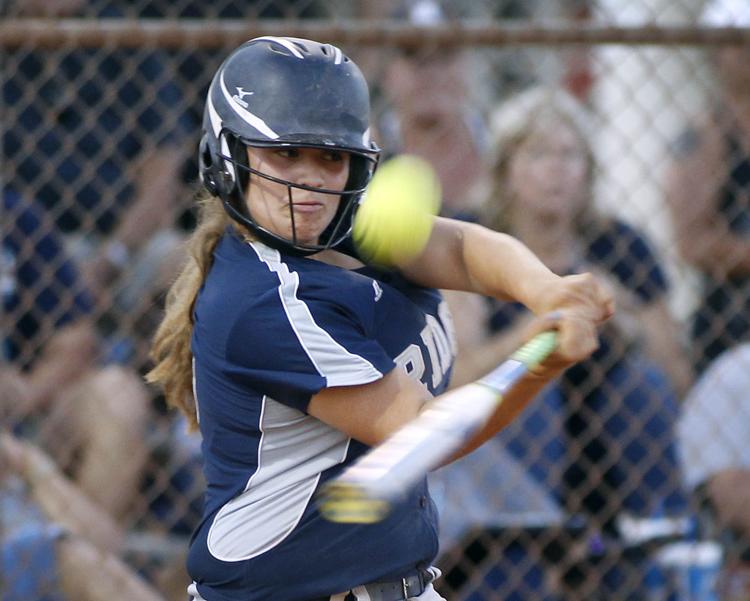 The fall letter-of-intent day on college campuses is Wednesday and Tucson's three leading signees are:
1. Madison Mariani, gymnastics. The Sabino High School senior will sign with Michigan. How good is she? Mariani has won 27 all-around championships in the last four years, in various state, regional and national competitions. She has won the last three Arizona state championships in all-around competition. Michigan's gymnastics team is similar to Michigan's football program: coach Bev Plocki's teams have won 22 of the last 29 Big Ten championships and have been to 10 of the last 22 NCAA Super Six finals, the equivalent of a Final Four.
2. Isabel Pacho, softball. Not only has the third baseman-catcher helped Ironwood Ridge win two state championships, she hit .568 with 12 home runs and 52 RBI as a junior and .458 with nine homers and 59 RBI as a sophomore. She committed to UA coach Mike Candrea in July 2015.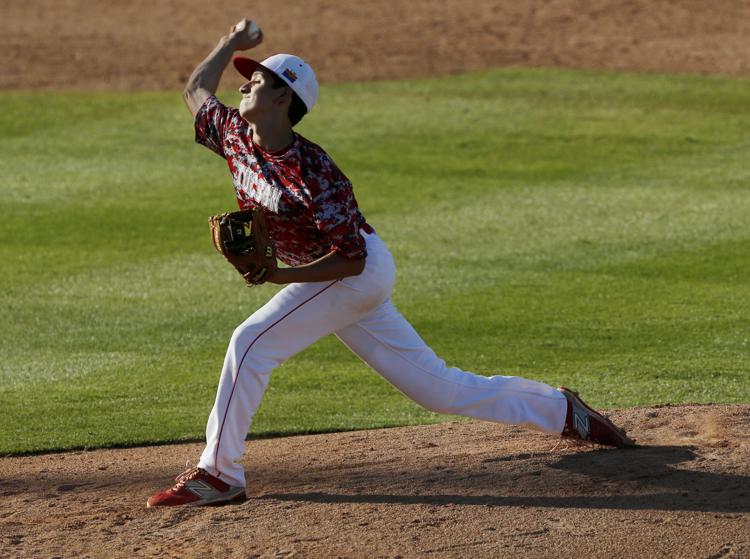 3. George Arias Jr., baseball. Son of George Arias, the former Pueblo High state championship third baseman, and the UA's former season home run champion — a four-year MLB player. Young George has struck out 122 batters in 99 innings at Tucson High and given up just 65 hits. He'll sign to play for Arizona's Jay Johnson.
Top four moments at Pima County Sports Hall of Fame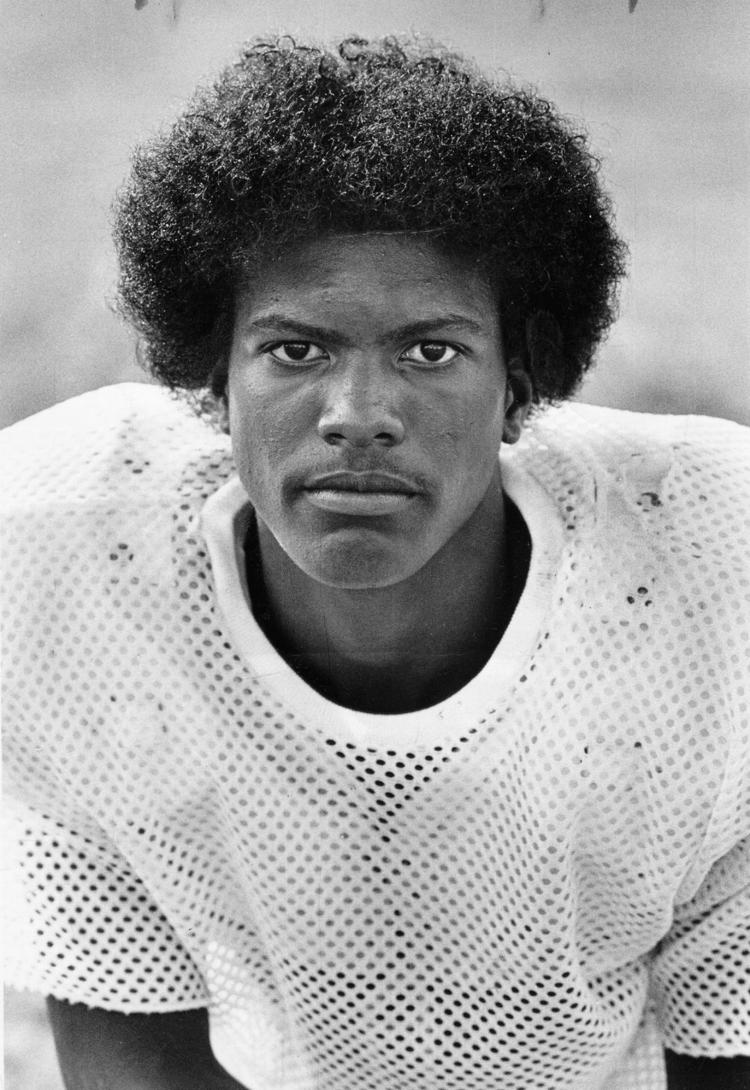 The 28th Pima County Sports Hall of Fame banquet last Sunday was an emotional afternoon; Super Bowl quarterback Rodney Peete, world-record distance runner Pam Reed, World Series first baseman Chris Duncan and USA Volleyball team player Whitney Dosty were among those humbled by the induction ceremonies.
Here were my favorite choked-up moments:
1. Former UA football coach Dick Tomey said high school coach in Indianapolis, Hank Johnson, gave him the career advice of a lifetime. Tomey was just out of college in the 1950s.
"I asked Hank, 'What should I do with my life?' I thought about going down the street to be a high school assistant coach. But Hank advised me to go to Miami of Ohio and try to get on the staff as a graduate assistant. That's where I met Bo Schembechler. It forever changed my life.''
2. Ex-CDO and New York Yankee outfielder Shelley Duncan on his inspiration: "My brother Chris is the most inspirational man I've met. He battled and overcame brain cancer. He got to the major leagues before I did. He does everything the right way. I look up to him more than you can imagine. He's such a good man."
3. Former Salpointe Catholic, Tennessee and ASU basketball player Sybil Dosty was joined at the banquet by her former ASU coach, Charli Turner Thorne, and by former UA coach Joan Bonvicini, who gave Dosty her first full-time coaching job, at Seattle. "I honestly was not a good student at Tennessee,'' Dosty said. "But when I completed my Masters degree at ASU I had a 4.0 GPA.''
4. Peete, who played at Sahuaro before becoming a Rose Bowl quarterback at USC, has not been forgotten in Tucson. His former Sahuaro teammates flew to Tucson from Hawaii, Kansas City, San Diego and Mexico, among other places. Peete spoke about his son, 20-year old RJ Peete, who is autistic and struggled to, as his father said "become mainstream.'' RJ Peete now works as a clubhouse attendant for the Los Angeles Dodgers. "When it became public that my son was autistic, I would get a letter or a package in the mail virtually every week, handwritten, from my former Sahuaro coach Bob Vielledent. Coach V would research the treatments and new technology for autism, and mail them to me. I can't tell you what that meant to me.''
Three takeaways from high school football playoffs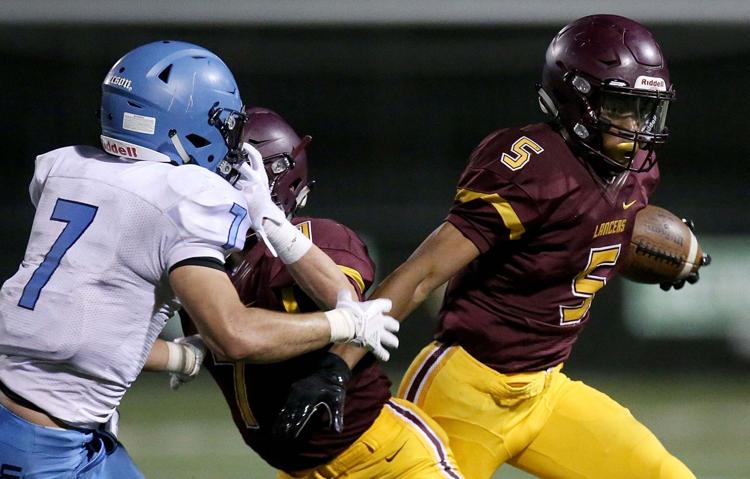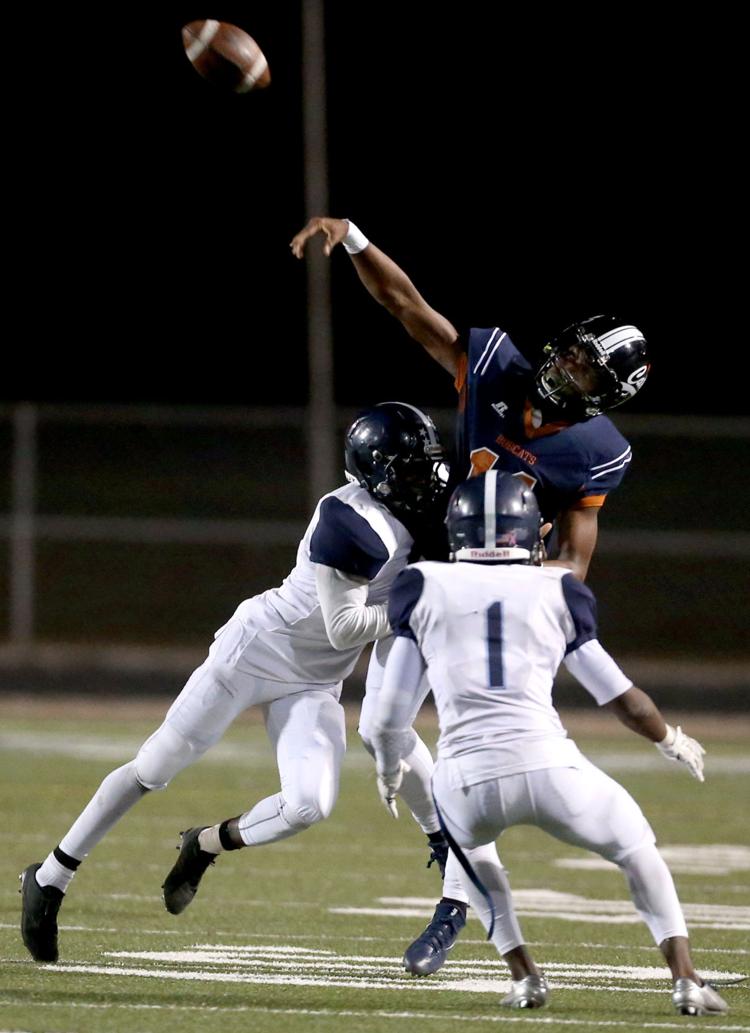 1. Salpointe Catholic has allowed a mere 89 points in 11 games, the second lowest figure — Centennial has allowed 60 — in the top three classifications of Arizona high school football. The Lancers are known most by sophomore running back Bijan Robinson, who has rushed for 1,426 yards, but their defense, led by senior Carlos Aguirre's 110 tackles has produced five shutouts. Here's a name to remember: Salpointe sophomore back-receiver Lathan Ransom is a Pac-12 prospect. He has 37 tackles, he's returned kickoffs and punts for averages of 31 and 21 yards, respectively, and he's a feared receiver.
2. The most entertaining 5A quarterfinal matchup will be Marana at Cienega on Friday night. The teams met on August 25 in Marana and Cienega survived 57-50 in a shootout between quarterbacks Jamarye Joiner of the Bobcats — he had 409 total yards that night — and the Tigers' Trenton Bourguet, who had 537 yards rushing and passing. Since that game, both teams have gone 9-0.
3.Salpointe coach Dennis Bene coached his 200th career game Friday. He is an impressive 159-41. In a culture when high school coaches are transient and almost temporary, Bene has grown roots and flourished the way high school coaches did in the 20th century. Well done.
Short stuff in five quick takes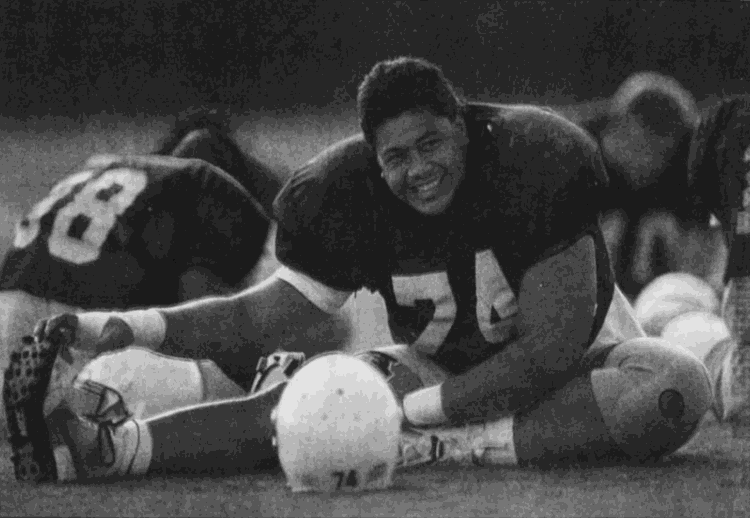 1. Rio Rico High grad Allie Schadler, the top prep distance runner in Southern Arizona history, struggled in her first Pac-12 championship meet, finishing 50 overall last week as a Washington Huskies freshman.
2. Pima College's women's basketball team opens the season ranked No. 6 in the NJCAA Division II poll. Last year, Todd Holthaus' Aztecs were No. 1 in November. Not that Holthaus is running scared; his opponents in next weekend's Eastern Arizona Tournament in Thatcher are both Division I powerhouses, from New Mexico and Texas.
3. Mu Tagoai, who started at center and tackle for Arizona's football teams of 1992 and 1993, died of cancer last week in Hawaii. He was only 45. A year earlier in California, the man Tagoai lined up next to on Arizona's '93 Desert Swarm offensive line, Pulu Poumele, died of a heart attack. Very sad.
4. The Arizona Sports Hall of Fame inducted four Phoenix people into its organization last week. It might be time for the ASHOF to change its name to Phoenix Sports Hall of Fame. Since it began in 1957, it has inducted just 14 Tucson sports figures.
5. Arizona soccer coach Tony Amato produced the UA's best-ever Pac-12 record, 7-2-2, in a league that included three teams ranked in the NCAA's top six. The league is so good that Arizona had just one Pac-12 offensive/defensive player of the week, Samantha Falasco, on Aug. 22. The Wildcats seem sure to play host to a first-round NCAA Tournament game when pairings are announced Monday. It won't be easy; Arizona is No. 20 overall in RPI, which means it would host a team in the low 40s, such as Minnesota, TCU or Mississippi State, all teams enjoying exceptional seasons.
Two ways to improve game day at Arizona Stadium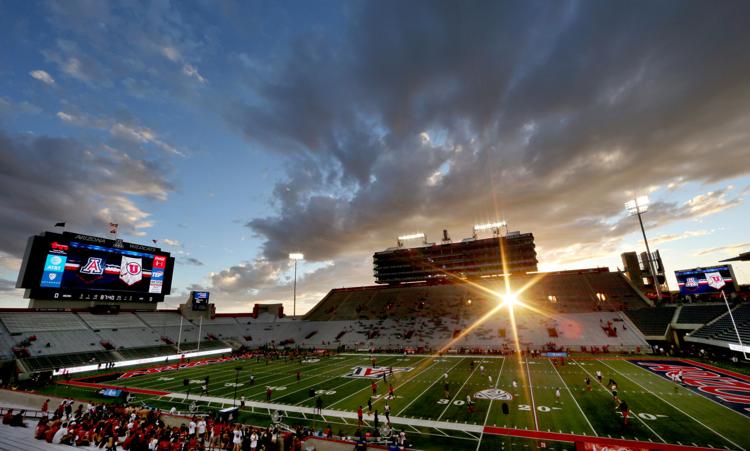 1. The upper deck on the east side is way too big. It has 40 rows, nine sections with 30 seats on each row. That's about 10,500 seats, and it's a bad look when so many are empty. When athletic director Dave Heeke completes architectural plans to remake the east side, it would be good to eliminate about 5,000 seats. Or, somehow, eliminate the top 20 rows in the upper deck.
2. I received this email from a ticket buyer at the Washington State game: "Since I though this might be the only game I attended, I opted for seats available on the 50-yard line in Section 105. Buying the tickets wasn't hard, but it was deceiving: $80 was pretty pricey but since it was on the 50-yard line and not a regular expenditure, I thought what the heck. Only after selecting a pair did I find there was another $22.40 fee each for miscellaneous things plus an additional fee of $6.95 for the privilege of printing my own tickets. It was bait-and-switch; it should be priced honestly."
My two cents: Tucson Conquistadores Classic's new sponsor could be a game-changer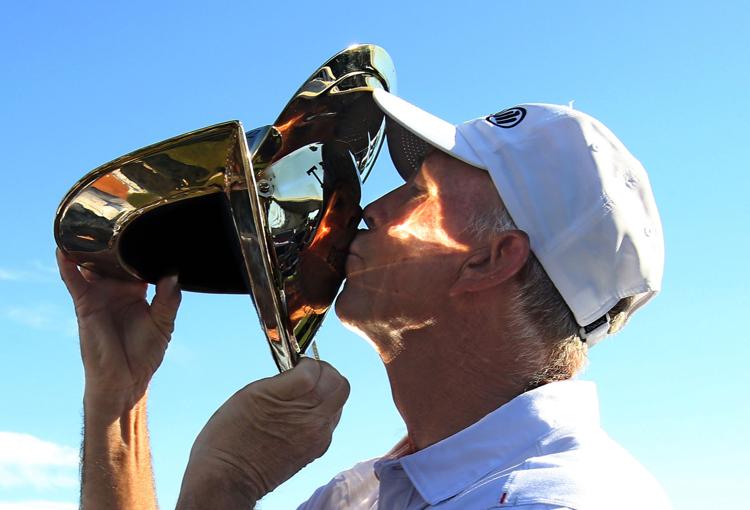 Three years after the WGC-Accenture Match Play championships vacated Tucson and moved first to San Francisco and then to Texas, the Tucson Conquistadores have staged a PGA Champions Tour event at Tucson National.
They have done so without a corporate title sponsor, yet still managed to pay $1.7 million in prize money each year.
Finally, after three years of attempting to find a sponsor, it appears the Conquistadores struck golf gold. On Tuesday, the charitable group is expected to announce that Exact Sciences Corp. will become its title sponsor beginning in March.
Exact Sciences? It is a molecular diagnostics company with an initial focus on the early detection and prevention of colorectal cancer. The company, founded in 1995, is headquartered in Madison, Wisconsin.
Champions Tour events are sponsored by three insurance companies, a kitchen appliance firm, an energy company, a financial institution and by Bass Pro Shops. Anything goes. Adding Exact Sciences to the group is a game-changer for pro golf in Tucson and for the Conquistadores' many local charities.