Hansen's Sunday Notebook: I've found a tiny slice of football heaven at Walden Grove
Star sports columnist Greg Hansen offers his opinion on recent sports news.
Walden Grove's family-friendly setting too rare under Tucson's Friday night lights
Friday night lights in the greater Tucson area has a far different meaning than in Texas, where high school football is king, often excessive, warping the importance of football games played by teenagers.
So on Friday night I sought a more innocent, throwback setting for Friday night lights in Southern Arizona. I found it where you'd least expect it: at Walden Grove High School, a 7-year-old Class 4A school named for the Walden family, owners and operators of the world's largest pecan orchard in Sahuarita and Green Valley.
I turned onto Interstate 10 at 5:30 p.m. and the temperature in my car said 98 degrees. Ugh. I drove south to Sahuarita.
Almost magically, when I pulled into the parking lot adjacent to Walden Grove's football field, the temperature had dropped to 77. Initially, I thought the temperature function in my car was broken.
But it was truly 77 degrees (dropping to 71 at game's end, a 58-0 victory by Walden Grove over Rio Rico).
More than 250,000 pecan trees over 7,000 acres are the greatest cooling agent, outside of central air conditioning, in Southern Arizona.
But it wasn't just the weather that made a Friday night at Walden Grove so enjoyable, it was the community approach and its embrace of high school football.
The north-side bleachers at Walden Grove were packed. That's close to 1,500 people, maybe more. It wasn't a rivalry game or one with playoff implications (although the Red Wolves are now 4-2). It was family-friendly.
I sat next to a trauma surgeon from Banner-University Medical Center, and a firefighter-paramedic from the Green Valley Fire Department. Neither had a family member in the game. They were at the game because it's an inviting community activity on a Friday night, especially one in which you don't sit and sweat profusely. The band was terrific, too. Tickets: $5 for adults.
Walden Grove built a quick 38-0 lead, which was predictable. Rio Rico brought just 21 players to the game; Walden Grove suited up 56.
After a 20-minute delay to attend to an injured Rio Rico player in the first half, the game went quickly. Because of Walden Grove's large lead, the second half was operated with a running clock and no stoppages.
I was back on Interstate 19 by 9:15 p.m.
Walden Grove athletic director Barry Cromer and his staff have created a remarkably entertaining game-night atmosphere. There was a big trailer selling shaved ice and another selling taquitos. There was also a main concessions compound with an outside hamburger-grilling pavilion. There was a tailgating area. And there was a fun zone with large, inflatable play-areas for kids.
This didn't just happen. The full-color game program was sponsored with ads from dentists, equipment companies, Mexican restaurants, hardware stores and trophy-makers.
It was small-town football in a big way by Southern Arizona's newest high school.
I initially planned to write about Tucson's Friday night lights — small-school edition — two weeks ago. I went to the Empire-Palo Verde game and found it to be a sad experience. The bleachers were almost empty. It was 100 degrees at kickoff and both teams had difficulty fielding even 20 players.
The drain of excitement for the sport at TUSD's football-challenged schools such as Palo Verde, Catalina, Cholla and Santa Rita, was not a good place to search for Friday night lights.
Finally, amid the vast pecan groves of Sahuarita, I found a little piece of football heaven at Walden Grove.
Wildcats' Turner Washington bolts for Sun Devils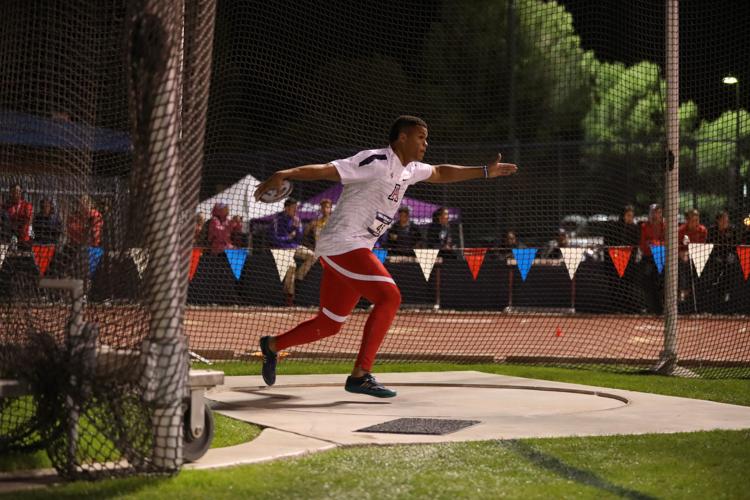 You could make a case that discus thrower Turner Washington, who shattered state records at Canyon del Oro High School and became a national champion in 2017, was among the 10 leading athletes on Arizona's campus.
But that all changed just as school began in August. Washington transferred to Arizona State.
"It's very disappointing but I love the young man," UA track coach Fred Harvey said. "I hope it works out for him."
Washington finished fourth in the Pac-12 discus finals as a freshman last spring and seemed on track for a legitimate shot at the Olympic games of 2020 or 2024. At ASU, he will be paired with coach Brian Blutreich, a former discus standout who was part of the 1992 U.S. Olympic team with Washington's father, Anthony, himself a three-time Olympic discus thrower.
This move from UA to ASU isn't unprecedented at the highest level. In 1977, Arizona sprinter Dwayne Evans, who won a bronze medal in the 1976 Montreal Olympics, transferred to ASU and competed three years for his hometown Sun Devils.
At ASU, Evans was reunited with his high school coach, Bruce Frankie, who had been hired by the Sun Devils. How'd it work out? Evans did not make another Olympic team, nor did he win a Pac-10 championship.
Jay Johnson was spot-on when he evaluated Phoenix baseball stars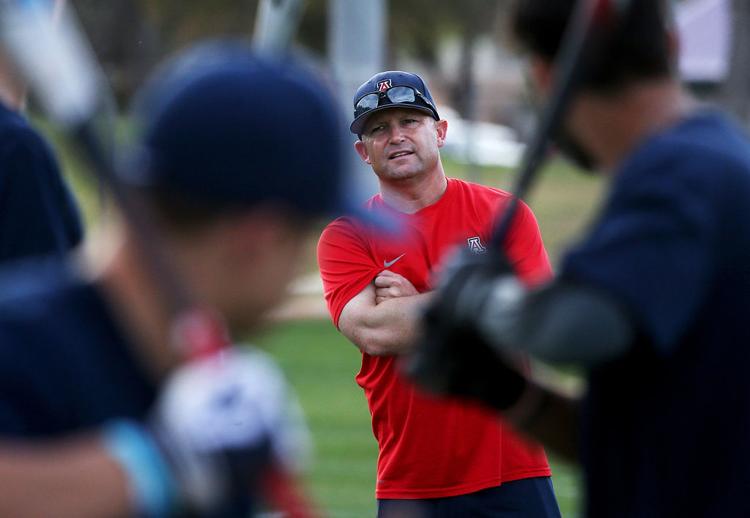 The recruiting signings completed last year by UA baseball coach Jay Johnson included Phoenix Mountain Pointe pitcher Matthew Liberatore and Phoenix Sandra Day O'Connor third baseman Nathan Gorman. Both became first-round draft picks in June, signing bonuses in excess of $3 million. Johnson's evaluation skills on Liberatore and Gorman, both of whom he began to recruit three years ago, were exact. In his first season of minor-league baseball this summer, Liberatore had a 1.38 ERA with 37 strikeouts in 32.2 innings. Gorman was just as good, hitting 17 home runs in just 63 minor-league games. Former Sahuaro High School catcher Cesar Salazar, an All-Pac-12 catcher at Arizona last season, struggled after becoming the seventh-round draft pick of the Houston Astros. Salazar hit a combined .197 for two minor-league teams this summer. The Astros will send Salazar to their fall instructional league organization.
Roadrunners will open 2018 with familiar faces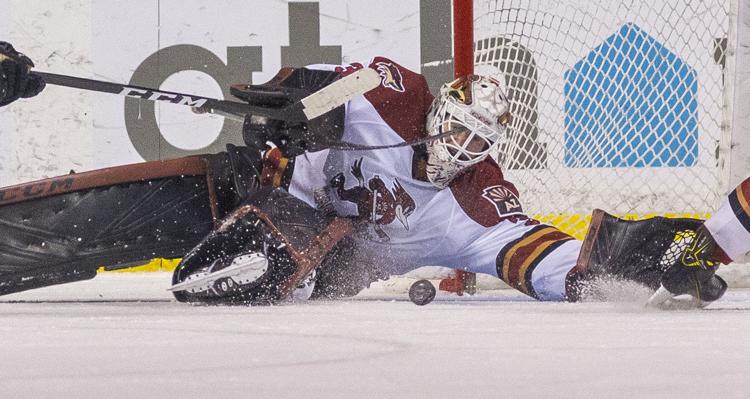 The Tucson Roadrunners team that opened the exhibition season Friday in Minnesota — the team that opens the AHL regular season Saturday night at Tucson Arena — looks very similar to the Roadrunners' 2018 Pacific Division champions. That's promising news. The only key missing pieces are Dylan Strome, Mario Kempe and Lawson Crouse, now in camp with the parent Arizona Coyotes. Carter Camper was traded to Grand Rapids and Mike Sislo signed with the New York Islanders. But the core of the roster are players such as Michael Bunting, Adin Hill and Kyle Copabianco, all of whom helped the Roadrunners win the 2018 division title.
Derrick Williams lands with Spanish pro team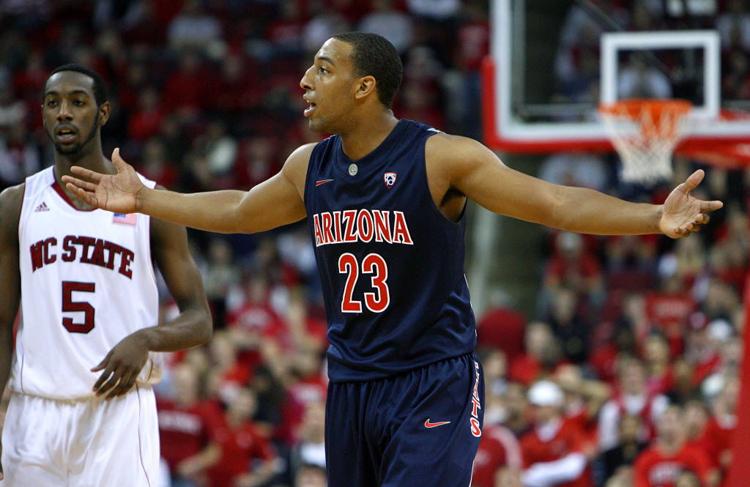 After playing for NBA teams in Cleveland, Sacramento, Los Angeles, Minnesota and New York, the UA's No. 2 overall draft pick of 2012, Derrick Williams, is now playing for Bayern Munich in the German EuroLeague. At 27, that probably means Williams' NBA days are over. The Bayern franchise has been the landing spot for former Pac-12 "tweeners" such as Oregon's Bryce Taylor, Oregon State's Jared Cunningham and Arizona's Nick Johnson. Williams started 112 NBA games and was paid an estimated $31 million before signing with the EuroLeague team. He worked out for the Boston Celtics and Dallas Mavericks this summer but was not signed. Johnson, meanwhile, is in training camp with the San Antonio Spurs.
Sunnyside tabs wrestler for school's Hall of Fame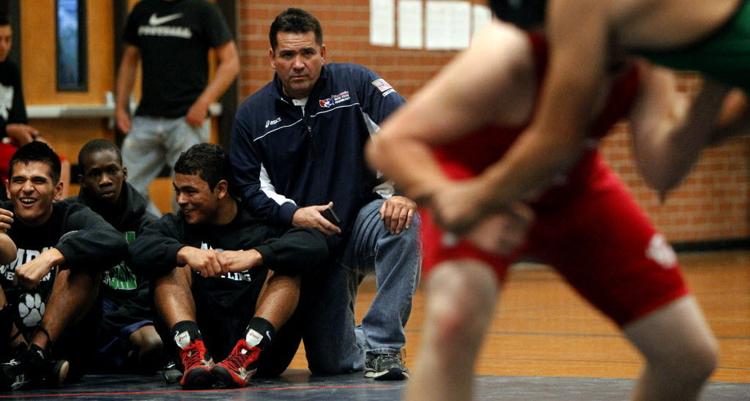 The Sunnyside Hall of Fame has selected ex-Blue Devils wrestler Sam Portillo for the Class of 2018, which will be inducted Nov. 17 at Gallego Middle School. Portillo, who wrestled at Arizona State and was a longtime successful wrestling coach at Amphitheater High School, has also been part of the Team USA wrestling program. On Saturday, Portillo and 2008 Olympic gold medal wrestler Henry Cejudo staged the Sam Portillo Wrestling Camp at Desert View High School, where Portillo is a first-year head coach.
Blue Devils' Jesse Ybarra will take his talents to the Midwest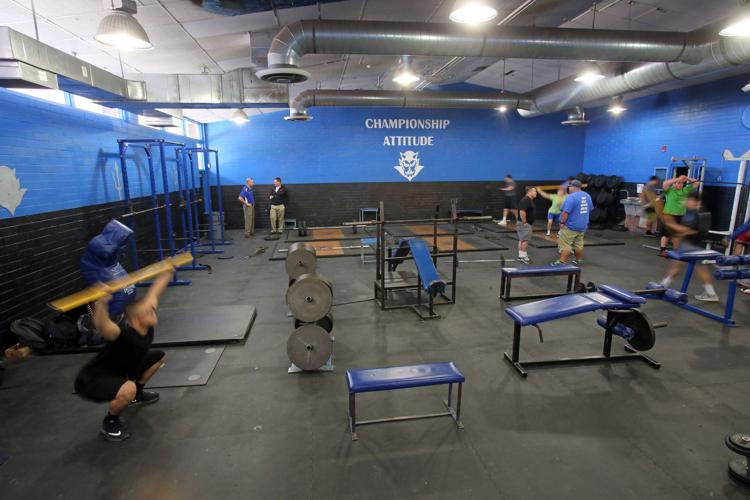 Sunnyside's two-time state wrestling champion, Jesse Ybarra, last week made a recruiting commitment to national power Iowa. The junior is ranked No. 42 overall in the Class of 2020 at 133/141 pounds, and is currently ranked No. 20 nationally at 120 pounds by Flowrestling.com. Ybarra won the Cadet freestyle national title this summer, outscoring his seven opponents 60-8 en route to first place at 120 pounds. He is 69-3 in two seasons at Sunnyside.
Foothills graduate will play basketball at Cornell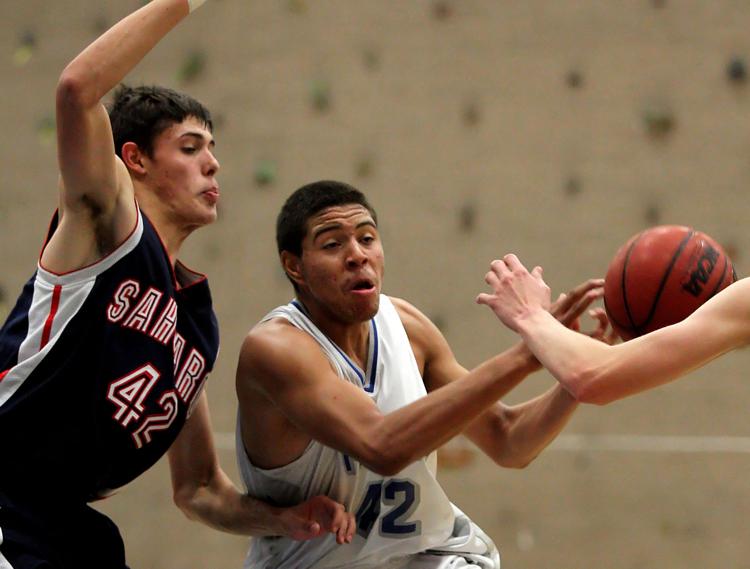 Catalina Foothills High School grad Chaz Mack has been ranked as the No. 21 junior-college transfer in college basketball this season by Lindy's college basketball magazine. After an All-American season at Cochise College, leading the ACCAC in scoring, Mack signed with Cornell. He won't break in quietly at Cornell; the Big Red will play at Syracuse and UConn early in the season. Mack is now teammates with Jimmy Boeheim, son of Syracuse coach Jim Boeheim. They will likely compete for playing time against one another. One of Mack's Catalina Foothills teammates, standout guard Sam Beskind, is a freshman walk-on at Stanford. Beskind also has a big-time early schedule; the Cardinal plays road games at Kansas and North Carolina.
Dave Rubio, Wildcats stun 12th-ranked Ducks on the road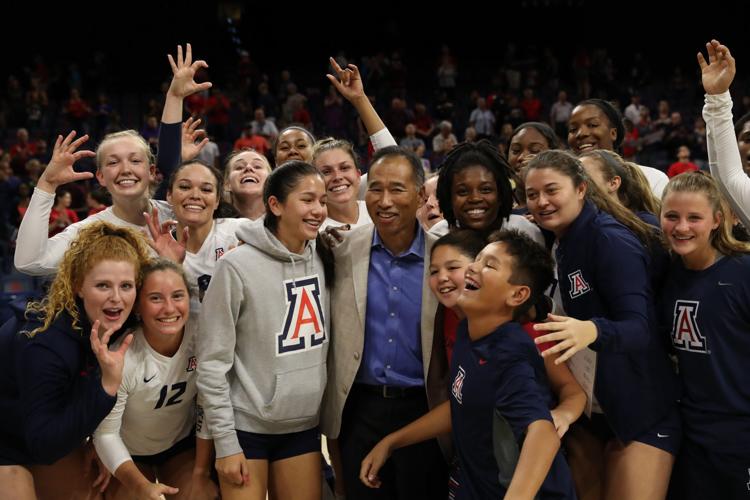 Arizona volleyball coach Dave Rubio registered one of the top victories of his current UA total of 503 on Friday, beating No. 12 Oregon in Eugene. "We will play 16 straight opponents ranked in the top 30," Rubio told me last week. "We don't play Cal or Arizona State, who are currently unranked, until the last two matches of the season. This is crazy." When the Wildcats return home to play Washington and WSU next weekend, they will be meeting the currently ranked Nos. 14 and 23 teams in the country.
You can now drive down Trevor Hoffman Way
Just @THoffman51 hitting all the angles 🤳 pic.twitter.com/5bywDUkc1l

— San Diego Padres (@Padres) September 29, 2018
The city council of San Diego last week voted in favor of renaming a block of Park Boulevard near Petco Park to Trevor Hoffman Way. The ceremony honoring the 1987-89 Arizona infielder was held Friday night before a game against the Diamondbacks. Hoffman Way is at the corner of Tony Gwynn Drive near the Padres' ballpark. Sweet.
Former CDO runner Katherine Bruno sets all-time mark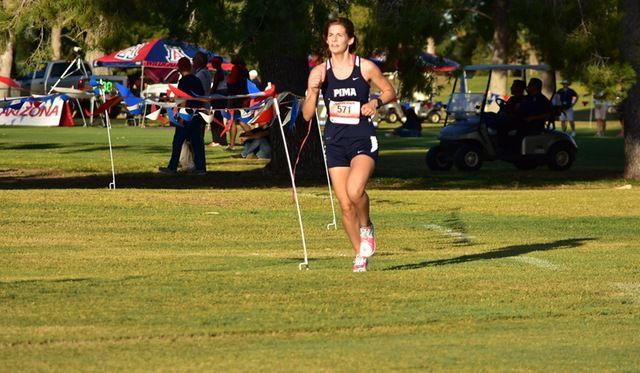 Canyon del Oro grad Katherine Bruno, a sophomore at Pima College, won the ACCAC cross country championship last week in Glendale. Just as impressive, Bruno's time of 18 minutes 12.8 seconds is believed to be the all-time ACCAC record. Aztecs coach Greg Wenneborg did the requisite research and discovered that the previous low time in the conference championships was 18:19.9 run by Central Arizona's Kizilarslan Aybuke 11 years ago. This isn't Bruno's breakthrough; that happened last spring, when she won the ACCAC's 1,500 and 3,000 meters championships and finished No. 9 nationally. She has drawn recruiting interest from Arizona, among others. Said Wenneborg: "I think she can be a contender for the NJCAA cross country national championship."
My two cents: In today's world, even hallowed Pauley Pavilion is for sale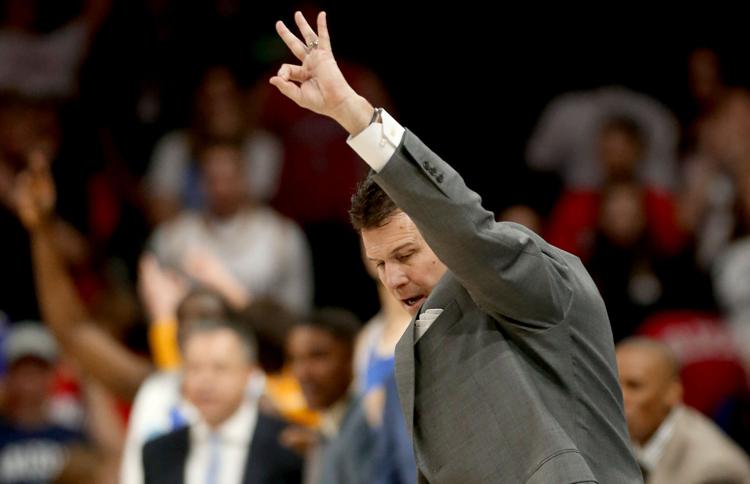 McKale Center and Washington State's Beasley Coliseum are now the only Pac-12 basketball venues not to have sold away their naming rights.
Last week, UCLA accepted $38 million over 10 years from a SoCal financial firm, Wescom, to henceforth call its basketball arena Pauley Pavilion presented by Wescom.
The word Wescom will now be on both sides of the playing surface that also bears the name of John Wooden.
That's awful. It's also the financial reality of 2018.
Former Arizona athletic directors Jim Livengood and Cedric Dempsey both said there is too much history involved with long-time coach/AD Pop McKale to consider altering the name of McKale Center. But that was more than 10 years ago.
Can you ever imagine something like: McKale Center at Casino del Sol Pavilion? I fear that day is coming.
USC recently built a new arena and named it the Galen Center after long-time Trojans fan Louis Galen, a banker, paid $50 million toward construction.
Washington State, which doesn't have 10 cents, would surely take a naming rights check if it could get one that makes financial sense. But that'll be difficult in small-town Pullman, Washington.
The Cougars named their arena after Wallace Beasley, a former sociology professor and school vice president.
That used to be how life worked in college sports. Old school.
Now everything is for sale.