Hansen's Sunday Notebook: Larry Scott's expensive tastes turning Pac-12 into a punchline
Star sports columnist Greg Hansen offers his opinion on recent sports news.
Scott's excesses are enabled by the presidents who support him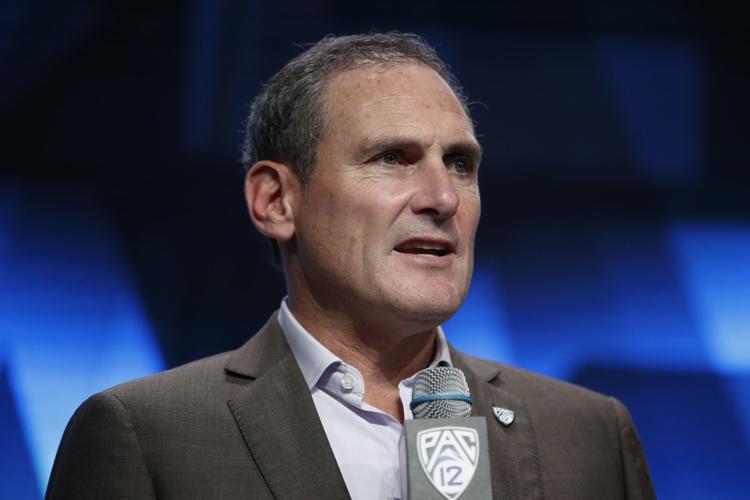 At the Pac-12 championship football game Friday, commissioner Larry Scott told reporters the league "should be viewed as a media company and not compared to traditional major conferences."
Regrettably, it's almost as if there's nothing collegial about college sports any more.
Upon reading an Oregon newspaper's provocative four-part series on the lavish spending and dictatorial behavior of Scott, it became clear the Pac-12 has become Moneyball, a game of excess.
Scott has seized so much power that he has blown up what used to be a chummy model that generated goodwill and lifetime relationships.
The Oregonian's John Canzano reported the Pac-12 spends $6.9 million per year to rent a lavish downtown San Francisco space; by comparison, the SEC pays $318,000 in rent for its Birmingham, Alabama, offices.
Canzano described how the Pac-12 high command spent $3.1 million in expenses last year. The Big Ten spent $542,000. He quoted former Washington State athletic director Bill Moos saying "Larry likes extravagance; he runs the Pac-12 like the commissioner of Major League Baseball."
Canzano reported that at a financial discussion with Pac-12 athletic directors in 2014, Scott interrupted a dialogue with former Utah athletic director Chris Hill and told him and the other ADs that "you're lucky for what you get."
Predictably, Scott was greeted by a cascade of boos when presented the Pac-12 championship trophy to Washington football coach Chris Petersen  on Friday night. And the happy Huskies fans had just watched their team win a berth in the Rose Bowl.
Is that what the presidents and chancellors of the Pac-12 really want? For its commissioner to be a bigger story than the year's most meaningful football game? For a commissioner to have a reputation as the most disliked person in the league?
Scott travels by private jet, with a driver, flanked by PR people, driven by an ego that surely leads the NCAA in "look how smart I am" chatter.
Here's an example of the excess: Scott created a "Pacific Rim initiative" in which he sends a Pac-12 basketball team to China each November, disrupting their preparation for the regular season.
So far, Arizona has resisted Scott's "invitation."
Maybe that game would work in August or September, but few coaches want to spend a week traveling in November. It is difficult to find a nonconference team willing to play in that game. But the game goes on, even without a nonconference foe.
Scott has ordered Arizona State to play Colorado in China in 2019. What a waste of time and money.
Scott is paid $4.8 million per year compared to SEC commissioner Greg Sankey's $1.9 million. He has a contract that runs through 2022. It doesn't seem likely his bosses — the Pac-12 presidents and chancellors who sanction this excess — will interrupt their day-to-day academic affairs to figure out a way to pay Scott more than $20 million to go away.
How times have changed.
In 2010, longtime Western Athletic Conference commissioner Joe Kearney was dying of cancer. Kearney moved to Tucson in 1994 after serving 14 years atop the WAC.
I met Kearney for lunch one day and as we were talking, he got a call from former BYU athletic director Glen Tuckett, who had just learned of Kearney's illness.
"Glen is flying to Tucson tomorrow to spend a few days with me," Kearney said, his voice cracking. "We have such a strong friendship."
Imagine something like that happening with the current commissioner and a Pac-12 AD of 2018. No way.
Either way, the league needs to restore its image. As Canzano wrote at the conclusion of his four-part series "the erosion of the Pac-12 brand — and trust — are at a breaking point."
Kevin Sumlin's staff garners attention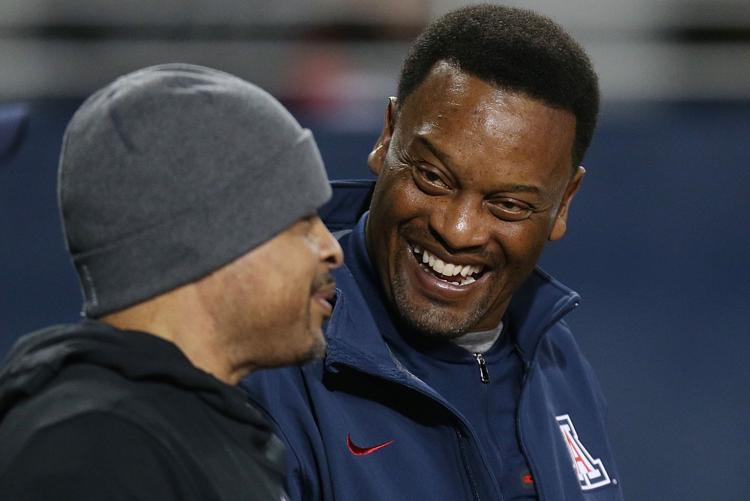 After an uninspiring coaching debut at Arizona, Kevin Sumlin attended Friday's Class 4A state championship game between Salpointe Catholic and Scottsdale Saguaro at Arizona Stadium.
Offensive coordinator Noel Mazzone was also at the game, as was ASU coach Herm Edwards and eight of his Sun Devils assistant coaches.
Now comes the annual hiring/firing season for college football coaches. Sumlin's moves will be watched closely.
While coaching at Houston and Texas A&M, Sumlin wasn't shy about shuffling the deck. In nine years, he had six offensive coordinators: Dana Holgorsen, Jason Phillips, Kliff Kingsbury, Clarence McKinney, Jake Spavital and Mazzone.
In the same period, Sumlin had four defensive coordinators: John Skladany, Brian Stewart, Mike Snyder and John Chavis.
Sumlin has not been a stand-pat coach, which creates speculation that Mazzone or defensive coordinator Marcel Yates will be given scrutiny when positions on the 2019 staff are determined.
If nothing else, Arizona is likely to need a new running backs coach. McKinney is reportedly Texas Southern's choice as head coach.
I'm not sure shuffling assistant coaching assignments will make much of a difference for Arizona's football program. Better recruiting could fix more of what has gone wrong at the UA.
As for Sumlin, don't expect him to be leaving anytime soon. Last month, he bought a house near Westin La Paloma Resort for $1,795,000. It is a six-bedroom, six-bathroom compound with 7,855 square feet. It should be big enough to entertain his entire 2019 recruiting class.
Sunday's game is just like old times — or is it?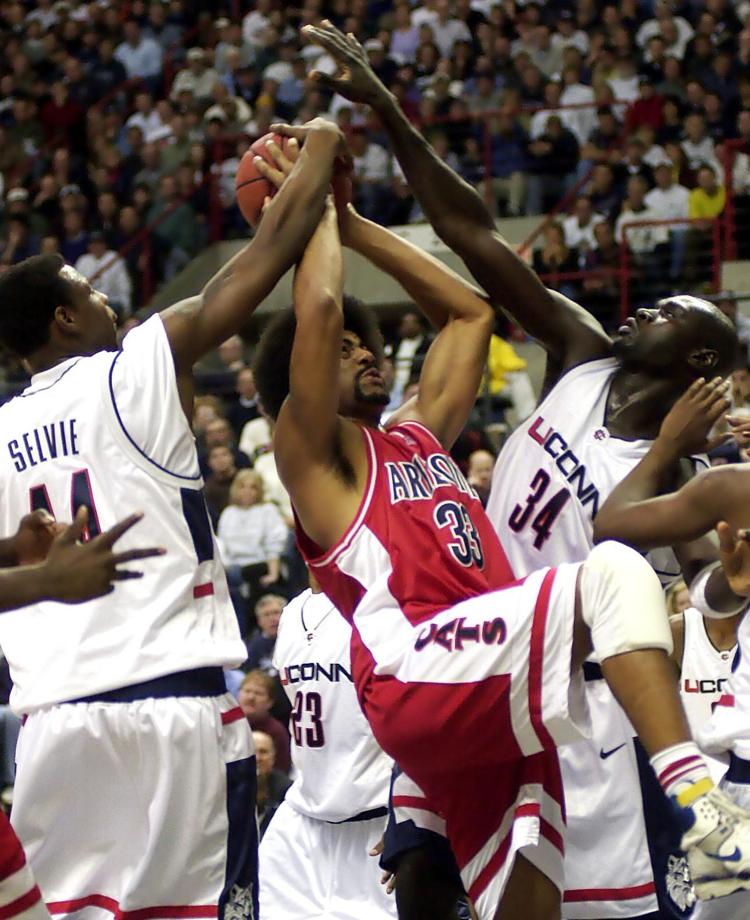 On the day No. 5 Arizona played at No. 15 UConn 18 years ago, both programs were certifiable Final Four programs used to the spotlight of big-time nonconference games. A lot of that has changed; now it's uncommon for top 25-type programs to play home-and-home series.
More surprising, both Arizona and UConn are struggling to get back into the polls.
But according to the Hartford Courant, Sunday's game has restored interest in a foundering UConn program.
"(It) is expected to be a sellout and a first experience for many of the Huskies," the Courant reported. "The big building, 15,000-plus, all UConn fans and coming expecting to win. All signs point to a signature game for this season, in which the Huskies will need to whip themselves into frenzy on defense and offense. We'll find out if the Huskies are ready, and how much they are improved. A win could get them in the rankings."
Even during this transition season, Arizona should expect to get its opponent's best shot.
Former Wildcats star Duncan is back in the big leagues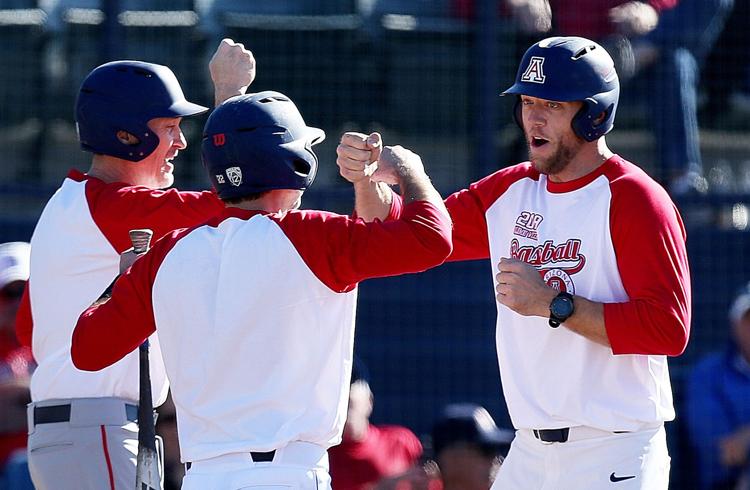 It doesn't take long in the company of former Canyon del Oro High School and UA home run champion Shelley Duncan to picture him as a big-league manager someday. After managing the Arizona Diamondbacks' Double-A and Single-A affiliates the last two seasons, Duncan was hired last week to be the Toronto Blue Jays' major-league field coordinator.
What kind of a job is that? New Toronto manager Charlie Montoyo, a Sahuarita resident, said that it can be everything from Duncan working with second baseman Brandon Drury to helping pitchers.
"Shelley will also be helping with base- running, and will have a lot of involvement with game planning," Montoyo said. Duncan, who turned 39 in September, was a hitting coach in the recently-completed Arizona Fall League.
Salpointe vs. Saguaro officiated by some of Tucson's finest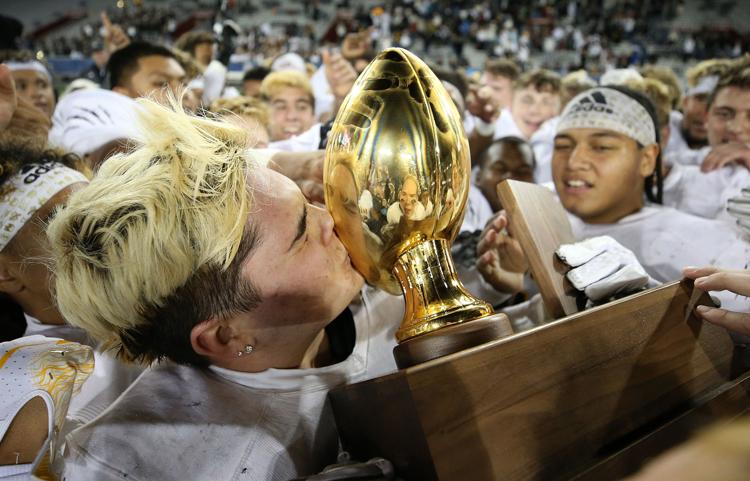 Four of Tucson's leading high school football referees worked Friday's Class 4A state championship game between Salpointe Catholic and Scottsdale Saguaro. The officials, who are picked on merit, included Glenn Koepnick, who was working his eighth state championship game but his first as the head referee. He was joined by head linesman Matthew "Tucker" Johnson, line judge Matt Krueger and back judge Tyler Stephens. Koepnick got his start in officiating by working at a basketball referees' camp with Pac-12 officials Bob Scofield and Chris Rastatter and took it from there.
Bijan Robinson reminiscent of another local legend — perhaps even better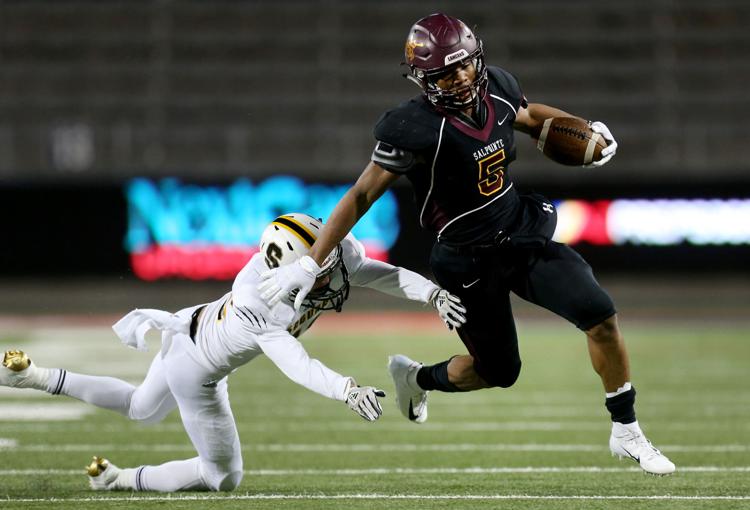 In my opinion, Salpointe junior running back Bijan Robinson was the best player on the field Friday, even though the Lancers lost 42-16 to Saguaro. I think he's a better prospect than CDO's Ka'Deem Carey at a similar stage. Robinson is a glider; he can get to and turn the corner when it appears he has no chance to get there. Robinson now has 4,801 career rushing yards; Carey had a Tucson-record 5,701 at CDO. Carey completed the 2018 football season playing for the Calgary Stampeders, who won the CFL's Grey Cup last month. Carey spent five weeks on the Stampeders' practice squad but did not play in a game.
Arizona Bowl may end up choosing between Aztecs, Cowboys
It'll be a difficult decision Sunday for Nova Home Loans Arizona Bowl chairman Ali Farhang: Should the remaining spot go to Wyoming or San Diego State? Perhaps Fresno State could squeeze in. Wyoming finished the season 4-0 while SDSU slumped, going 0-3 down the stretch. Farhang earlier chose Arkansas State as the Arizona Bowl's best option, by far, from the Sun Belt Conference. The Red Wolves went 4-0 to finish the regular season, outscoring opponents 146-54. Success in the bowl business can be fleeting. Last year's Arizona Bowl Cinderella, New Mexico State, went 3-9 this season and drew as few as 7,300 to a home game.
Recruiting rankings are anyone's guess — here's one class that still holds up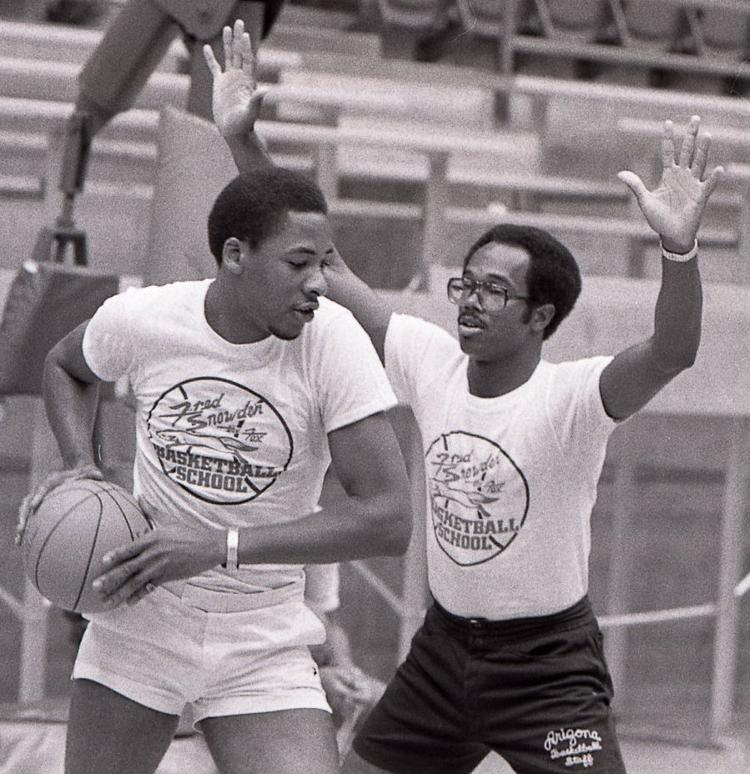 With the stage to himself last week, Sean Miller made an aggressive display, emotional at times, announcing a Class of 2019 recruiting class that currently ranks No. 1 nationally on some lists. Miller even suggested some of his recruiting staff slept in the office overnight. Really. To this point, Miller's top UA recruiting class was the 2012 group of Kaleb Tarczewski, Brandon Ashley, Grant Jerrett and Gabe York. You never know in recruiting; of that esteemed group, only Jerrett played in the NBA (eight games). All are now in various minor leagues. In my opinion, the top recruiting class in UA basketball history was Fred Snowden's 1972 class of Coniel Norman, Eric Money and Al Fleming, all future NBA players who did more to build Tucson's basketball culture than any other class. The Class of 1985, signed by Lute Olson, included Sean Elliott, Anthony Cook and Kenny Lofton, which would be my No. 2 choice. Elliott's nephew, Lucas Elliott, is a 6-foot- 10-inch senior at Pusch Ridge Christian Academy where he averages 12.2 points and 10.3 rebounds per game.
My two cents: Saguaro's latest title shows AIA needs fixing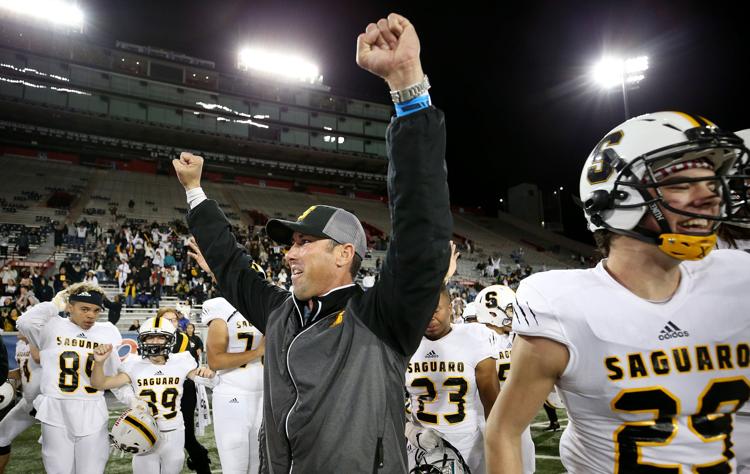 What strikes me most about Scottsdale Saguaro's sixth straight state football championship isn't its proliferation of transfers and open-enrollment players that make the Sabercats a Class 6A team in 4A clothing.
It's the disregard for Saguaro-based kids who have spent time and effort in the program and get benched when the annual new crop of transfers arrives, some for just part of one season.
Saguaro's star player in Friday's championship victory was Marqui Johnson, who sued the Arizona Interscholastic Association and went to court to gain eligibility after his offseason transfer from Scottsdale Chaparral. The AIA did not permit Johnson to begin playing until Oct. 5, at midseason. Is that what high school sports are about these days? Courts? Transfers? Temporary help?
It is overdue for the AIA to create a "Super League," where schools like Saguaro won't be allowed to rack up a string of state championships against outmanned opponents.