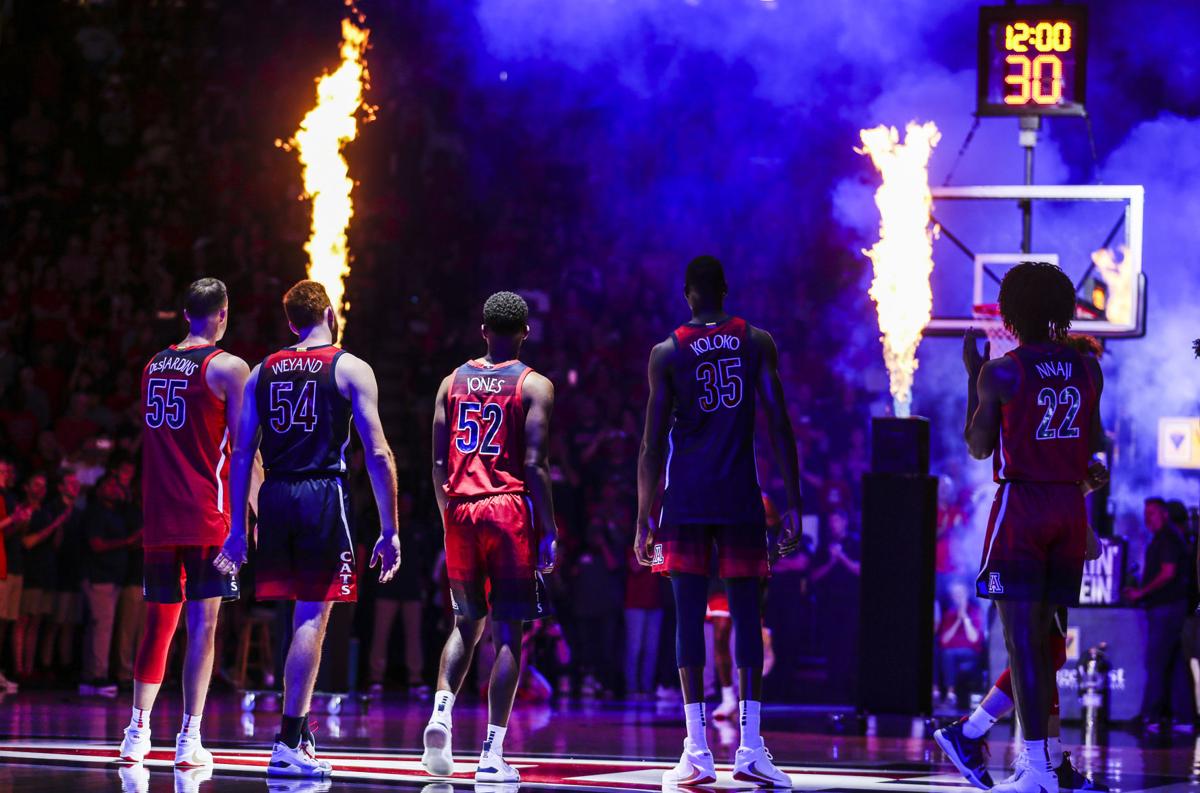 Not only did Arizona entertain about a dozen of the nation's highest-ranked basketball prospects at Friday's Red-Blue Game, UA women's basketball coach Adia Barnes pig-tailed the big event by bringing two 5-star recruits to McKale Center for the weekend.
Ugonne Onyiah, a 6-foot-3-inch prospect from Los Angeles and Anaya Boyd, a 5-11 combo guard from Georgia, were at McKale Center — as was the entire UA women's basketball team.
Such is the magnitude of what has become "McKale Magic," an event that no other Pac-12 school can match, or even attempt to match.
Oregon has been the league's No. 2 basketball franchise of this decade, but the Ducks hold a modest "Green and Yellow" scrimmage on Oct. 30, a Wednesday night. Why not celebrate-yourself festival to match Arizona's Red-Blue Game?
Because it would be difficult for the Ducks, or any other Pac-12 school, to draw even 3,000 fans to a scrimmage. That wouldn't impress many 5-star prospects.
To its credit, Arizona maximizes the Red-Blue Game and turns it into a spectacle. Friday's pre-game video was almost over-the-top, featuring everyone from Steve Kerr and Sean Elliott to the school's latest NBA lottery picks: Lauri Markkanen and Deandre Ayton.
The importance of the Red-Blue Game is such that UA president Robert C. Robbins was sitting on the UA bench 40 minutes before tipoff. The school's most significant athletic department donor, Cole Davis, was sitting behind the UA bench to watch pre-game festivities
You won't see anything like that at Colorado or UCLA or Washington.
The UA took advantage of its most important recruiting platform, showcasing its history and its ever-loving fans. It worked.
Colorado will open the season as the Pac-12 favorite, a once-in-a-decade team, but the Buffaloes do not list any type of pre-season scrimmage on their official website.
Otherwise, Friday's scrimmage had five notable developments. Here's the list:
• It's difficult to remember a player who improved more from his freshman year to his sophomore year than multi-position sophomore Devonaire Doutrive. Maybe point guard Matt Muehlebach in 1989-90 or Jason Terry in 1996-97. Doutrive has a confidence that wasn't evident last season. He can play.
• Cornell grad transfer Stone Gettings is a significant upgrade on last year's Pitt grad transfer Ryan Luther. He mixes it up. He plays with a forceful demeanor, and he can hit the 3-pointer, too.
• Freshman forward Zeke Nnaji's piano version of the Star-Spangled Banner was electric. If he's anywhere near as good at basketball as he is at music, he'll be a lottery pick. I think it's the first time I've had tears running out of my eyes at McKale Center since Senior Day, 1989.
• The new, significantly longer 3-point line — 13 inches beyond last year's distance — wasn't a factor. Arizona shot 8 for 23, which is 34 percent. A year ago, Arizona shot 33 percent. UC Irvine grad transfer Max Hazzard went 3 for 6 and it was clear opposing defense will learn not to leave him open.
"It's a new season; we have a long journey ahead of us," Sean Miller told a capacity crowd before the game. But unlike the 2018-19 season, this one could have a happy ending. If you've got a point guard like Nico Mannion, you've got a chance every night.
---
Kenyon College star found AD with Tucson ties at Division III school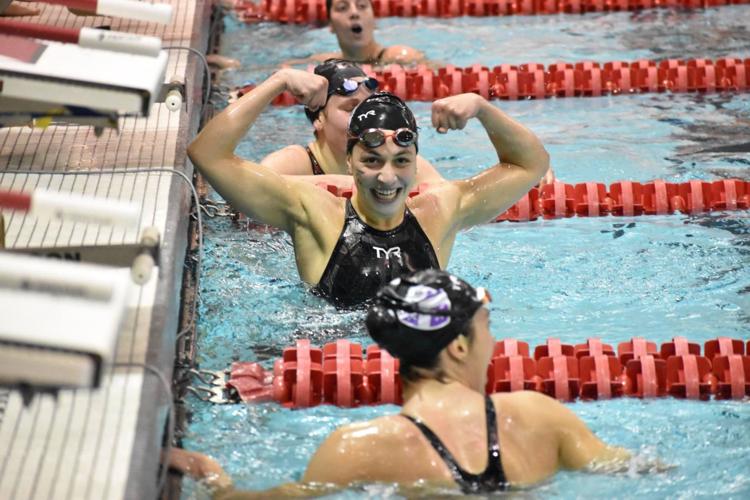 When Catalina Foothills High School 2013 state swimming champion Hannah Orbach-Mandel arrived at Division III NCAA swimming juggernaut Kenyon College in Ohio, she discovered that Kenyon's athletic director had similar Tucson success stories. Jill McCartney, who coached Salpointe Catholic's girls soccer team to a 22-1-1 season and the 1998 state championship, is Kenyon's AD. Orbach-Mandel thrived at Kenyon, graduating with a 3.9 GPA, becoming a 25-time All-American and, impressively, becoming one of 30 finalists for the NCAA Woman of the Year, an honor that will be announced on Oct. 21 in Indianapolis, where Orbach-Mandel works in the NCAA headquarters.
---
Ex-Cat Gigi Stoll impressing on pro tour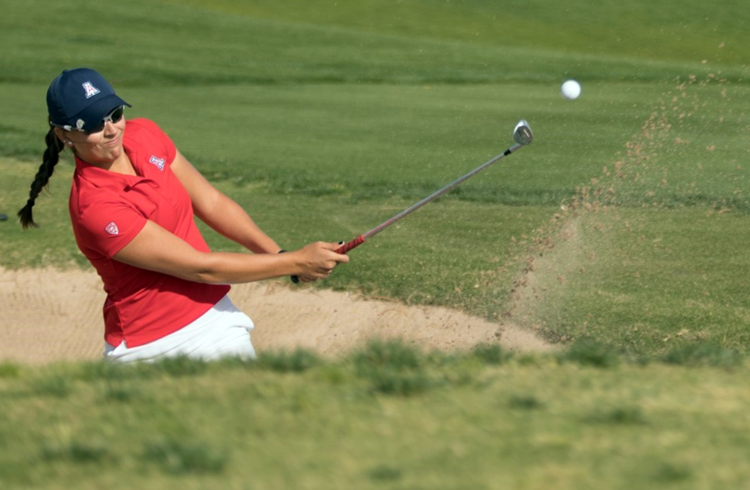 After being a key part of Arizona's 2018 NCAA championship women's golf team, Gigi Stoll decided to bypass her final year of eligibility and turn pro. How is it going? Stoll last week finished second in the LPGA Tour's Symetra Tour event in Alabama, earning $16,410. Stoll has finished in the top 10 three times this season and is qualified for the LPGA Tour School's Stage II next month. 
---
Former big-leaguer Tom Waddell, 60, dies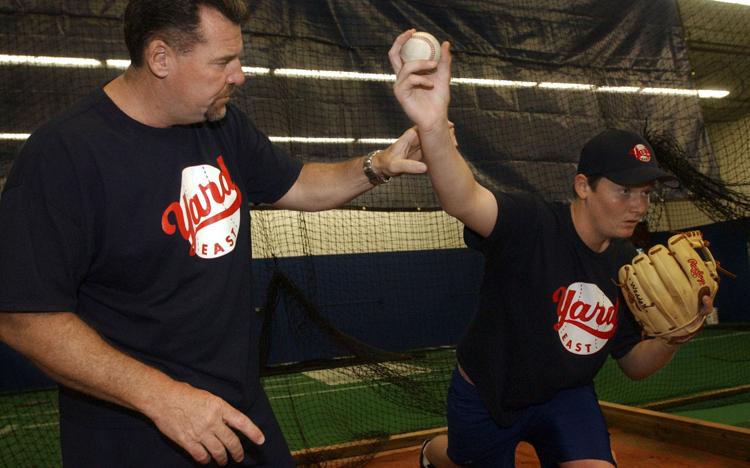 Sad news: Tucsonan Tom Waddell, co-owner of The Yard, an indoor baseball-softball training facility on Tucson's east side, died of a heart attack last week. He was only 60. Few in big-league baseball had a better back story than Waddell, who was born in Scotland, moved to New Jersey as a child and pitched at Manhattan College. After no MLB team drafted Waddell, he worked as a clothing salesman in New York City before signing as a free agent with the Cleveland Indians. By 1984, he was in the big leagues, winning 15 games for the Cleveland Indians in 1984-85. He spent his spring training years at Hi Corbett Field and ultimately made Tucson his home after an arm injury ended his career in 1987. Waddell impacted scores of Tucson baseball and softball players for many years.
---
Wildcats are a hot ticket 
The Arizona women's basketball team has sold about 2,700 season tickets, which is probably close to double the school record over the last 30 years. It probably won't lead the Pac-12 in attendance because Oregon State and Oregon are in the middle of unprecedented success and routinely draw 5,000 per game. But I think the Wildcats will draw more than 5,000 for regular-season games many times this season.
I mean, who doesn't want to watch junior point guard Aari McDonald play?
She's got a full-speed motor and an engaging personality and is one of the top three or four players in a loaded Pac-12. The UA still hasn't scheduled a big-name team for a McKale Center non-conference game, but to her credit, Barnes scheduled a roadie at Texas in November; the Longhorns won 23 games and played in the NCAA Tournament a year ago.
The Pac-12 is so good that Arizona was given a daunting opening run in January, beginning the conference season at ASU, UCLA and USC, which is about as tough as it gets in any women's basketball league. 
---
Seth Mejias-Brean finally cashing in after long minor-league tenure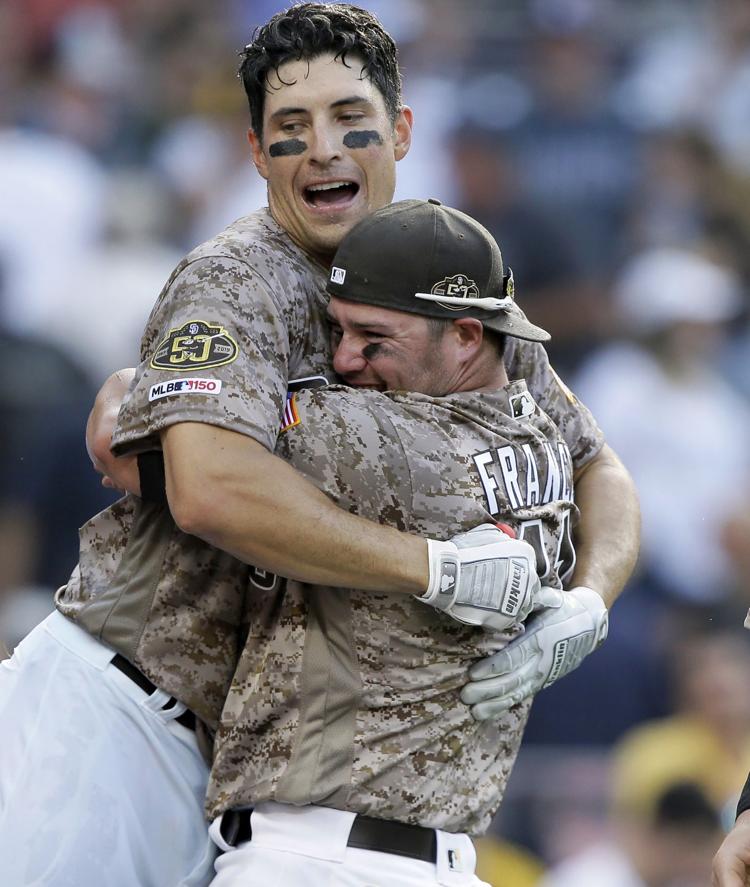 Cienega High School and UA baseball product Seth Mejias-Brean made the most of his September call-up to the San Diego Padres. He was hitting .241 with two home runs through Friday, showing that it's never too late to change. He didn't play a minor-league game at shortstop until 2018, but has started at short for the Pads in addition to playing third and first.
Mejias-Brean has earned about $90,000 in his month with San Diego, a pro-rated cut of baseball's minimum salary. His value as a utilityman has probably increased significantly this month; look for him to open the 2020 season in the big leagues for the first time.
---
CDO, UA grad David Korn having best season yet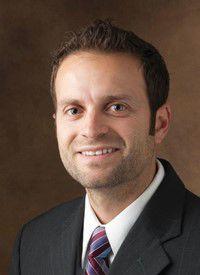 CDO and UA grad David Korn, who has coached Division II Maryville University of Missouri to the 2017 and 2018 NCAA men's soccer tournaments, is having his best season as a head coach yet. Maryville moved to 7-0 on Friday, ranked No. 6 among Division II men's soccer programs. Big time.
---
Sabino grad Willie Wood 52nd on Champions money list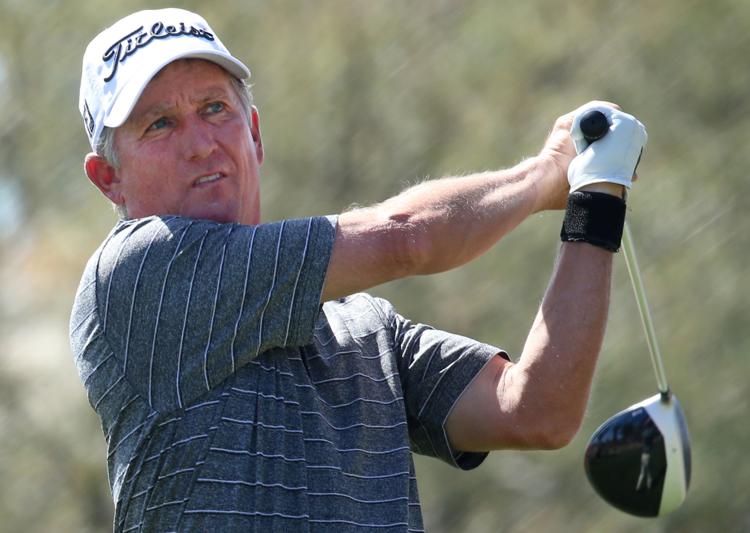 After Sabino High School grad Willie Wood came out of nowhere, finishing tied for second in the Cologuard Classic last spring at Tucson National, he completed a strong year as a basic PGA Tour Champions "walk on." At 58, Wood is 52nd on the Champions money list, with close to $255,000. At 58, that's against the odds and then some. Wood has only qualified to play in two Champions Tour events the last three months.
---
Salpointe grad Donovan Olumba one step away from NFL debut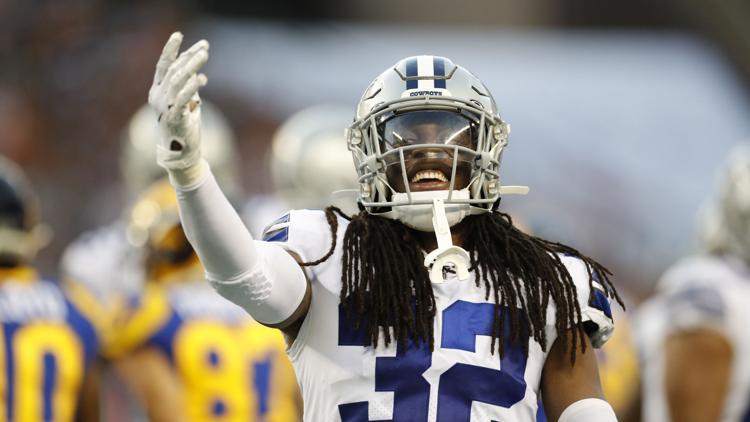 Here's a name to keep in mind: Donovan Olumba. Doesn't ring a bell? In 2012, Olumba was a useful receiver for one of Dennis Bene's state title contenders at Salpointe Catholic High School, catching nine passes for 113 yards. He enrolled at Division II Alderson-Broaddus, made 63 tackles and intercepted six passes in three seasons, then transferred to Portland State, redshirted and became a starting cornerback.
At Olumba's 2018 pro day at Portland State, he was measured with a 78-inch wingspan and ran a 4.6-second 40-yard dash. The Dallas Cowboys signed him as a free agent and for the second year he is on the team's practice squad. He had a pick-six in the exhibition season.
Olumba is now an injury away from completing an improbable run to the Cowboys' active roster.
---
Salpointe Catholic-Sahuaro will be Tucson's Game of the Year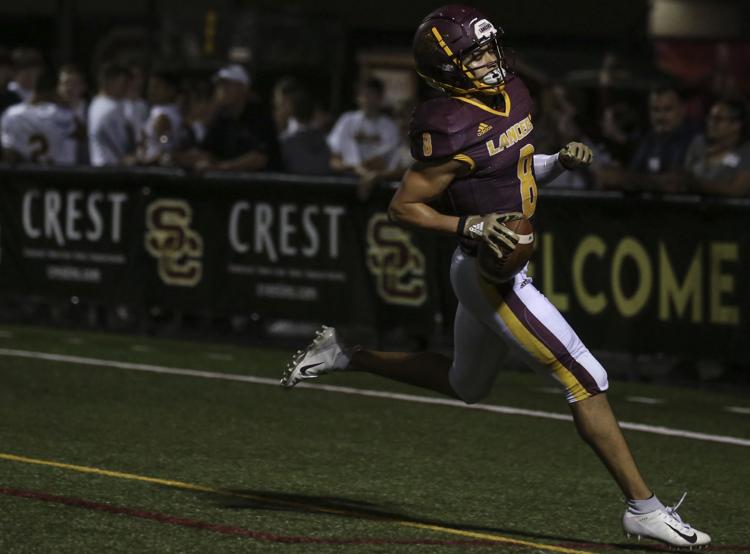 The Game of the Year in Tucson prep football is surely Friday's 7 p.m. showdown between 4-0 Salpointe and 6-0 Sahuaro in a battle of two of the five remaining Class 4A unbeaten teams. They have been so dominating that they've combined to outscore opponents 478-118.
Even more compelling, Salpointe's transfers from Marana High School — quarterback Treyson Bourguet and his older brother, receiver Coben Bourguet — will be eligible to play after sitting out five weeks as per AIA transfer rules. Both are potential game-changers.
Salpointe has also benefited from the emergence of senior transfer Jackson Sumlin, son of UA football coach Kevin Sumlin, who has caught three passes of late and been a factor on the Luke Regina-Trent Strong-led defense.
Sahuaro coach Scott McKee isn't new to big games; the Cougars went 10-3 a year ago. His team is, like Salpointe, a ground-based offense. Izaiah Davis and Trevion Watkins have combined to gain 1,037 yards already and it's still September. After the Salpointe game, Sahuaro must play at 5-0 CDO. The season starts now.
---
My two cents: Conquistadores, Cologuard step up to help golf; expect the UA to join their efforts soon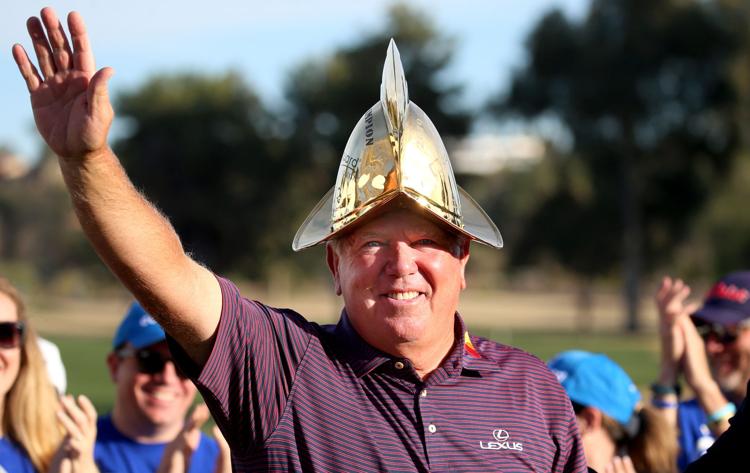 By the time the Tucson Conquistadores stage the 2021 PGA Tour Champions Cologuard Classic at Tucson National, old ASU-UA rivals Phil Mickelson and Jim Furyk will have turned 50 and be eligible to play where they were once budding stars in the old Northern Telecom Open/Nortel Open/Tucson Chrysler Classic.
PGA Tour Champions president Miller Brady was in Tucson last week to announce a contract extension that will keep the Cologuard Classic here through 2025. By that date, Tucson will celebrate 80 years as part of the PGA Tour and its Champions division.
The credit goes to the Conquistadores, who began sponsoring the old Tucson Open in 1965. It was fitting that the first chairman of the Tucson Open, Fred Boice, attended last week's festivities.
Tucson National has been a wonderful site for more than 30 Tucson Opens. The one unknown is if the Conquistadores and PGA Tour will return to Randolph North before the 2025 season. The Tucson Open was held at Randolph through most of the 1980s.
You can book it that a combined effort of UA president Robert C. Robbins, the Conquistadores and the City of Tucson is working on making Randolph prominent again. Randolph North will almost certainly be remodeled and made worthy of a PGA Champions Tour event in the next few years.
Randolph North is likely to become the home of the UA men's and women's golf teams, with a new clubhouse where the tee of the No. 9 hole now sits. The course will probably be refitted, with new practice facilities at the No. 9 hole, and a redesign of a hole or two to accommodate the changes.
You may even see a statue or two of potential financial backers like ex-Wildcats Annika Sorenstam and Jim Furyk, where the grand history of UA golf teams can be celebrated.
Whatever happens, it's a positive sign that the golf industry — in a recession mode in Southern Arizona for the last 10 to 15 years — is fighting back. Fittingly, it will be at the historic, nearly-century old home of all Southern Arizona golf.
Contact sports columnist Greg Hansen at 520-573-4362 or ghansen@tucson.com. On Twitter: @ghansen711