Hansen's Sunday Notebook: Southern Arizona packed with stars as 2018-19 school year starts
Star sports columnist Greg Hansen offers his opinion on recent sports news.
Keep and eye on these high school stars as 2018-19 season opens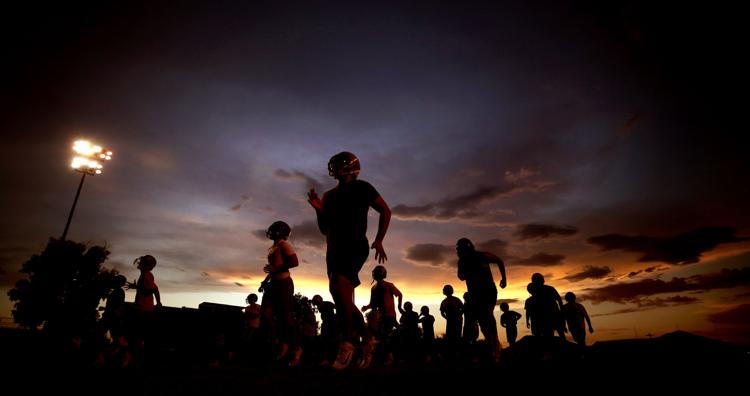 Tucson's high school sports season begins with a football game Thursday night — Ironwood Ridge at Mountain View in the Coaches for Charity spotlight game — and the Class of 2019 will have to go a bit to match the classes of 2017 and 2018.
A year ago, 13 Tucson teams won state championships. A year earlier, 2016-17, Tucson teams won 14 state titles. In this century, Tucson teams won 20 or more state championships in four school years, with a high of 24 in 2008-09.
Does the class of 2019 have what it takes to challenge those 24 state championships? Here's my list of the leading athletes in the Class of '19:
1. Harsh Parikh, tennis, Salpointe Catholic. The No. 1 ranked player in his age-group in Arizona, and No. 8 in the nation according to Tennis RPI, Parikh has drawn recruiting interest from Northwestern, Harvard, Brown and Dartmouth, among others.
2. Madison Sundholm, volleyball, Salpointe Catholic. In two years, both culminating in state championships, Sundholm, who will play for the Cal Golden Bears, has 480 kills. That's like a basketball player averaging 25 points a game.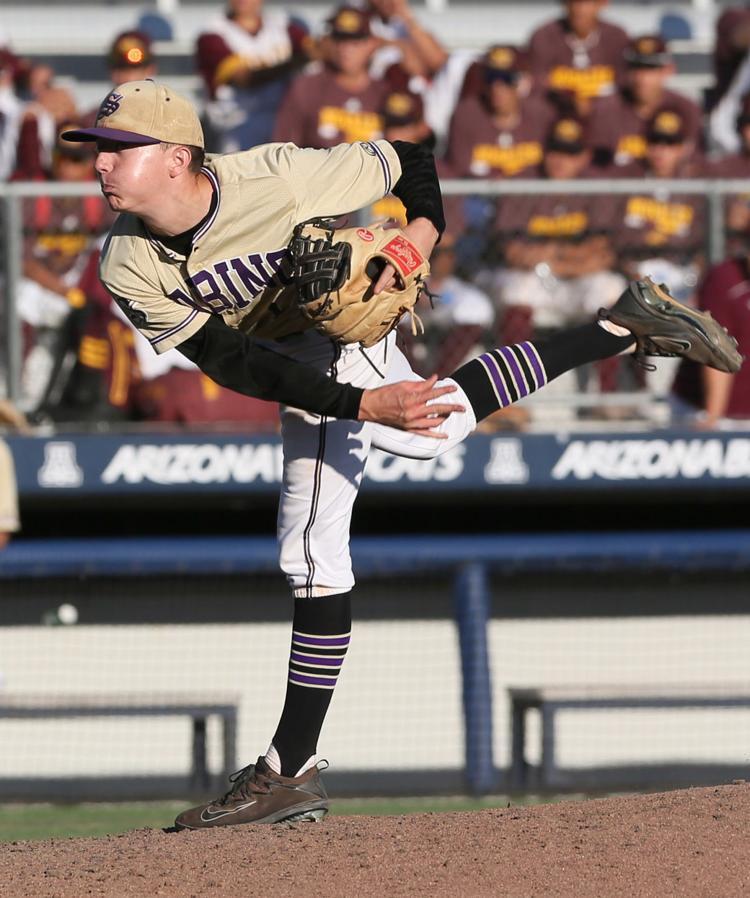 3. Preston Clifford, baseball, Sabino. As the Sabercats won the state 3A championship, Clifford was 8-0 as a pitcher with a 1.27 ERA. He also hit .398 with 20 extra-base hits. He has vowed to play at New Mexico State, joining WAC freshman of the year Nick Gonzales of Cienega.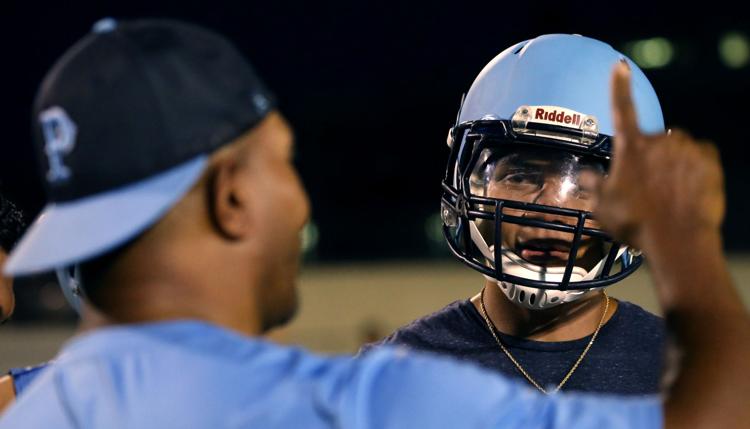 4. (tie) Julio Carino, Omar Ibanez and Ruben Rivera, football, Pueblo. The three seniors could start for any team in Southern Arizona, and are the key pieces behind coach Brandon Sanders' 21-11 record the last three seasons, ending a decade of losing football.
5. Tatianna Lizarraga, soccer, Catalina Foothills. Lizarraga scored 22 goals in 18 games last season for the Falcons. It's difficult to separate Lizarraga from Salpointe Catholic senior Kalista Kakou, a defending state champion who is also likely to be a contender for the state's player of the year honors.
It's a tough call beyond the top group. Four senior soccer players — Sunnyside's Manny Quiroz, Tucson's Emmanuel Leon, Salpointe Catholic's Alfonso Cabrera and Rincon/University's Sam Lossou — are game-changers, all with state championship aspirations. Cabrera is in position to score his 100th career goal for Wolfgang Weber's Lancers this season.
Tucson is a long-time softball power, but its two leading players are from the Class of 2020: Tucson High's Carlie Scupin and Amphi's Kristiana Watson. The top player in the Class of '19 might be Salpointe's Diana Montano, who was a big factor in the Lancers' 2018 state championship as she hit .451 with 64 RBI.
And Salpointe Catholic basketball star Majok Deng, who has been offered a scholarship by five Pac-12 schools, including UA and ASU, is a four-star recruit whose improved 3-point shooting in the summer AAU season pushed him to the elite level.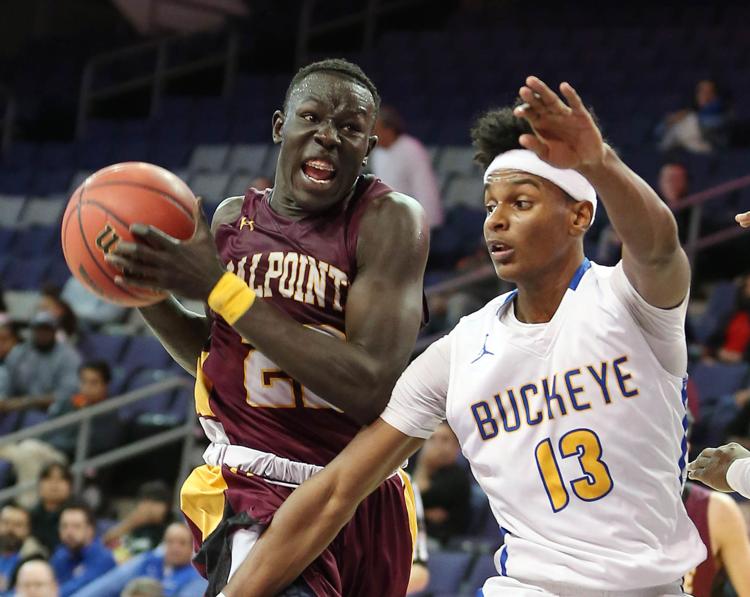 Ben Kern makes a splash at PGA Championship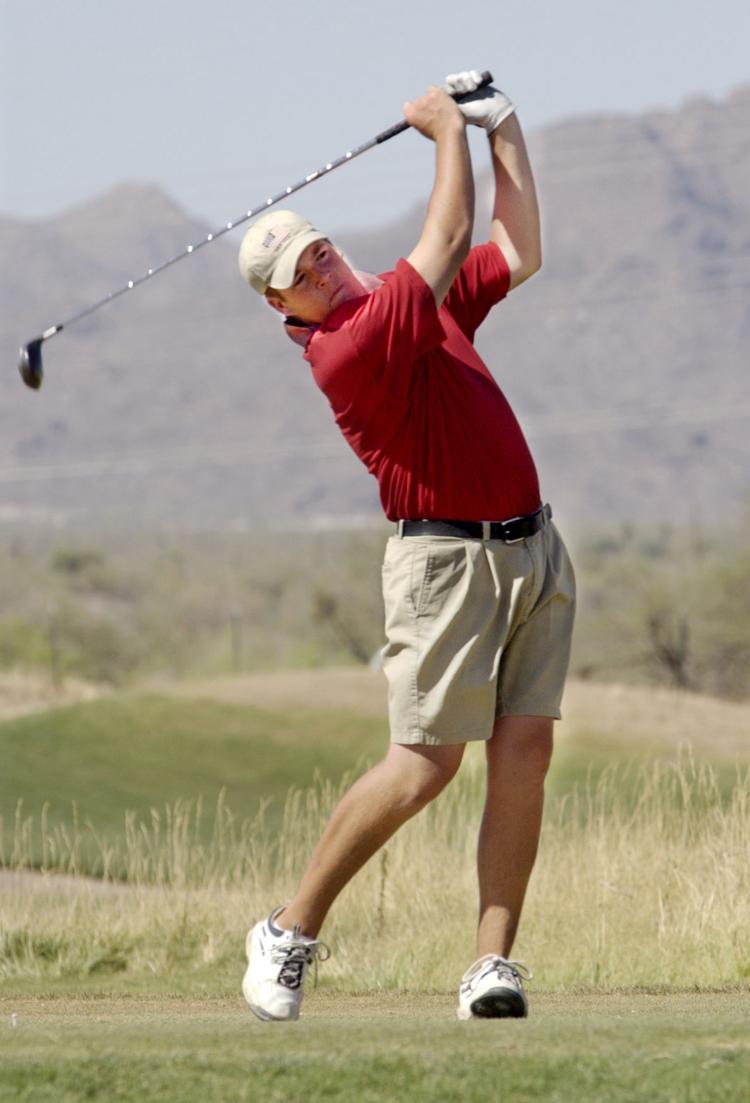 Ben Kern grew up on a golf course, following his father, Jeff Kern, a nine-time Tucson City Amateur champion who played in 11 PGA Tour events and remains one of the leading names in Tucson golf history.
But Ben, the 2001 state champion at Palo Verde High School, took it a step beyond his father's distinguished career when he made the cut at the ongoing PGA Championship.
Now the pro at the Georgetown Country Club near Austin, Texas, Kern was joined by his father, who walked the Bellerive Country Club course with his son during mid-week practice rounds. It was a small world for the Kerns in St. Louis.
When Ben stepped to the No. 1 tee on Friday, the on-site public address announcer who introduced him to the crowd was Tony Martinez, a Santa Rita High School grad and former assistant pro at Starr Pass and Fred Enke Golf Course. Martinez is now an official for the PGA of America in Texas and introduced all the golfers on Friday, among his other duties at the PGA Championship.
Kern became the third Tucsonan to play in the PGA Championship, following Rincon/University's Michael Thompson in 2012 and 2013, and Tucson High grad and Skyline Country Club pro Al Starr, who played in the 1963 PGA Championship. Starr, who helped Arizona win the 1954 Border Conference title, is now in the real estate business in Tucson; Thompson did not qualify for this year's PGA.
Thompson finished tied for 22nd in 2013; Starr did not make the cut in 1963.
Former Daily Wildcat writer Shane Bacon joins Fox broadcast team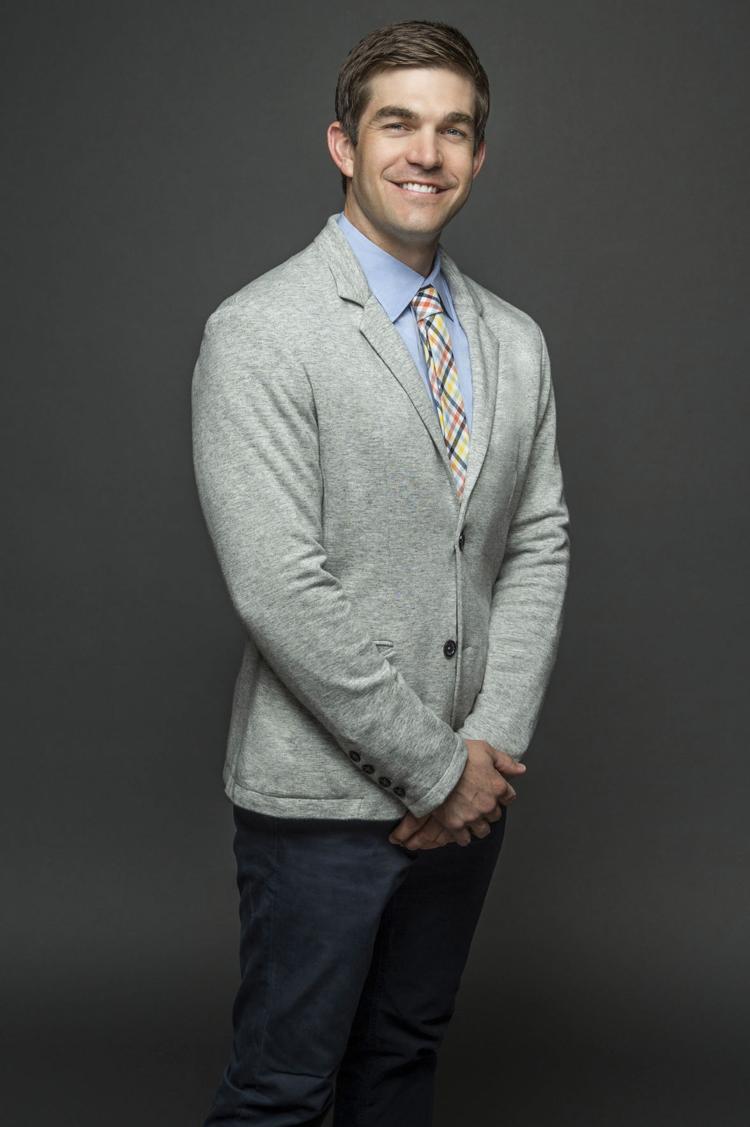 Sabino High School and UA grad Dan Hicks, NBC's lead golf announcer, and former UA golfer Jerry Foltz, who is an on-course analyst for Golf Channel, have been joined in the TV golf business by UA grad Shane Bacon. Bacon has become the No. 2 voice of golf on Fox and FS1, which this year broadcast the U.S. Open, the U.S. Senior Open and the ongoing U.S. Women's Amateur. Bacon got his start in journalism for the Arizona Daily Wildcat and last week was hired to be a sideline reporter for Fox's NFL coverage. After graduating from Arizona, Bacon caddied for a year at St. Andrews in Scotland, and then became a caddie for ex-Arizona All-American Erica Blasberg, before moving to a career in broadcasting. 
Marvol Bernard (and her irresistible backstory) wins another award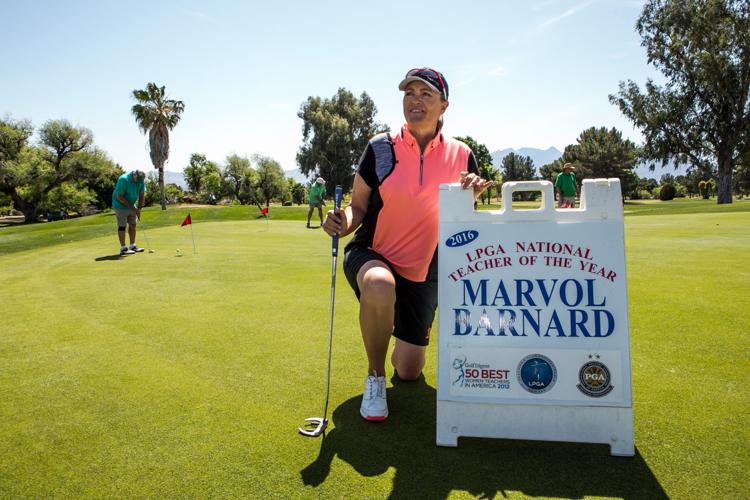 As the PGA Championships began last week, Green Valley golf pro Marvol Bernard was selected as the PGA's 2018 National Player Development award winner. That's the second national award presented to Bernard in the last two years. In 2016, she was named the LGPA's Teacher of the Year. Bernard, who does most of her teaching and instruction at the quaint Haven Golf Course in Green Valley, has an irresistible story. She grew up in Eastern Washington, moved to Alaska where she worked for the Alaska State Troopers and later became a commercial fisherman. She didn't start in the golf business until she was 38. She has more than made an impact.
Glenn Parker's son set to contribute at Catalina Foothills
She decided she needed a new number for her senior season💪🏼😊❤️ pic.twitter.com/nK2amY4WWx

— Glenn Parker (@kcgp62) August 1, 2018
When Catalina Foothills opens its football season Friday night against Buena in Sierra Vista, junior Will Parker is expected to be a starting defensive lineman. "Will's going to really help us," said Foothills coach Jeff Scurran. "He's a very smart kid." Will is the son of Arizona's 1989 All-Pac-10 tackle Glenn Parker, who went on to start 141 NFL games and play in five Super Bowls. Will is listed at 6 feet 2 inches and 210 pounds. Glenn's daughter, Emily Parker, who helped Catalina Foothills win two state soccer championships, begins her senior season at Oklahoma this week. Emily missed most of the 2017 and 2018 seasons with injuries. To honor her father, she is wearing jersey No. 74 this year; that was her father's football jersey number.
No spying of Arizona football, even with microscope, allowed
The spy-vs.-spy aspect of college football is sometimes comical and if not that, it's amusing. The UA, for example, has a live webcam that is trained on the construction site of the $25 million Indoor Sports Arena just east of Arizona Stadium. You can watch masons and plumbers do their work, but the school has put a blacked-out patch over the workout portion of what used to be the Kindall/Sancet baseball outfield. No coach (or spy) from opening-night opponent BYU will be able to watch Kevin Sumlin's team work out, even though it would require a powerful microscope to accurately pick out the jersey numbers from so far away. 
Kevin Sumlin's support staff has NFL pedigree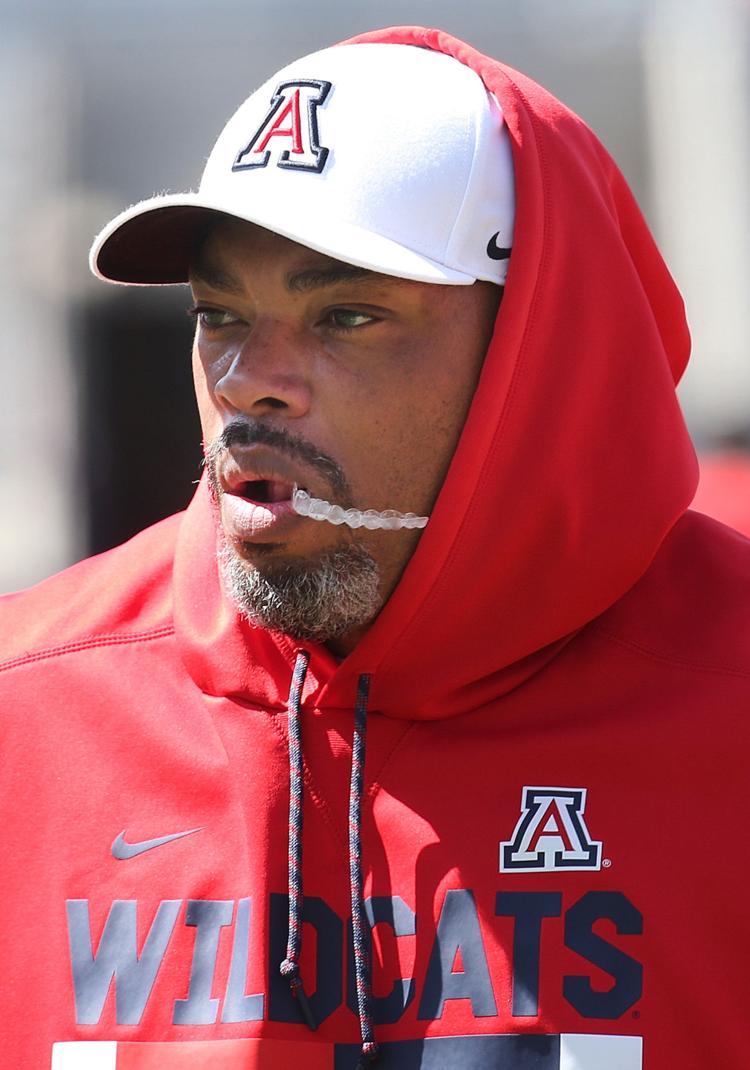 One of Sumlin's significant upgrades is the makeup of his Arizona coaching staff. It's a clear improvement on Rich Rodriguez's staff of cronies and old-school coaches who had difficulty recruiting at the Pac-12 level. Sumlin has five full-time analysts on his staff in addition to 10 full-time position coaches. Two of Sumlin's analysts are intriguing; defensive analyst Greg Patrick is a former All-Ivy League defensive back at Brown who played in the NFL and in the Canadian Football League and most recently was defensive coordinator at state powerhouse Scottsdale Chaparral. Patrick is also a certified behavioral analyst, a licensed building inspector and co-founder of a business consulting firm in the health-care industry. Patrick works with lead defensive analyst Chuck Cecil, Arizona's College Football Hall of Fame defensive back. As an offensive analyst, Sumlin hired ex-Arizona Cardinals offensive line coach Harold Goodwin, who has coached in a Super Bowl, and been a full-time coach for the Chicago Bears, Pittsburgh Steelers and Indianapolis Colts. Goodwin is a Michigan grad. It's not a stretch to think Patrick and Goodwin — and Cecil — could coach for any Top 25 team in the country.
Former Tucson High coach leads Post 7 to state legion championship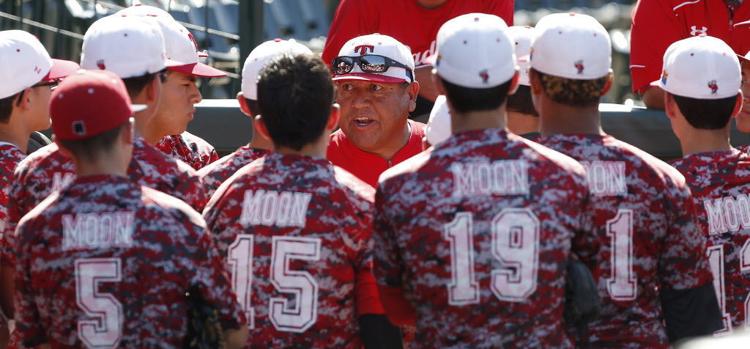 After he coached 488 baseball victories at Tucson High, Oscar Romero retired in May. Well, sort of. He has since coached Tucson Post 7 to the state American Legion championship and on Saturday night led his team into the semifinals of the Region 8 championships in Denver. Romero's team won elimination games on Thursday and Friday as ex-THS shortstop Alex Kelch went 9 for 10 while leading off. Kelch will play college baseball in 2019 at the University of San Diego.  One of the top prospects to come along in Tucson baseball for years, Tucson High freshman Mario Bejarano, joined Romero's team in Denver after being part of USA Baseball's 14U Developmental program in Cary, North Carolina. In his first start, against those four years older, Bejarano pitched a one-hitter, striking out six in Friday's quarterfinals against a team from Colorado.
Shelley Duncan will coach in Arizona Fall League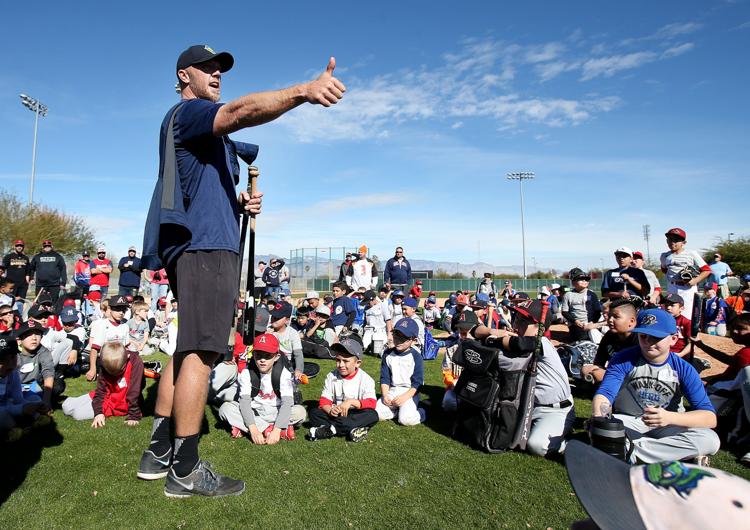 The UA's career home run leader, Shelley Duncan, a Canyon del Oro High School grad, continues his impressive climb up baseball's coaching ladder. After Duncan managed the Double-A Jackson (Mississippi) Generals to the first-half championship of the Eastern League's northern division, the parent Arizona Diamondbacks named Duncan a hitting coach for the Arizona Fall League's Salt River Rafters. Duncan spent the last two seasons managing the Diamondbacks' Single-A affiliate.
My two cents: NCAA rules changes may make recruiting worse
The NCAA last week said it expects to change recruiting rules so dramatically that it will increase the number of official visits.
I had to read and re-read that several times to believe it.
If approved, a college basketball prospect will be able to take as many as 15 official visits starting the Aug. 1 before his junior year of high school and ending when his college eligibility expires. Isn't that insane?
Currently, a recruit can take five official visits. That's even too many. Most recruits, especially those at schools like Arizona, take a handful of unofficial visits before they are flown to the school of their choice — with two parents or guardians — and spend 48 hours getting the wine-and-dine tour.
Under the new proposal, a basketball recruit can begin to take official visits on August 1 of his junior year in high school. A recruit can visit a school twice — fully paid — if he chooses, and 10 total official visits before choosing a school. Five additional visits have been added for transfers.
It's all part of me-me-me basketball recruiting of the 21st century. Prospects now tweet that they have "narrowed" their list of finalists to 12. Then 10. Then five.
Shouldn't three official visits be enough? Shouldn't a teenage prospect be expected to evaluate all of his or her offers and narrow the list to three finalists? 
The money being spent is beyond excessive. Doesn't anyone worry about that any longer?