Hansen's Sunday Notebook: Two Pima Aztecs join pantheon of soccer All-Americans
Star sports columnist Greg Hansen offers his opinion on recent sports news.
This is Pima: Aztecs' first-team All-American count hits nine
Before every Arizona basketball game at McKale Center, the school plays a 60-second video honoring its legacy in an impressive "This Is Arizona" segment.
You've seen it: Aaron Gordon, Sean Elliott, Lute Olson, Luke Walton. It usually concludes with Sean Miller saying "This is ... Arizona."
It's unfortunate there is no super-sized video board at the Kino soccer stadium because Pima College's men's soccer team could do its own "This is. … Pima" before each Aztec home game.
Last week, two more PCC men's soccer players were chosen first-team All-Americans. Desert View High grad AJ Valenzuela was a first-team pick by the NJCAA and by the United Soccer Coaches. Tucson High grad Julian Gaona was a first-team NJCAA All-American.
That gives coach Dave Cosgrove's perennial national contenders nine first-team All-Americans in the last 11 years, from Minh Vu to Eric Glad.
Valenzuela, who is expected to sign with San Diego State, which is part of the Pac-12 men's soccer league, is a special player and, with softball's Lety Pineda, a 1990s UA All-American, probably one of the two best athletes in Desert View history.
"I've coached AJ for about a decade, first in the Tucson Soccer Academy, and I've been fortunate to watch him develop," said Cosgrove. "He's 6 feet 3 inches and it just took time for him to grow into his body. Now that he has matured, he really took off."
Pima finished 19-5-3 and finished No. 3 in the nation and Valenzuela was selected the ACCAC Player of the Year, which is a considerable honor. The ACCAC is probably the most difficult junior college soccer league in America.
"AJ did so much for us it was just ridiculous," said Cosgrove. "He's our most physical player so he was always assigned to the opponent's most physical player.
"And he covered the most ground for us. He was just remarkable."
Sun Devils' rise one of Pac-12's best stories
In my opinion, there have been just three sustainable, culture-changing coaching hires in the modern era of Pac-12 football and basketball:
Lute Olson at Arizona in 1983.
Don James at Washington, football, 1975.
Jim Harbaugh at Stanford, football, 2007.
And now, possibly, basketball's Bobby Hurley at ASU.
It's an elite group.
Oregon's rise to football prominence slowly changed from Rich Brooks, 1977-94, who handed off to Mike Bellotti and, essentially, Nike's Phil Knight.
Every other powerhouse program in the Pac-12 can be traced to success before the 1970s: ASU's Frank Kush didn't invent anything in Tempe; he took a handoff from Dan Devine, who had gone 27-3-1 in the 1950s. At USC, John McKay long ago established the Trojans as a football power – three national championships — before Pete Carroll showed up in 2001.
Some would put Stanford basketball coach Mike Montgomery 1986-2004 on this list, and I wouldn't argue with it. But after he departed for the NBA, Stanford fell back to mid-pack.
Hurley probably isn't a long-term solution at ASU. His name carries weight, and now, too, does his basketball team. He'll be the most-sought coach in the post-season hiring/firing campaign, although he seems more likely to replace Mike Krzyzewski at Duke sometime soon. Coach K turns 71 this season.
In the short-term, Hurley's impact at ASU could be felt as early as noon, Sunday. The Sun Devils play 3-6 Vanderbilt in a game on the Pac-12 Networks. To date, ASU is No. 7 in Pac-12 home attendance at 6,520 per game, and if it can't draw 10,000 at Wells Fargo Arena for the Vandy game – and another 10,000 for a Tuesday night game against the Longwood Lancers – it'll be a disappointment.
I think ASU will go beyond 10,000 because ASU's administration, thinking ahead, supplied all ticket-buying Sun Devil students with a free ticket for one guest.
But Sun Devils basketball fans – however few in number – should be forewarned about the fleeting success of big-time college hoops. Only a few have made it stick.
Arizona Bowl on pace to surpass last year's attendance numbers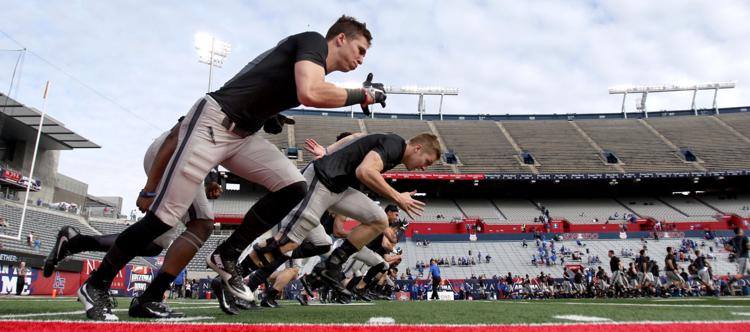 NOVA Home Loans Arizona Bowl chairman Ali Farhang is in Logan, Utah, this weekend in attempt to stir interest in the Dec. 30 game between Utah State and New Mexico State. His presence wasn't necessary in Las Cruces, where the Aggies had sold in excess of 6,500 tickets through Friday and are expected to have at least 10,000 fans at Arizona Stadium. The bowl also distributed two free tickets to all faculty/staff of the Las Cruces School District. Good move. Last year's game, Air Force vs. South Alabama, drew 33,868 fans. On Friday, Farhang said that sales for the Dec. 30 game have already gone past that total. Impressive.
All eyes on Del Conte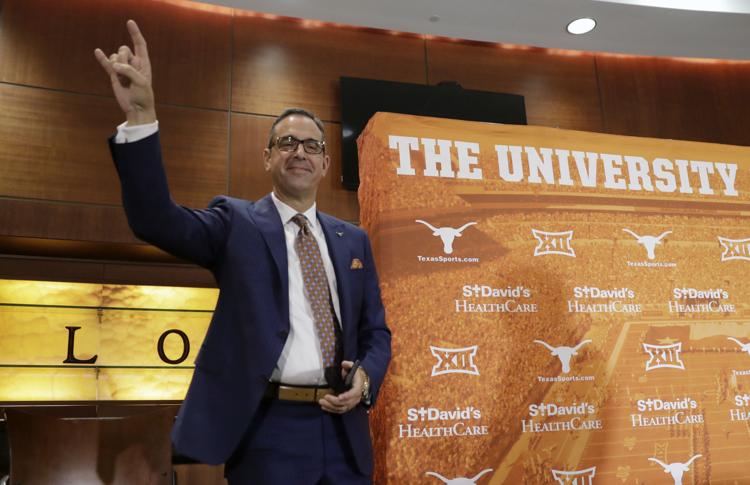 When former Arizona associate athletic director Chris Del Conte was hired as Texas' AD last week, Jim Livengood flew from Las Vegas to attend the press conference. Livengood hired Del Conte away from Washington State in 1999 and it took, oh, five minutes, to realize that Del Conte had that special something to be a big-time AD someday. Arizona's big-money people had frequent contact with Del Conte, then at TCU, when Greg Byrne left for Alabama last winter. Del Conte was interested, but he had a seven-figure buyout at TCU and it stopped negotiations. The legacy of the No. 2 people in Arizona's athletic department is as impressive as at any Pac-12 school, from Bob Bockrath and Mary Roby to Rocky LaRose to Del Conte.
It's about time to recognize Pima basketball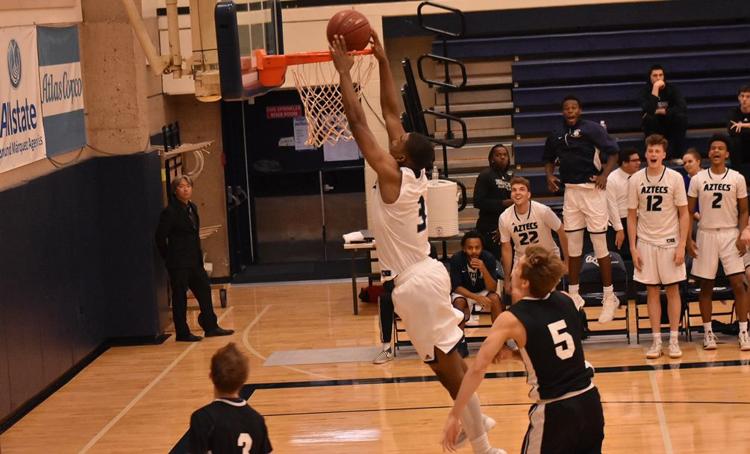 Pima College's rise as a NJCAA basketball power continues; the Aztecs completed the semester break with two top-10 teams: Brian Peabody's men's team, ranked No. 8 nationally, is 10-1. Todd Holthaus' women's team, ranked No. 4 nationally, is 8-2. The Night of the Year at the PCC basketball arena will be Saturday afternoon Jan. 6. That's when Cochise College's men's and women's teams — both currently 9-1 and expected to be NJCAA national contenders — meet the Aztecs in a doubleheader beginning at 2 p.m. Cochise sophomore Chaz Mack, who was a standout at Catalina Foothills High School, leads the ACCAC with 20.4 points per game. Mack also averages 9.5 rebounds in a bid to be the conference Player of the Year. As a bonus, that Jan. 6 game lines up to possibly be the night Cochise men's coach Jerry Carrillo, a Salpointe Catholic and UA grad, reaches his 500th career victory. He has 497. 
Wildcats land big 'returner' days before signing period begins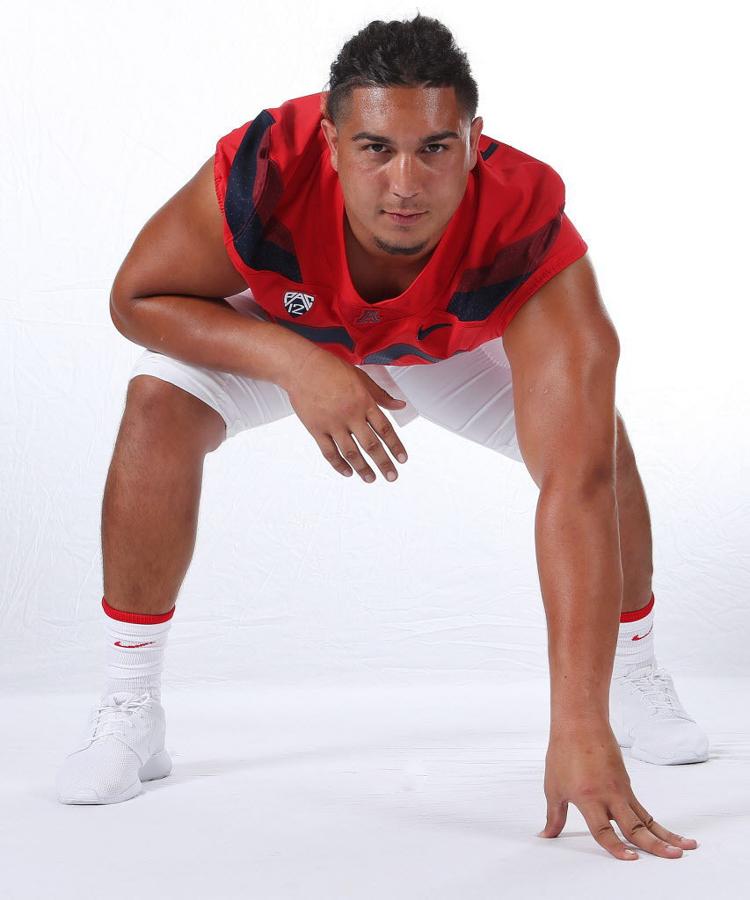 The NCAA's first early-signing period in college football, Wednesday, will typically find Arizona's class buried somewhere in the mid-to-lower part of the Pac-12. Rich Rodriguez essentially "signed" his top player last week when senior left tackle Layth Friekh was granted an extra year of eligibility. That's like landing a five-star recruit. Friekh has started 32 games at left tackle and you can't diminish his value to the 2018 Arizona football program.
Local defensive back with Desert Swarm roots slips through Cats' fingers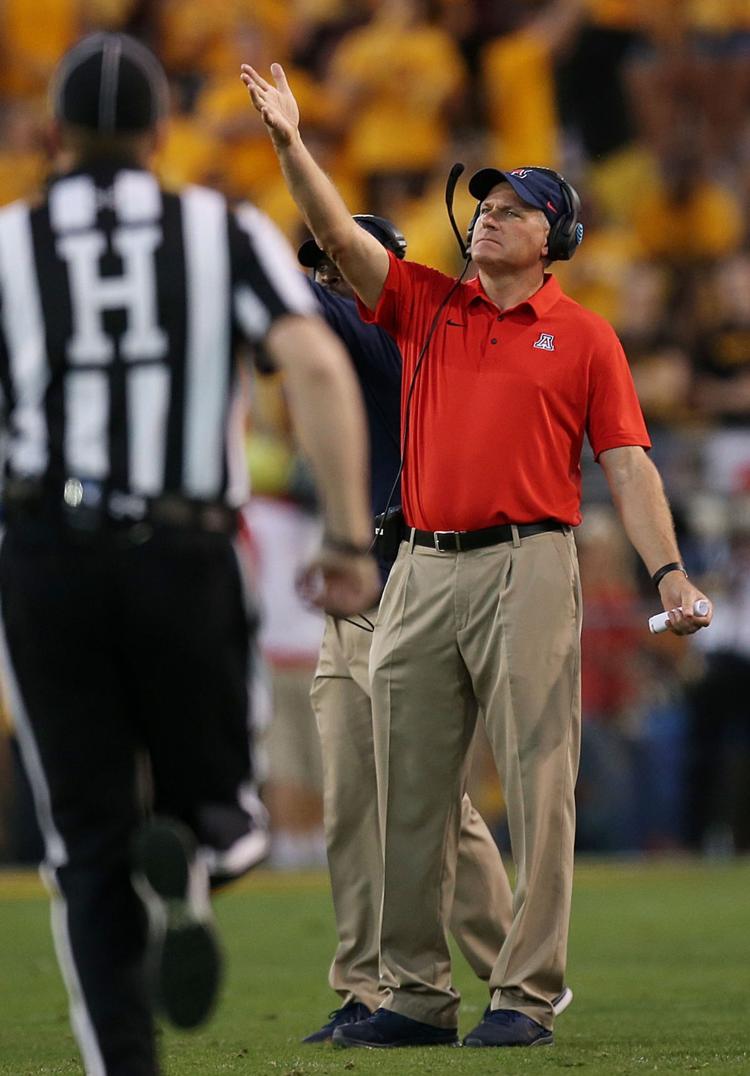 Arizona was blitzed last week on a belated attempt to get in the recruiting chase for someone five miles from the Lowell-Stevens Football Facility: Pima College defensive back Aaron Maddox, who on Tuesday was named an NJCAA All-American and the No. 1 defensive back in all of NJCAA by GridironRR.com, committed to Colorado. To make it worse, Maddox is the son of Richard Maddox, who was captain of Arizona's 1992 Desert Swarm defense, and Cynthia Teran Maddox, who graduated from Santa Rita High School. Aaron's younger brother, Christian, remains on Pima's roster for the 2018 season.
Another Pima stud headed elsewhere?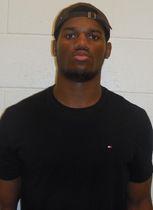 Another of PCC coach Jim Monaco's top prospects, heavily-recruited linebacker/end Bryant Pirtle, is expected to announce his choice Monday. Pirtle, who has been offered scholarships by Arizona, Utah, Oregon and Oklahoma, is expected to choose Utah and coach Kyle Whittingham. Pirtle plays a position of need at defense-needy Arizona.
Nation's top track recruit resides at the UA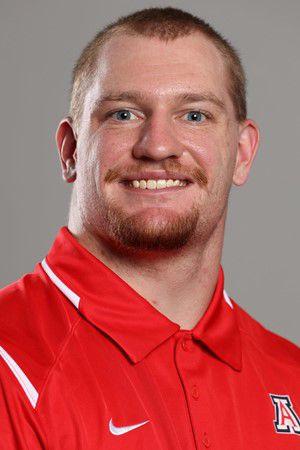 By this time next year, it wouldn't be a surprise if the top athlete, male or female, on the UA campus is shot-putter Jordan Geist. The nation's No. 1 track recruit made his Arizona debut last week in an all-comers meet at Drachman Stadium and threw the shot put 67 feet 8 inches. Geist, who is from the Pittsburgh area, will soon begin an assault on the UA record book. The shot put record is 69-0¼, set by Zack Lloyd in 2008. That remains No. 7 in Pac-12 history. One of Geist's targets is the Pac-12 record of 72-2¼ set in 1995 by UCLA's John Godina.
School in Pittsburgh to honor Sean Miller's dad — a high school coaching legend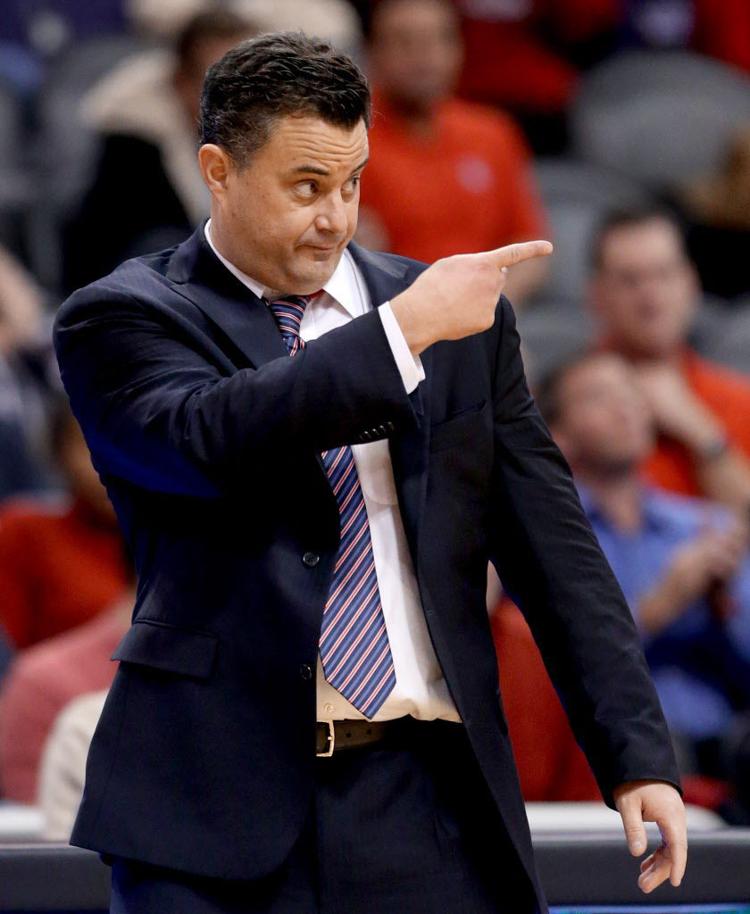 Sean Miller, who rarely takes his foot off the accelerator, ran into a significant time shortage this week. In the middle of Monday and Thursday games at McKale Center, his father, John Miller, a legendary high school coach in the greater Pittsburgh area, will have the court at Blackhawk High School — Miller's alma mater — dedicated and named after him. Neither Miller nor his brother, Indiana coach Archie Miller, will be able to make it to the ceremony. Both plan to send a video message to be played during the ceremony. 
Minutes don't grow on trees
One thing Miller said last week about the reduction in playing time for, among others, Emmanuel Akot and Dylan Smith, is that there's no way to avoid it at a talent-blessed school like Arizona. "When nothing is given and you have to earn it, the cream will rise to the top," Miller said. "Sometimes a guy panics, or their support system panics, and they run. But very seldom does a guy who runs make it." In the Miller years at Arizona, those who have "run" include Craig Victor, Justin Simon, Angelo Chol and Grant Jerrett. None thrived since leaving. In Miller's epic rant that followed the recent victory over Long Beach State, he used the term "babies" in referring to some who bailed out early at Arizona.
Tucson's golf business continues to evolve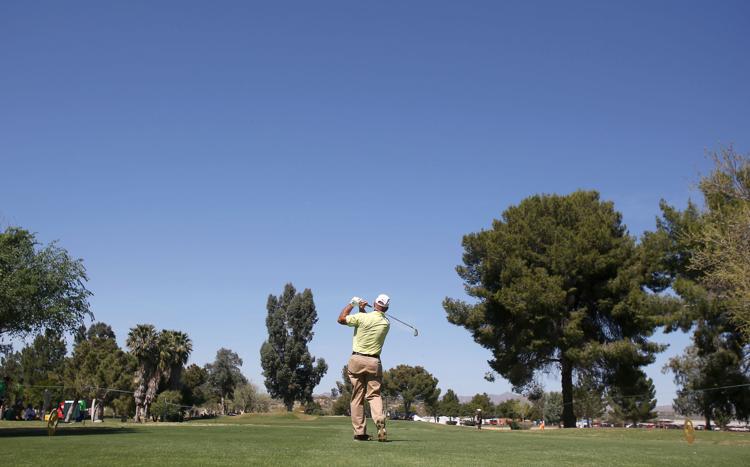 With the future of the five Tucson City golf courses under scrutiny by the Tucson City Council, one of Tucson's most venerable golf facilities — the Rolling Hills Golf Course — is changing.
Effective Jan. 1, Rolling Hills will be leased and managed by Generations Golf LLC. Generations is headed by Tony Martinez, a Tucsonan who grew up playing Rolling Hills before he became a professional and is now on the Board of the Directors of PGA of America. Martinez operates several golf facilities in the Dallas area.
Salpointe Catholic High School and UA grad Brent Lingel will be General Manager-Director of Golf.
He has been head pro at Keeton Park Golf Course in Dallas.
The stockholder members of Rolling Hills continue to own the course, but for the next 10 years, Generations Golf will manage and maintain the course.
This move will probably save Rolling Hills, a gem of an executive (shorter) course that has been open on Tucson's far east side for more than 60 years. The future of golf in cities like Tucson — much like OB Sports' management of eight courses in Southern Arizona — is for a professional operations team to run day-to-day business.
It is a bonus when Tucsonans such as Martinez and Lingel come home to take care of an old friend in need.
My two cents: Send prayers, holiday wishes to ex-Cat Warner Smith
The most heart-warming, emotional photograph of the holiday season I've seen was that of former UA football coach Dick Tomey attending a gathering to help support Arizona 1994 All-Pac-10 lineman Warner Smith last week.
Smith has been debilitated by ALS — Lou Gehrig's disease — since 2013.
Tomey arrived at Smith's house and sat on the sofa with Smith's 6-year-old daughter Carly, both cuddling an oversized teddy bear. Later, Tomey, Carly and ex-Wildcats Brandon Sanders, Joe Smigiel and Chris Lopez, among others, comforted Smith as he lay in bed.
Warner Smith is only 47. That he be comforted and be able to spend time with friends and family this holiday season is my fondest wish.