One of the flaws in the Pac-12 basketball schedule is that Arizona won't play at Utah's Huntsman Center this season. The league's scheduling rotation has Arizona skipping the Utah-Colorado trip, which has evolved into the most hostile and well-attended road weekend for the Wildcats.
It's also a shame because UA freshman Nico Mannion won't be able to play in the arena where his father, Pace Mannion, scored 1,018 points for Utah from 1979-83.
But there's much more to Nico's basketball family than his father's career. Nico Mannion will become a rare third-generation basketball player in the league.
His grandfather, Jack Mannion, was the top high school player in Utah in 1956, setting the state's prep scoring record, 50 points, for Bingham High School, and then played for the Utes.
Do you realize how rare it is to have three generations of scholarship athletes in college sports? In my research, I found just one example in Tucson: Bill Hassey, Ron Hassey and Brad Hassey all were baseball standouts at Arizona between 1948-2002.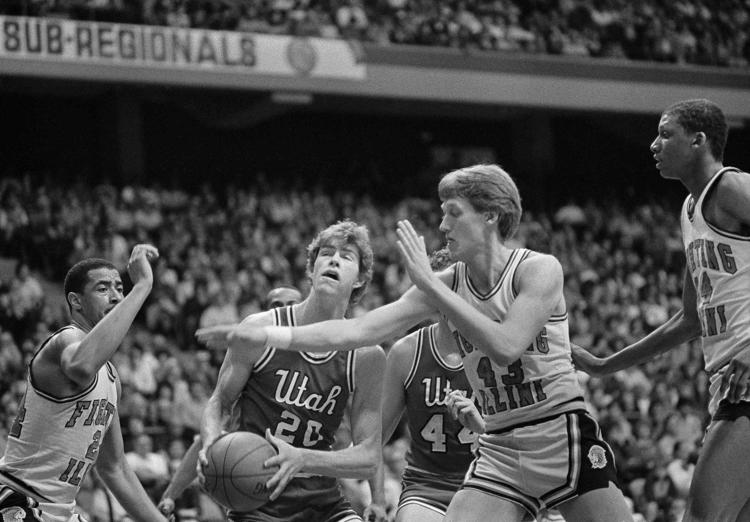 In 1956, Jack Mannion played in the North-South All-Star Classic in Kentucky, with the top 28 players in America. It was that generation's version of the McDonald's All-American Game.
Jack's college career wasn't prolific; he averaged 4.8 points and 7.2 rebounds at Utah in 1957 before serving a church mission and transferring to BYU upon his return.
Jack played two games against Arizona in December 1961, helping sweep the Wildcats — and then passed his athletic genes to his son, Pace, who passed them to Nico.
Athletic genes run deep in the Mannion family: Nico's uncle Greg played baseball at Cal State Fullerton and another uncle, John, played football at BYU.
So there's not much mystery how Nico developed into one of the most coveted basketball recruits in UA history. It all started with his grandfather, the son of an English immigrant who moved to Salt Lake City to work as a copper miner.
Jack Mannion and his wife, Terry, who married while Utah students, went on to establish a legacy far beyond basketball. They became such accomplished educators in Las Vegas that the school district built Jack and Terry Mannion Middle School a few years ago.
There's even a Jack Mannion Track and Field Complex at Las Vegas Chaparral High School, where Jack Mannion was the athletic director and dean of students.
I asked Nico about his father at the UA media day last month and he spoke with some passion about what a strong role model Pace Mannion has been. Now we know where Pace and Nico got their sports foundation.
---
Salpointe Catholic shining off the football field, too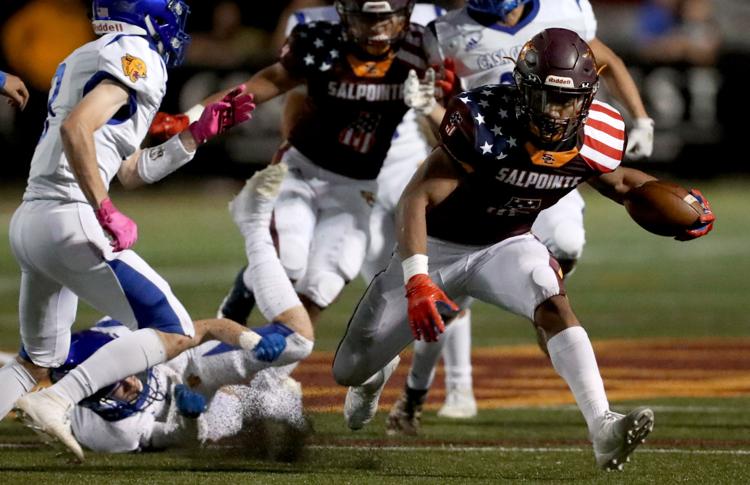 One impressive thing undefeated Salpointe Catholic football coach Dennis Bene has consistently shown over the years is that it's not all about football.
On Friday night, the unbeaten Lancers participated in Military Night at Ed Doherty Field, in which veterans from World War II, Korea and Vietnam were honored. Salpointe went to the expense of buying new uniforms with red, white and blue numerals and American-flag type designs on shoulder pads.
About 10 years ago, Bene created a "Games of the Greater Good" program in which home games honored, among others, cancer survivors, Special Olympians, the Community Food Bank the UA cancer center. His teams often participate in Habitat for Humanity home-building projects.
Friday's Military Night had a special and emotional component. Lancers senior defensive standout Konnor Roll produced a video in which he said he plans to enlist in the United States Marine Corps after he graduates.
"I want to protect those who can't protect themselves," he said.
Konnor Roll is the grandson of the late John Roll, a United States District Judge who was killed in the 2011 assassination attempt of U.S. congresswoman Gabrielle Giffords. John Roll, who had been a track and field standout at Salpointe Catholic in the 1960s, died while attempting to shield one of the shooting victims from further harm.
The Roll family has deep connections at Salpointe. Konnor's father, Robert Roll, who works for the Arizona Supreme Court, was a starting center at Salpointe in 1987. Konnor's mother, Charlene, a Salpointe grad and former assistant principal there, is the principal at Tucson's Saints Peter and Paul School.
Salpointe, 6-0, will host a long-anticipated showdown Friday against 7-0 Canyon del Oro, and for 48 minutes the battle of unbeatens will be all that matters. But Bene continues to show his football players that there is far more to life than football.
---
'Blue Brigade' star Held remembered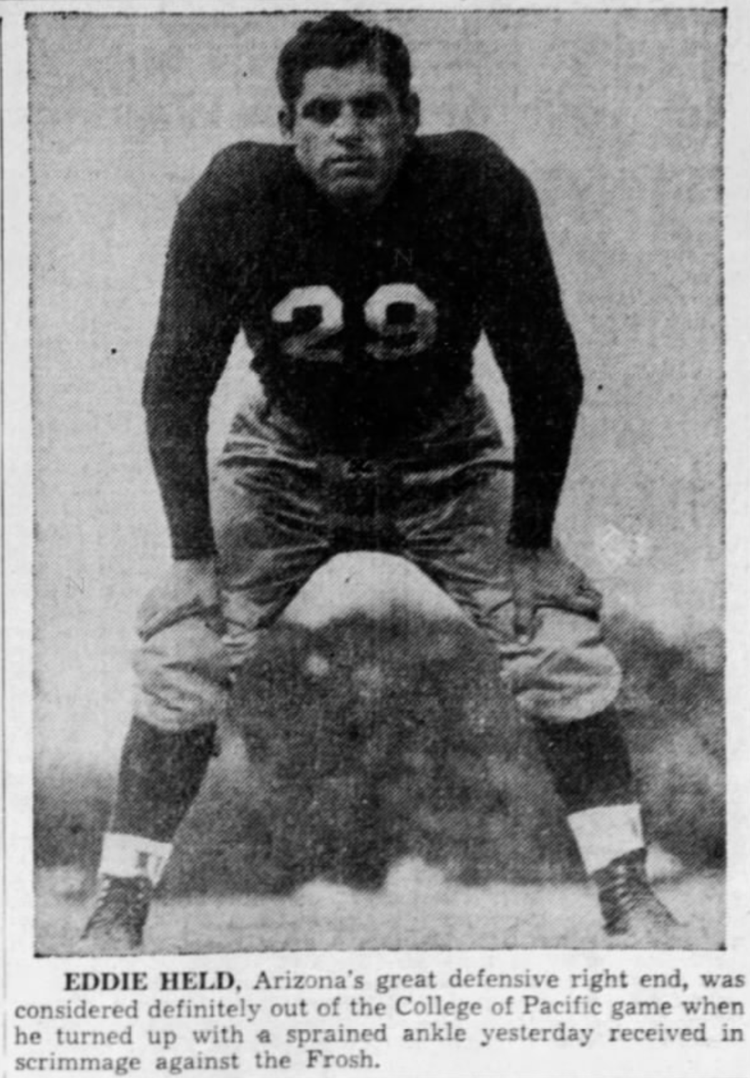 Small world: Standing on the Folsom Field turf in the final minutes of Arizona's victory over Colorado last week, I met Don Held, a sound technician working for the Pac-12 Networks. Don asked if I had heard of his uncle, Eddie Held, one of the top Arizona football players of the 8-2 Tex Oliver "Blue Brigade" team of 1937.
I said yes. My good friends, the late John Black and Leon Gray, both members of that team, often spoke of Eddie Held.
But it wasn't until Don Held told me that the former Wildcat All-Border Conference end died in World War II that I knew the depth of his connection to Arizona.
Eddie Held was the captain of both the UA football and golf teams while in school. He lettered twice in basketball as well. After graduating from Arizona, Held became an ensign in the Navy, a flight instructor stationed at a Naval Training Center at Cecil Field in Florida. Tragically, he was killed in a 1942 training mission in the Atlantic Ocean.
"My family has a great legacy to Arizona football," Don Held said. "It's been almost 80 years, but it still means a lot to us."
---
Early returns encouraging for Mike Candrea's UA softball team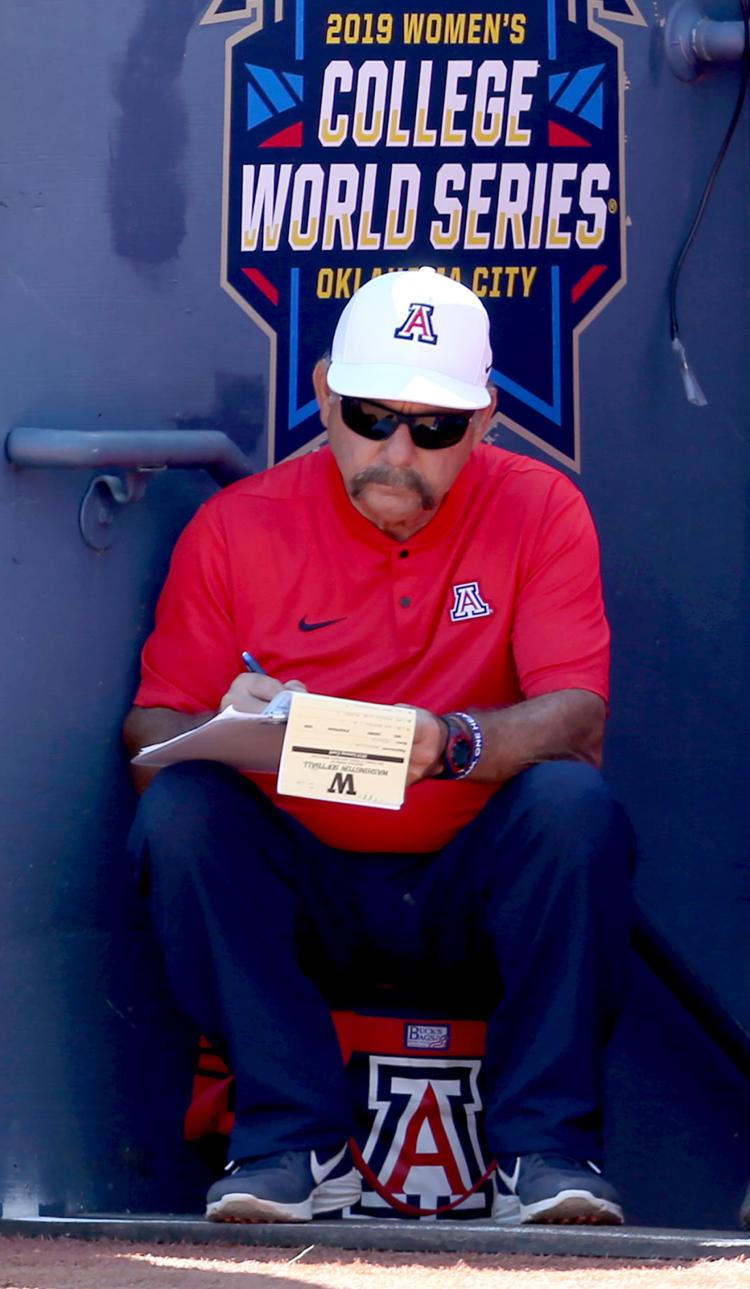 Arizona won't open its 2020 softball season for four months, but the ongoing series of four exhibition games against junior-college teams from Phoenix are revealing. In last week's victory over Chandler-Gilbert Community College, the Wildcats stole five bases, including two by true freshman leadoff hitter Janelle Meono, a top-50 recruit from Los Angeles. It has meaning because Arizona stole just 14 bases in 2019, by far the fewest in the Pac-12. Mike Candrea also had to be encouraged by the performance of sophomore pitcher Marissa Schuld, who struck out six consecutive batters. Schuld was the top high school player in Arizona in 2018 and mostly sat on the bench last season. Her development is a key to the future of UA softball.
---
Ex-Cat Rawle Alkins still seeking NBA home
The NBA regular season opens Oct. 22 and former Arizona player Rawle Alkins is not on any team's 20-man preseason roster. Alkins played for Houston's Summer League team but was not re-signed. Former Wildcat guard Kobi Simmons is playing for the Charlotte Hornets — he played in one NBA game a year ago — but is seen as a longshot to make the opening day roster. How much do ongoing preseason games matter? Ex-Wildcat Aaron Gordon shot 1 for 14 in Orlando's game Friday. Forget it, move on. Gordon could be an NBA All-Star this year.
---
Former Wildcat Daniel Dillon still grinding overseas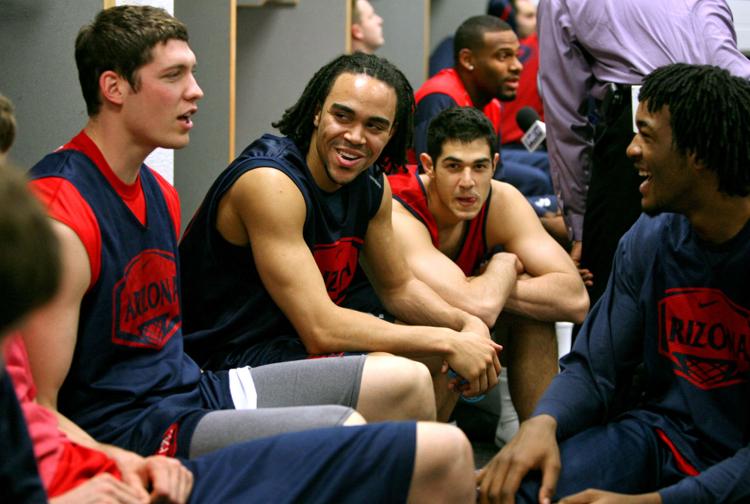 Daniel Dillon was an end-of-the-bench guard in his Arizona basketball days, 2004-08, but he has forged a productive professional career. After playing in France, Japan, Poland and Romania, Dillion, 33, is playing for Australia's Adelaide 36ers this year. He scored 11 points in a preseason game against the Utah Jazz last week. It's his first time playing in his native Australia since 2012.
---
CDO football staff includes members of legendary Tucson family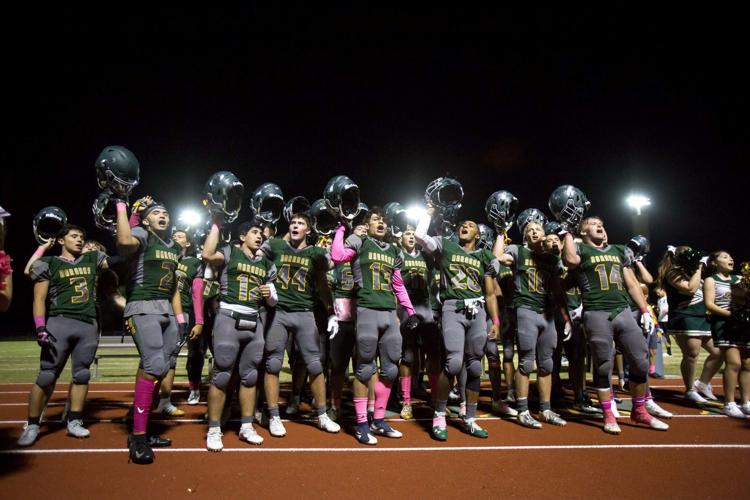 When Dusty Peace's 7-0 CDO Dorados play at state football powerhouse Salpointe on Friday, there will be some familiar faces on the sideline. CDO's special teams coach is Aaron Nymeyer, who played on CDO's 1978 state championship team. His son, Sterling, is the Dorados' offensive line coach, a former standout at Mountain View High School. Talk about some good athletic genes. Aaron's father is Ed Nymeyer, who was, in the 1950s, the leading career scorer in Arizona basketball history who went on to be a Hall of Fame volleyball/basketball coach at Flowing Wells High School. Aaron's daughter is Lacey Nymeyer John, the key part of Arizona's 2008 NCAA swimming championship team and a 2008 Olympic silver medalist.
---
J.J. Matijevic, Jared Oliva shine in Arizona Fall League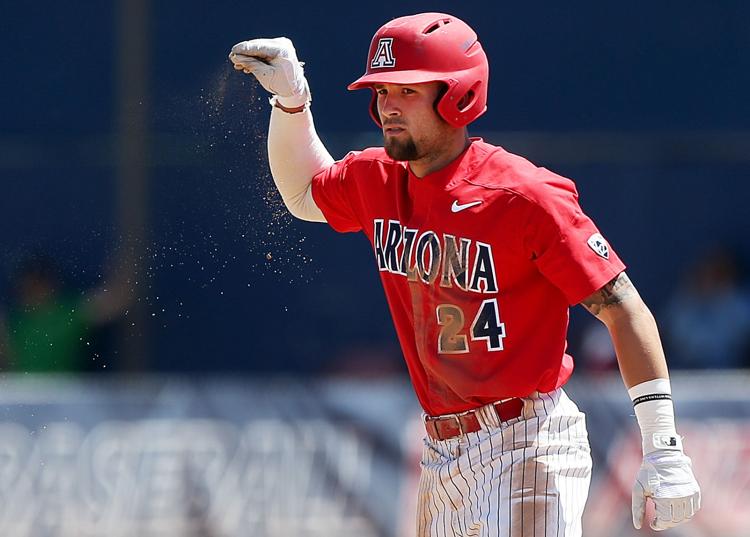 Two of the top UA baseball players of the last decade, J.J. Matijevic and Jared Oliva, played in the Arizona Fall League All-Star Game Saturday night in Phoenix. The AFL is typically viewed as the offseason haven for the top prospects in MLB. Oliva, an outfielder in the Pittsburgh system, had a remarkable season at Double-A Altoona. He was hitting just .199 entering July but then flourished, finishing the season hitting .319 with 29 stolen bases and 28 extra-base hits. Entering the All-Star weekend, he was hitting .409 in the AFL, second overall.
---
UA makes it easy for fans of women's team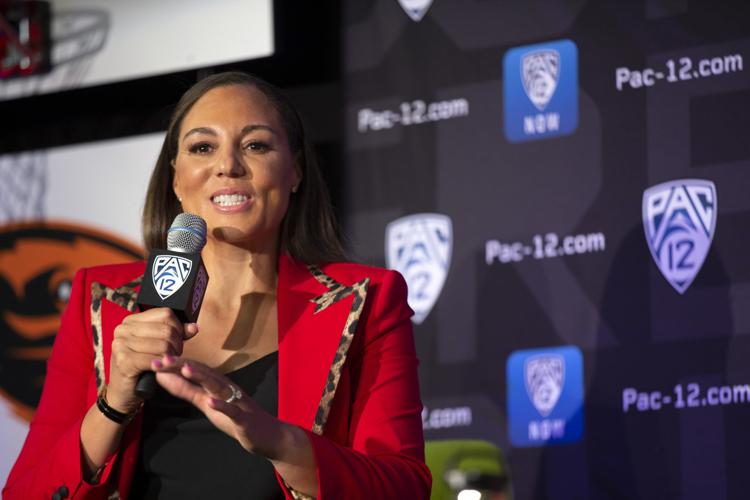 As Arizona builds toward an unprecedented 3,000-season ticket base for the women's basketball season, it has made it easier for coach Adia Barnes' program to attract more fans. The UA will not charge for parking on campus — even at the Cherry Avenue Garage adjacent to McKale Center — on weekends, and will charge $1 an hour on weekday nights. Surface lots and meters are free on weekends and after 5 p.m. on weekdays. The Wildcats will play an exhibition game Oct. 27 at 4 p.m. against Eastern New Mexico. Earlier that day, at 12:30 p.m.. the Pima County Sports Hall of Fame will induct its Class of 2019 at the DoubleTree Hotel. The 30th anniversary of the PCSHF will include Los Angeles Angels owner Arte Moreno, who attended both Tucson and Rincon high schools as a young man. Moreno plans to attend the ceremony, along with former Desert Swarm linebacker All-American Sean Harris, and the undefeated 1962 Tucson High state championship boys basketball team, among others. Tickets can be obtained at pcshf.org.
---
Foothills swimmer Maya Benita chosen to scholar-athlete team
Catalina Foothills High School senior golfer Maya Benita, one of the nation's leading women's golf recruits in the Class of 2020 — she has already committed to play at Arizona — last week received one of the top honors in American amateur golf. Benita was one of 12 girls golfers chosen to the 2019 AJGA Scholar-Athlete team. Benita has a 4.83 GPA at CFHS. Somehow, she finds time to be an academic tutor, a teacher's assistant, a volunteer at the Ronald McDonald House and a member of the National Honor Society. She will play for the state title in two weeks.
---
My two cents: Dr. Jon Wang a living legend on Wildcats' sideline
One of the first things I do when I take a seat at the Arizona Stadium press box is use a set of binoculars to make sure Tucson orthopedist Dr. Jon Wang is on the UA sideline.
Wang has been a UA team doctor/consultant for 42 years and has seen it all. He operated on Steve Kerr's torn ACL, fixed Nick Foles' broken hand, completed the New York City Marathon when he was 60 and, going way back, received a Presidential Citation for his service in Vietnam while in combat on the Ho Chi Minh Trail.
Fifty years ago this week — October 16, 1969 — Wang was a resident surgeon at Roosevelt Hospital in Manhattan. One of his attending surgeons, Dr. Peter LaMotte, was on the medical staff of the New York Mets. Yes, the "Miracle Mets."
Dr. Wang was on duty at Shea Stadium as part of the First Aid crew on the day the Mets won the World Series.
"Not much happened during the game," Dr. Wang remembers. "But after the game the fans rushed the field and we had 37 casualties. One man had his jaw broken when he and another fan tried to steal home plate."
If only Dr. Wang could tell a similar story about UA fans rushing the field after a Rose Bowl-clinching victory.
Contact sports columnist Greg Hansen at 520-573-4362 or ghansen@tucson.com. On Twitter: @ghansen711
Be the first to know
Get local news delivered to your inbox!